Date of Exploration :
23 Jan 2015
What :
Desert quad biking with Sand Dune Adventures
Where :
Port Stephens, New South Wales, Australia
Driving a monster machine up and down waves of sand that could tower at a height of 40m with majestic swaths of desertscape all around, quad bike riding in Australia's largest sand dunes at Port Stephens can easily be an activity to love to death.
While I anticipated the excitement of free-rolling on the immaculate sandy terrain which also happens to be the biggest natural sand blown geological formation in the Southern Hemisphere, I wasn't prepared to face the seemingly impossible task of 'skiing' a heavy quad bike down a steep sand hill that was easily more than 3-storeys high. The thrill factor ranked exceptional exceeded only by the beauty of the remote landscape and a spectacular sunset that radiated over a frozen brown ocean. It felt like a dream I wanted to delay waking up from.
Sand Dune Adventures which offers the quad biking experience operates out of a container in the Nelson Bay vicinity of Port Stephens, New South Wales, Australia. Biking duration of 1, 1.5 and 2 hours are available. Our 1-hour biking tour costs A$88.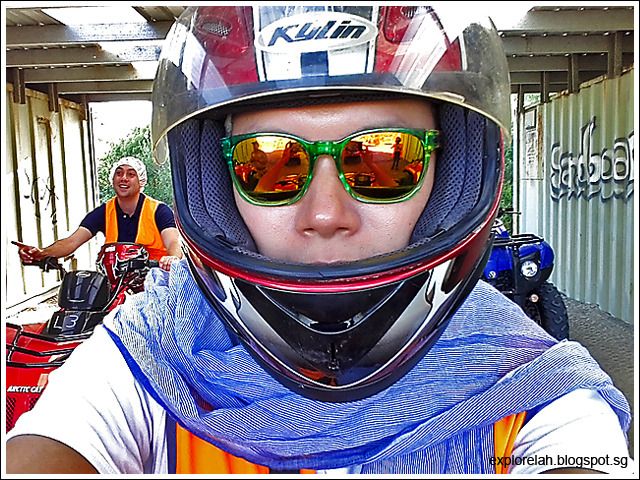 Safety is paramount when quad biking not only because life is priceless but also because a bike costs around A$10,000 so any accident would be hefty. We were given an operational and safety briefing as well as practice ride before embarking on the actual route. Shower caps were given to be worn before putting on the helmet so you don't have to worry about suffocating from stinky headgears.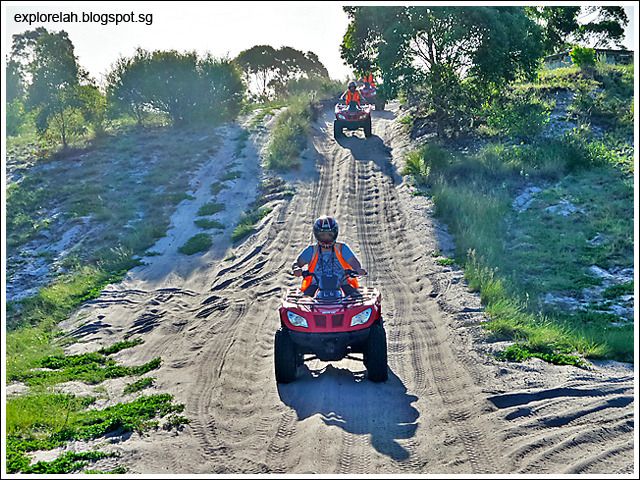 Straight out of the container box and we were headed for a gentle sandy downslope to accustom our driving skill and confidence.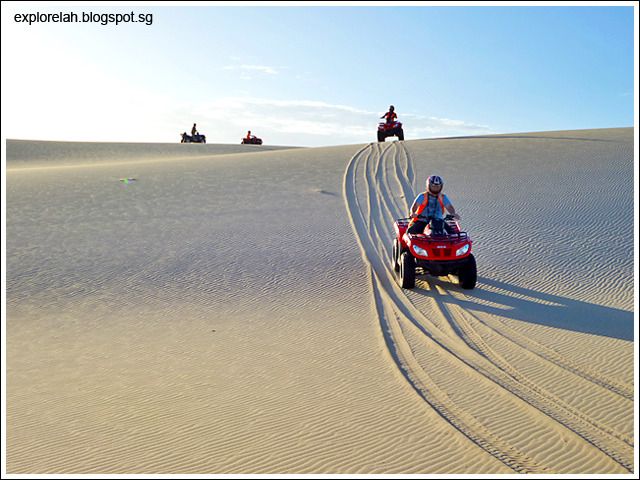 After passing through a short section of greenery and shrubland, our trail opened up to a vast expanse of sandscape and dunes as far as the eyes can see. It's the Sahara in Australia!
I've seen photos of deserts but the awe of being here and surrounded by nothing but unending, undulating folds of sand was the uplifting kind of being overwhelmed. I couldn't believe this is Australia, just 2.5 hours drive from metropolitan Sydney.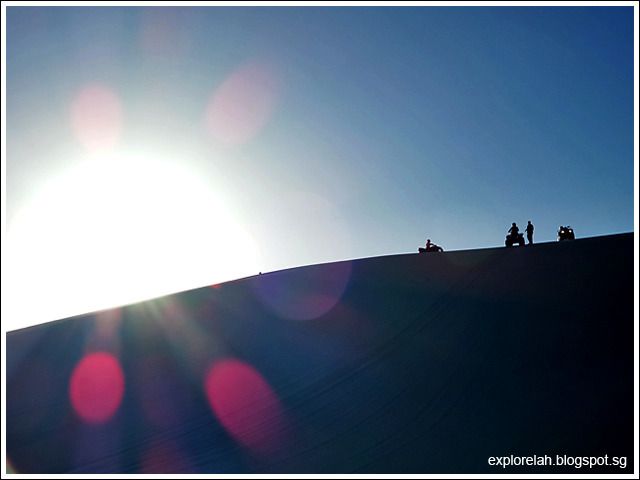 The landscape is gorgeous but the drive down from the top of a high sand hill is a measure of the courageous. Being new to the whole quad bike riding experience and desert terrain, I gulped at having to drive the heavy machine down such a steep slope. But the guides were on hand to give instructions on how to tackle the challenge safely and as long as we followed the advice, rolling down was actually very easy and safe.

After this, I got the hang of going up and down hill and the real fun began!
When faced with such an amazing landscape and far-out activity, I was very kancheong to take photos but there's really no need to be over zealous about snapping pictures as stops were made at the best spots to capture pictorial mementos of the amazing ride and scenery.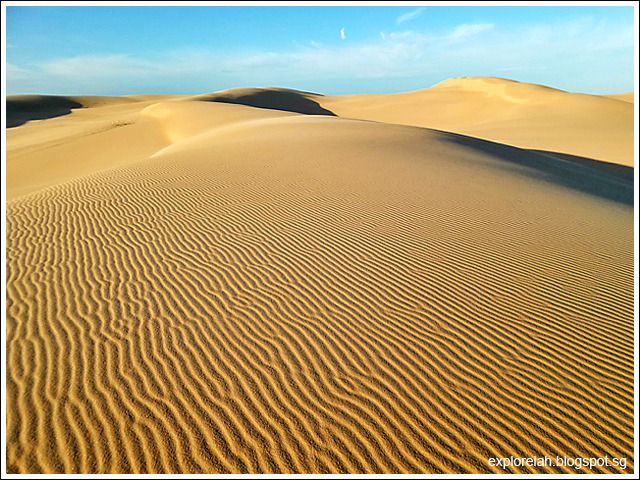 Footprints of the wind meandering across a sandy shifting cloak, the spell-binding landscape is formidable yet so vulnerable. A single step would break harmony of this natural score.
Many attractions and vacay activities are a double thumbs up experience but this gets a double hands up liking from me :)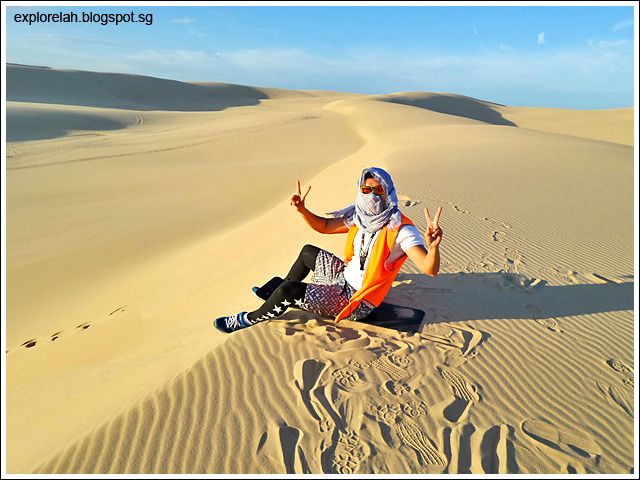 Other than quad bike riding, we also got to go sand surfing! One advice in gearing up for the Sand Dune Adventures is to cover up to avoid sunburn and don't stinge on sunblock. And when it comes to sand surfing, cover the mouth and eyes to prevent sand from causing a burn especially during a windy day.
While anytime during the day is a good time to quad bike here, the evening slots are prime for the added spectacle of the day's colour parade during sunset.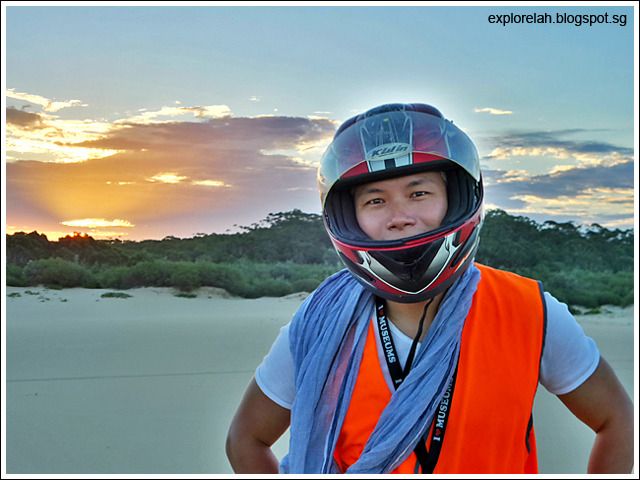 Sunsets over an oceanic horizon, forest meadow or cosmo-cityscape are familiar, but the golden disc retiring across a sandy plain is a sight not often encountered. This goes down as one of my most memorable travel experiences in a tour of New South Wales outside Sydney!
Sand Dune Adventures
Website :
http://www.sandduneadventures.com.au
Email :
sda@worimi.org.au
This post has been made possible by Destination New South Wales in partnership with CTC Travel.