Date of Exploration :
22 Nov 2014
What :
Rainforest
Where :
Fraser Island, Queensland, Australia
Renowned for its wide, endless beaches,
Champagne Pools
and stunning lakes (such as
Lake Birrabeen
), the true magic that makes Fraser Island a geological miracle is surprisingly not found along the island's water edges but its thriving rainforest deeper inland. The rainforest is anything
BUT
ordinary. It is the only place on earth where giant rainforest trees with trunk girth over three metres grow not from nutrient-rich soil but barren beach sand.
This peculiar ecological phenomena is so unbelieveable and unique, scientists continue to be astounded by the forest's origin, proliferation and species diversity. To appreciate this
freak
wonder of nature, we went on a 4WD excursion into the rainforest and did a little trekking that ended at the Central Forest Station, where remnants of a logging mill bear evidence to the island's exploited past.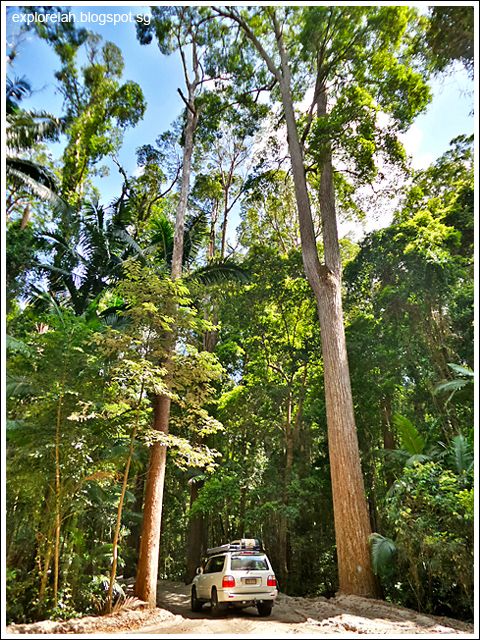 The rainforest has 2 sections - a eucalyptus forest at the outer perimeters closer to the sea and a humid rainforest that makes up most of its core.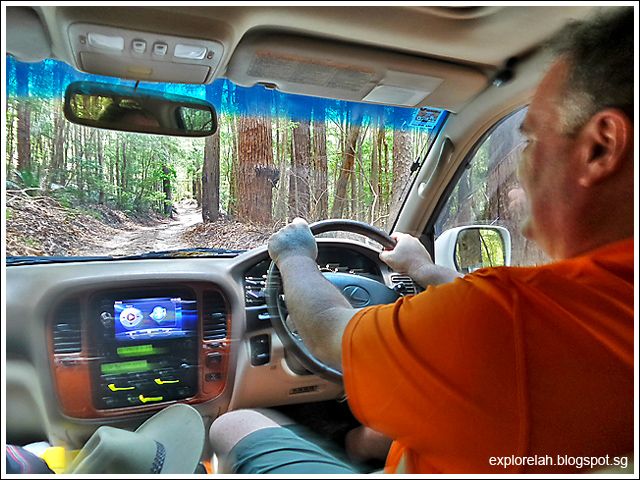 As there are no proper roads, our drive was quite a thrill ride bobbing along sandy trails and dirt paths. Thankfully, we have Greg, our host from Sunset Safaris and an expert on turning a bumpy ride into a joy ride.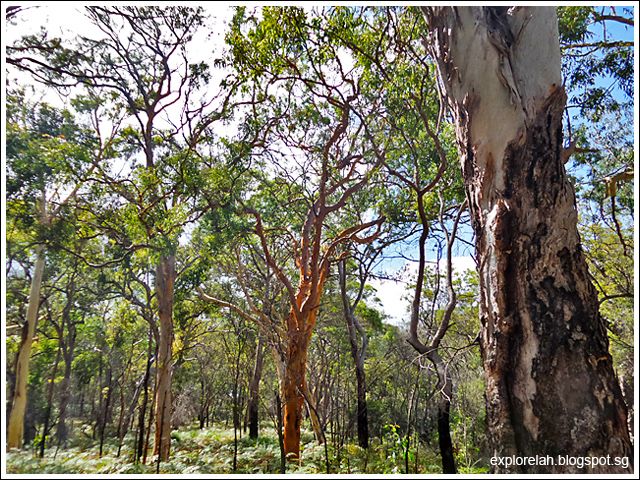 As we entered the forest, wiry eucalyptus trees and melaleuca trees with exfoliating barks greeted us. The vegetation is less dense here but as we drive deeper into the forest, the foliage gradually start to thicken and green gets darkened.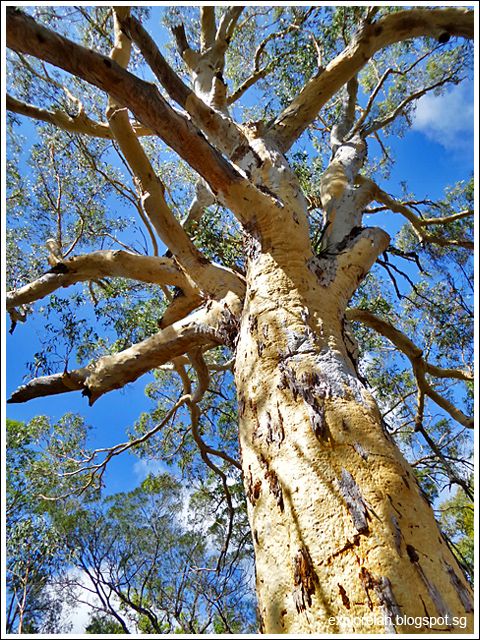 This tree frozen in ballet was right outside my car seat's window as we drove by. Feeling so close to nature!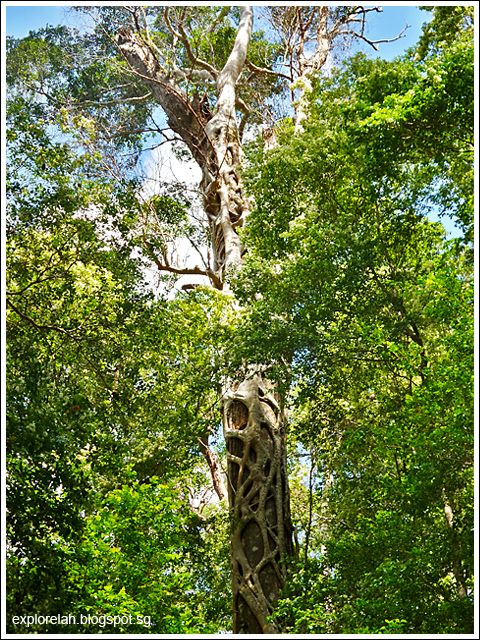 A strangler fig with its host tree. These figs grow from a seed dropped by birds into a crevice near the top of the tree and sends its roots downwards while sprouting upwards towards the sun.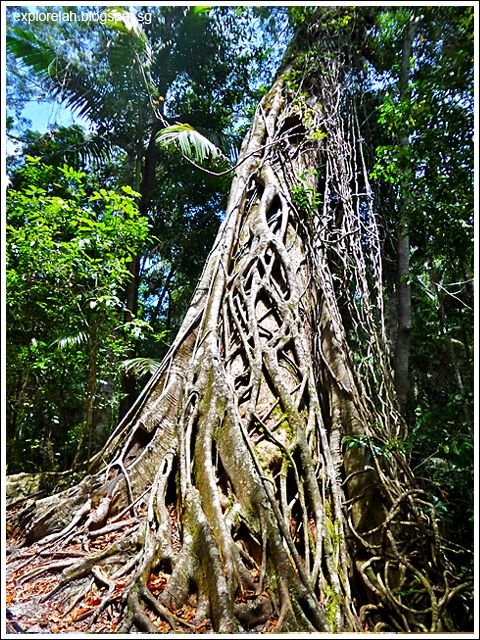 Eventually, the fig will encase the host tree and causes it to die. The fight for survival is brutal!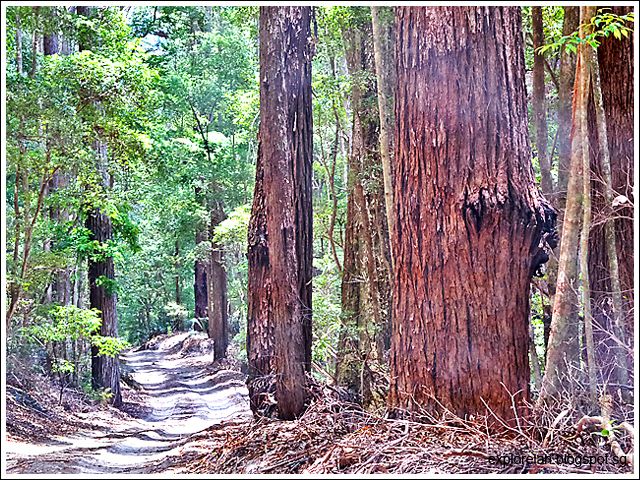 The deeper we got into the forest, the thicker and taller the trees... we've reached the rainforest zone.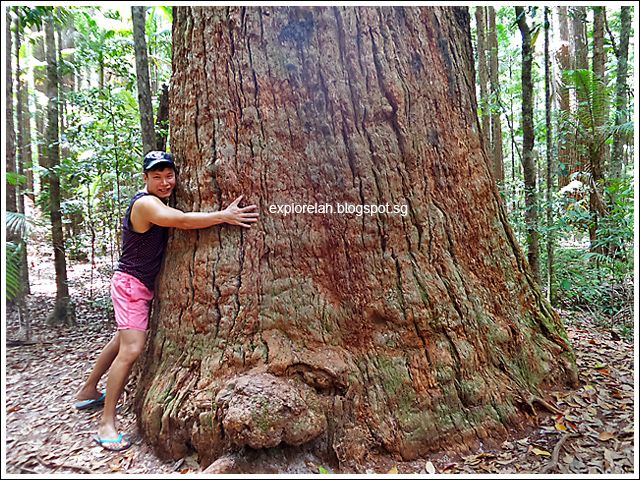 Too much to love... One of the many monstrous satinay trees in Fraser Island's sand-grown rainforest. These gigantic trees are valued for their timbre to make marine pylons as the wood is resistant to fire and termite infestation.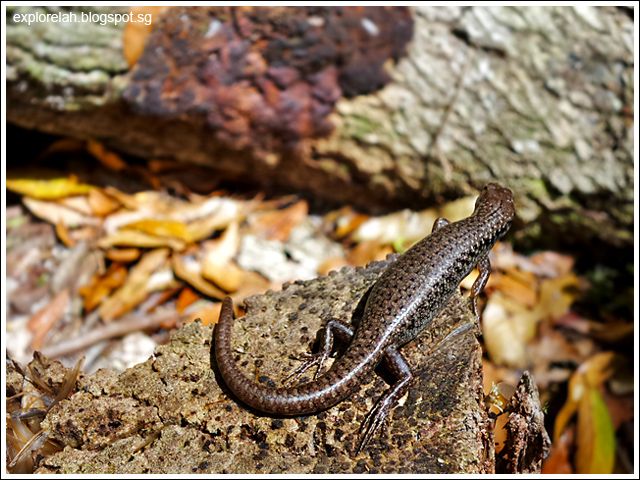 We left our 4WD for an hour's trek through the magnificent rainforest, with these little skinks darting out of our way occasionally. It takes trained eyes to spot wildlife as they're pretty well camouflaged.
We spotted a medium-sized goanna sunbathing at a rare spot where the sun manages to reach the ground.
Sometimes, trees topple and fall during a storm and obstruct the trekking trail. That's when park rangers will saw through the dead wood to clear a path, As you can see, I'm more prepared for the beach than for trekking which speaks of the relative ease of the walk.
I have no idea how this vine grew into the letter 'D' but it's pretty cool. 'D' for Darren!
The Wanggoolba Creek flows quietly along the rainforest floor, earning it the nickname Silent Creek.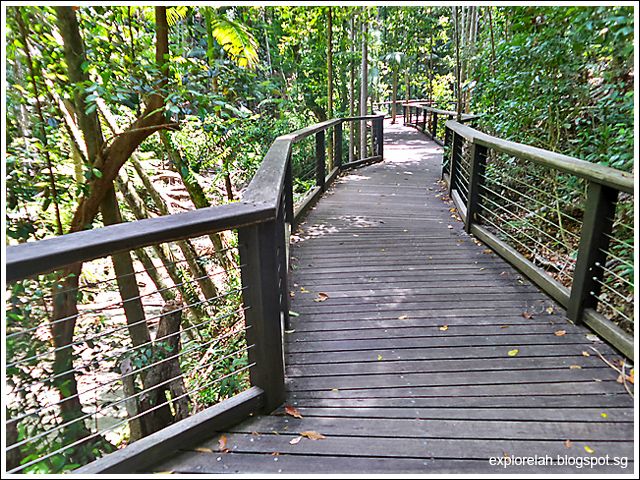 An elevated boardwalk marks the nearing of the Central Forest Station and the end of our trek. Some visitors begin their trek here.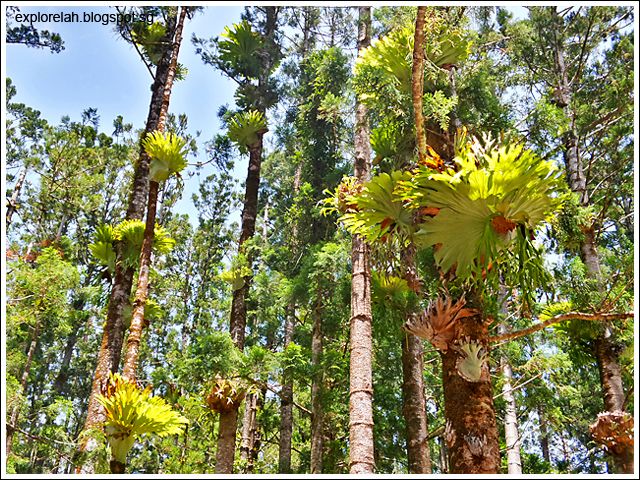 Scene at the Central Forest Station... I've never seen so many staghorn ferns gathered at one place and they are huge!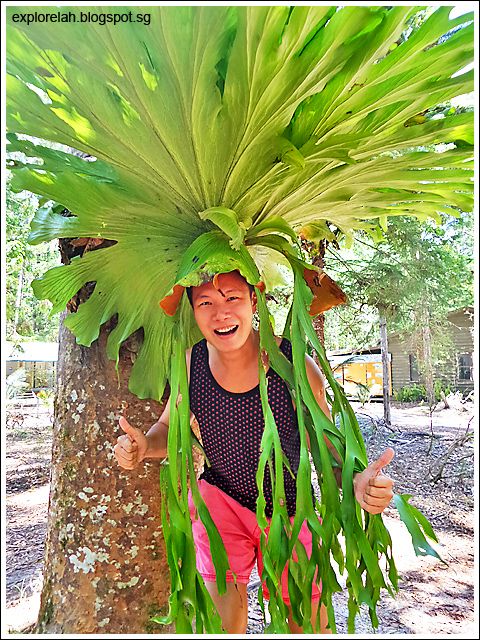 We found this beautiful staghorn fern that was closer to the ground and what a flambouyant wig it makes! Most couldn't resist a Rapunzel moment with it but be very, very, VERY careful when posing so as not to break any of its delicate cascading tendrils.
Having trekked some of the rainforests in Singapore, Sarawak (Bako National Park), Pulau Gaya, Japan (Yaeyama Islands), and Taiwan (Alishan), I find this trek on Fraser Island more eyeballs grabbing as the greenery transits from a eucalypt woodland to a rainforest filled with mammoth satinay trees. Most of the trek also parallels the watery path of the Silent Creek and that acted as a soothing visual companion for the journey.
This is definitely one trek I'll file in my to-do category while on Fraser Island!
This post has been made possible by
Tourism Queensland Singapore
and
CTC Travel
.