Date of Exploration :
23 Nov 2014
When I saw the name "
Lady Elliot Island
" on my Queensland 4WD itinerary, I suddenly had the urge to sip tea from a fine porcelain teacup with my little pinkie finger up while reading a Jane Austen novel. What a quaint name for an island!
Without looking it up on Google, I imagined Lady Elliot Island to be one of those refine, elegant islandic resorts with luxurious villas and spa pamperings amongst nature that has been trained to obey fences and cages. But that's far from what Lady Elliot really is. She's less Snow White and more Pocahontas where nature is allowed to be nature and amazing underwater encounters make for a magical, fairytale vacation that's bound to be remembered ever after. Well, at least for me coz I got to swim with a hawksbill turtle!
I've seen turtles at other island destinations I've been to but they were always at unreachable depths and blink-and-you-missed-it scenarios. But here at Lady Elliot Island, I got to touch the turtle's shell and we swam almost cheek-to-cheek for a long time! It's a pity I didn't bring an underwater camera to selfie with it. Looking into its eye while we were drifting above a coral garden is a moment I will not forget. It was the crowning encounter of my visit but that's not all, there are more adventures waiting on this island that sits at the Southernmost end of the Great Barrier Reef.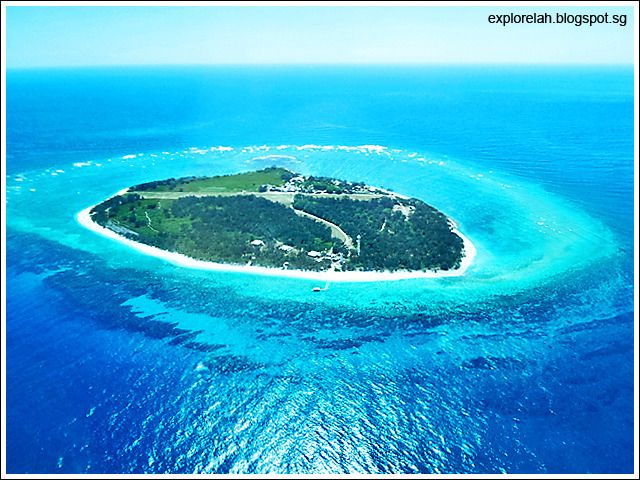 Aerial view of Lady Elliot Island on our flight there... it resembles a giant peace sign from this angle. The strip cutting across the island is a runway for planes to land and takeoff.
To really appreciate Lady Elliot Island, we have to start from how the island is formed. While most islands begin their lives as being part of a continent or mainland before splitting to become a standalone island due to tectonic plate movements or a rise in the ocean water level cutting off land connections (these islands are known as "continental islands"), or by underwater volcanic magma flow that eventually builds up and break the water surface (known as "oceanic islands"), Lady Elliot Island is formed by coral deposits on an underwater plain during the last Ice Age before rising above the sea surface roughly 3,500 years ago.
While continental islands have white or brown sand (eg. Singapore and many places around the world) and oceanic islands usually contain black sand from eroded basalt or lava (such as Hawaii), Lady Elliot Island's coastline is made entirely out of coral fragments. I think of the island as a bank account of Hai Long Wang (海龙王) where he deposits his coral dollars.
Getting to Lady Elliot Island
You can visit Lady Elliot Island as a day trip or stay overnight and the only way to get there for tourists is to fly.
Lady Elliot Island Eco Resort
offers day trips or stay packages and you can fly from either Bundaberg (approx. 30mins), Hervey Bay (40mins), Brisbane (80mins) or Gold Coast (100mins).
Ours was a day trip package costing A$355 (per adult) departing from Bundaberg. The package includes return plane transfers, buffet lunch, glass bottom boat ride, equipments rental and snorkeling. The price tag is a bit steep for a day trip but considering that in Maldives, the cost of just a 45-minutes return seaplane ride from Male to an island atoll costs US$300, what Lady Elliot Island charges seem reasonable.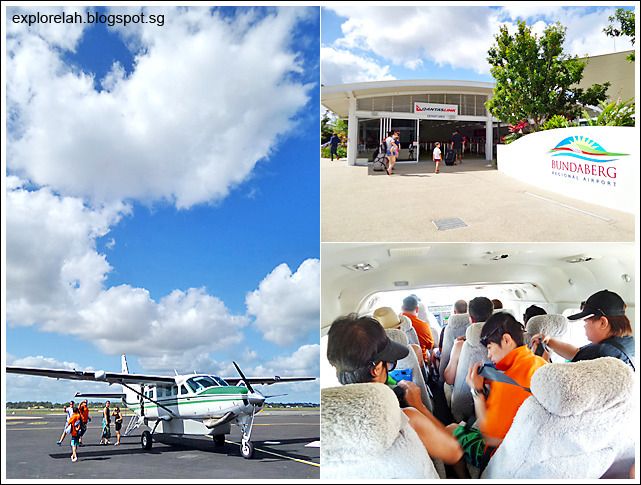 Our Lady Elliot Island adventure began with boarding a monoplane from Bundaberg Airport. The plane sits about 15 people and space is pretty tight with no toilet onboard so I would recommend flying from Bundaberg which has the shortest flight time of 30 minutes to the island.

Best seat on the plane is the last row single seat to the left. This seat's window is not blocked by the plane's wing and you can get a clean shot of the whole island (like the first photo in this blog post) from the air while approaching.
Letting Nature Be Nature
Developed for tourism since 1969, Lady Elliot Island is an exceptional model for ecotourism with a philosophy grounded in the harmonious co-existence between nature and tourism. Developments are kept to the minimum and there are various eco-friendly practices and features such as pre-fabrication of building components so that they can be assembled on the island to minimise onsite construction, the use of solar power to cut down on carbon footprints, seawater desalination for drinking, and recycling of waste.
To witness the fruit of this dedication to ecotourism, one just needs to look up in the air... where thousands of sea birds are seen darting and gliding across the sky and nesting everywhere! It's like stepping into an open-air aviary. Or walking onto a bird orgy. It was nesting season during our visit and it's great to see that human presence hasn't scared them away. Anyhoo, more about the birds later. Here's a look at the hospitality features on the island...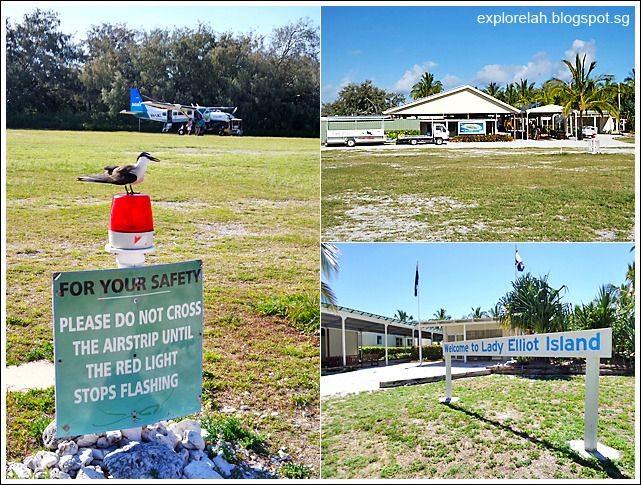 Arrivals and departures are on a strip of lawn that runs across the island. Flights coming in and going out of the island are limited to at most twice daily from the four boarding points on mainland so pre-booking is necessary to guarantee a space.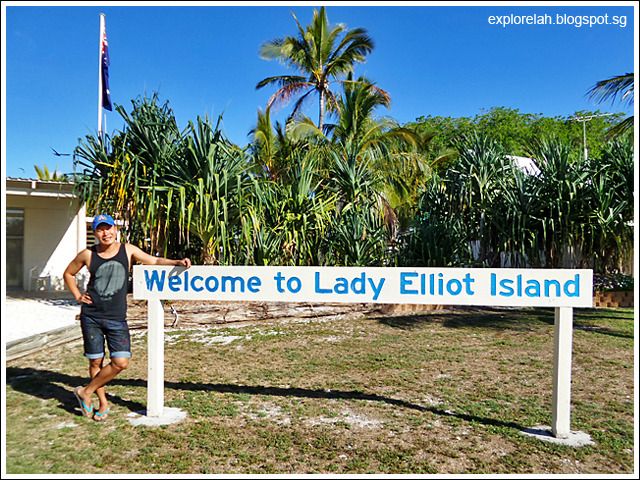 Lady Elliot Island is awarded the Advanced Eco Certification by Ecotourism Australia in recognition of the efforts in conserving the island's ecology while providing visitors with a unique experience with of untamed nature. By the way, that's not a fat crow next to the sign. That's me.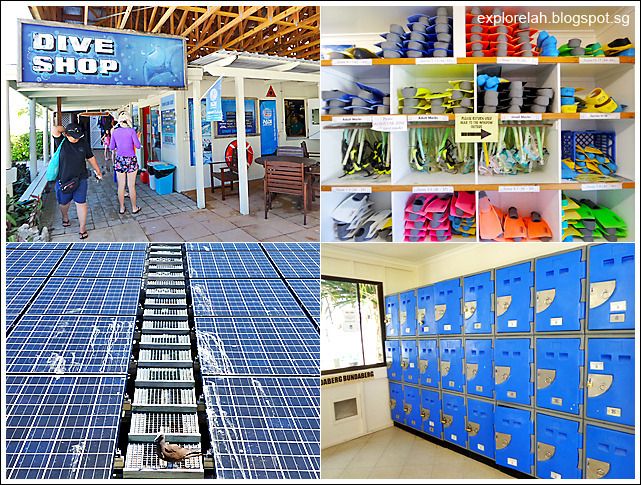 Included in the package are snorkeling equipments rental (mask, flippers, and floaters) which can be picked up at the Dive Shop. Diving is also available but at a separate cost. Lockers are provided for bag storage for day trippers.

And if you happen to chance upon the solar power station to the side of the main resort developments, you'll see rolls of solar panels. It was mating season during our visit so lots of birds and their works of fart.
If you want to stay a night or two, lodgings are available on Lady Elliot Island either in these camper style Eco Cabin...
... or the beachfront or garden suites.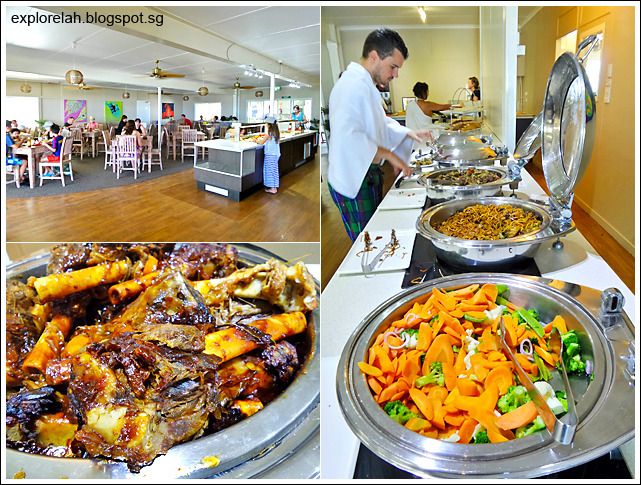 Included in the day trip package too is a buffet lunch that's yummers. The lamb shank would have you going back for seconds.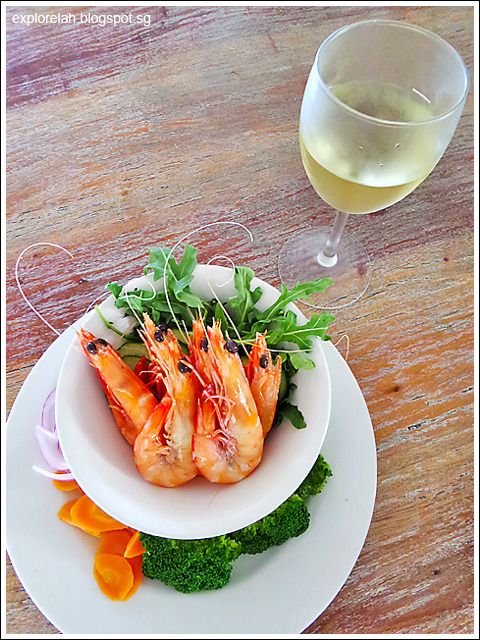 Being a seafood lover, I filled up on these scalded prawns with an assembly of greens savoured over a glass of chilled white. Can't remember how many prawns I had but the ocean must feel lighter. Shiok!
An Orgy of Feathers
September to March every year is nesting season and hordes, not flocks, of birds descend on Lady Elliot Island to breed the next generation. I've not seen so many wild birds all over the place in my life. It was truly astounding to see countless birds and chicks flying around, up in the trees, hiding between shrubs and loitering the island grounds.
But having that many birds posed a problem. Some parts of the island have a funky smell due to the birds' poo. It took some getting used but hey, this is real nature after all and the birds are here first.
Lady Elliot Island didn't use to get so many breeders as being a coral cay, the island was practically devoid of nutrients necessary for plants to grow. However, as more birds came to the island to breed, their poo (known as guano) acted as fertilisers and plant seeds, also in their wastes, began to sprout. Then in 1969, an extensive re-vegetation program on the island created a haven for the wild birds and Lady Elliot Island began attracting up to 95 different species of land, sea and shore birds. Today, the island has the second highest number of bird species along the Great Barrier Reef belt.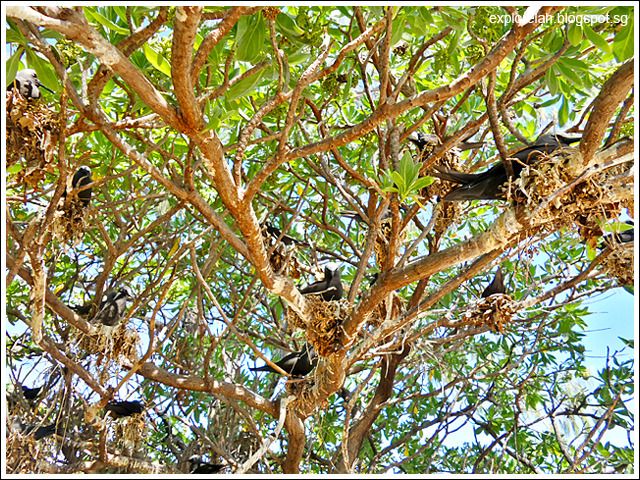 Hundreds of Black Noddies nesting on trees at almost eye level is a sight to behold. Another thing to hold is the breath as the inner parts of the island can smell rather dank from the birds' droppings.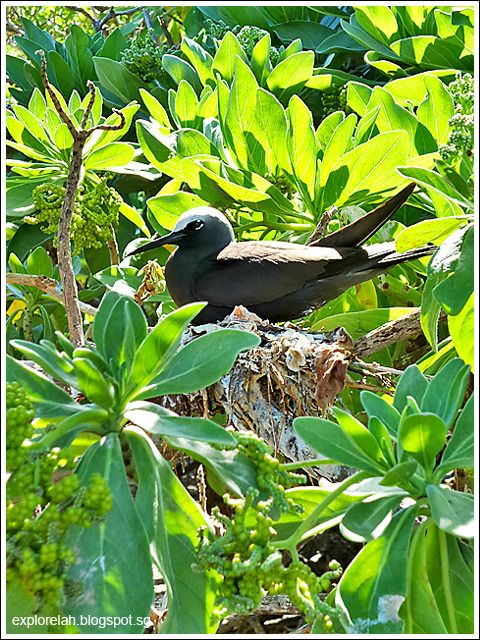 The Black Noddy seem to have no fear of humans and I could get really close. Or perhaps I looked like a fat worm to the bird. They got their name from the nodding behaviour they display when courting.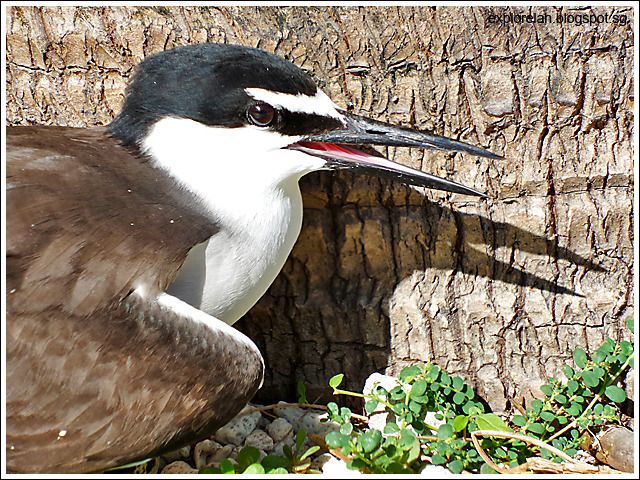 Got upclose with a Bridled Tern that began to let out a yap that sounded like a dog, which earned it the nickname "Dog Tern". Try listening to one if you get the chance.
The hallmark thin red reed of feather extending from the Red-Tailed Tropicbird's rear looks like a straw to blow into for puffing it up. This seabird is a rare sight on Lady Elliot Island where it comes to nest.
Glee Under the Sea
Being at the Southernmost point of the world's largest coral reef system, the Great Barrier Reef (GBR), Lady Elliot Island is an extended home to a staggering 1,500 species of marine life identified along the GBR belt. Fish families you can see here include damselfish (such as Nemo!, humbugs and sergeants), parrotfish, surgeonfish (Dory from Finding Nemo!, triggerfish, butterflyfish, cods, groupers, snappers, eels and lots more.
Manta Rays are also a regular in the waters of Lady Elliot Island with large numbers congregating during mid-May to mid-August. Whales are also sometimes sighted nearby, making the island a hotspot to meet these magnificent sea creatures. While it may take some luck and careful calculations to coincide with a manta ray or whale sighting, it's almost a guarantee to see turtles at Lady Elliot Island. Three different species of turtles can be seen here - Hawksbill, Loggerhead and Green.
When I was told I can see turtles here, I wasn't actually very excited because from previous experiences, they are usually very far away, just a speck in the distant sea or deep down nibbling along a coral hill. Then my encounter at Lady Elliot Island changed all that.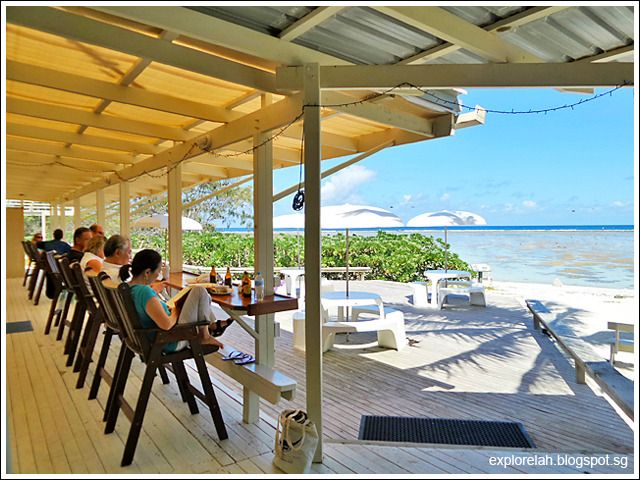 Chilling by the beach is one way to enjoy the island or you could grab a snorkel mask and flippers to meet the island's coastal residents.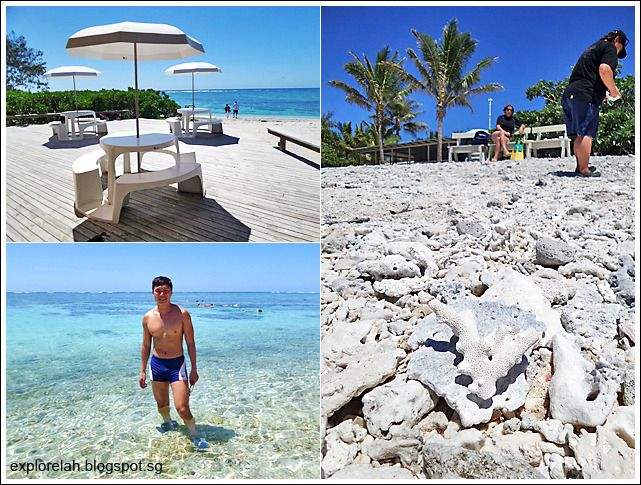 Lady Elliot Island is a coral cay, which means that instead of sand, its 'beach' is made up of coral fragments deposited onto the shoreline. Walking on it training for Thaipusum but thankfully, the resort provides closed toes walking shoes to tread the breachfront and waters. Wearing shoes while walking in the waters is a must in case you step on a well-camouflaged stonefish which is venomous.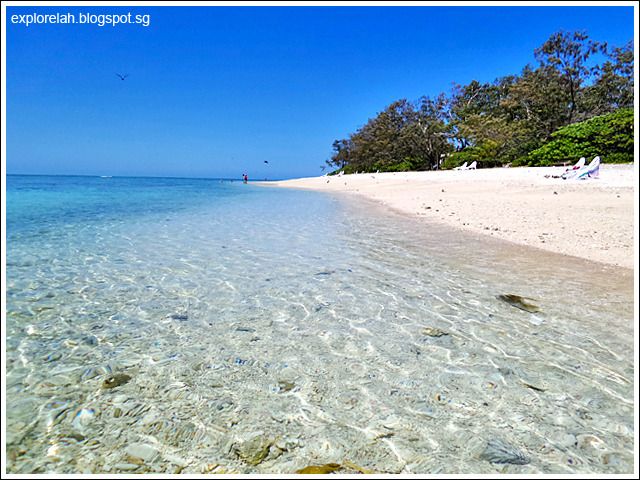 The best kind of swimming pool! As I was walking along the shallow shoreline admiring the clarity of the water, I heard someone shout "Turtle!". I immediately turned and looked in the pointed direction and saw a pinhead bobbing on the surface. All of me immediately started towards it and when I got waist deep, I began swimming in the direction of the shifting dot. But I had to swim with caution as the water level isn't very high and I had to be careful not to scrape myself on the sharp corals.

Then, out of nowhere, the corner of my left eye picked up a flipper catching the shimmer of sun rays filtering through the water. It's a Hawksbill Turtle just an arm's length away from me! In my frantic rush, I've failed to see it. The turtle wasn't very big, its shell slightly shorter than the length of my torso but man was I excited to see it. I poked my head up to yell turtle to alert the others to this one that I saw and immediately dipped my head again into the water and went after it.

The turtle was in no rush. It was so calm, which contrasted with my high-strung nerves on our meeting. As it gently glided along the shallow coast, my heartbeat quietened down. Then I reached out a hand, gingerly, and lightly laid it on the back of its shell. I didn't want to cause it any distress. But the turtle didn't seem to mind. And we swam together, with my hand lightly on its back. At some point, the turtle looked at me. Our eyes met and it was surreal. It was unreal because the turtle didn't freak out. More like nonchalance, like I'm a friend and it allowed me to swim along for a really long time. I only surfaced because I wanted to borrow an underwater camera to capture the moment. But alas, the moment will only reside in my memory and not in a photo as it was time for our next activity... snorkelling in the deeper sea.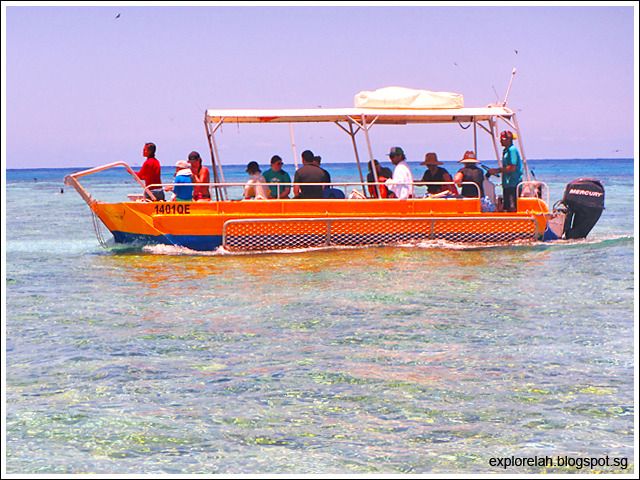 A glass bottom boat took us out to sea to snorkel the rich colours of the corals and fish in the deeper water. But my heart remained with the juvenile Hawksbill Turtle I saw earlier.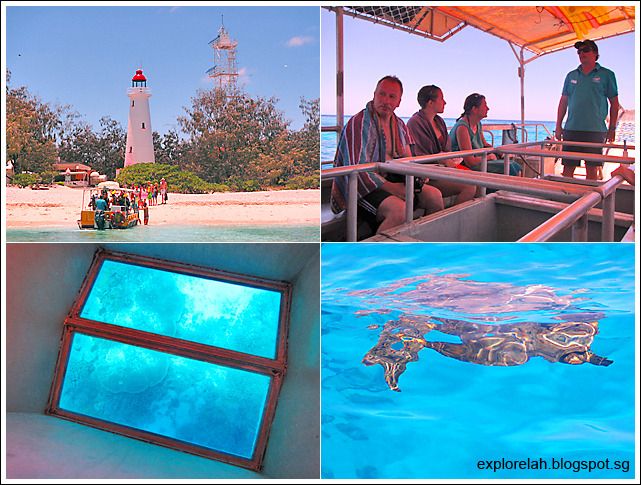 The boarding point of the glass bottom boat is at the island's historic 17m tall red-and-white lighthouse that was built in 1873. The lighthouse is the first in Australia with a wooden frame but had a cladding of cast iron for waterproofing. While onboard, we saw a couple of turtles but now that I've swam with one, seeing just didn't thrill anymore.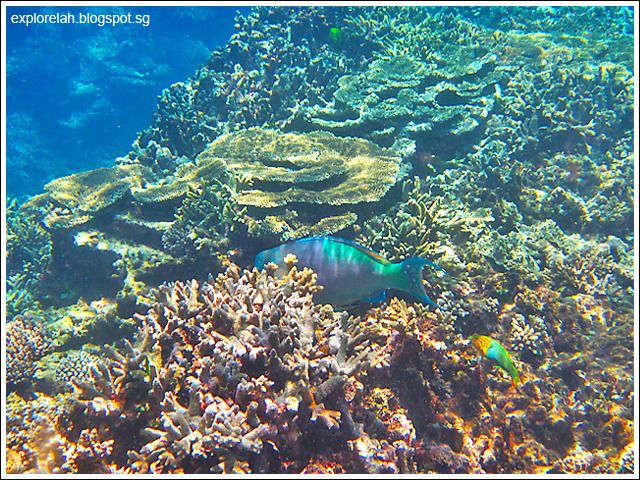 Below the surface, a jungle of generous hues captivates the eyes. Underwater cameras can be rented and SD card purchasable at the Dive Shop of Lady Elliot Island but I would recommend bringing your own so that you have time to familiarise yourself with the gadget.

I took quite a bit of photos and videos with the rented underwater cam but when I looked through the SD card, only a few photos are on file and I don't see any videos at all. And the photos have a strange red tinge which I had to correct with Photoshop.

When visiting Lady Elliot Island, here are the 3 musts - swimwear, sunblock, and underwater camera. And if you are experimental, bring a selfie stick and snap a photo with a turtle!
Intertidal Walk
As the day wears on, the waters begin to recede and a different seascape emerges. The crystalline blue retreats to unveil a labyrinth of hard and soft corals as well as colourful crabs, sea stars, shellfish and fishlets darting in the shallow pool. The next attraction on Lady Elliot Island has revealed itself... a low tide exploration of the island's coast.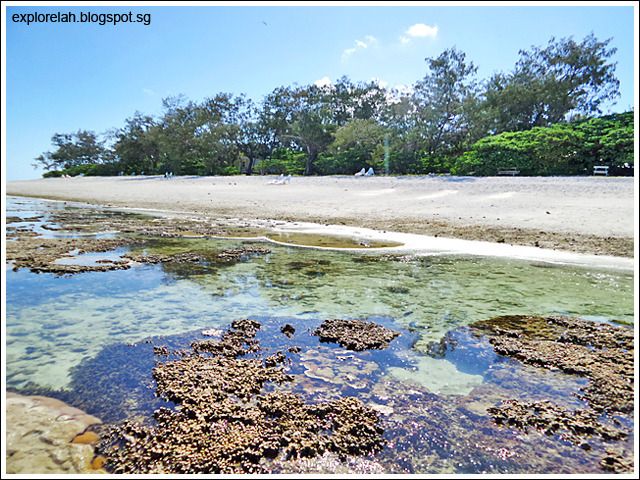 Staghorn corals poking their nodules above water along with a massive estate of 'condominiums' for minute sea creatures appear when the tide retires.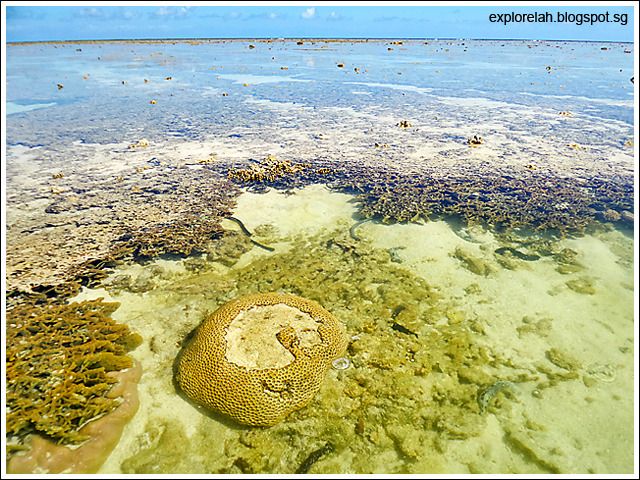 While there are more than 350 species of hard and soft corals identified along GBR, the most commonly found hard coral species at Lady Elliot Island are staghorn corals, boulder corals, plate corals, brain corals and mushroom corals.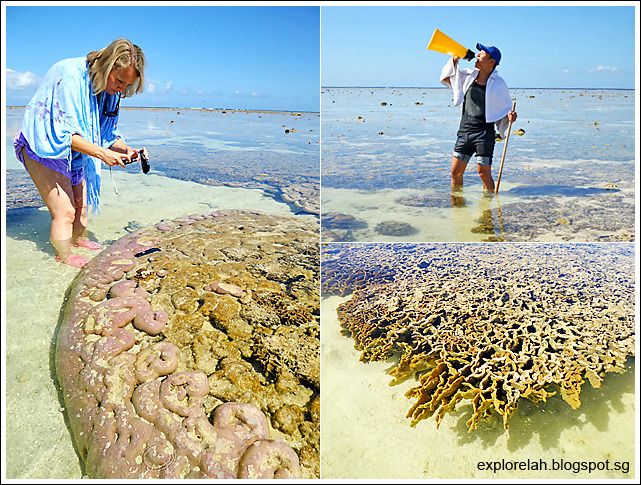 It's stunning how colossal some of the coral formations are when revealed during low tide. Viewing cones are available FOC at Lady Elliot Island for visitors to use for a closer look at marine life during an intertidal walk. I just pretend it's a loud speaker.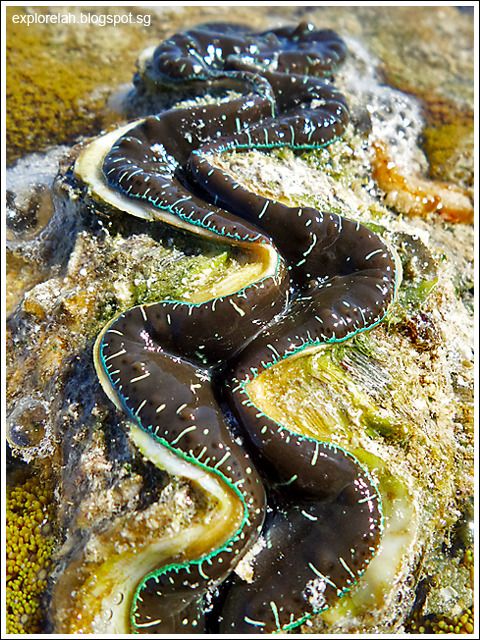 A boring clam close-up. It's called a 'boring clam' not because it doesn't know how to have fun but because it bores (burrows) into rocks or the seabed.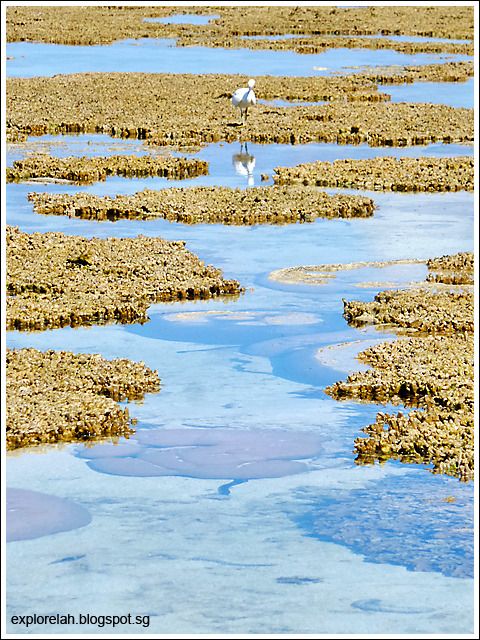 An Eastern Reef Egret waiting for its next meal. They are ambush hunters and can stay very still for prolonged periods to wait for small fish, crabs or squid to come out of their hiding in the coral crevices. To feed, they spear the prey with their beaks, flip them up into the air and swallows them.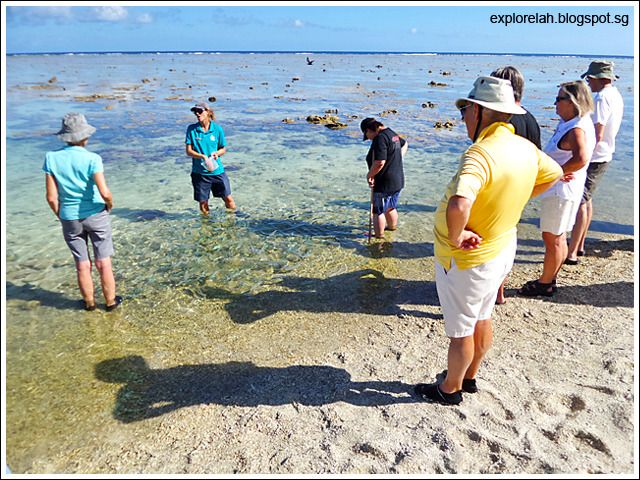 When the tide goes out, a number of strikingly hued marine fish hang around the coral buffet to feed. A 15-minutes fish feeding session is held to gather them closer to shore and you can check the daily activities schedule at Lady Elliot Island to find out the feeding time. Ours was at 3pm.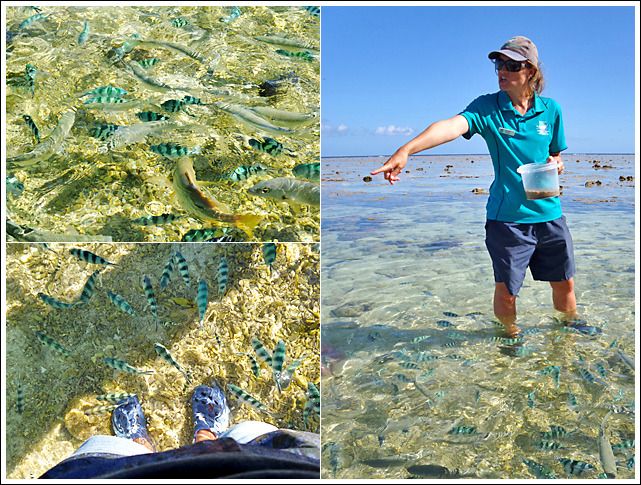 Countless feeders turned up for the free meal and it's kinda fun to watch them milling around the feet. Most of them are striped wrasses but occasionally, a colourful parrotfish or two will join in.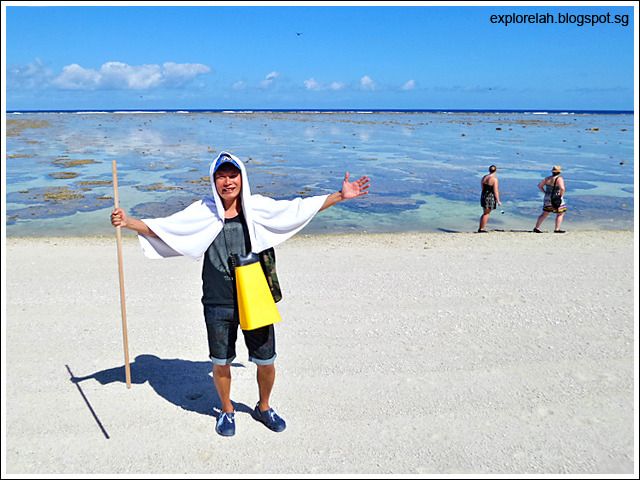 Does this remind you of Moses during the parting of the Red Sea. LOL. It's been good fun on Lady Elliot Island :o)
Our day trip ended with the intertidal walk before washing up and changing into dry clothes in the island's public shower huts and flying back to Bundaberg. The great thing about visiting Lady Elliot Island is that because of its small size, all the activity hotspots are very close by so there's no need to trek a long way between them.
With lots of birds, fish and corals to see, good food and of course, that rare opportunity to swim upclose to a turtle in the wild, Lady Elliot Island is experiencing the best of the Great Barrier Reef in a nutshell. Or should I say clam shell?
This post has been made possible by
Tourism Queensland Singapore
and
CTC Travel
.