Date of Exploration :
21 September 2014
Watching cooking shows, I've always reserved a suspicion about the taste factor of those resulting dishes that look so delectable on screen. So I was pretty psyched about eating at Jamie's Italian in Sydney, not because of the celebrity chef's namesake, I haven't watched a full episode of his cooking shows actually, but to put a tongue on the reel-to-real recipes for a taste test.
Granted that Jamie Oliver is not there to cook our meals himself and maintaining food consistency is a daily challenge in most kitchens, but the taste shouldn't veer too off the touch of a TV master chef. Or will it? Let's find out...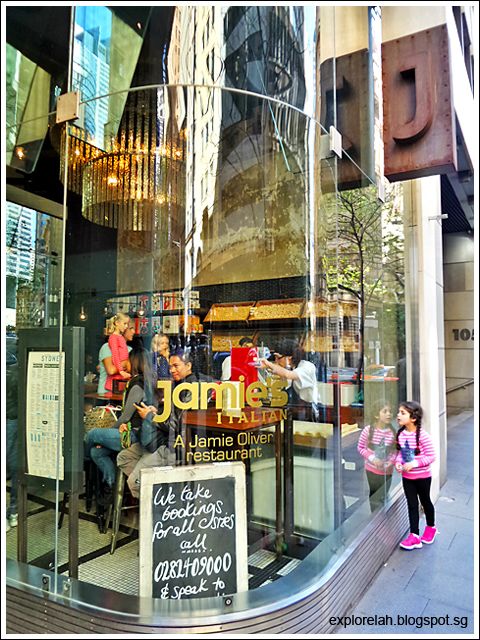 Foodies sure start young nowadays don't they?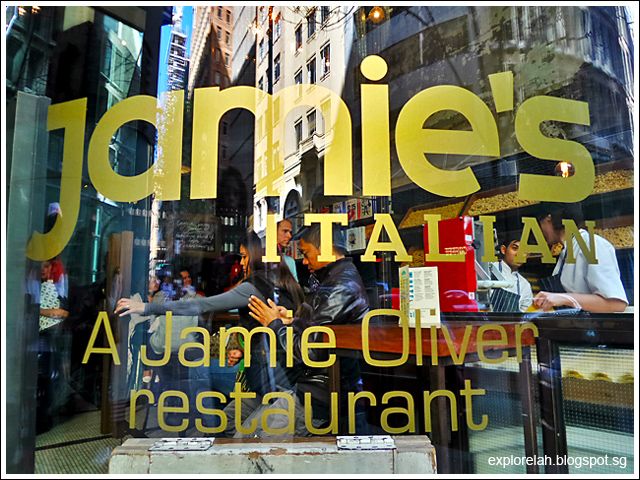 Opened in 2011, Jamie's Italian is located at the heart of Sydney's CDB along Pitt Street. Long queues during lunch and dinner, especially on weekends, are a norm. To skip the queue, make a reservation online at Jamie's Italian website before visiting. Else, be prepared to wait in line for up to 1.5 hours for a seat during busy days.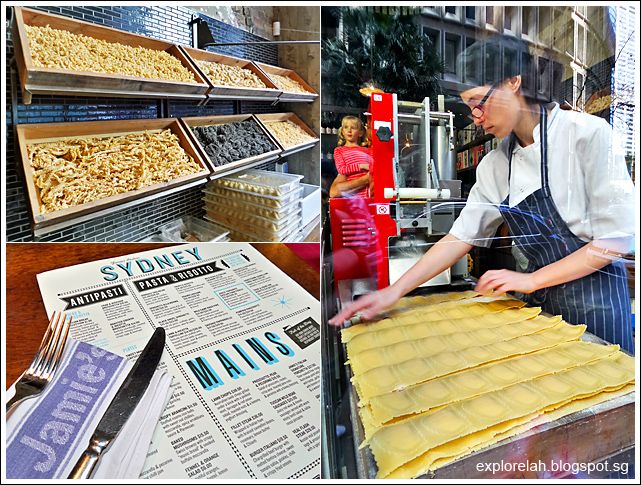 Show and sell. Pastas are made fresh at the front of the restaurant where diners waiting for a table and passerbys can peer in on the demonstration.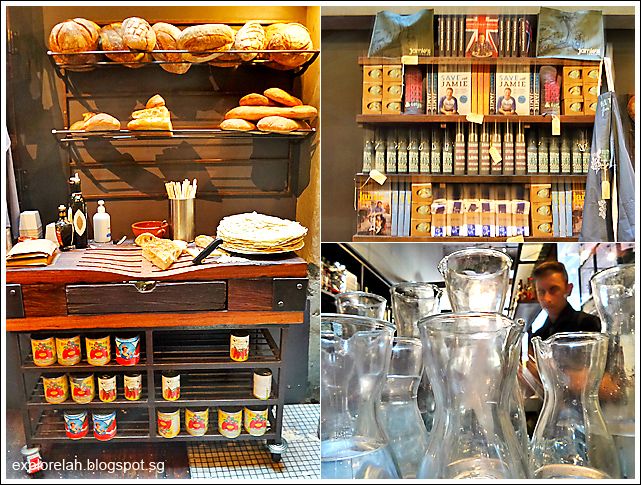 The restaurant has quite a few surprises in its decor that also serve functional purposes. I love the concept of the open bread station although it is for use by staff and not customers.
Jamie's Italian in Sydney occupies two floors with the first offering a narrow runway of seats while tables on the mezzanine level are organised in the regular grid-type arrangement. Sitting at the first level definitely made the dining experience more visually interesting.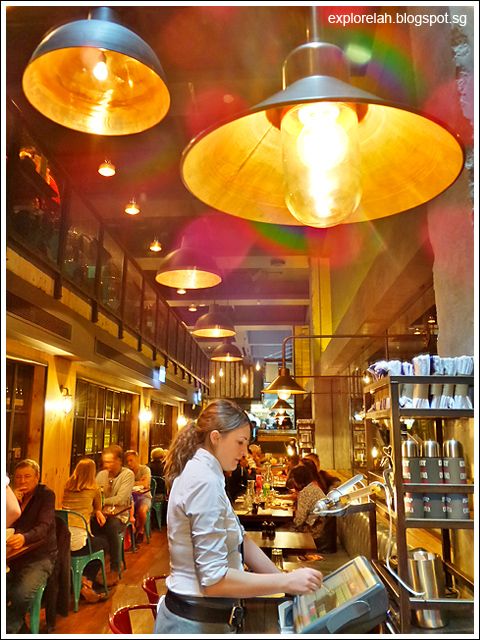 The decor looks to me to be a mish-mash of industrial minimalist accented with country detailing and finished off with hints of a 50s-style European diner.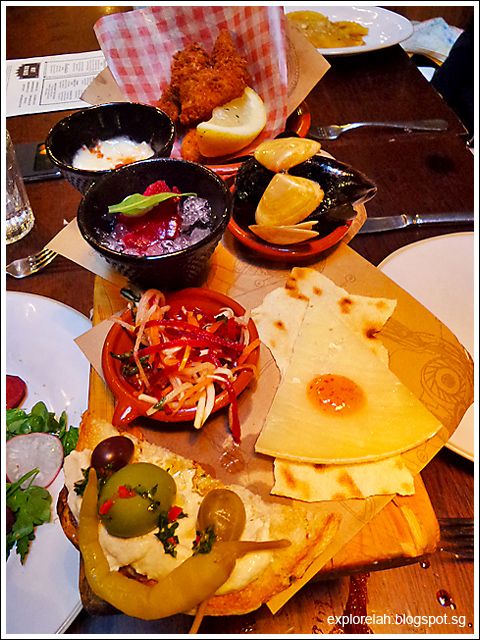 From starters to pasta, mains and sides, the menu is spelled out all in one page with no photos to illustrate dishes. We started our lunch the traditional Italian way with an order of the Fish Antipasti that's served on a board perched between two tin cans. Such a simple yet novel way to elevate the dish!

Antipasti starters are sized and priced according to headcount at the table (A$13.50 per person).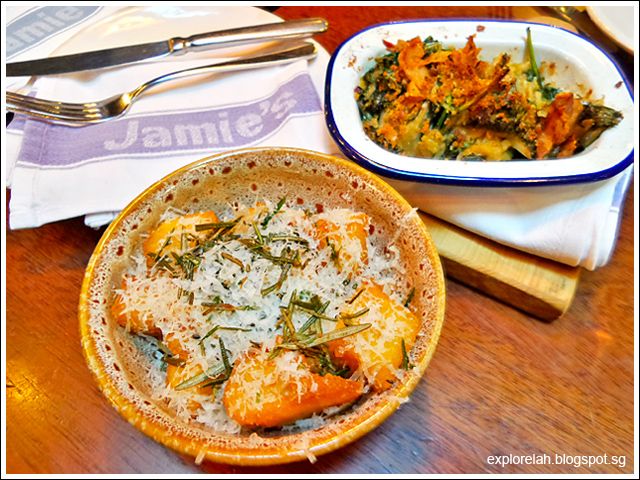 Sides of the restaurant's famous Polenta Chips (A$8.50) and Steamed Seasonal Greens (A$7.50). The chips had a delightful cheese dusted crunchy skin while the potato inside is soft. As for the greens, it wasn't appetising to look at but tastes pretty delish.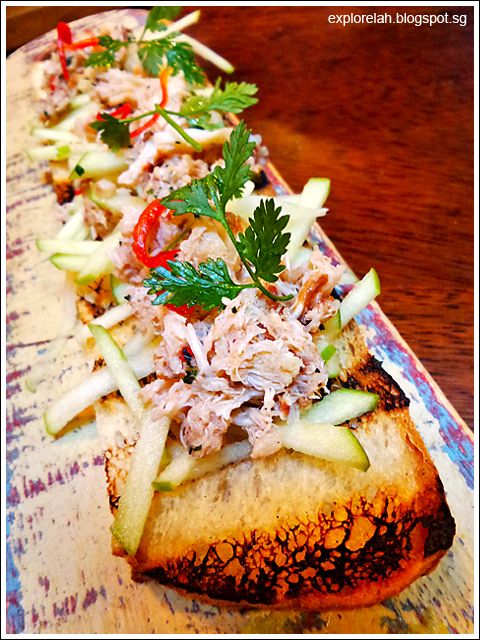 Crab & Avocado Bruschetta (A$16.00).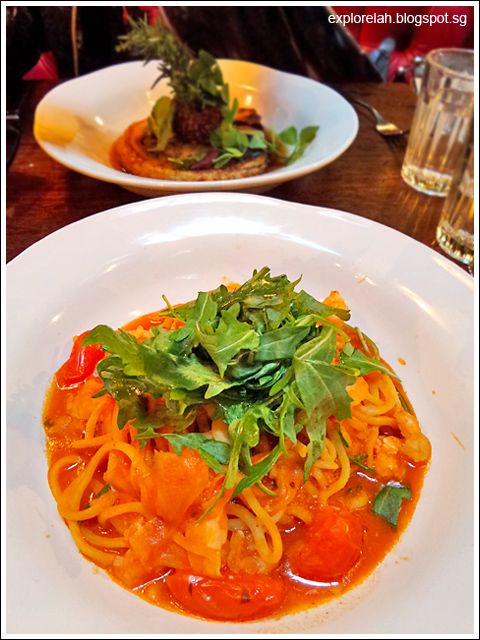 Prawn Linguine with pan-fried garlicky prawns in a thick tomato base topped with rockets (A$16.00).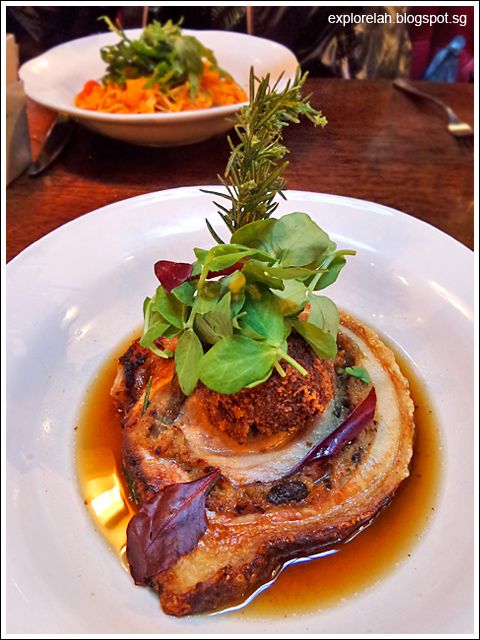 This is my order of main... Jamie's Italian Signature Porchetta (A$27.00). The disc of free-range Australian pork belly filled with herbs, garlic and spices is slow-cooked till the meat is tender and fat gummy while a crispy strip of skin wraps up this dish that fell out of heaven!

Every bite is a swoonsome trinity of different textures brought on by the
skin-fat-meat combo

and the stalk of toasted rosemary imparted a delicate finish to the dish. This Italian pork roast is extremely sinful but highly recommended!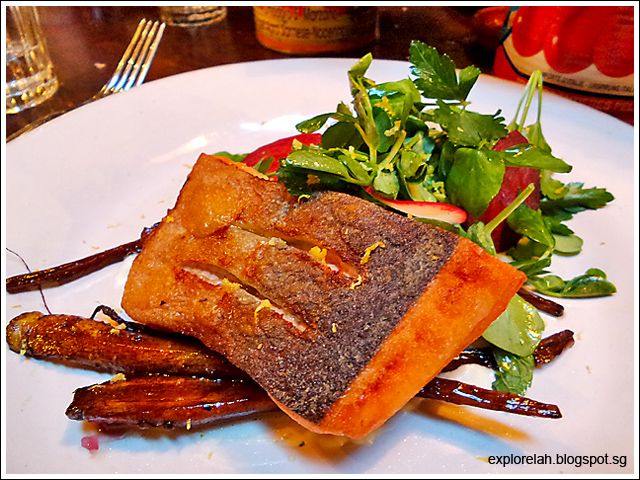 Baked King Salmon with whipped lemony artisanal ricotta, balsamic-roasted vegetables and zesty salad (A$26.50)... The fish is crispy on the outside, moist and flaky on the inside.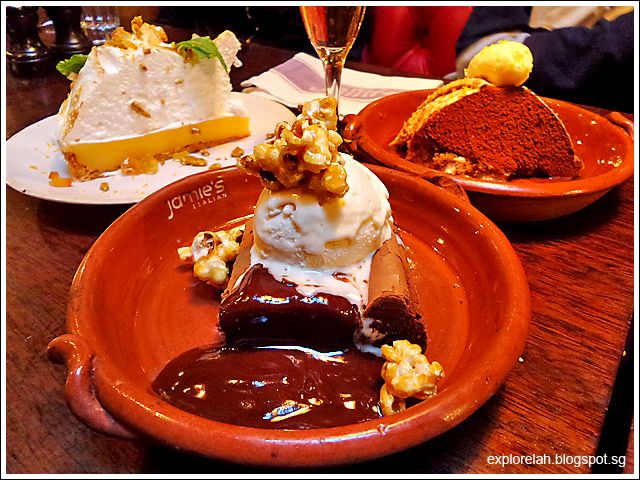 Although we were already filled up, we found space to end the lunch with some sweet creations. We had the Tutti Frutti Lemon Meringue (A$10.50) that was refreshingly tangy but too sour for my liking, Special Tiramisu (A$11.00) which did a decent job in the taste department, and JI Epic Brownie (A$10.00), the favourite on the table with the ice cream melting over the warm bake and sticky chocolate sauce.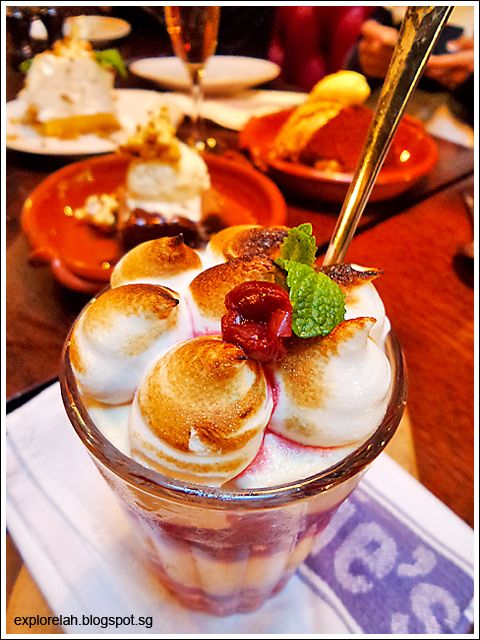 Winter Berry Trifle (A$10.00)... looks better than it tastes.
Although I eat it all, when it comes to feeding time while overseas, I'm something of a food racist. I prefer Asian cuisines over Western gourmet but me likey Jamie's Italian for the generally great tasting menu, restaurant ambience, service and reasonable pricing.
So it's true, the food on TV does tastes as good as they look. At least in Jamie Oliver's case.
Jamie's Italian, Sydney
Address :
107 Pitt Street, Sydney, New South Wales, Australia
Phone :
+61 2 8240 9000
Opening Hours :
11:30am - Late (Monday - Sunday)
Getting There :
Take the train to Martin Place station and use Castlreagh Street exit or to Wynyard Station and use George Street exit.
Website :
http://www.jamieoliver.com/italian/australia/restaurants/sydney
This post has been made possible by Destination New South Wales in partnership with CTC Travel.