Date of Explorations :
21 - 23 Sep 2014
For some, breaking a sweat during a vacation is taboo. Sports and strenuous physical activities should never find a place in the itinerary unless it involves trekking from one shopping mall to another. Or from one restaurant to the next. Yet for others, adventure is the soul of a great holiday and sports-seeing (experiencing a destination through sports) beats sightseeing.
I used to belong to the first camp who believes that holidays must be all about spas, shopping, fooding, and never lifting a muscle beyond carrying the retail stash or lifting the fork to my mouth. At most, I'll get off the tour coach, snap a few photos and escape back into the air-conditioned cocoon of our ride.
Why work so hard during a holiday when I'm already a slave to my job back home?
Then in 2010, I had my first taste of bicycle touring and the satisfaction of a self-powered vacation grew roots within me. Instead of passively sitting in a coach, minivan or public transport to move from one attraction to another in subsequent holidays, I choose to cycle, jog or trek to see a place. Of course this only works for places that are well-connected and easily navigated with key attractions neighbouring each other. But for anyone who's done self-powered touring, you can get anywhere as long as you have the time. And patience. And endurance. The good thing about being your own transport fuel is that holiday weight gain ceases to be a problem.
The whole vacation need not be self-powered but I work into the itinerary a day or two where I don't rely on chartered or public transport to see the sights. It's usually quite a daunting task because bicycles are not always available for hire or exploring some place on foot may be a safety hazard. There are some cities where I won't go jogging or walking alone. That's why I appreciate Sydney as a choice destination for an active holiday. The city is safe with well sign-posted roads linking major attractions and the seamlessly connected public transportation network system accommodates bikes as well as running shoes. Sydney is like a huge outdoor cardio gym!
But I didn't always see the city that way until a recent trip opened my eyes to just how friendly Sydney is to vacay and torch those stubborn adipose at the same time. Here are some suggestions to experience Sydney and come home fitter...
Lace Up for the Sydney Running Festival
Why jog on a treadmill when you can run along Sydney's scenic waterfront precinct that links the iconic Harbour Bridge to Circular Quay to the Opera House and Royal Botanic Gardens?
I'm not much of a runner but I took part in this year's Sydney Running Festival and for the first time, had my photo taken in the middle of the Harbour Bridge instead of having it as a backdrop!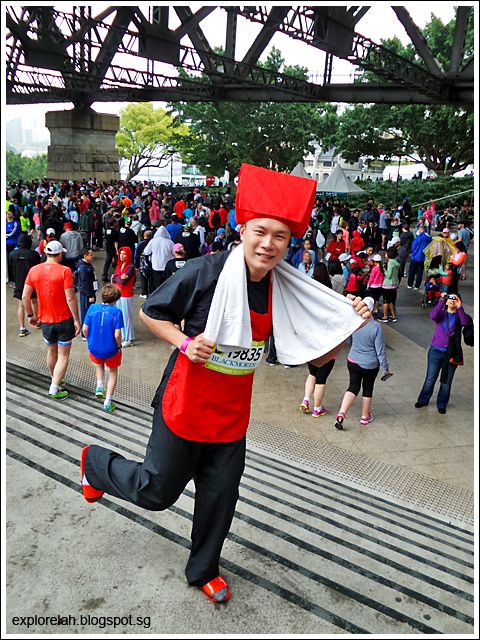 This is my virgin marathon overseas so I decided to mark the occasion with a historic character from Singapore's past... the Samsui Woman! It didn't matter if the Aussies didn't get the reference. It's all just for fun and showing our little red dot some lovin' :)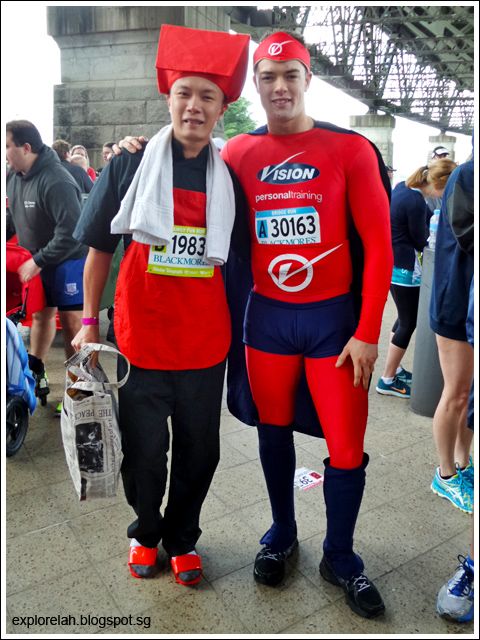 Costumes welcomed. The Sydney Running Festival is as much a celebration of fitness as it is an occasion to unclothe the superhero within.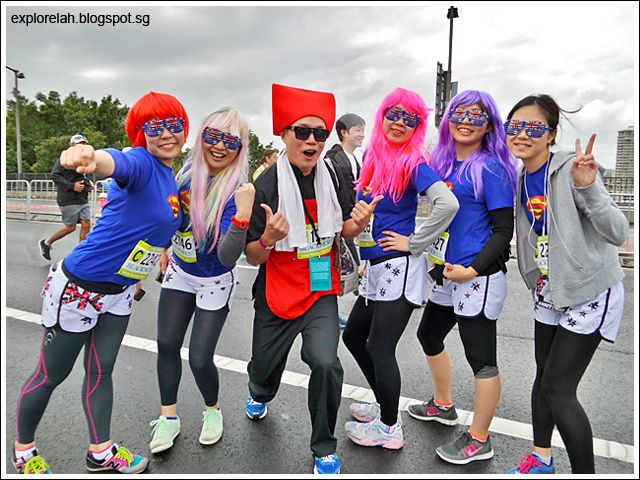 Kawaii boh?! Met these dapper dames from Japan and had to get a shot with their spunkiness. Sydney Running Festival attracts marathoners and people out for a good time through fitness all over the world with more than 2,500 international runners from over 57 countries participating. Here's doing my bit to make more superfriends for our little red dot!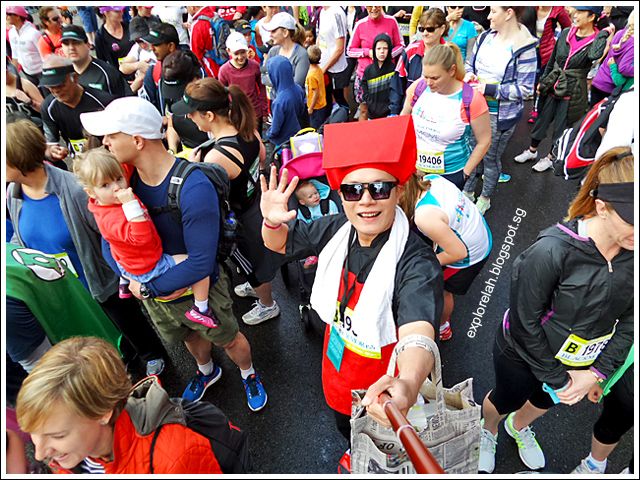 Sass in the city. I'm one of the 35,000 who attended the run this year that has various categories to cater to medal marathoners and casual funners like me.

Serious runners can challenge the 42km Full Marathon or 21km Half Marathon while those who prefer a leisurely pace can attempt the 9km Bridge Run or easier yet, the 3.5km Family Fun Run.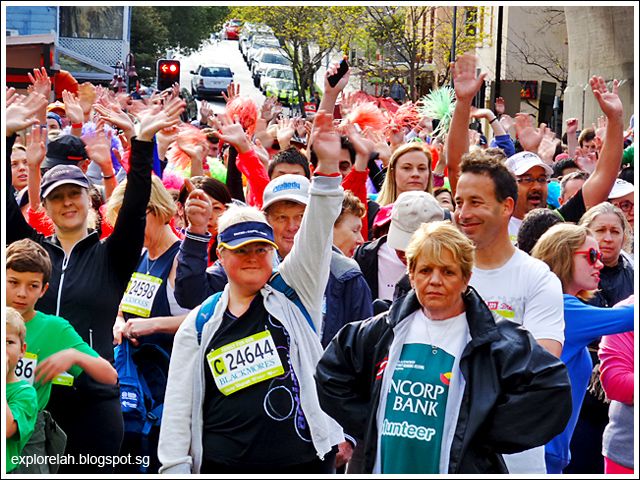 Being in the run, it's easy to forget I'm a tourist and one with the Sydneysiders.
Click clock click clock... Sydney Running Festival in cha kia! :o)
I resolved to run the 3.5km in wooden clogs (
cha kia
) but after 300m, I surrendered to the hatching blisters and changed to proper running shoes. But the click-clock sure made for a great running rhythm! Also brought along a carrier fashioned with newspaper prints to lend authenticity to the Samsui persona.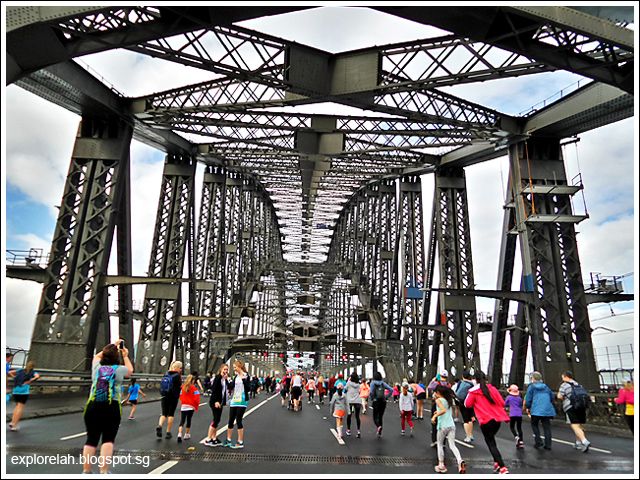 Millions have snapped a photo with the Sydney Harbour Bridge in the background, but a chance to snap a pic in the middle of the icon only comes to those who join the Running Festival.
Built in 1932 with a surface area of 60 sports fields, the world-renowned Sydney Harbour Bridge is also known locally as the "coat hanger". Running across it with the massive lattice of steel scrolling overhead, it felt like I'm passing through the tailbone of a Dinobot. Such a marvel of engineering!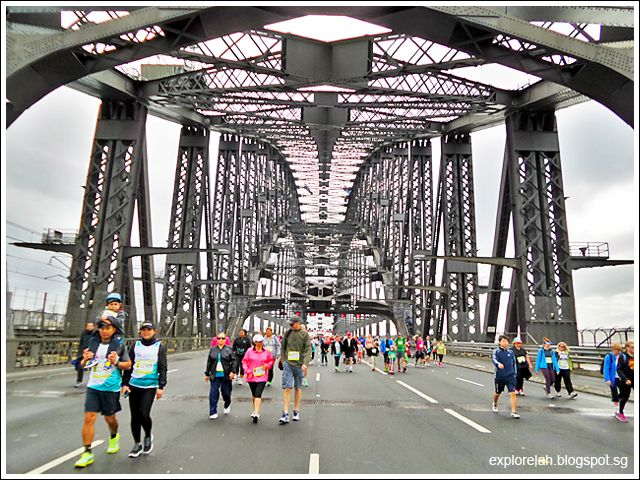 The opportunity to photograph this shared symbol of Sydney (the other being the Opera House) at its belly is simply fantastic.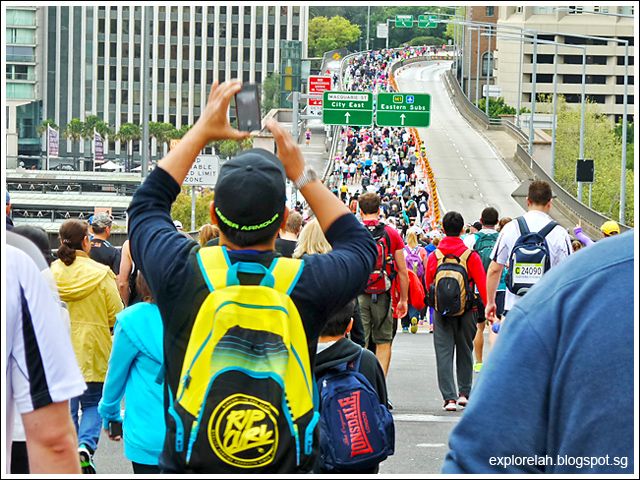 This is the real "human traffic". Legs aren't the only parts that get a good workout with the run being as much a photo marathon as it is stretch of stamina.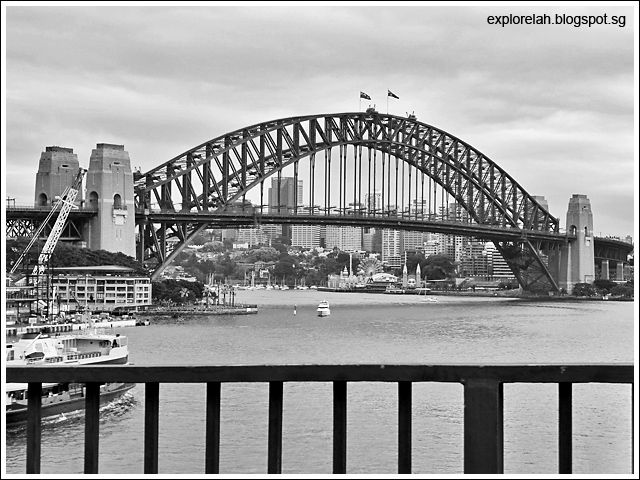 The course wound around various vantages to frame Sydney from different angles.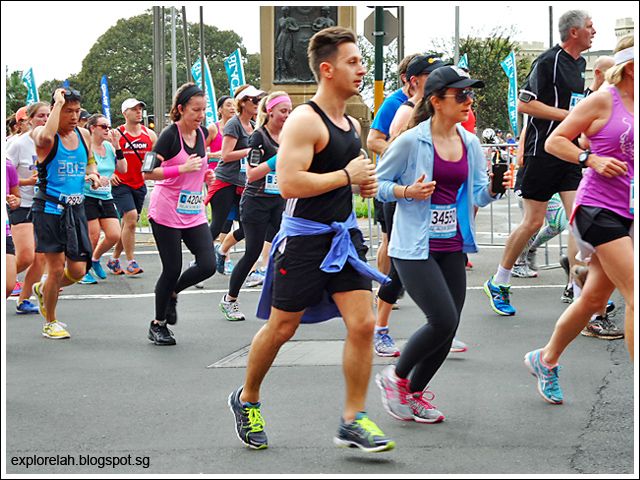 No, you don't have to look like this guy to qualify for the running fest. The sporting event welcomes families, individuals of varying fitness levels and even has a spot for paraplegics.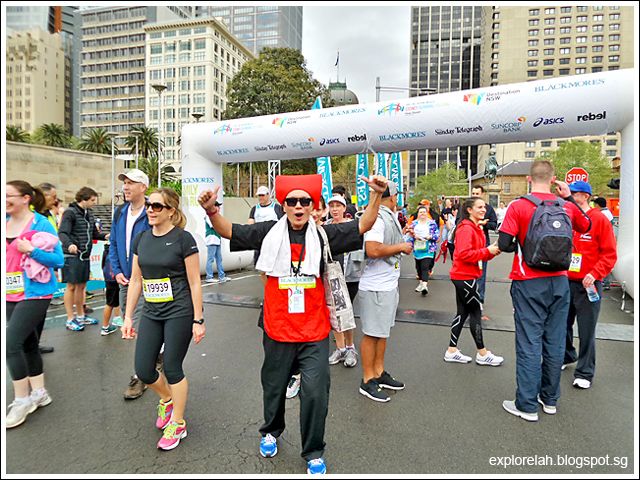 Samsui power! I had more fun than run and it was an awesome experience to be Sydney rather than see Sydney. Perhaps next year I'll attempt a longer route or the 21km Half Marathon *gasp!*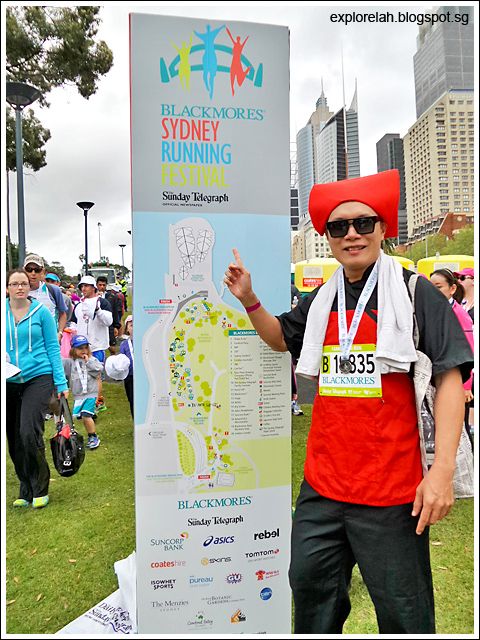 The run ended at the Royal Botanic Gardens where a Recovery Village filled with giveaways and fun activities awaits. For a sporting event of this scale, I'm impressed by how well it is organised. No wonder the Sydney Running Festival was awarded a prestigious Silver label from the International Association of Athletics Federations (IAAF).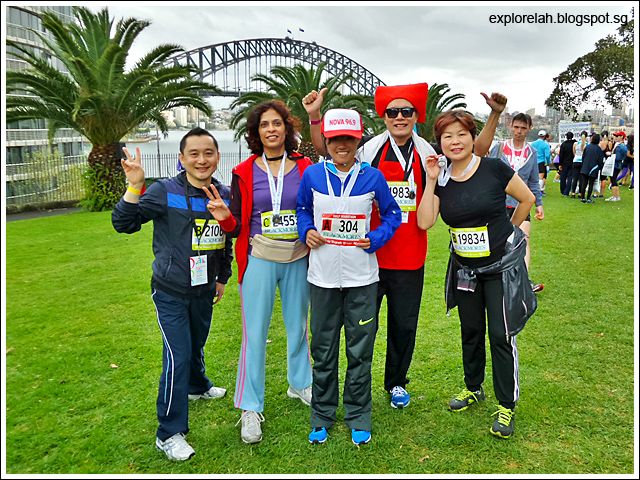 Team Singapore! Us, the greenies, had in our presence one of Singapore's rising female marathoner, Mok Ying Rong (304). The lungs-on-legs ranked 4th out of 430 finishers in the 21km Half Marathon category. Superb performance!
I'm not a fan of running long distances back home because it always feels like I'm deep breathing exhaust fumes no matter where I ran (and the haze!), but getting a taste of jogging in Sydney through the Running Festival, I could understand why being constantly out of breath can be so enjoyable here. The air feels fresher.
Perhaps it's the cooler weather, the festival is held in early spring where day temperatures hover between 15 to 25 degrees, or maybe it's the effect of a change of scenery to Sydney's picturesque waterfront with the extraordinary opportunity to run on the Harbour Bridge freeway that I was distracted from the panting.
Whether you are a hardcore marathoner, casual jogger or tourist seeking a memorable experience, the annual Sydney Running Festival is definitely one of the best ways to let Sydney leave a footprint inside you. It's also another great excuse to play dress up!
To find out more about Sydney Running Festival and take part in the next run on
20 Sep 2015
, visit :
http://www.sydneyrunningfestival.com.au
Try Stand Up Paddle & Yoga on Water (SUP Yoga)
Originating from Hawaii, stand up paddling is steadily catching on as the less strenuous cousin to kayaking and canoeing but if you ask me, SUP definitely requires more guts to paddle off. Why? Because the fear of falling into the water is more acute when you are gliding on water standing up. Compared to sitting down in a kayak, it's a longer way down.
As if balancing on water while standing up is not hard enough, now imagine doing yoga on the SUP board. Looks like Mission Impossible has found another
spot
sport for its next sequel in Sydney again.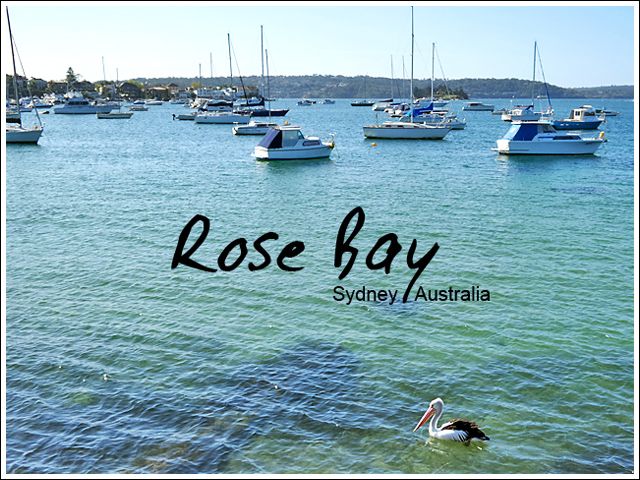 Our SUP yoga session happened on the tranquil waters of Rose Bay, a suburb of yacht and boat owners 15 mins by a water taxi from Circular Quay. A pelican floated close to shore, exhibiting the allure of the clean and green waters.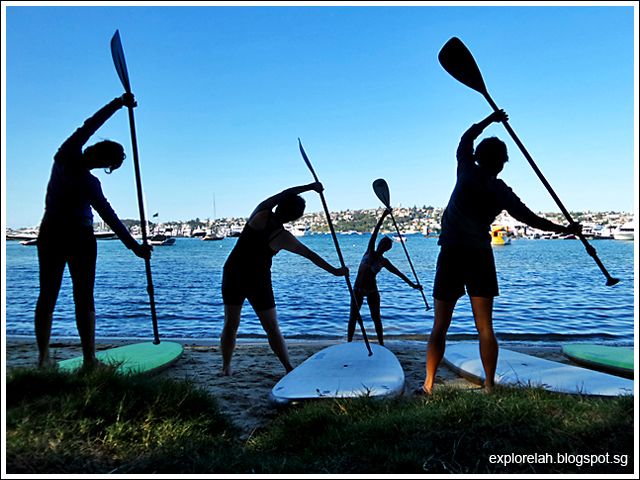 Conducted by Charlotte from Workout on Water, we began with a warm up session to nimble up the body. Workout on Water offers SUP yoga classes twice every month or through private bookings.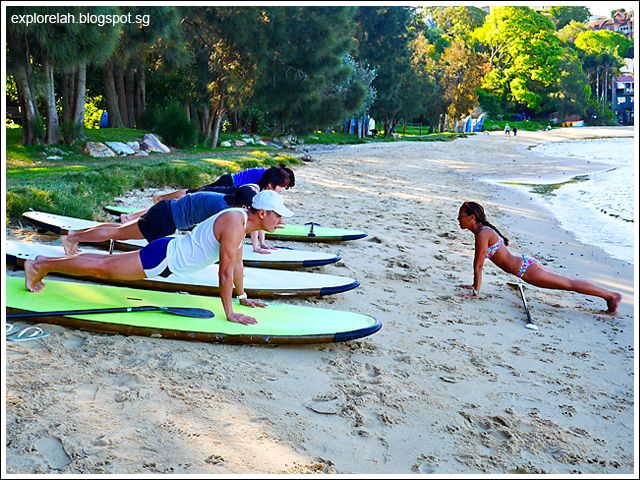 We may have dressed lightly, but the temperature that day was refrigerator cold, which fed our enthusiasm for the warming up exercises. Before getting onto the icy water, we practiced the yoga poses we were going to attempt later. I was praying hard that I won't have an ice bucket challenge moment at the bay!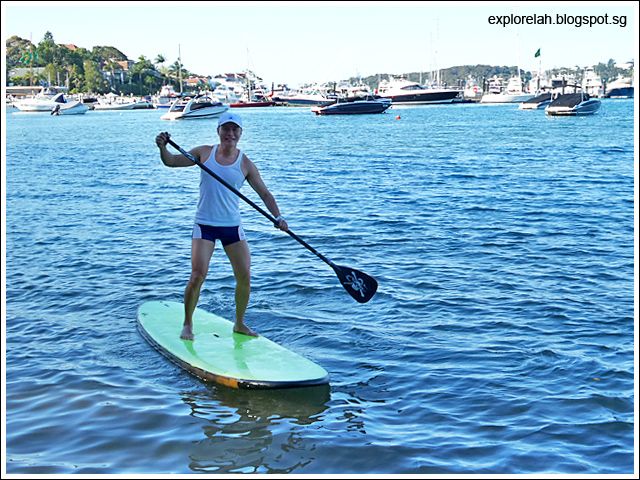 The closest feeling you can get to walking on water. We got to paddle around the bay, weaving around the parked pleasure crafts prior to yoga. The trick to maintain balance is to stand with your feet shoulder width apart at the widest breadth of the board. Rose Bay's coast is very calm so keeping balance was easy. It actually required deliberate effort if you want to fall into the water.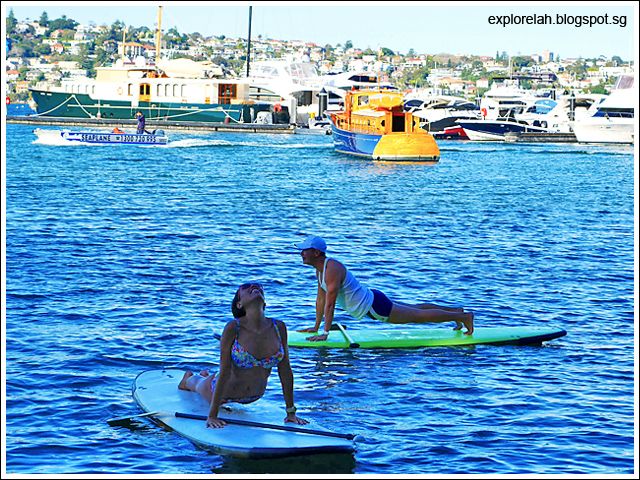 And now the challenging part... trying to stay afloat while executing the yoga poses. It wasn't as difficult as I thought. Just as I was gaining confidence, the most dreaded thing happened...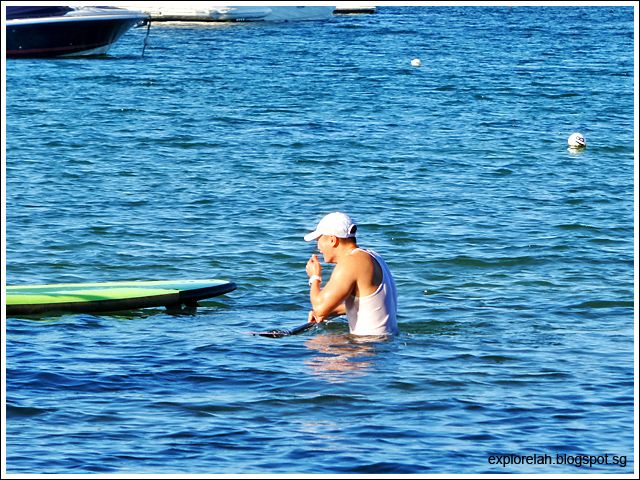 ... plonk. A walrus sighting occurred. The water was freezing but mixed with the shock of falling in, it actually felt very refreshing and really good! The bay is very shallow so it is pretty safe even if one does drop unglamourously in.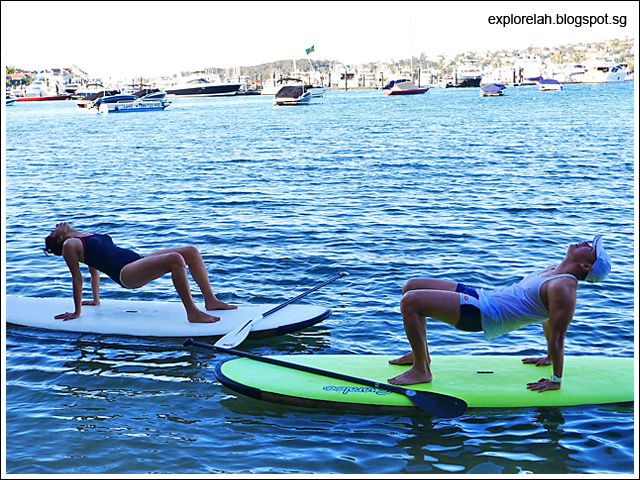 Cold water + white singlet = uh-oh, embarrassing stiff nipples showing through wet t-shirt moment. The lesson here is avoid wearing white. Unless you are Carmen Electra.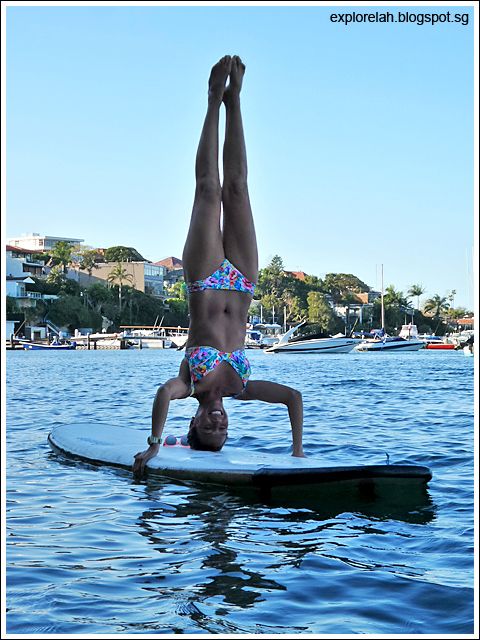 Head stand on the water?!?! Charlotte did it in the blink of an eye. R.E.S.P.E.C.T.! The cheery gal is Australia's first and only SUP yoga accreditor and an O'Neill sponsored athlete.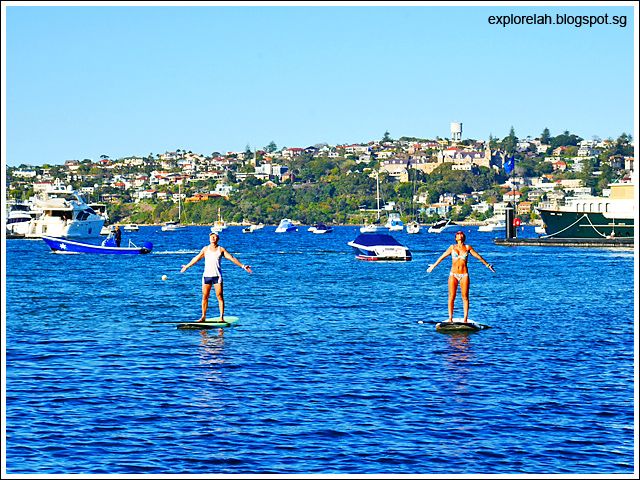 What a glorious way to absorb Sydney's energy. With the eyes closed, basking in the sun after a good workout, and the buoyancy feeling like gentle flowing silk beneath, I encountered a sense of weightlessness that I would describe as a massage for the soul. Happy ending inevitable!
I've attended quite some yoga classes and courses
although I'm still stiff as a board
and I must say that yoga on water presents a lot more challenges. The most apparent of all is that maintaining balance in the postures is harder and works the balancing muscles more as they are constantly reacting to the board's movements. Secondly, due to various distractions such as the beautiful scenery and a natural setting that is alive, the mind gets a deeper training on concentration and keeping focus.
But there is one downside to the SUP yoga session... one hour is too short!
Taking your yoga practice to another level or just enjoying an unusual exercise can be arranged or booked at
workoutonwater.com
.
Tour Manly Contours on a Bicycle
Sydney is blessed with many beautiful beaches and the great thing is that most of them are easily accessible by public transport. While Bondi Beach may hog the limelight with a reality TV show (Bondi Rescue) and being the venue for the annual international art spectacle, Sculpture by the Sea, there are miles of sandy coasts both popular and secluded waiting for you to show them your bathing suit.
As I've been to the famous Bondi a couple of times, I decided to explore Manly Beach during this trip. On a bicycle. *I could hear my mum's hair fall off their follicles from the stress over my safety* I've never been to Manly, neither have I cycled in Sydney, so I was really excited to tour the contours of the metropolis's northern shoreline.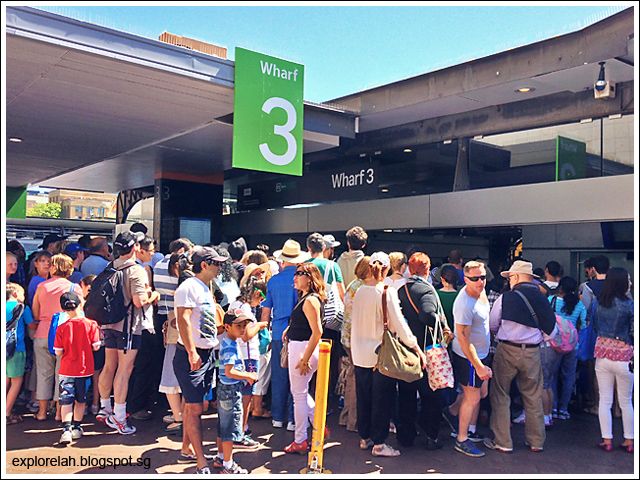 From Circular Quay, I took the F1 ferry route from Wharf 3 to Manly. The ferry can transport over 1,000 passengers per trip so it is a huge ship with toilet facilities and a cafe onboard.

I made my trip on a Saturday and the wharf was packed. A ferry departs every half hour so if the one you queued for is full, just wait for the next one (click here for the ferry schedule). Tickets can be purchased at the wharf or you can get an Opal Card which allows you to ride Sydney's buses, trains and ferries with just a tap.
A 30-minute ferry ride later, Sydney's high-octane cityscape dissolved into Manly's retreat of low-rise town houses and wide tree-lined avenues.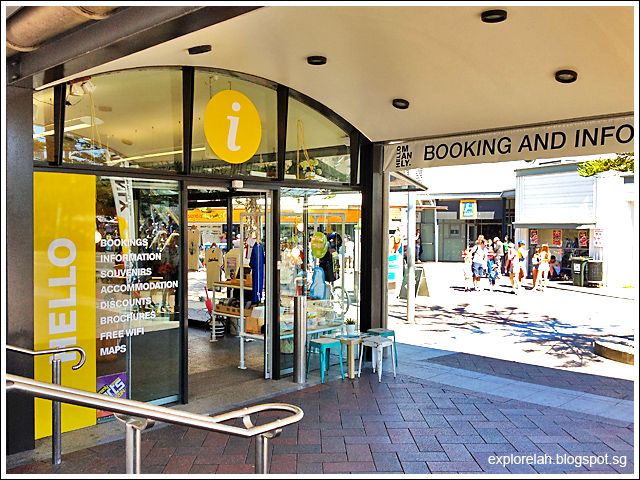 There's a tourist info station near the entrance of the Manly wharf to get directions as well as tickets for attractions and shows at Manly. It is worthwhile to get tickets at the info station as it offers discounts which you don't get if you purchase at the door of the attractions. Here's a list of things to do at Manly.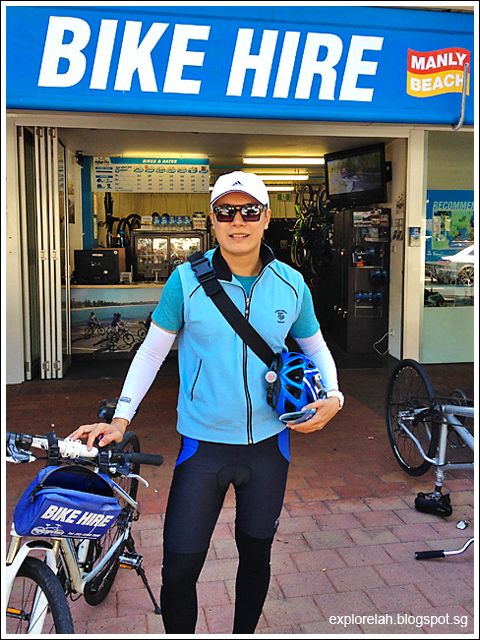 Instead of a checking out Manly on foot, I chose to cover more grounds by pedaling. Bicycles can be hired from Manly Bike Tours and there are various bike types and rates to choose from. I took a hybrid road bike for a day which costs A$36.

The shop is located not too far along a street straight ahead from the Manly ferry wharf. Opening hours are 9am - 6pm or 10am - 5pm (during winter).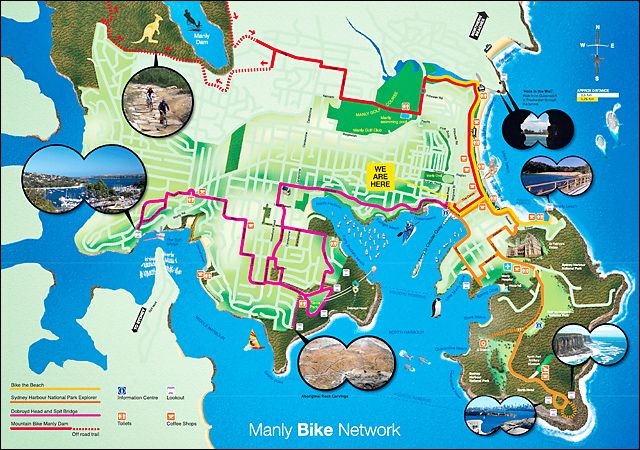 There are 4 biking trails ranging from easy to you-got-to-be-kidding-me to embark on. I took the orange route which is a leisurely scenic ride to North Head followed by the yellow route to Manly Beach. A large printed version of this map is given upon bike rental.

I started riding at 1pm and covered the sights including a lunch stop before returning the bike at 5:30pm. If I had rolled off at 9am when the shop opened, I would've attempted the purple route as well and perhaps even have time for a dip in the waters. Oh well, there's always next time.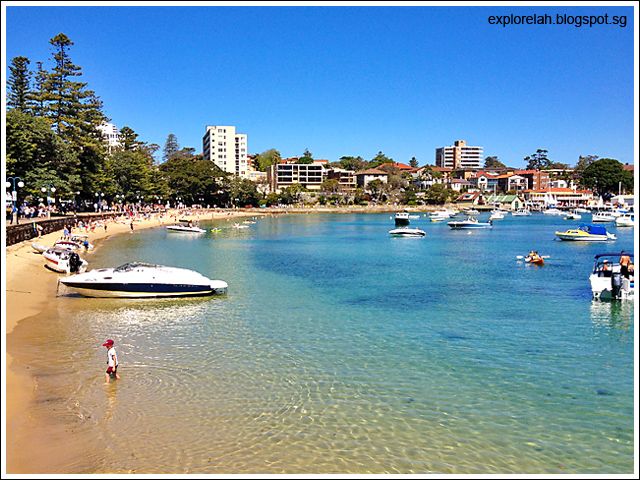 Manly is part of a string of sandy coasts collectively known as Sydney's Northern Beaches. Manly Beach is only one of the many beaches that yawns along the northern edges. Pictured here is Manly Cove, which is next to the ferry terminal.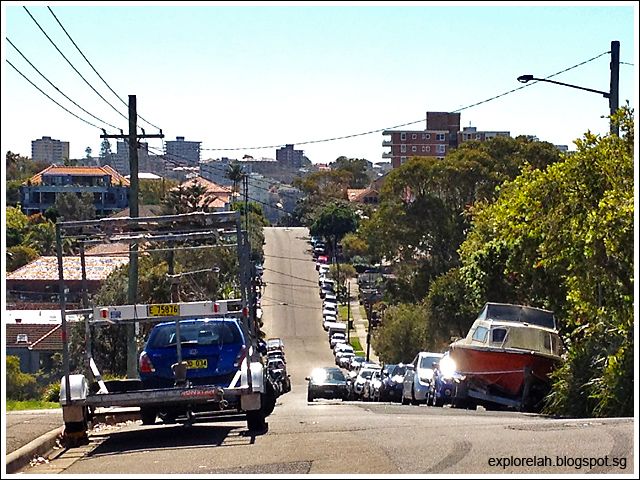 Being a coastal suburb, traffic is not as heavy as the city centre but weekends do see the streets choking up with cars and lots of people on dedicated paths shared by pedestrians and cyclists. I think the paths should be split to have one for pedestrians and another for cyclists instead of merging them together as one.

Frustrated with fighting for cycling space with beach-goers and being told off a couple of times for sounding my bike bell to caution pedestrians of my approach (apparently, on the pedestrian-cum-cycling paths, pedestrians have the right of way), I decided to ride on the roads instead. Road conditions are good and safe for cycling but there are a couple of killer slopes along the North Head trail to watch out for.

Street signs telling the way to Manly attractions are also very absent so it helps to have data access to utilise Google Map for way-finding.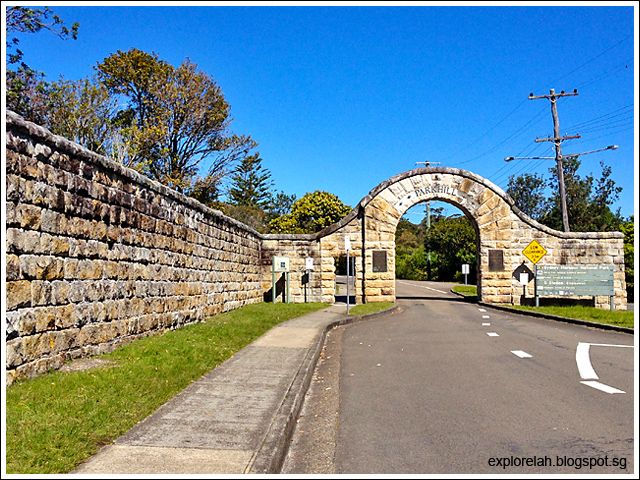 The North Head trail skirt past the historic St Patrick's Estate, Australia's first
Catholic ecclesiastical seminary for training priests and residences of the Archbishop of Sydney when it was built in 1883. The estate along with a collection of military forts and batteries in the precinct made it a ride into Sydney's history books.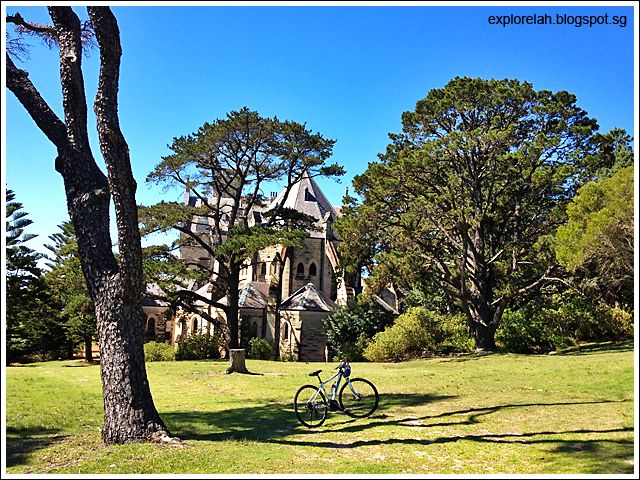 Reminiscent of the Gothic grandeur of Notre Dame, the medieval castle-like St Patrick's Estate serves as a private business school today.

A vantage view that is nothing short of breathtaking. North Head has a collection of lookout points that let the full extend of Sydney's city skyline sink in. Visible from here is also South Head (to the right) and home to Watsons Bay, another of Sydney's stunning coastal region.
Zoom in of the jagged concretes of Sydney's downtown. The basin bordered by Circular Quay, South Head and North Head is designated as Sydney Harbour.
A recluse beach I came across during the ride. If I had the time, I would love to spend some chill moments at this hidden bay that's so deliciously inviting.
A road-sign that you probably won't see anywhere else except Australia!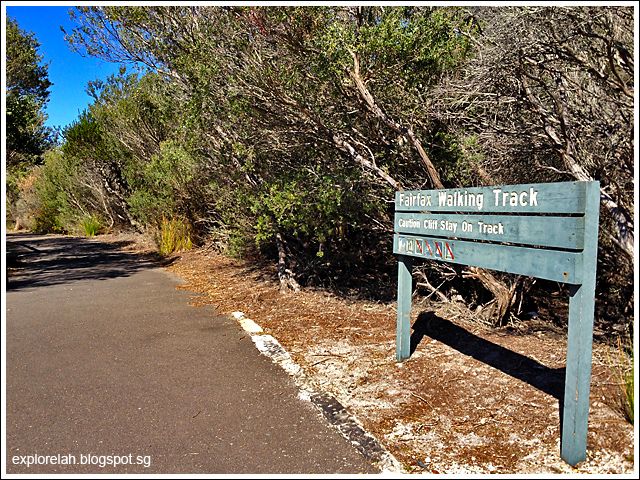 One of the major highlights of the North Head cycling trail is the Fairfax Walking Track that takes you to the northern-most edge of Sydney Harbour. Here, I got off my bike for some bush walking amongst indigenous fauna to access a couple of lookout points that offer a panorama of unending ocean blue...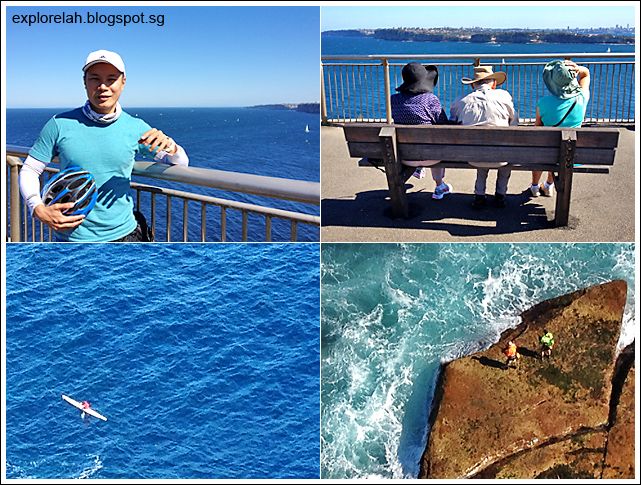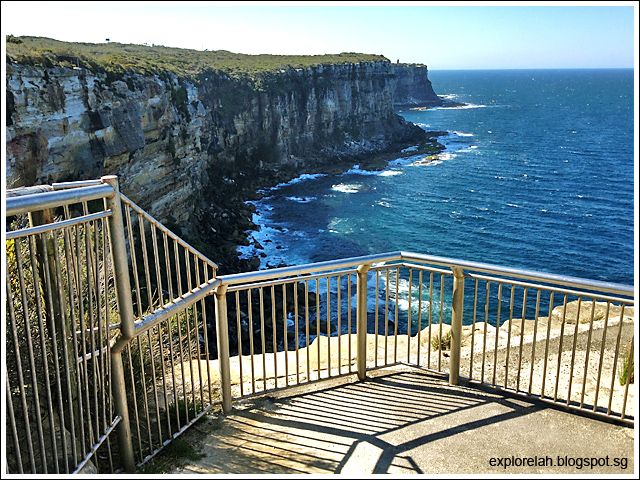 The North Head lookout points at Fairfax Walking track are prime locations to spot whales without taking a boat tour. Every June and July and August to October, thousands of Humpback and Southern Right Whales migrate through the channel of water. I looked hard and for quite a long time hoping to sight a whale splash but luck wasn't on my side.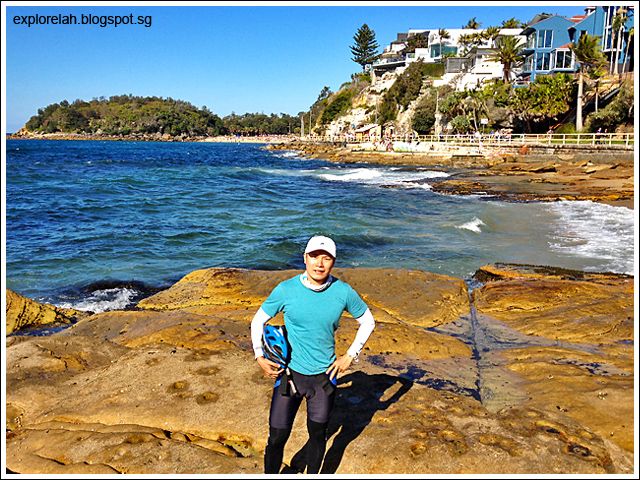 After the North Head cycling route, I decided to explore the beach route that brought me to Cabbage Tree Bay. Behind me is another of Manly's popular beaches, Shelly Beach.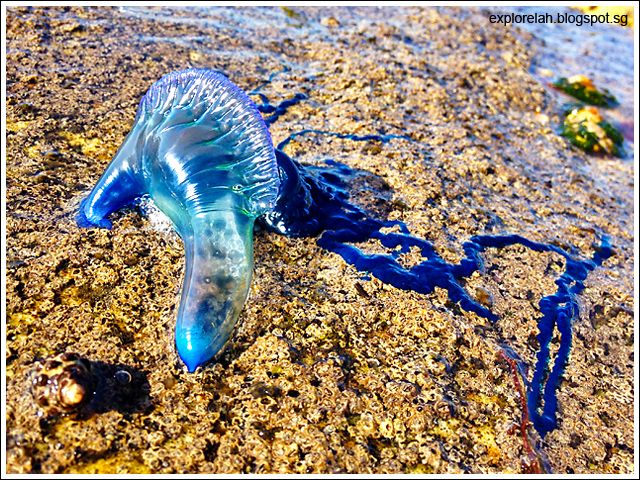 I didn't see them initially, but drying on the sandstone I was standing on for the above photo were clumps of brilliant Bluebottle Jellyfish! Also known as Portuguese Man O' War, I've only seen them on oceanic documentaries but never thought I would see these alien sacs upclose.

Delicate as they may look, these jellies delivers a painful and venomous sting. There were quite a lot of them washed ashore and baking on the rocks.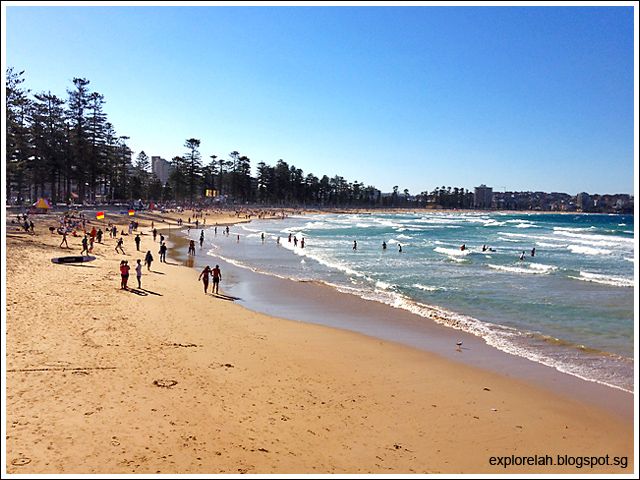 Pedaling away from Shelly Beach, I arrived at the other famous Sydney recreational shoreline, Manly Beach. I was impressed by how trash-free the sand and water are despite the number of beach-goers.

I wanted to leave my bum print on Manly's sand but time didn't permit so I continued on my way along the coast that brought me to an estuary where a freshwater stream empties into the sea. Didn't take any photo by then as fatigue started to set in and I just wanted to enjoy a ride uninterrupted by phototaking.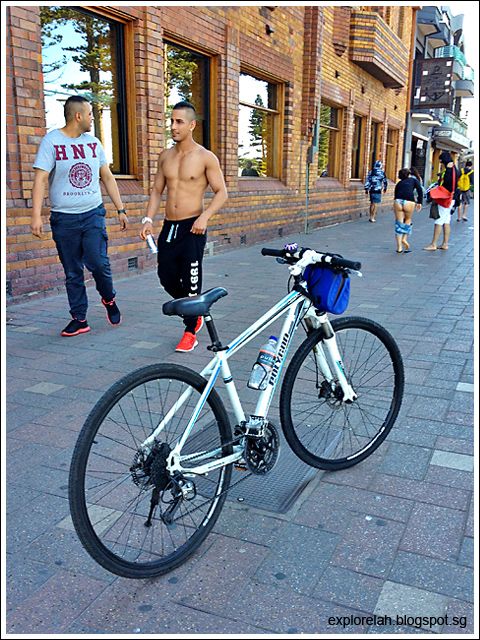 I did a loop and arrived back at the cafe-lined sidewalk along Manly Beach. I wanted to have a photo record of where I came to for the final leg of the ride but I wasn't prepared for this slice of life moment that occurred. Look closer... can you see what's going on here?!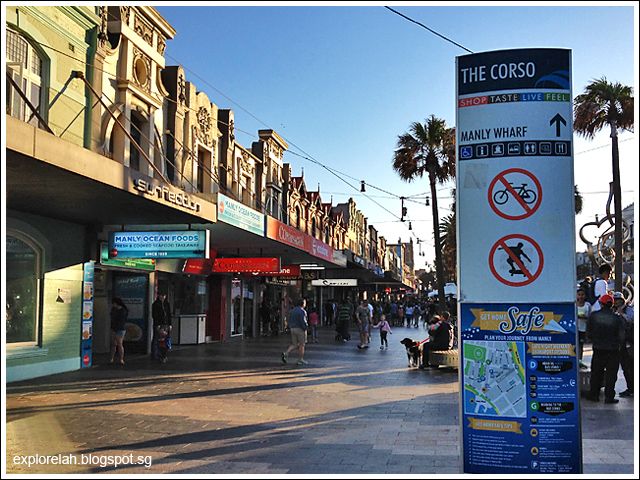 Linking the ferry terminal to Manly Beach is The Corso, a boulevard flanked by shops, restaurants and branded stores.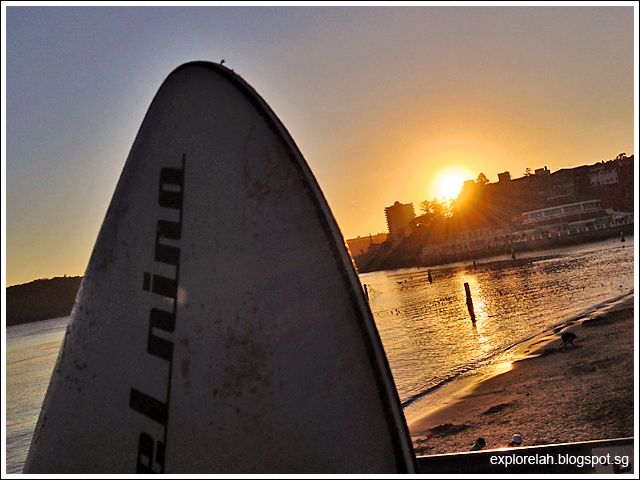 Sunset at Manly. This photo was shot on a boardwalk next to a bar beside the ferry terminal. It's a golden celebration of completing my virgin exploration of Manly and first time pedaling in Greater Sydney.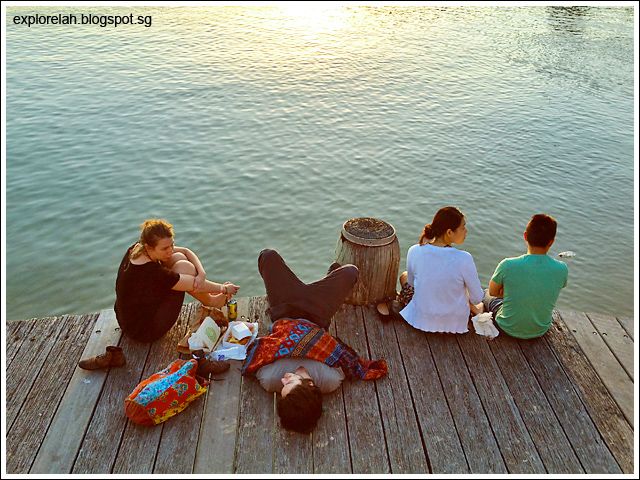 After a few hours on the bike, it's best to just unwind in the lukewarm rays by the water's edge. The half-day cycling exploration of Manly worked up a sweat even though the weather was still rather chilly in late September.

For me, a satisfying holiday comes not from doing nothing, but from giving the mind a task that's away from the habitual mugging in front of a computer. Or cell phone.
Exercising my holiday through the Sydney Running Festival, yoga on water and cycling tour of Manly, I felt closer to Sydney than my previous trips where I was an observer rather than a participant of what this most populous city in Australia has to offer.
So the next time you're planning a visit to Sydney, consider supplementing your trip with a sporting activity to not just raise the metabolic rate, but feel the pulse of this vibrant Australian city!
This post has been made possible in part by Destination New South Wales and CTC Travel.