Date of Exploration :
16 - 20 Oct 2013
I've never been to Japan but from movies, tourism promotion and friends' travel tales, I've imagined many things about it as a holiday destination. My borrowed impressions painted Tokyo as the epicenter for a crash course on J-Pop culture, Kyoto as the chief city to retrace the footprints of imperial Japan, Hokkaido to fill up on fresh seafood, April is the time that an explosion of cherry blossoms sweeps across the nation, and Mount Fuji will take your breath away. Literally.
If you've not heard, the Aokigahara Forest at the northwest foot of Mount Fuji is notorious for being a suicide forest.
However, of all the impressions I've formed about Japan, there's one thing that I've never associated the country with... that it is also a beach resort perfect for a relaxing getaway.
But thanks to
CTC Travel
and
Okinawa Convention and Visitors Bureau
, I got to break my nihon virginity and toed my first foray into Japan with an exploration of the Yaeyama group of islands. For as far as Japan off-the-beaten-track goes, I've definitely reached the edge!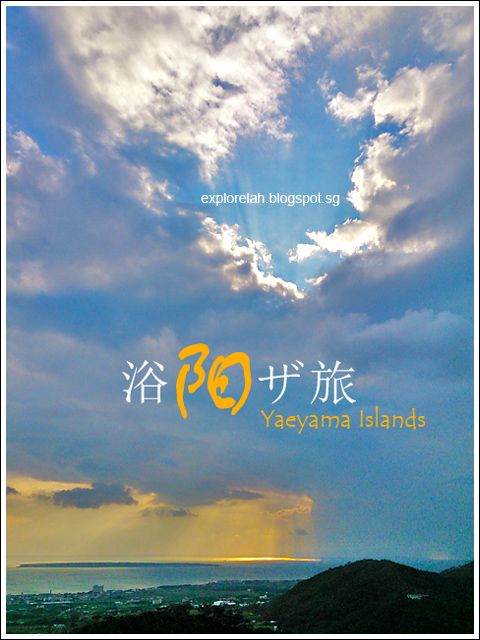 Located at the southern most tip of Japan, Yaeyama Islands can be dubbed the 'Asian Hawaii'. The best time to visit is between late March (end spring) and end October (end autumn) although typhoons and unexpected weather may visit during these months. Our 5D4N trip in October had been blessed with mostly sunny days that heated up the sea for swimming yet cool enough for a comfortable trek inland. It's Goldilocks-approved weather! This photo of sunshine breaking through the clouds both above and below was shot atop the observatory at Banna Park, Ishigaki Island, with Sony Xperia Z.
Sharing the same latitude with Central Taiwan, Yaeyama Islands is a collection of 31 islets (of which 11 are inhabited) in the Pacific Ocean. The administrative heart of the islands is Ishigaki Island which houses an airport to receive domestic and international visitors. During our trip, we island-hopped from Ishigaki to Iriomote, Taketomi, and Kohama.
At the moment, there are no direct flights from Singapore to Okinawa and Ishigaki. To get there, you have to take a flight from Singapore to Tokyo and fly to Ishigaki (12 hours) or fly to Taipei and transit to Ishigaki (8 hours).
We took a specially chartered Singapore Airlines flight by CTC Travel direct to Okinawa Naha Airport (5 hours) and connected to a domestic flight to Ishigaki Airport (45 minutes) which greatly cut down the travel time. Check with CTC Travel on their next available direct chartered flight to Okinawa (currently in March and October) and upcoming packages to Yaeyama Islands.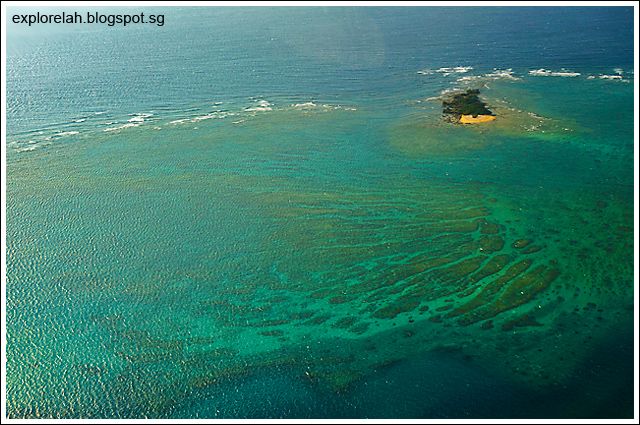 A prelude to the crystalline waters and shallow shores that beckon at Yaeyama Islands en route a 45-minute flight from Okinawa Naha Airport to Ishigaki Airport. The minty sea made me want to jump plane!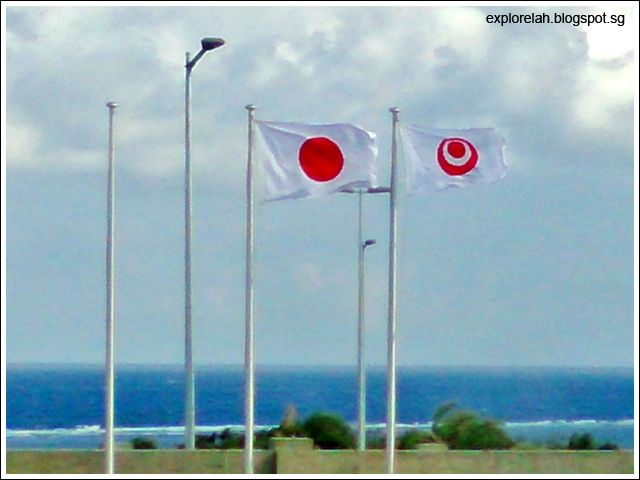 All I 'sea' as the plane approached Ishigaki Island was blue surf and slapping waves all around. I've finally stepped foot in Japan for the first time! The off-center donut flag next to the Japan flag is the mark of Okinawa. Yaeyama Islands is under the Okinawa Prefecture.
Being way off from mainland Japan (it takes 3 hours to fly from Tokyo to Ishigaki), Yaeyama Islands seem to exist as a microcosm where local traditions, dialects, and formulas to a long life are very much alive.
I've never thought that my numero uno trip to Japan would be a sun-sea-sand type of holiday as I've always envisioned my first visit to coincide with the season of sakura in Tokyo. You know, it's kind of like you want your first time to be really special.
But having taken in the sights, sounds, tastes and feel of Ishigaki, Iriotome, Taketomi and Kohama, I'm glad I started experiencing Japan right at its roots... where nature is allowed to be natural and a good time can be had with just a three-stringed shamisen on a buffalo's back.
Ishigaki Island
Our exploration of Yaeyama Islands began with a touchdown at Ishigaki Island, the biggest island and administrative core of the group where 80% of the southernmost population resides. While Ishagaki is very developed with urban infrastructure and good-looking resorts, nature is never far with spongy mountains, rolling greens and scenic bays a short drive away.
We spent about 2 days in Ishigaki and got to exhaust our vocabulary for blue at Kabira Bay, go on a snorkeling and diving excursion not too far from shore, wormed through a prehistoric underground limestone cavern, climbed the observatory at Mount Banna, went rural at a traditional Yaima Village, had the rare opportunity to step inside an astronomical observatory for star-gazing, and had our tastebuds delighted!
It was also at Ishigaki that we were initiated into the secret of the Okinawan's longevity. According to research, Japan has the highest population percentage of centenarians and the highest rates are found in the Okinawa Prefecture where Ishigaki is a part of.
A holiday destination that adds years to your life... why not?!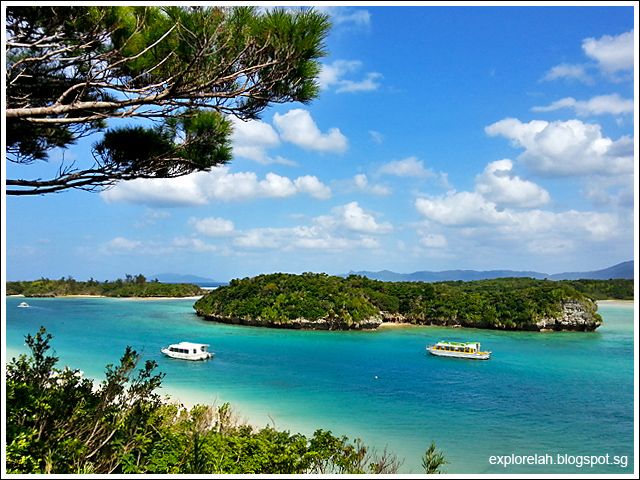 Kabira Bay at Ishigaki Island. The bay is a no swimming zone to minimize disturbance to the black pearl aquatic farms nearby. Visitors can board glass bottomed boats to observe the sea life below.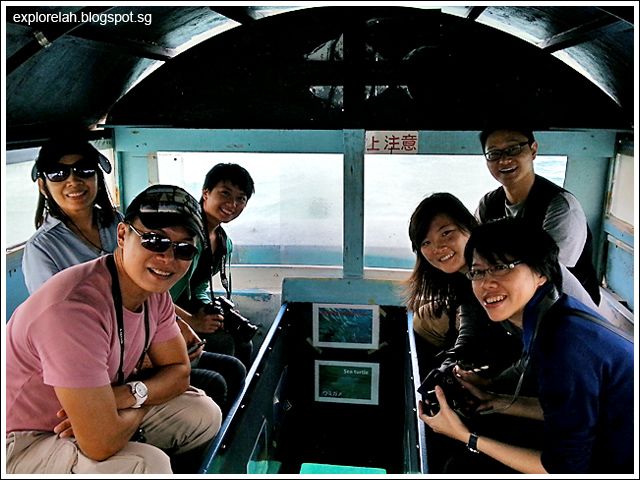 Onboard a glass-bottomed boat to find dinner, I mean, appreciate the underwater ecology. Whoops!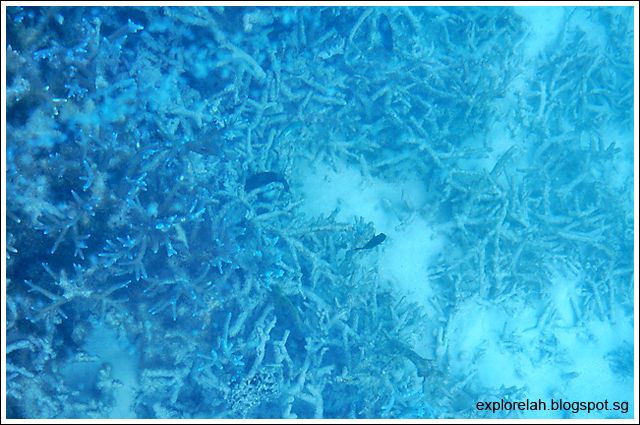 If you're lucky, you can spot stingrays and turtles but all we saw were Neptune's scraps from his marine buffet. The boatman's commentary was also in Japanese so if not for our English-speaking guide, we had no idea what to pay attention to or were looking at.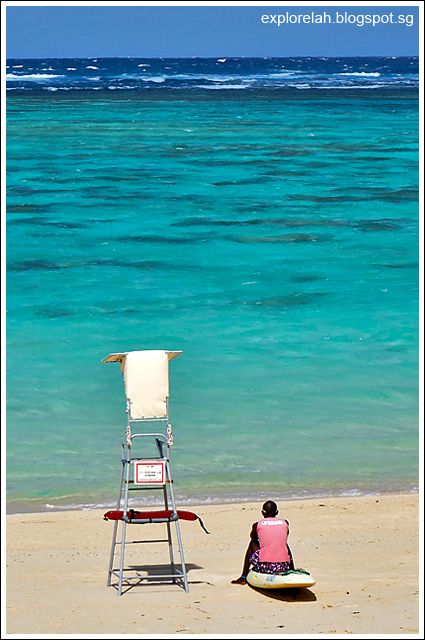 Hey buddy, it's no time to feel blue! Not far from Kabira Bay is Club Med Kabira where this droolicious beach belongs. The presence of a branded five-star resort is testament to the appeal of Yaeyama Islands as a premium beach holiday hotspot.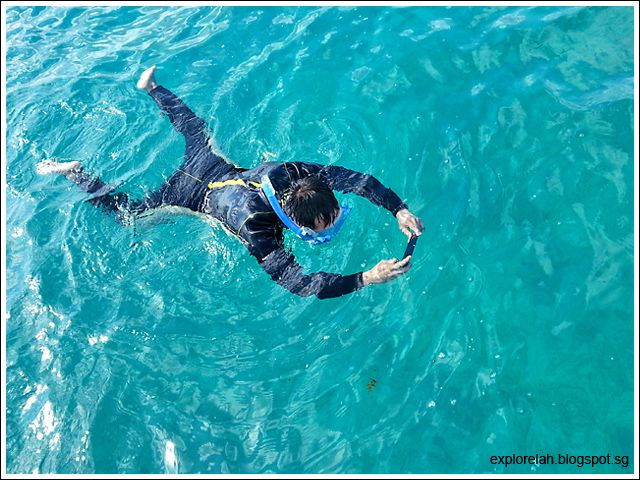 Resistance to the call of the glass-clear sea is futile. And the best way to soak it all in is with a snorkeling / diving excursion! I completed the snorkeling experience with a video capture of the underwater sights using the waterproof Sony Xperia Z.

The smartphone cannot snap photos while underwater though and to shoot the video, I had to tap the video record button while above water and then bring it underwater (see video below). It is still a really cool gadget to have without needing to carry cumbersome waterproof casing for cameras and the video quality is remarkable. Very impressed!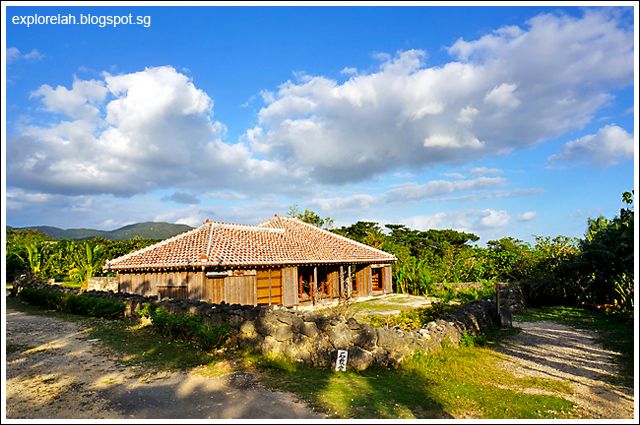 Away from the splish-splash, we dropped by Ishigaki Yaima Village and were introduced to features of traditional Okinawan houses in Ishigaki, learnt to play the shamisen and met some adorable but quick-footed squirrel monkeys.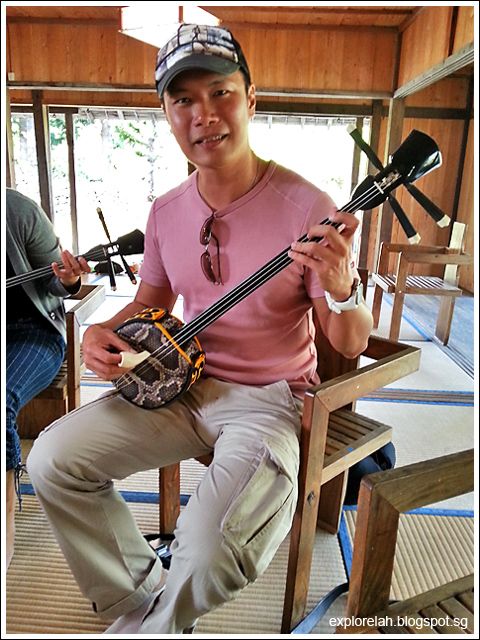 Although it has only 3 strings, the shamisen is so hard to master! Well, maybe because I have spastic fingers.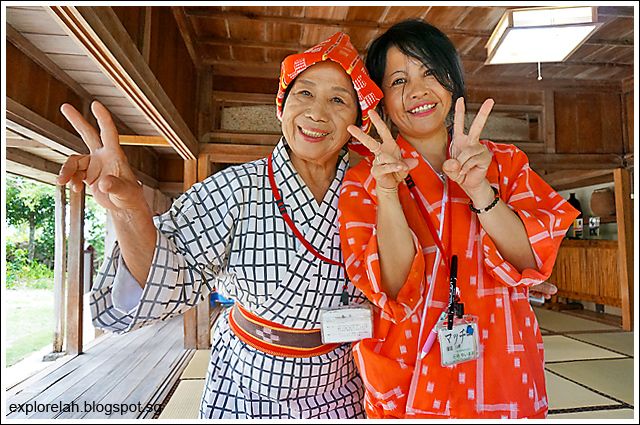 These 2 'villagers' at Ishigaki Yaima Village made me feel young again.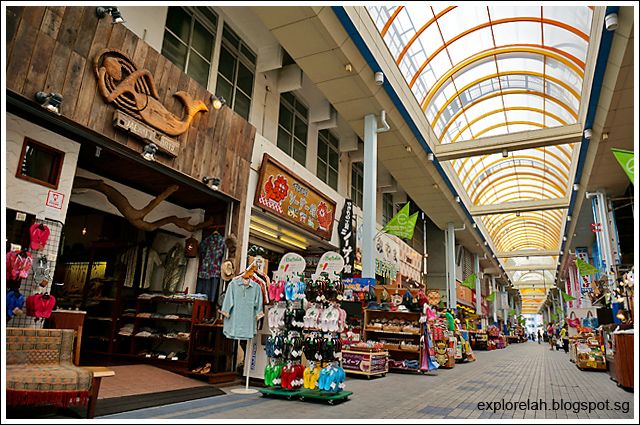 To bring home some souvenirs, we came to the Yu-gurena Mall which is really just a two-street covered shopping arcade.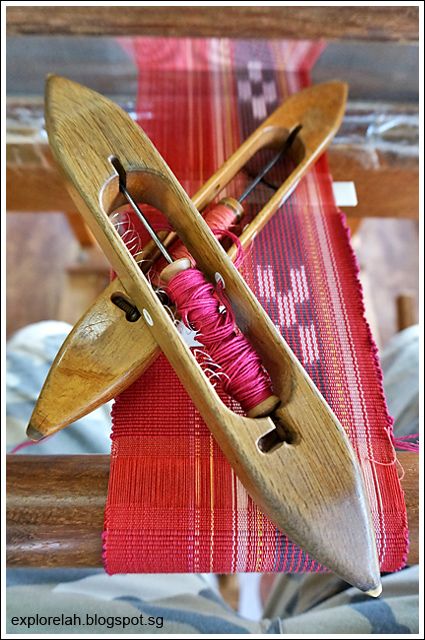 Our cultural experience at Ishigaki continued unfolding at the Mineya Minsa Weaving Center where we learnt the art of traditional weaving techniques preserved over generations using Yaeyama Joufu linen and threads. Mnisa weaving is actually a token of love. I've weaved myself a piece waiting for it to be given away :o)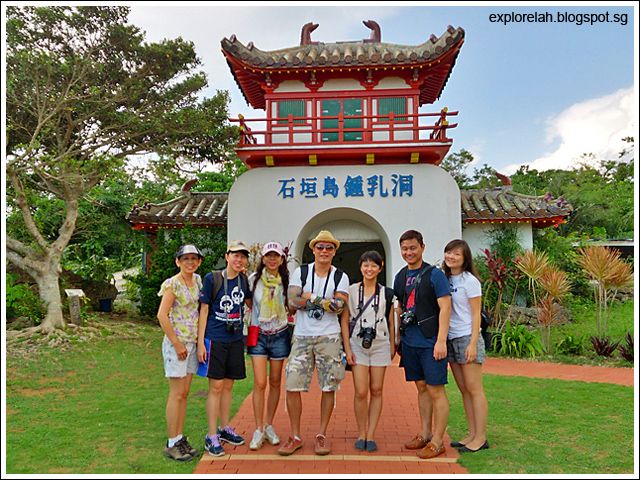 Showing off our legs at the entrance to Ishigaki Island Stalactite Cave. I've been to a couple of such caves but they were in mountains or coastal cliffs. This is the first time I visited an underground stalactite and stalagmite cave.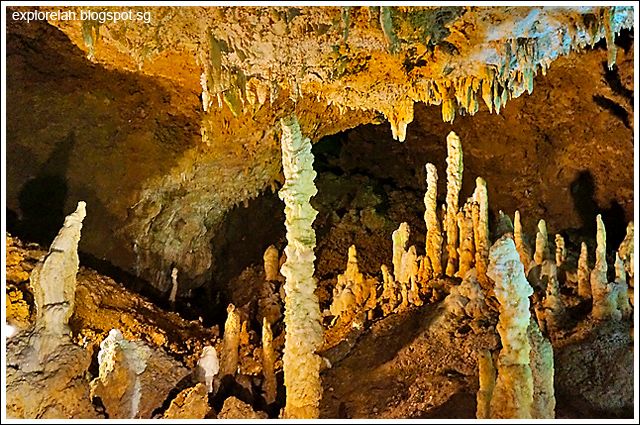 Worming through the prehistoric womb of Ishigaki where the island's geological history are recorded on the stony pillars. The star at this gallery of rocks is a stalagmite formation that resembles the famous Gibil cartoon character, Totoro! Check out my Instagram album to see what it looks like.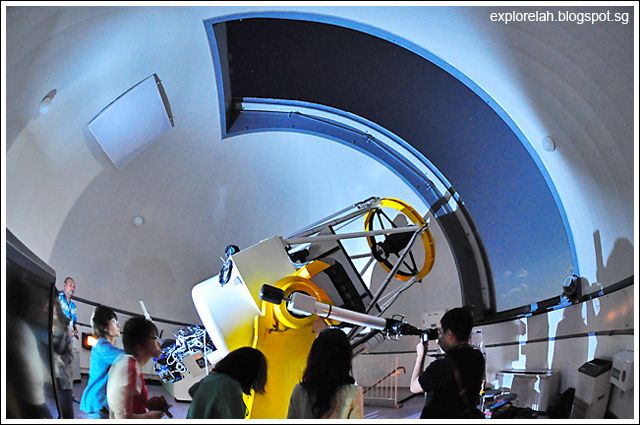 From looking beneath the ground to gazing beyond the sky, Ishigaki Island is an explorer's playground.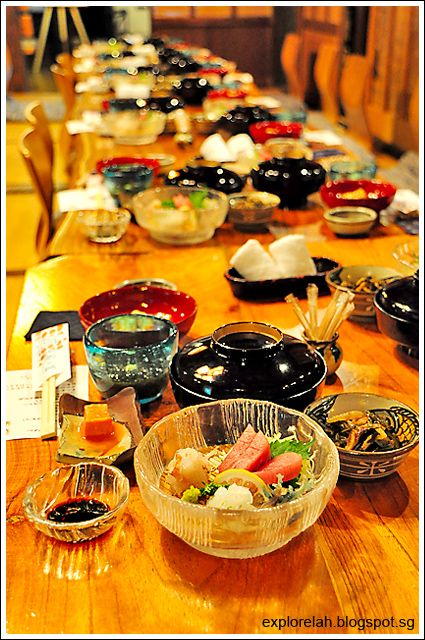 Part of the secret to the Okinawan's longevity is the food they eat which consists of large amounts of fresh catch, bittergourds, Mozuku seaweed, purple rice and get this... longevity leaf (长命草). Yes, the elixir to a long-life does exist!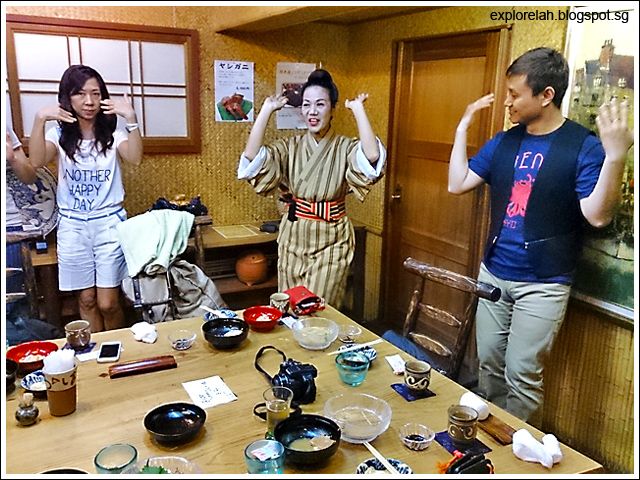 The other part to the longevity formula is having fun. One of our dinners at Ishigaki was a treat as much for the stomach as it is for the spirit with song and dance!
These snapshots of my explorations at Ishigaki Island are only a brief peek at what the island has in store for holidaymakers. While the attractions at Ishigaki Island can easily pack a 3D2N itinerary with activities, it is worth spending some time to hop off to nearby islands either as a day trip or overnighter as every island has something different to offer.
Iriomote Island
The next island on our trail was Iriomote Island, the second biggest island in terms of land surface area after Ishigaki. Iriomote is a 35 minutes boat ride from Ishigaki and home to pristine naturescape that celebrates the handiwork of nature in the form of mangrove lined riverine, secluded waterfalls and star sand beaches.
At Iriomote, you can also get on a water buffalo taxi to the almost conjoined Yubu Island to visit a rustic outdoor theme park.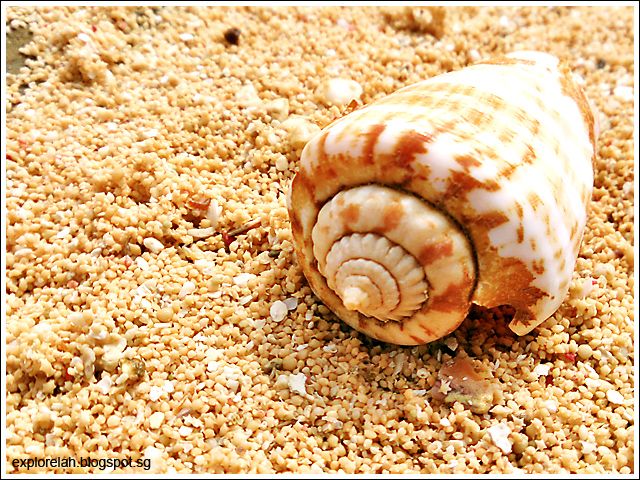 One of the attractions that got us most excited on the trip was the star sand beach at Iriomote Island. Can you spot the star-shaped sand grains in the above photo?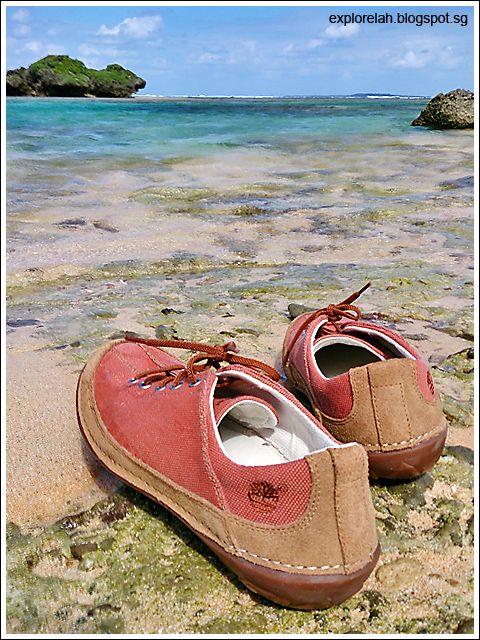 Although my Timberland walkers were unbelievably comfortable, I couldn't resist going for a wade in the turquoise waters.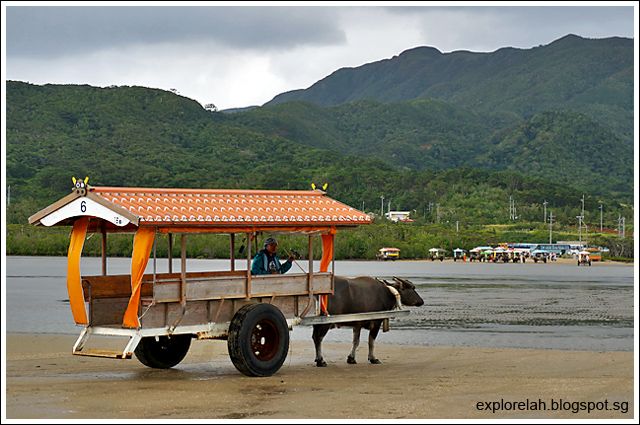 Another key attraction at Iriomote Island is taking the buffalo drawn cart to Yubu Island. Along the way, the ojisan would pluck his shamisen and croon folk songs. Time seemed to slow down and urged us to delight in simplicity.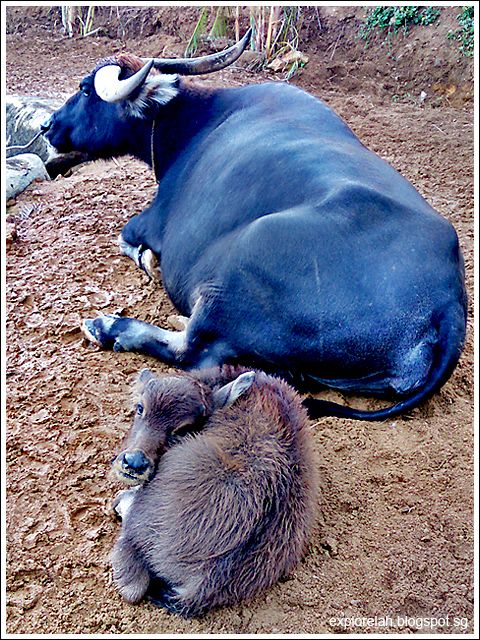 Yubu Island has a bounty of hibiscus, fruiting plants, and other perennials as well as a butterfly garden. But my favourite spot was the buffalo stable where this calf cast me a curious glance before trotting over. So cute!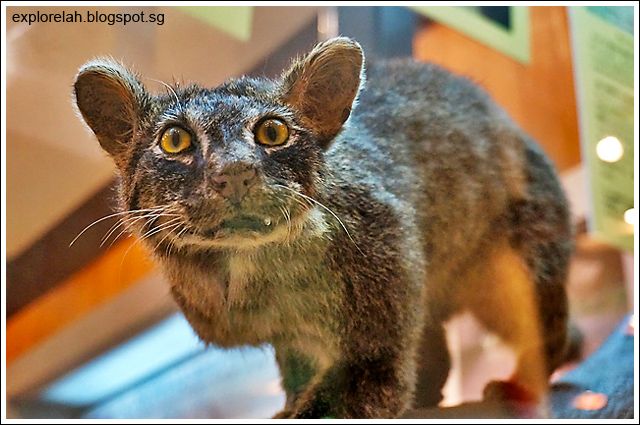 The other animal that you'll see a lot of (in photos on billboards all across the island and souvenir shops) is the Iriomote Wildcat. Indigenous to Iriomote, this endangered feline is bestowed the status of a living treasure on four legs. Can you spot the obvious difference between this wildcat and those meows under our HDB void decks? Hint : it's the ears.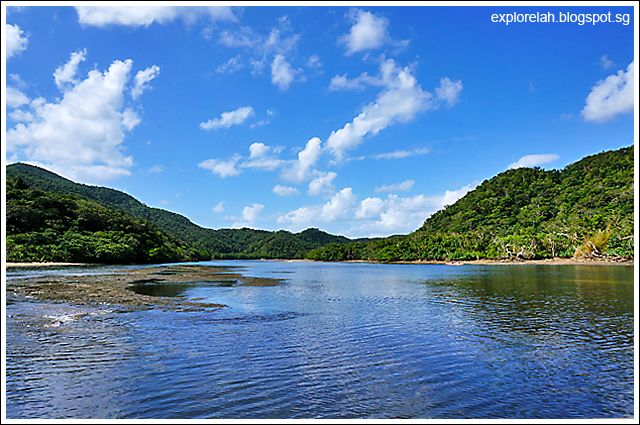 After Yubu Island, we cruised down Urauchi River and got upclose to the island's mangrove ecology while the undulating hills parted like a curtain at every turn. As the river is linked to the sea, infant sharks sometimes seek refuge in these waters.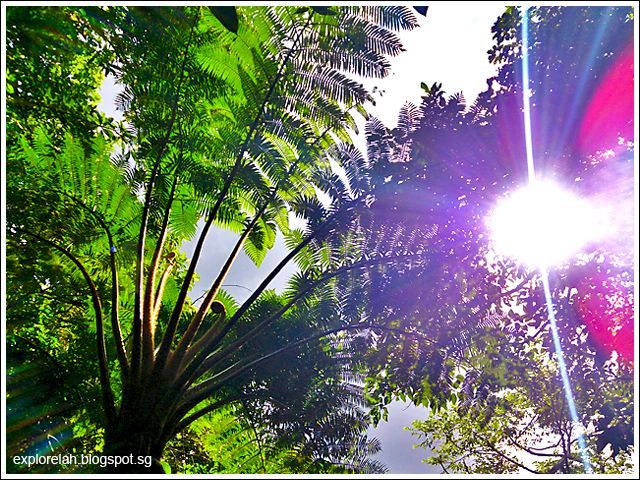 The Urauchi River adventure trail included a jungle trek to see the Mariyudu and Kanbire Waterfalls. Although the sun was ablaze, the temperature was pretty cool so we weren't drenched in perspiration during the 1.5 hour trek. If I were to do this hike in Singapore, underwear confirm wet wet!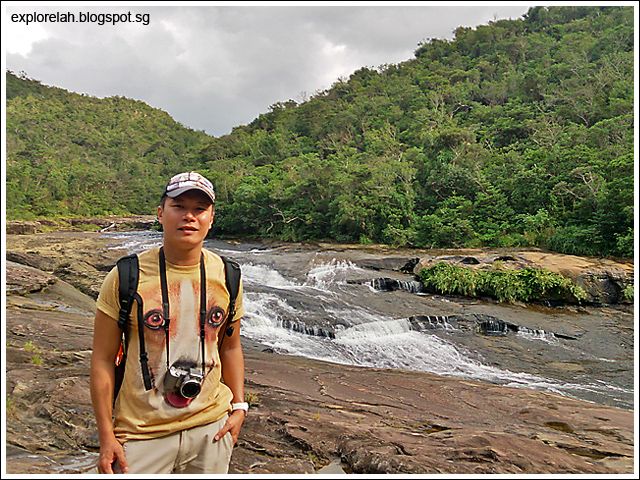 It was quite a pant getting to Kanbire Waterfall (behind me) as we were rushing through the jungle trail and back to board the last boat back to our starting point. Even my t-shirt had its tongue out from the rush. LOL.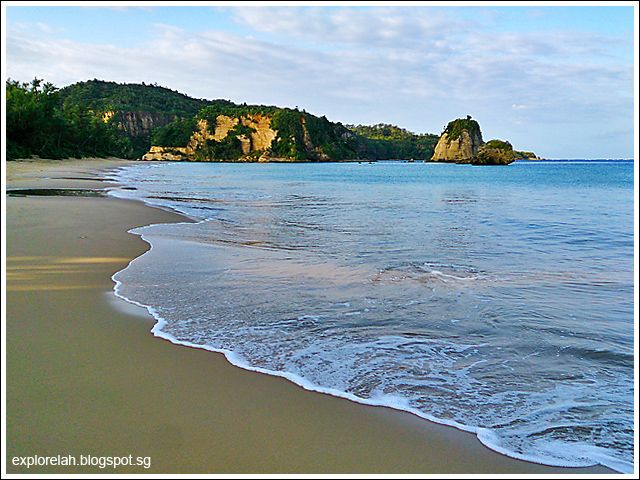 Our night on Iriomote Island was spent at Nirakanai Hotel. This shot of gentle surf washing over the coastline like a sheet of liquid glass is the beachfront at the hotel.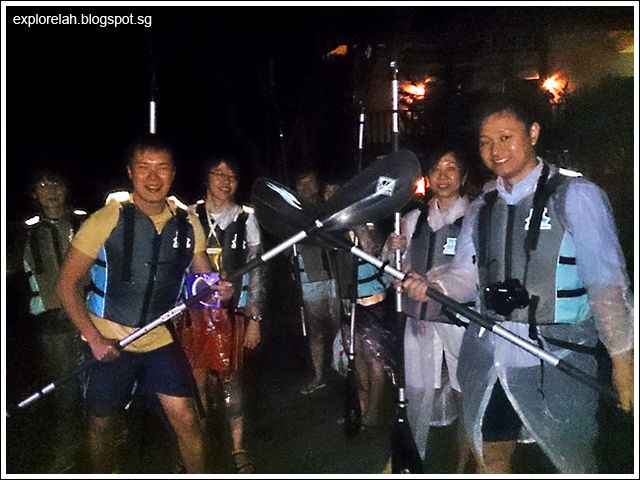 Nirakanai Hotel organizes night kayaking at an open lagoon not far away. I love kayaking but have never paddled at night. What a thrill!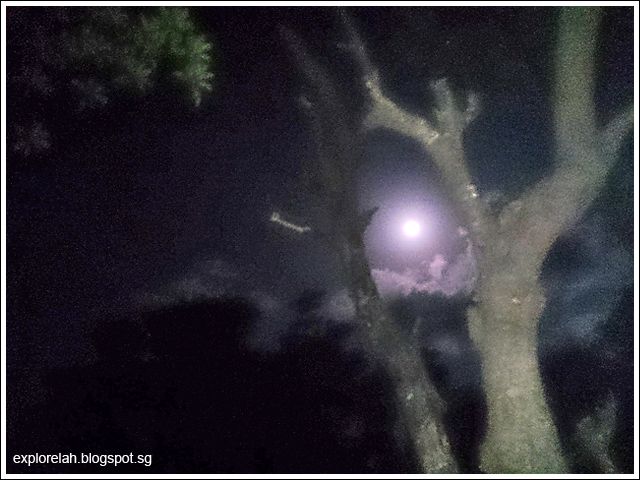 Kayaking under the watch of the moon while clouds played a game of hide-and-seek with the stars was, for the lack of a better word, magical. This photo shot with Sony Xperia Z (because it is waterproof and great for wet adventures) doesn't show the full scale of just how mesmerising the scenery was during the night kayak. The enchantment has to be experienced in person.
Taketomi Island
The third island we checked out was Taketomi Island, which is a mere 15 minutes boat ride from Ishigaki Island. Taketomi is home to the ultra-luxe Hoshinoya Resort as well as the more budget friendly Peace Island Hotel. This has got to be the trip where I've seen the most hotels!
Other than hotel inspections, we also found ourselves on the back of a buffalo cart once again for a tour of Taketomi Village, went to the island's star sand beach (Kaijihama Beach) and had some splash time at Kondoi Beach. dropped by got to visit a really nice beach that stretches without end into the ocean.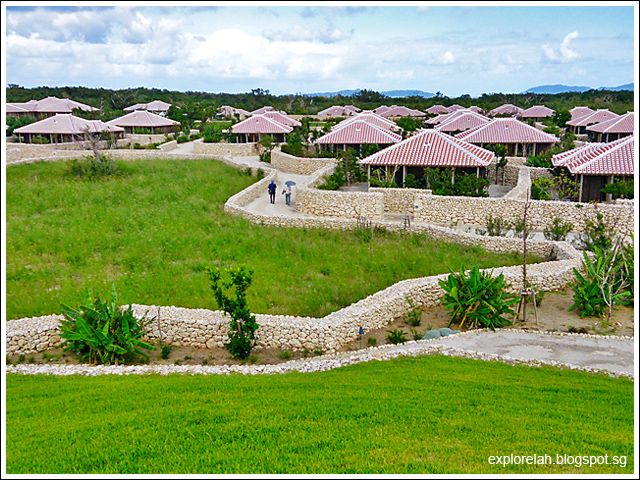 Hoshinoya Taketomi Resort is built in the style of a traditional Okinawan village with 48 individual luxurious villas. Expect to pay the upwards of S$500 per person per night.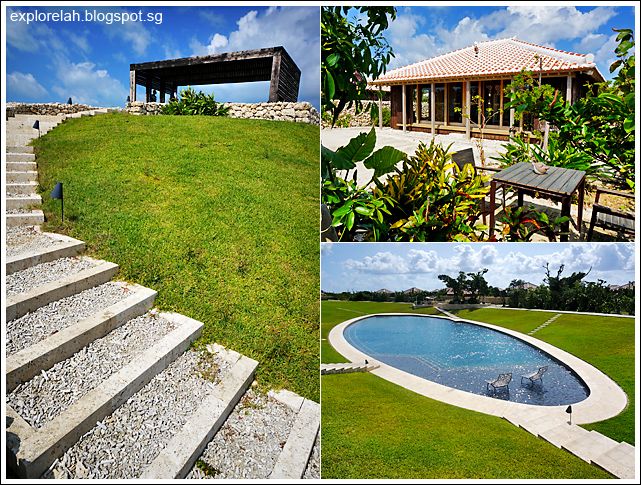 An observation deck overlooks Hoshinoya Taketomi Resort while the unusual oval pool is a conversation piece. The resort is great for honeymooners.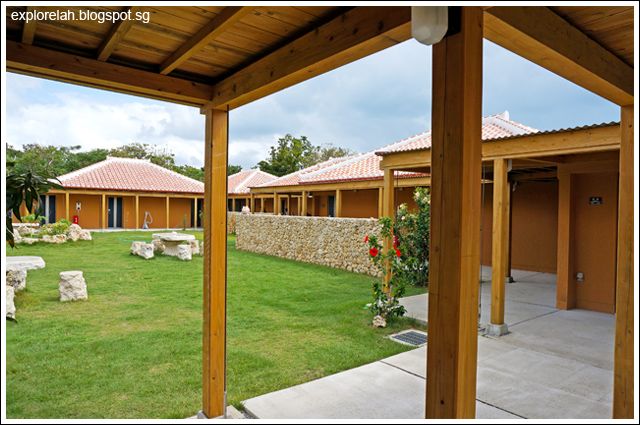 A more economical accommodation on Taketomi Island is Hotel Peace Island that offers rooms that can sleep up to four at around S$300 per room per night.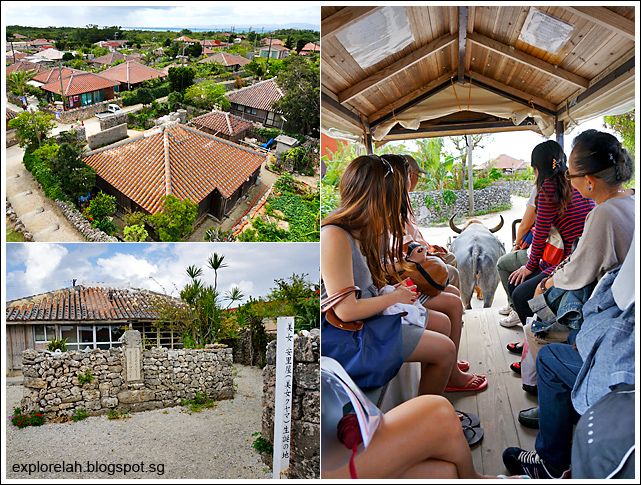 Taketomi is a pretty small island so the lodges are not too far from most attractions. We visited Taketomi Village on a buffalo cart and got to see the birth home of Asadoya Kuyama, a beautiful woman who defied the marriage proposal of an unsavoury government official. Her courage was immortalised in the popular Okinawan folk song, Asadoya Yunta. Play the clip below to listen to the song while you continue reading this post :o)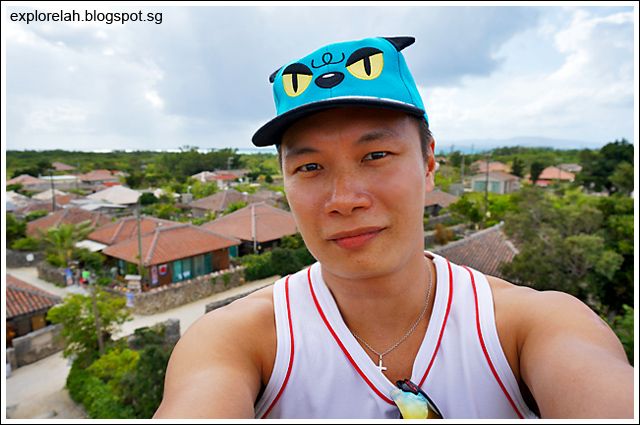 At Taketomi Village is the Nagomi Lookout Tower where you can have a panoramic view of the village. But watch the narrow stairway leading up the tower though. It is quite treacherous.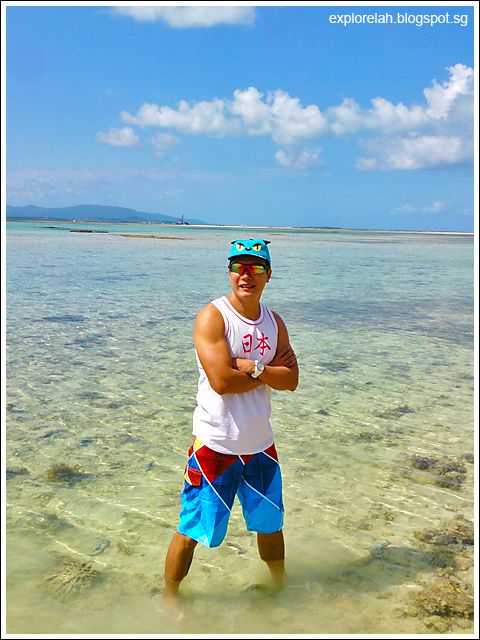 My singlet scared people dunno where I am... LOL. I have a problem with being subtle. We finally got some time to frolic in the water at Taketomi's Kondoi Beach. The crescent-shaped beach stretches endlessly into the sea and was littered with sea cucumbers!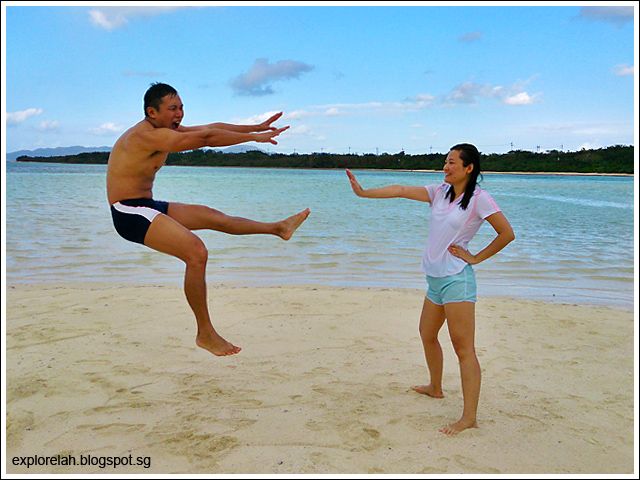 Hadouken on a sandy pit at Kondoi Beach. Notice how far away we were from shore.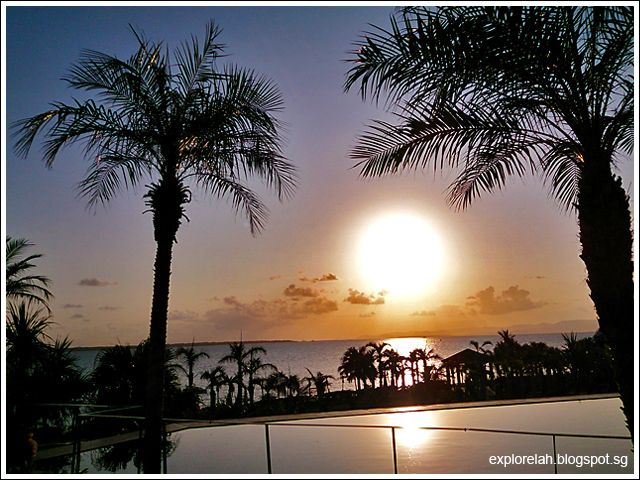 Another glorious sunset shot to add to my collection. This photo was shot with Sony NEX-5T and sent via Wifi to the Sony Xperia Z for editing and posting onto my Instagram but decided to use it in this blog entry instead. So glad I caught at least a sunset during the trip because no beach holiday would be complete for me without a shot of the retiring fireball.
Kohama Island
On the last day of our trip to Yaeyama Islands, we made a dash for Kohama Island (15 minutes boat ride from Ishigaki). Ishigaki Island is the gateway to the surrounding islands as there are no direct ferries inter-connecting the smaller islands. That is, to get to Kohama, we can't just take a ferry from Taketomi but have to go back to Ishigaki and take a ferry from there.
Kohama is a small island anchored by two high caliber resorts - Hoshino Resort Resonare and Haimurubushi Resort. The former is a sprawling golf resort while the latter is a center for sea sports.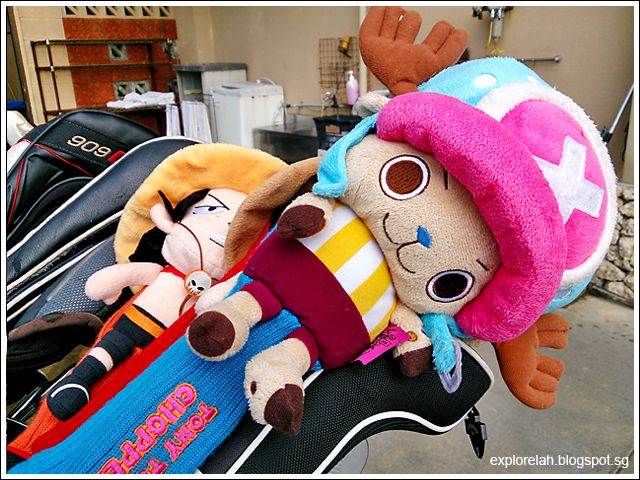 Spotted these kawaii golf headcovers at Hoshino Resort Resonare. They definitely added a touch of whims to a very serious game.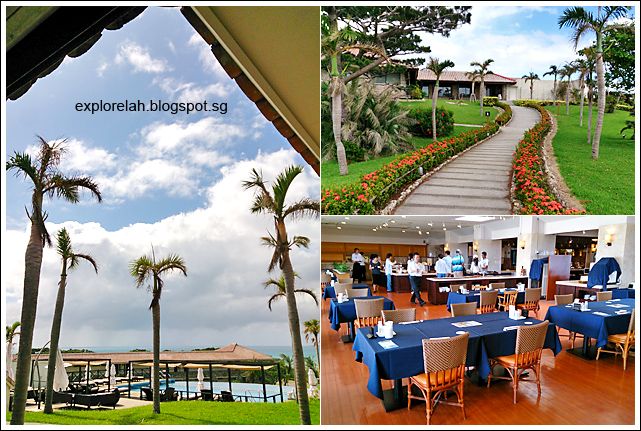 Snapshots of Haimurubushi Resort where we had lunch.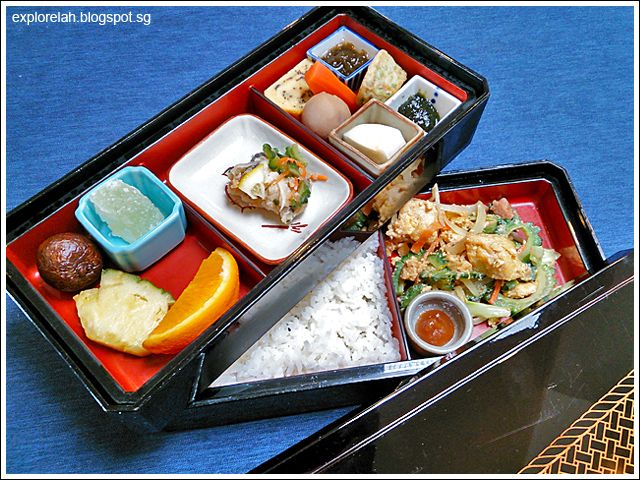 Unlike the common single-tiered bento boxes, our lunch was served in a double-tiered lacquer box.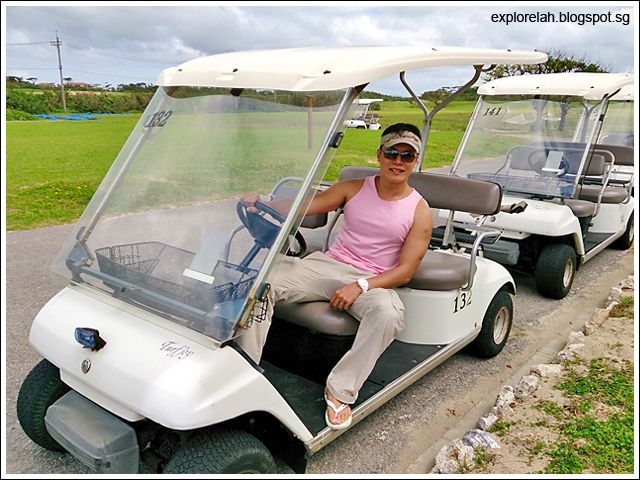 My moniker for Haimurubushi Resort is the "hotel of rides". I got to drive the island buggy to the beach as well as ride the jet ski and banana boat.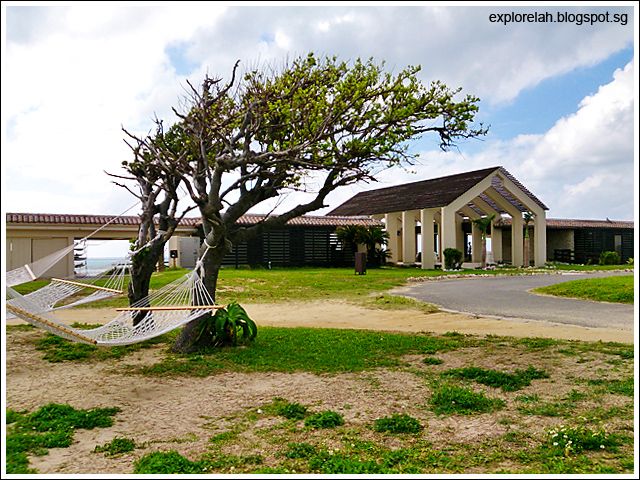 The Haimurubushi Resort's sea sports center and clubhouse.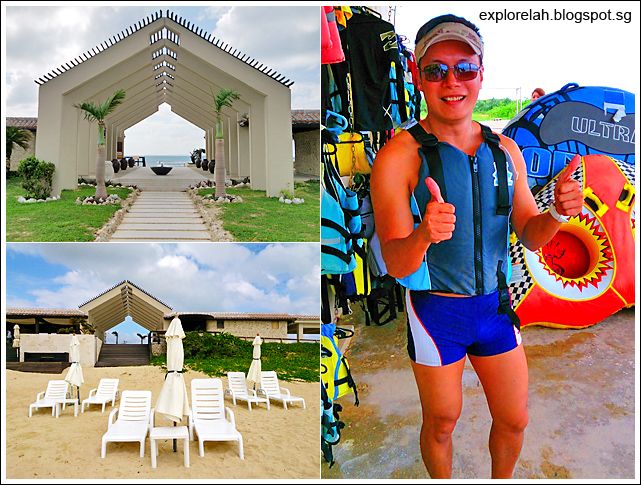 Depending on weather conditions, certain sea sports may or may not be available. But it is just as nice to do nothing and chillax on the recliners with a cocktail in hand.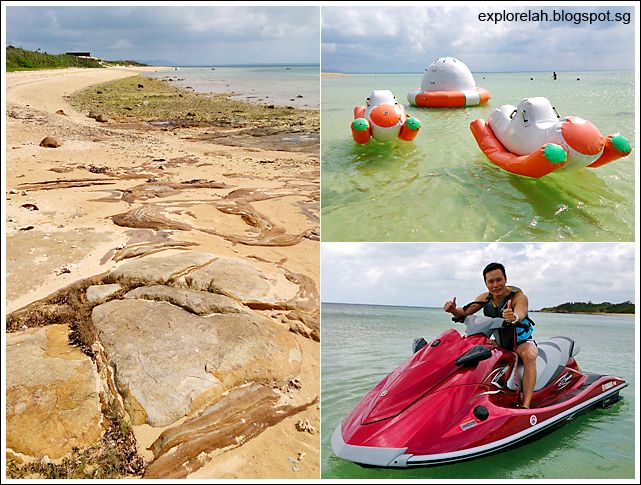 The private stretch of beach stretches for miles with aquatic thrills for kids and adults.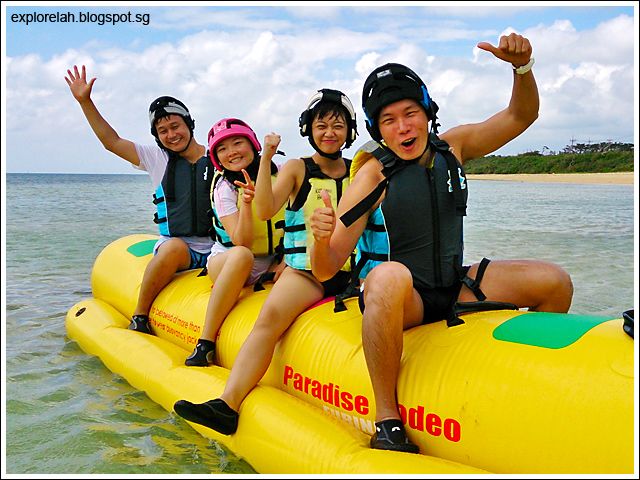 We had a blast with the sea sports and ended our exploration of the Yaeyama Islands on a high! Really thankful for all the awesome people (in and out of this photo) that I got to travel with on this trip!
While there is no lack of beautiful islands for an idyllic escapade or indulge in the adventures of eco-tourism closer to Singapore, the Yaeyama island chain offers great respite as the beaches aren't crowded with people, umbrellas and peddlers trying to sell you something. The coastal sceneries are also breathtakingly dramatic with crystal clear waters hiding nothing of the shallow shores that stretched endlessly into the sea.
The other thing I really enjoyed on the trip was the food. I felt myself getting healthier with every bite I took of the fresh produce from the islands. When I go on group tours, I usually restrict my food intake to minimise the need for toilet time but not for this trip. I was practically a human vacuum cleaner.
Best of all, the sub-tropical weather in autumn had just the right degree of hot and cold. It felt like going to the beach in an air-conditioned room. You get the sun, sea and star sand but not the sweat!
This trip has been made possible by
CTC Travel
and
Okinawa Convention and Visitors Bureau
.
Photos shot with Sony Alpha NEX-5T and Sony Xperia Z.
Sole comfort and style taken care of by Timberland.