Date of Exploration :
22 Jul 2013
When it comes to unique shopping experiences, Bangkok has no lack of imaginative retail enclaves to delight in but a visit to Papaya vintage shop is hard to top. For starters, there's the peculiar choice of a shop name which sounds more at ease fronting a supermarket, restaurant or orchard than a store selling secondhand items. Then there is the genre in which Papaya could not be identified with for it is a warehouse, store, museum, and studio all under one roof. The establishment is a bona fide time capsule and a vintage hunter's wet dream cums true!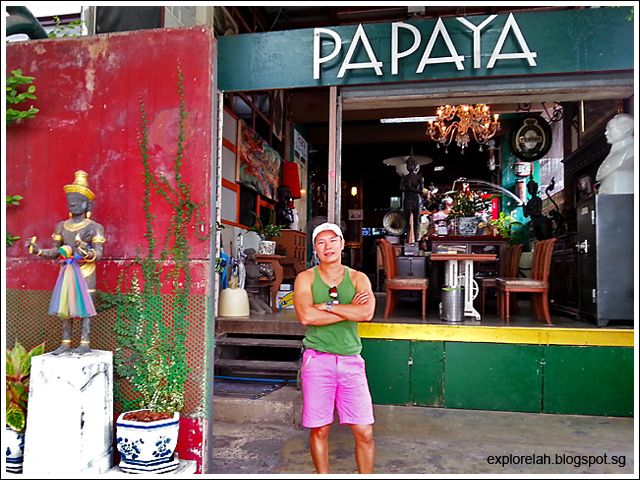 Just Papaya... no tagline or clue about what the shop is all about. Even its name card doesn't state the nature of business because it simply defies conventional categorisations.
I am neither a collector of antiques nor a shopaholic so my interest to pop by Papaya was initially lukewarm. But having been here, I think this unofficial Bangkokian attraction that is off the mainstream tourist map is definitely worth checking out.
Getting There
Hidden inside a small street at the suburban district of Lat Phrao (also spelt Lad Prao), getting to Papaya can be a bit of a challenge. The easiest way is to take a cab and tell the cab driver Papaya's address (55/2, Lat Phrao Road).
If you're up for a bit more adventure by taking public transport, here's the direction of getting there :
- Take the MRT to Lat Phrao station and go out by Exit 4.
- Upon exiting the station you'll see a main road. That's Lat Phrao road. To the right is a bus-stop.
- Hop on any bus (EXCEPT 151 and 156) and look out for 55/2 on the left.
- Alight at the next bus stop and back track to 55/2.
The bus ride should take under 10 minutes. Initially, we thought we could walk from Lat Phrao MRT station to street 55/2 but it is actually quite far. Taking a bus is recommended.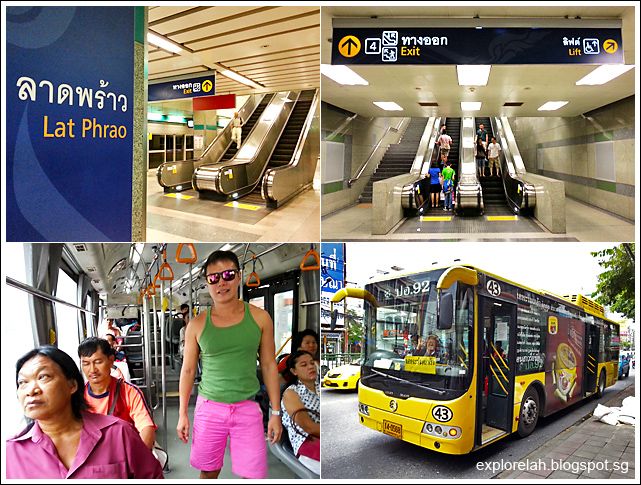 Photos : Lat Phrao MRT station and taking Exit 4. We boarded bus no. 92 and we were very lucky to meet an extremely friendly bus conductress. We told her the address and got her to tell us when to alight (which is about 4 bus-stops away). She spoke very good Mandarin!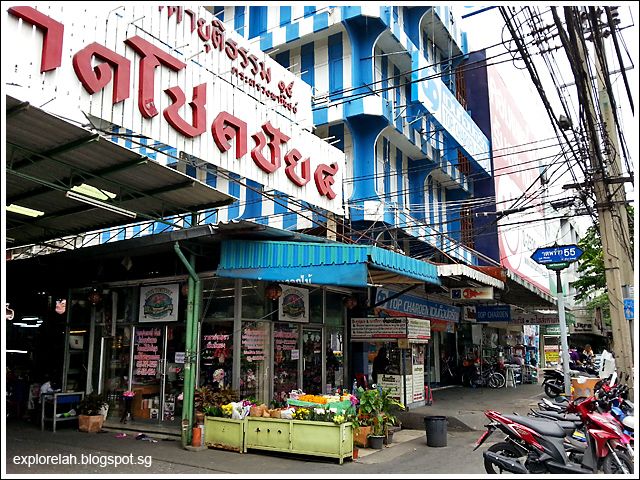 We dropped off at a bus-stop near street 55 and walked straight ahead to 55/2. Do not enter the market on the left (pictured here) as 55/2 is not a shop unit along 55 but actually a street off Lat Phrao road.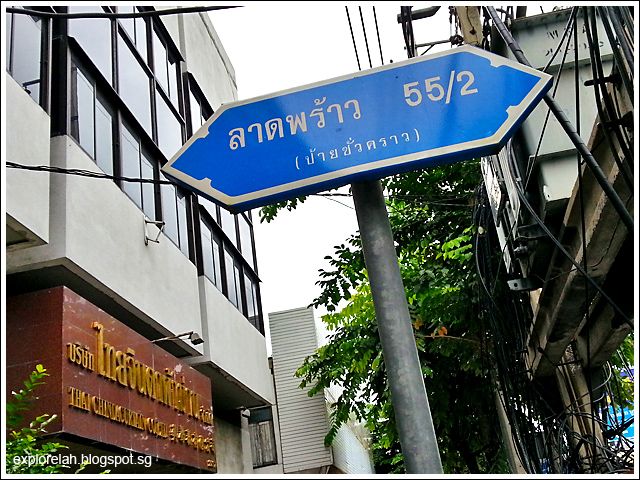 About 2 blocks down from street 55, we reached street 55/2.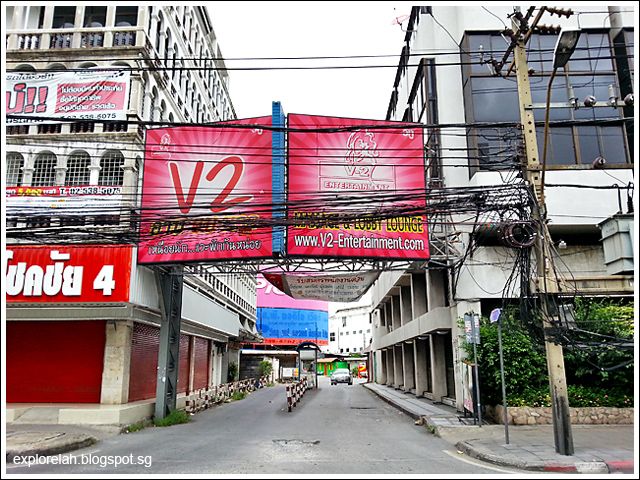 Entrance of street 55/2 taken on Lat Phrao road. Thank goodness I didn't get run down by traffic to show you the way in!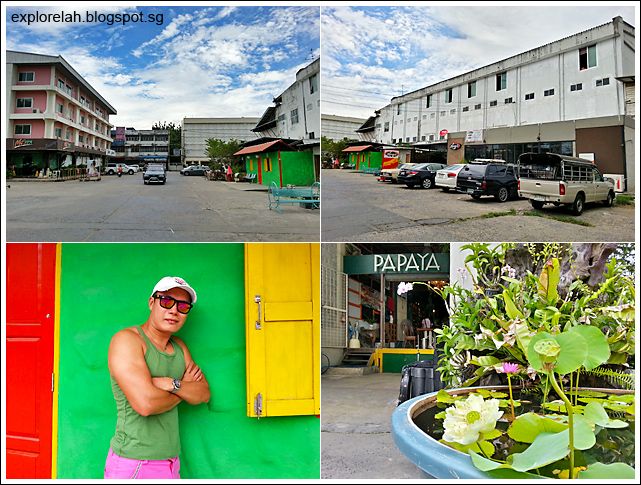 Walking down the short street, you'll see a white block on the right with a neon green hut. That's the Papaya warehouse. I felt that the white side wall can be used as a canvas to spray paint Papaya's name on it so that visitors can identify it immediately.
One Person's Junk is Another's Treasure
The neighbourhood that Papaya sits in seemed rather sedate and nondescript. Even the warehouse's façade doesn't raise any eyebrow with a lack of signages to mark its presence. The bright neon hut houses an annexed café but it looked rather unkept and forgotten.
However, like any pearl that's hidden within an ugly oyster or a diamond obscured in a coat of black coal, a treasure lies waiting to be discovered...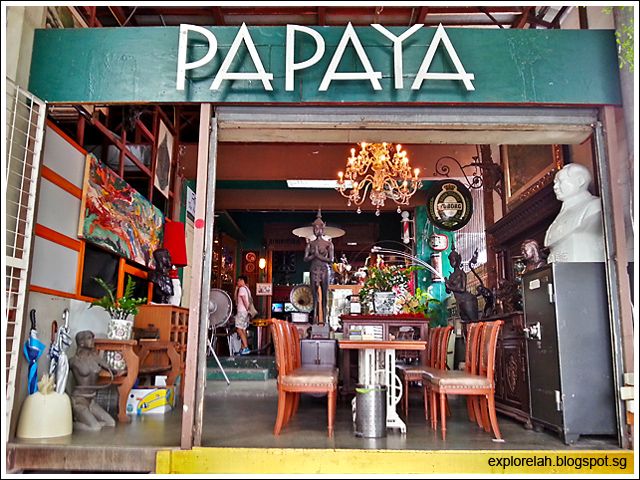 The entrance to Papaya is a small hole that felt disproportionate to its lofty storage space. But stepping past the inconspicuous reception that consisted only of a desk, Papaya opened up into a wonderland of nostalgia!
Packed from floor to wall to ceiling with the memorabilia of time, the assault on the senses was immediate until such time that my eyes adjusted themselves to the array, or should I say disarray of knick knacks.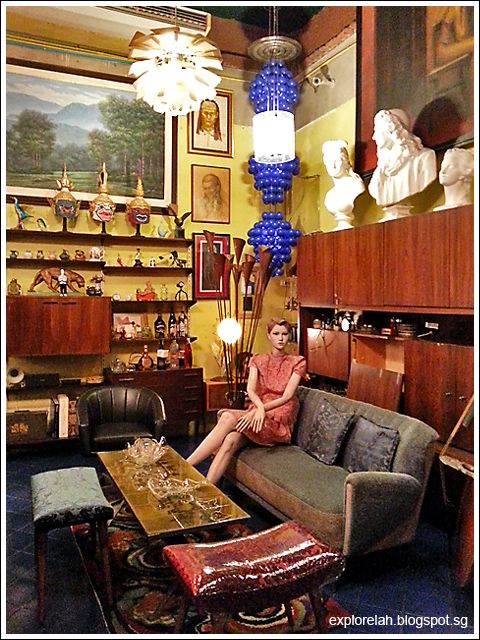 This place is retroliciousness at its best and it's free to visit!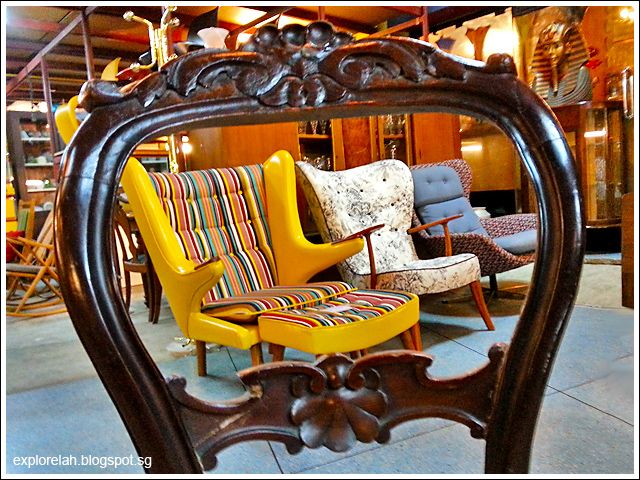 In a retro frame of mind... Psychedelic armchairs, ornate cupboards, old-fashion lampshades, and other creative remnants of past eras find a their spot in the limelight here at Papaya.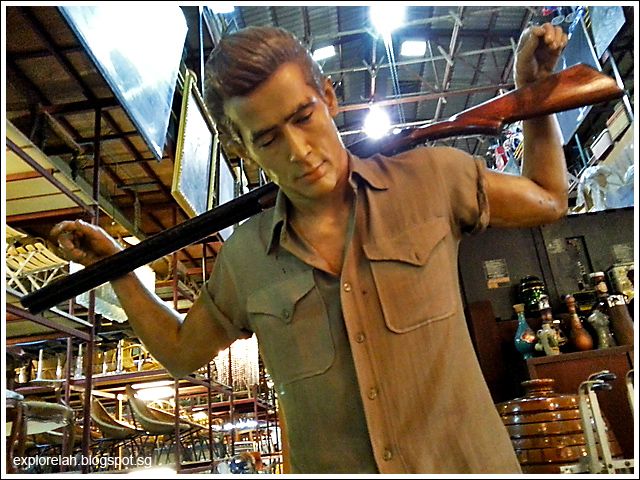 James Dean in 'Giant' forever immoratlised in this life-sized figure that greeted visitors as they enter the heart of the warehouse.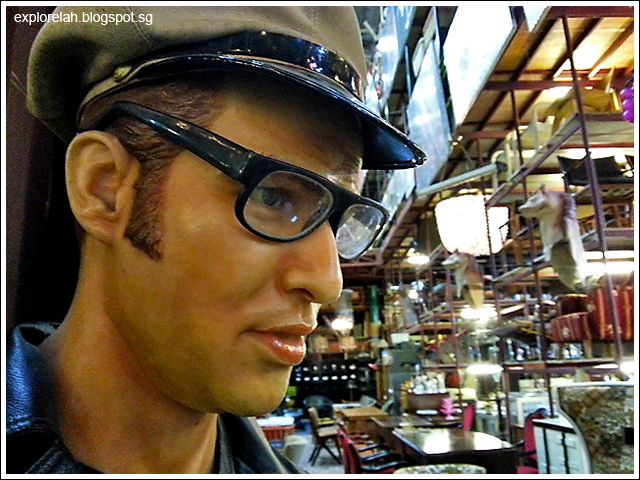 What's he looking at?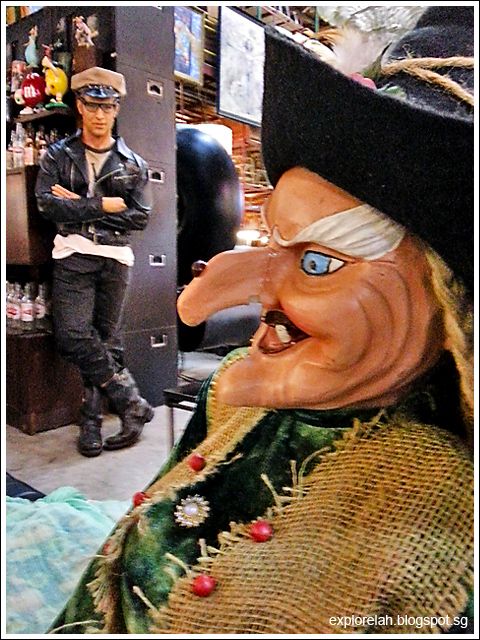 "Don't look, don't look! But is that hot guy checking me out?" blushed the witch.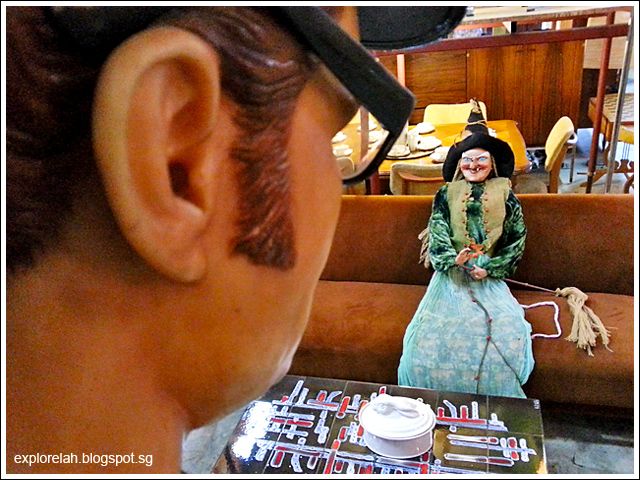 It is every girl's dream to be adored eternally by a handsome screen legend... yes? Actually the 2 figurines weren't looking at each other but I moved the witch to create this visual anecdote that there's someone for everyone. Meeting that person just depends on the hands of fate to move us in the same direction. I'm still pinning for fate to bring me my soulmate!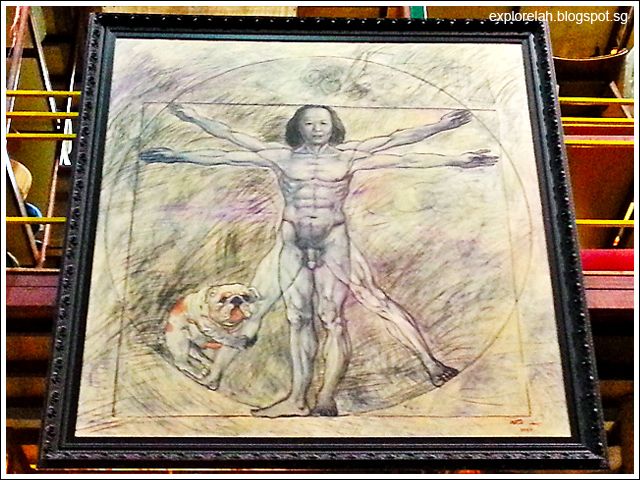 Papaya has a massive collection of paintings but my fave was the hilarity presented in this Da Vinci's Vitruvian Man given a wicked Asian twist! Check out the bulldog humping one of his legs! LOL.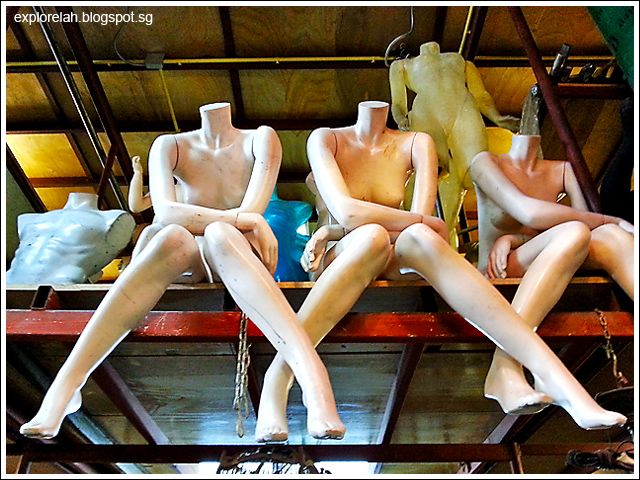 I M lovin' it.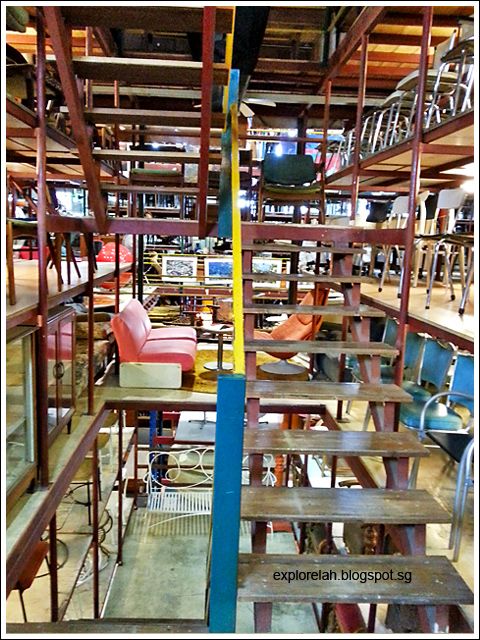 Stacked on 3 floors, Papaya is a maze with a staggering collection that would be the envy of any karung guni (rag-and-bone man)!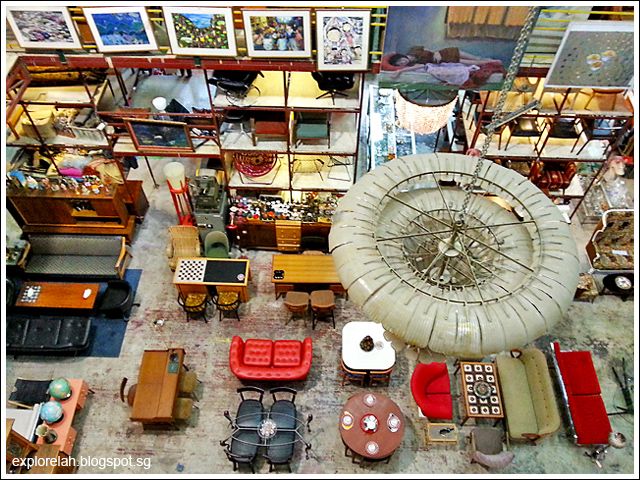 Every floor and subsection hold a memory awaiting to be rekindled. I was quite thrilled to encounter some of the items I grew up with.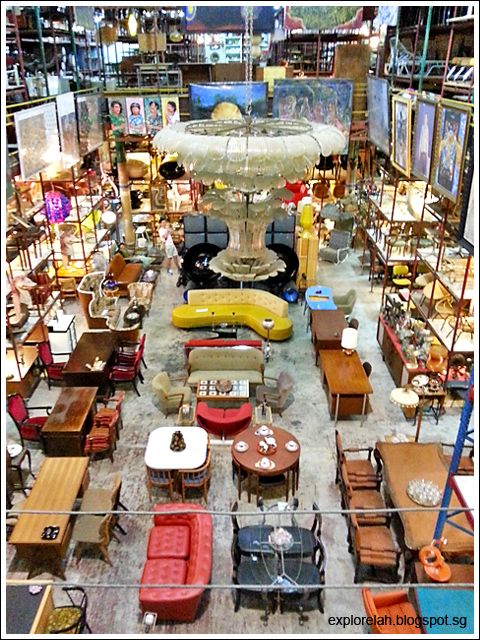 There are no price tags on any of the pieces. If you see anything you fancy, snap a photo with your phone and get a quote from the staff. Prices won't be cheap since many of the items are one-of-a-kind authentic vintages. And some of them are not for sale.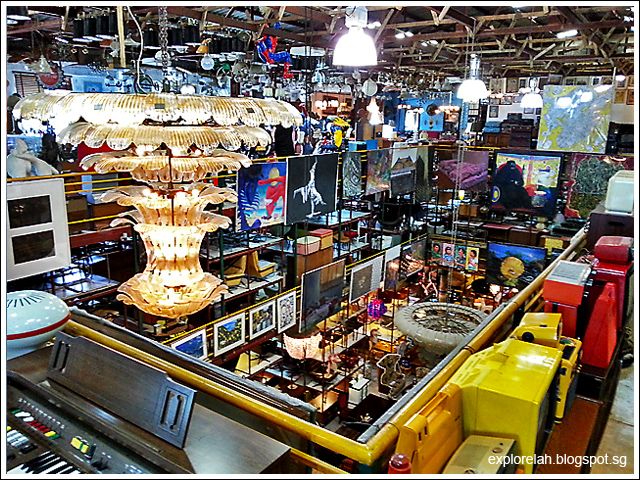 View from the third floor of Papaya. My mind was boggled by the sheer bulk of once-loved toys, furnishings, and appliances.
My Samsung Galaxy S3 meeting its ancestors. All photos on this post were shot with the smartphone's camera.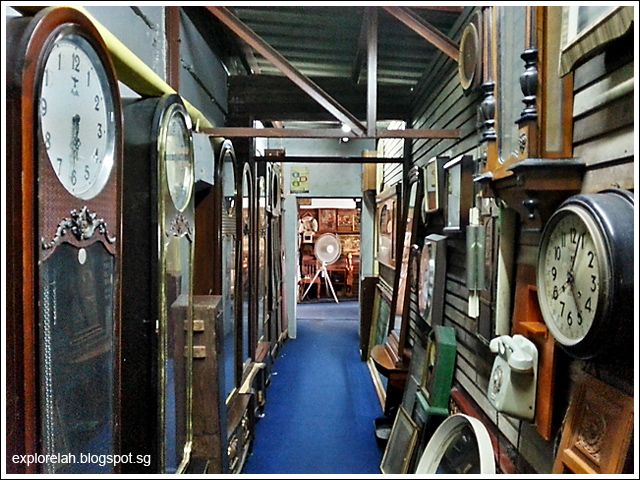 A time tunnel. Literally.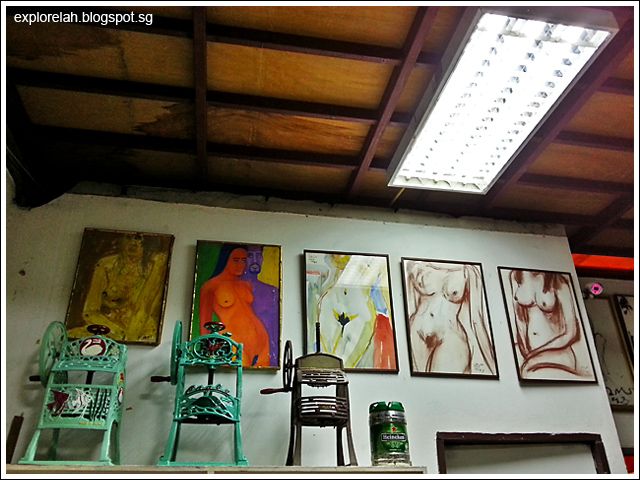 I found this display of traditional ice shavers and nude paintings comical. The scene seem to be saying "Hot from the nudies? Cool down with some ice kachang!"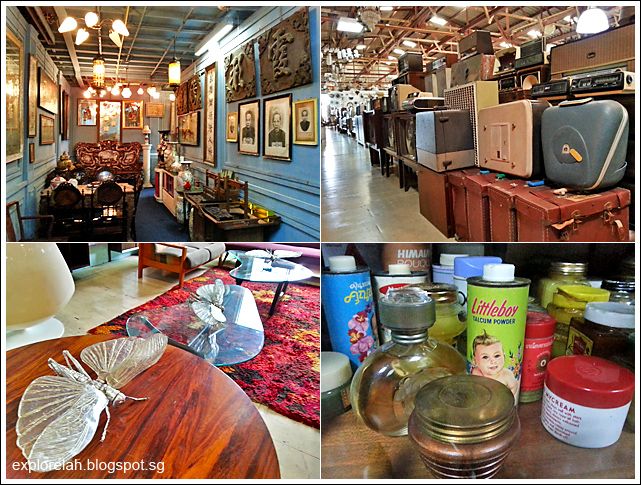 While the collection of items are pretty haphazard, there are efforts to group them together by type, function, and era.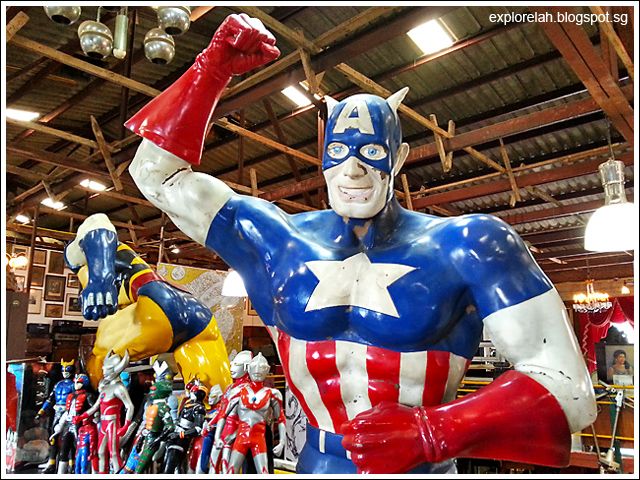 A section on level 3 is devoted to superheroes and life-sized movie figurines. But items get moved around, may be purchased, and newcomers added so the display is constantly evolving.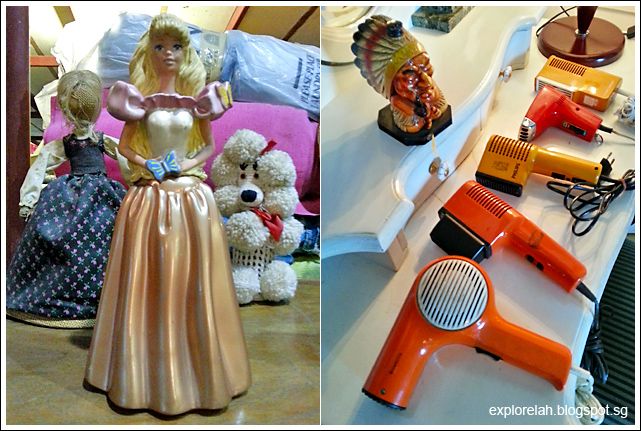 I didn't know Barbie came as a hard plastic doll in the past where you cannot strip her down. Darn! And it looks like the hairdryer hasn't changed much since its invention.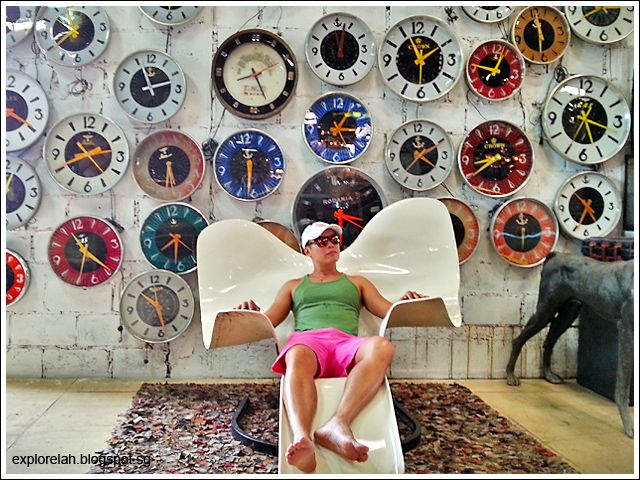 Time waits for no man. If you could turn back time, what would you change?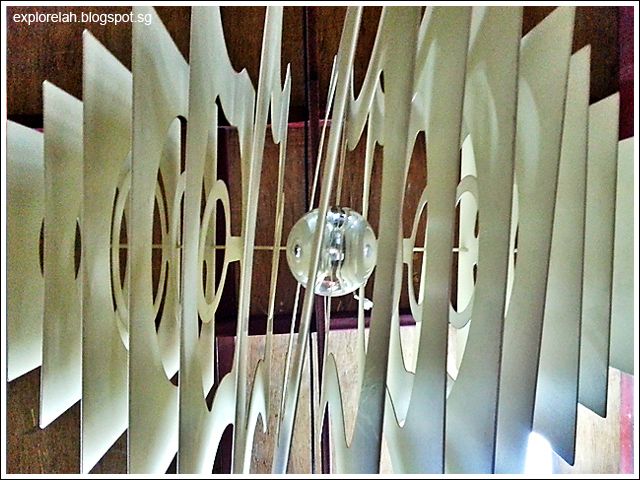 Saw this sliced lampshade which I thought was pretty hypnotic as each angle you look at it (bottom-up, side or front), a different design reveals itself.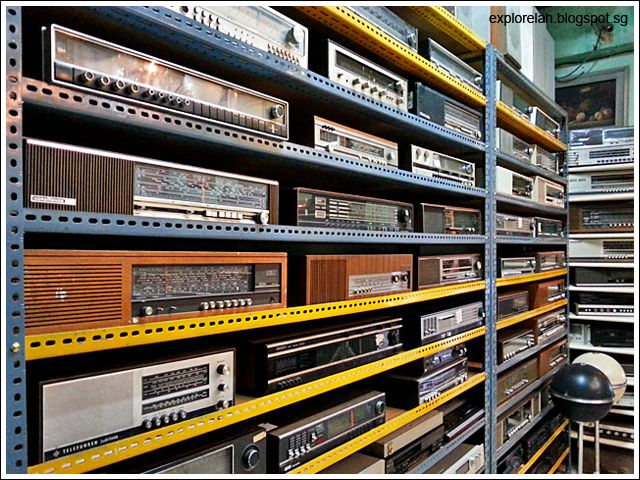 Ah... I remember when amplifiers used to be the nerve centre that controlled sound. Today, it's direct plug-and-play on a mp3 player or handphone. I'm surprised not to find a portable CD player or MD player here. I suspect the mp3 player will also end up here some day.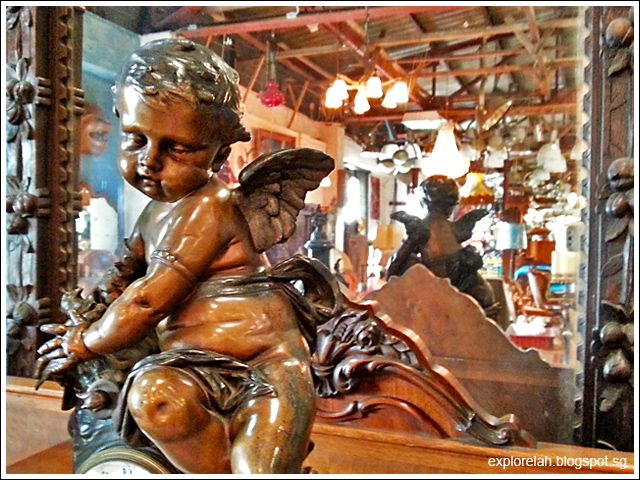 Remembering Thailand's brief colonization by Euro forces during World War II was this silent cherub reflecting on the kingdom's estranged past.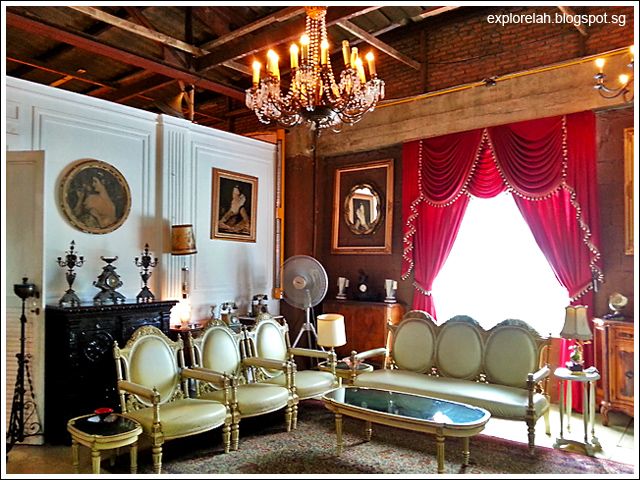 Papaya has many period assemblies that are great settings for photography except for the huge fans that keep the un-air-conditioned warehouse cool.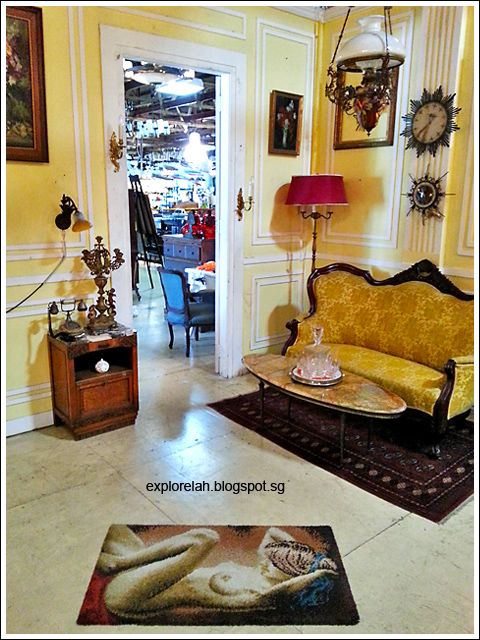 Won't you gladly clean your feet before stepping into a house on this doormat? Heh heh.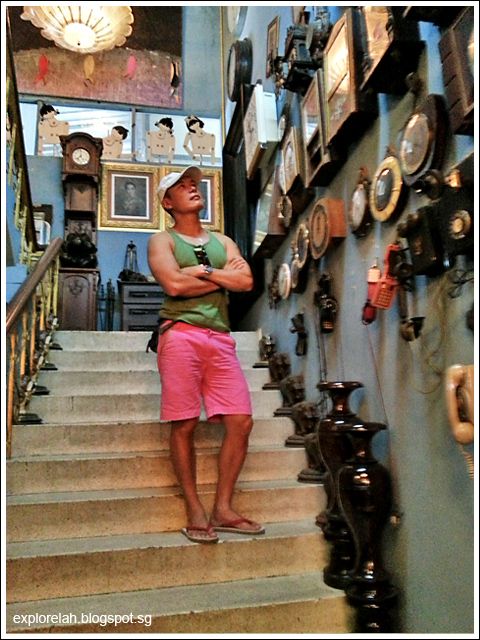 It's up and down memory lane at Papaya with familiar and unfamiliar artefacts all lined up to give one's ability to reminisce a good workout... if you're born in the 50s through to the early 90s that is.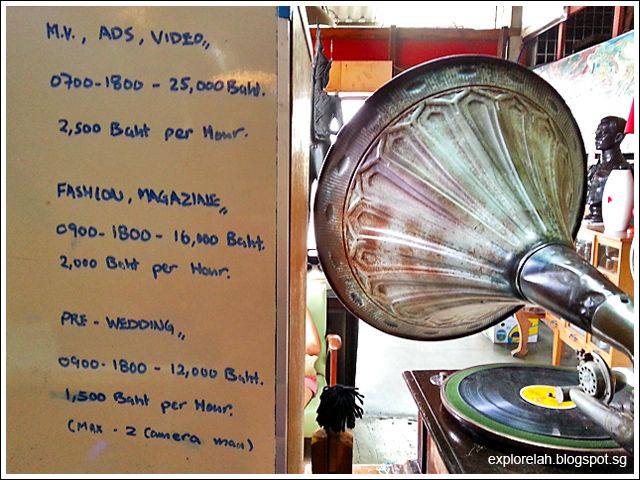 While it's free to visit Papaya, professional photogs may be charged a fee to shoot here. Maybe because I didn't bring my DSLR that I was free to roam and bring home shots. The venue is also for rent for fashion and wedding photography and it has a couple of studios for stylists to realise their retro vision for editorials.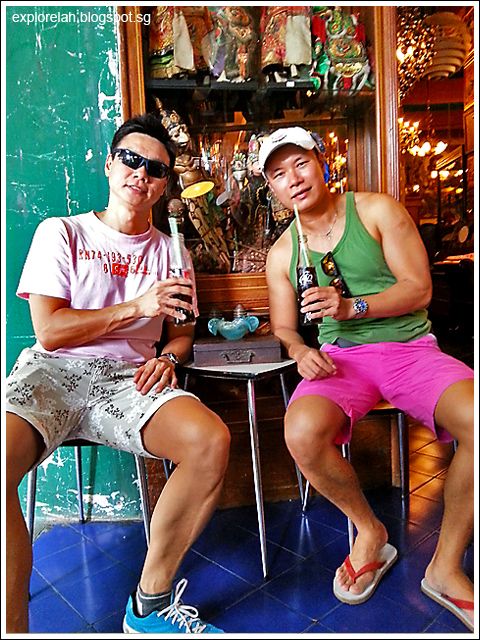 What better way to round up the visit to Papaya than a sip of Coke in its classic bottle form for only 10baht each?
I've been to quite a few retro shops and markets in my wanderlust but Papaya is truly phenomenal for its scale, collection and freedom to interact with the pieces.
I was at the Singapore National Museum some time back and saw a hairdryer behind lock and keys. At Papaya, I saw the exact same hairdryer but I was able to pick it up like an everyday item and pose for photos.
We spent about 1.5 hours at Papaya to browse and take pictures and still felt we haven't covered every corner of this fascinating place. Papaya is definitely a delicious bite into a slice of time!
Address :
55/2, Soi Lat Phrao ('soi' is Thai for 'road' and 'street'), Wang Thonglang, Bangkok 10310
Opening Hours :
10am - 7pm daily
Admission :
Free
Phone :
+66 2-539 8220, +668 1-622 2200
Website :
www.papaya55.com