Date of Exhibition :
5 Jul 2013
For one night, the tables were turned.
Instead of me gawking at the flashy window displays along Orchard Road, I became the subject that drew eyeballs in
Asiarooms.com
's unique pop-up hotel at the heart of Singapore's hyper-shopping district!
I hope no one got an eyesore from looking at this old Ken doll wannabe though...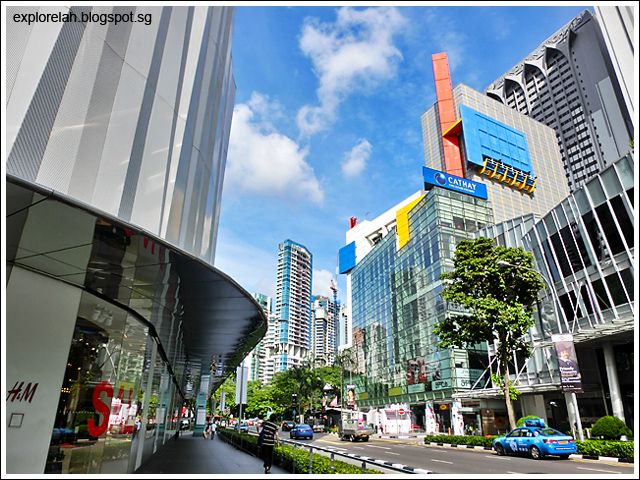 When Asiarooms.com extended an invite for me to stay in its pop-up hotel room at this prime shopping hotspot for one night, I immediately agreed. A chance like this could very well be once-in-a-lifetime!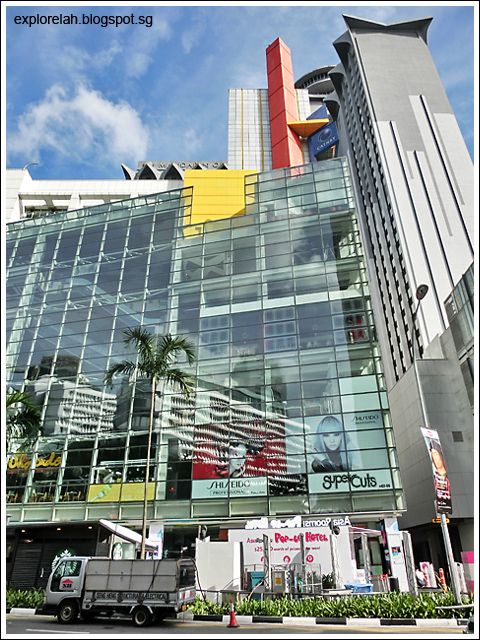 Popped up outside the super busy retail and entertainment powerhouse christened Cineleisure, the boxed capsule was all set to coax curiousity out of people passing by.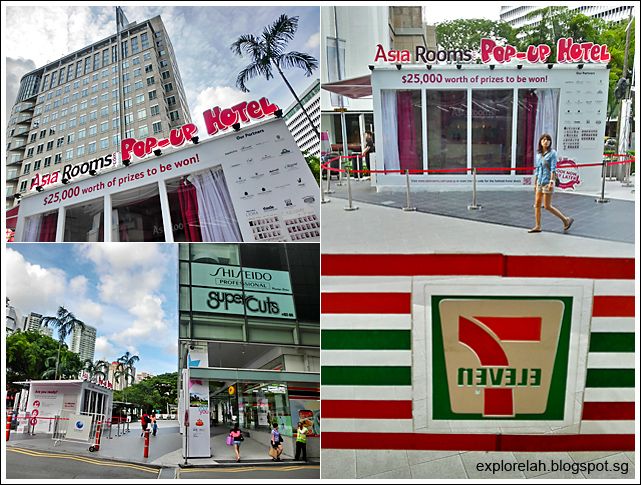 These day shots of the set-up were taken the next morning after the stayover at about 9am so human traffic had yet to emerge from the yawn.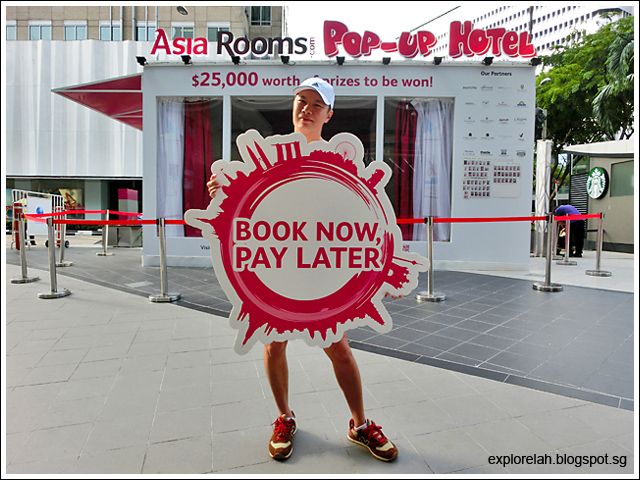 Don't worry, I didn't do a full monty on Orchard Road. I just really liked Asiarooms.com's "Book Now, Pay Later" policy where payment for a room booked through the site is made AFTER the stay and not at the point of making a reservation. This way, customers like you and me don't have to incur any cancellation charges if we change our minds or our trip got canclled as no payment is made during the booking stage. This customer-centric policy definitely got me covered!
As daylight switched into night, the pop-up hotel lit up for showtime! When I saw this scene upon arrival, truth be told, my feet turned cold. I reminded myself not to explore my nose with my fingers or smell my toes.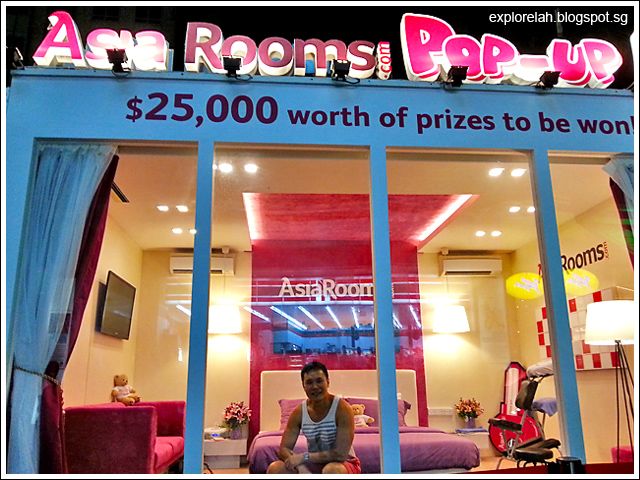 My first time as a living mannequin! Initially, it felt rather weird that people were staring at me and I was very conscious about my actions. Do I need to entertain the onlookers with some unusual antics? But I decided to just behave as I would in the privacy of a hotel room.

Celebrity blogger Dawn Yang stayed in this 'fishtank' a few weeks before me and she called herself Nemo. I think I would be Willy (the whale).
Yup, you saw it right. I have a feminine side. I'm so glad Mandy, who gave me my medi-pedi, didn't faint. For the fun of it, she applied a base coat on my nails and wow, suddenly my nails looked so healthy and shiny! Swee!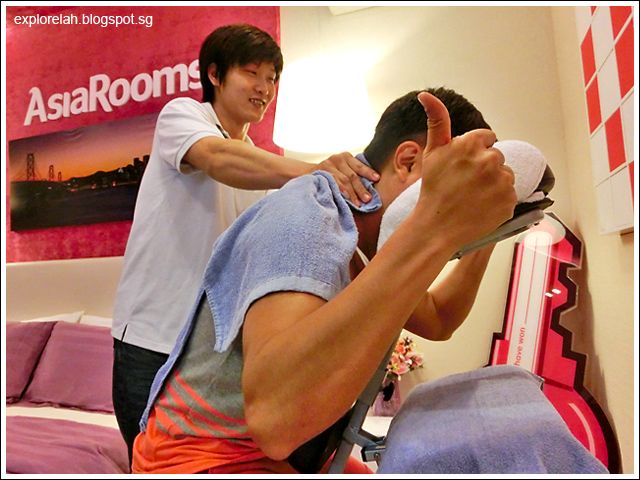 On top of pampering my nails for the first time, I got kneaded by Jackson's skillful hands. Shiok! Both Mandy and Jackson are from Hands + Feet Studio at Siglap.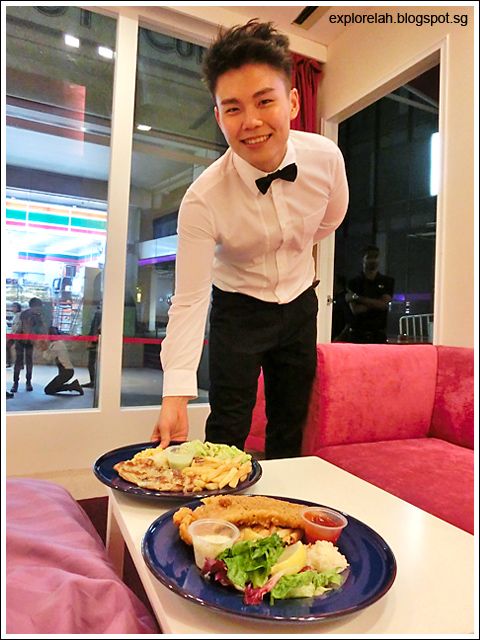 Our stayover was kept safe by Bob, our security guard; and butler-served by the handsome Xavin. When I posted his photo on my Facebook, friends wanted to claim medical expenses from me since I caused them nosebleeds. I've been upstaged! Hmpf! LOL... Kidding.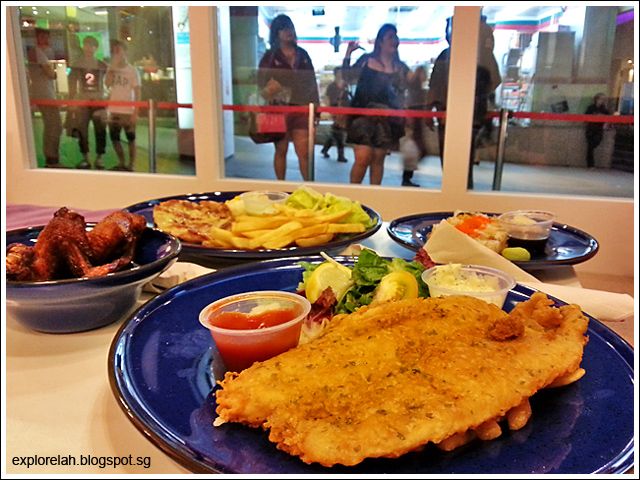 The supper prepared by Asiarooms.com was a diet-plan busting spread of fish-n-chips, chicken chop with wasabi mustard sauce, sushi and yummy chicken wings. While we ate, people looked on. It's a funny feeling, but also heartwarming when total strangers just waved hello and smiled at us.

A couple of friends actually came down but they got shy about being watched so they just took photos which they sent to me later. Such a pity to miss catching up at such a unique setting.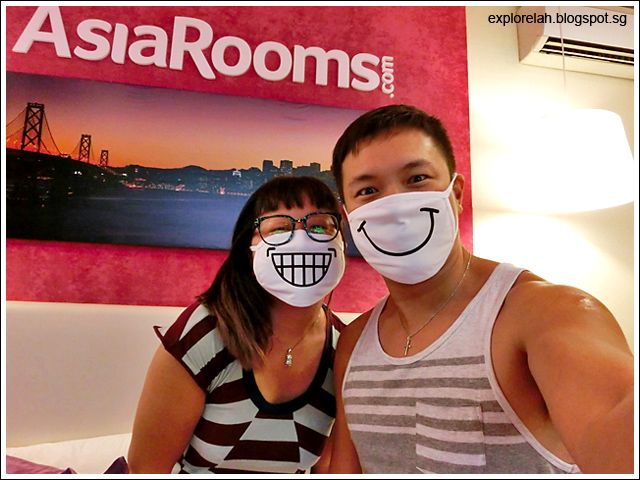 With my fellow exhibitionist, Juliana, who's ever full of shenanigans. As the stay was supposed to happen on 21 Jun during the peak of the haze that shrouded Singapore, she bought these 2 masks to bring on the cheer while keeping out the toxic smog particles. I thought the masks are such a riot! Check out her blog at spunktitud3.wordpress.com for some really insightful reads and out-of-this-world fashion!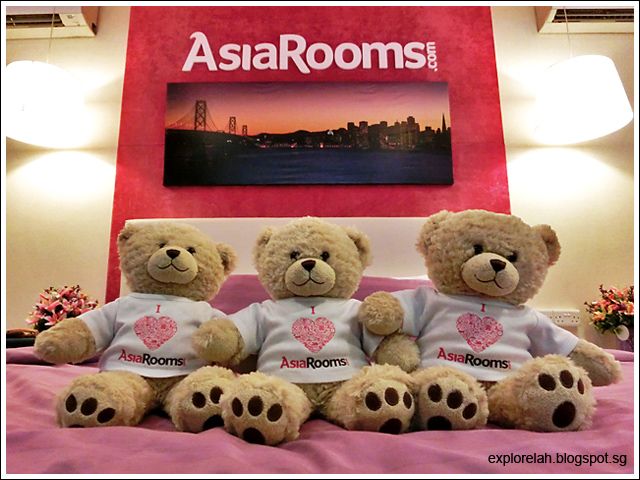 We had a beary, beary, beary good time with this one-of-a-kind staycation experience! Thanks Asiarooms.com!
A vacation where you are the attraction, now that's definitely a night to remember! My sincerest appreciation to the
Asiarooms.com
team for giving me the opportunity to experience living in Singapore in a whole new way! With Asiarooms.com extensive reach and partnerships with hoteliers in Asia, a unique stay experience is definitely just a click away!
I would also like to thank all who made this unusual stayover possible, especially to Bob and Xavin who stayed up all night in the summer heat to enforce our security and ensure that our creature comforts were attended to.
For your next overseas stay, check with
Asiarooms.com
for the best hotel deals and the unparalleled convenience of Book Now, Pay Later!