Date of Exploration :
13 - 14 Jul 2013
After the unsuccessful attempt at cycling from Sungai Rengit (Pengerang's main town) to Desaru
in March
this year, I'm left with a splinter in my bike tour ambition. So I'm back at Pengerang again to try it a second time!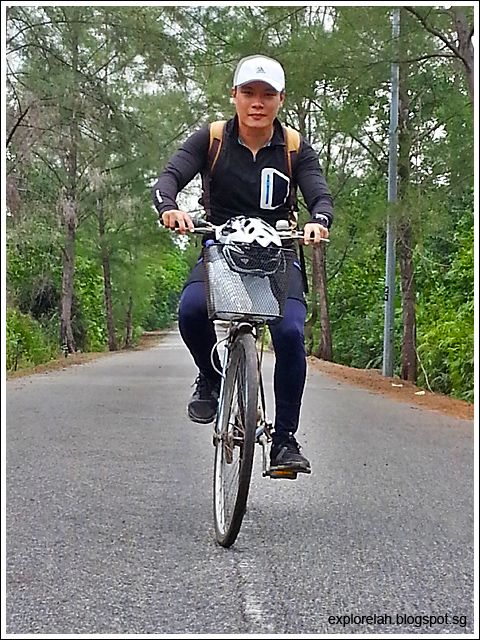 All geared up. A lesson learnt from the first cycling trip is to be fully covered up from the sun. I only had on my mid-length cycling shorts the last time and I got burnt from the knees down. This time, I wore long tights beneath the shorts.
Details of how to get to Pengerang and other information about the seaside town are detailed in my previous post (click
here
to read) so I won't repeat them here. Instead, this post will document new discoveries I made on this trip and more long distance cycling tips.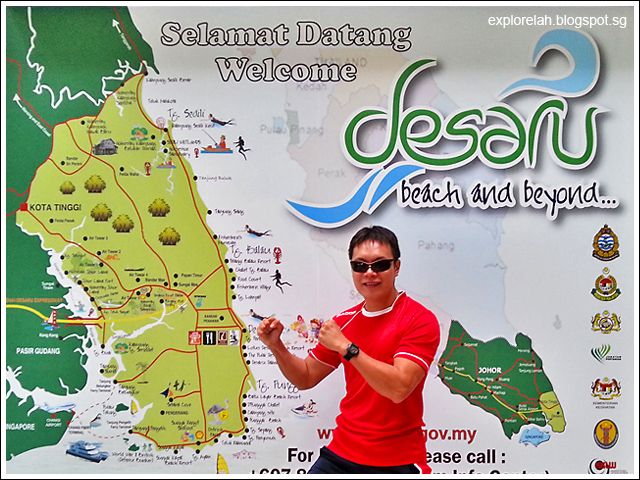 All ready to fight fatigue and the long ride ahead to Desaru! Will I be successful in reaching my destination with this second attempt?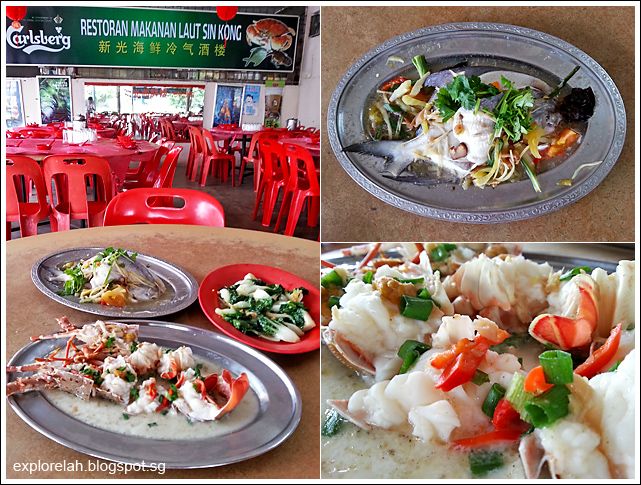 Feeding time to fuel up for the journey at Sin Kong Restaurant. Tried the steamed lobster this time and although freshness still oozes from the meat, it was rather over-cooked. The Teochew-styled steamed pomfret was not bad but the simple Nai Bai fired with garlic is my perennial favourite. Total bill came up to RM106 with 2 plates of rice and drinks.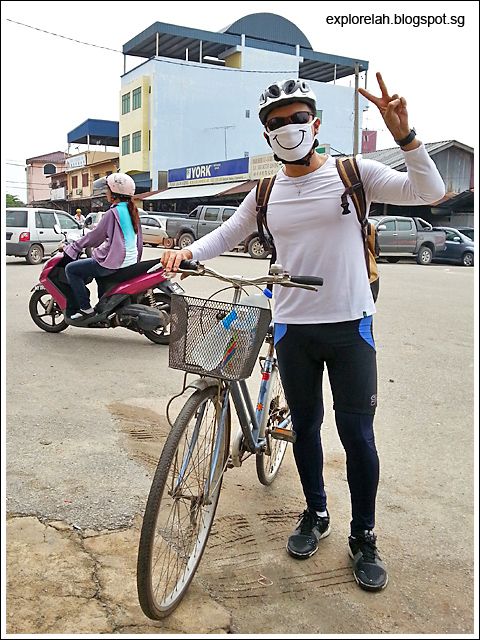 Doubled up on our fluid supply since we ran out halfway during our ride the last time with just a 1.5L bottle. Face mask is also necessary to keep from eating road dust. Penned on smile is a must too to greet oncoming traffic and other cyclists :)
Powering up with the newly launched reduced sugar Red Bull.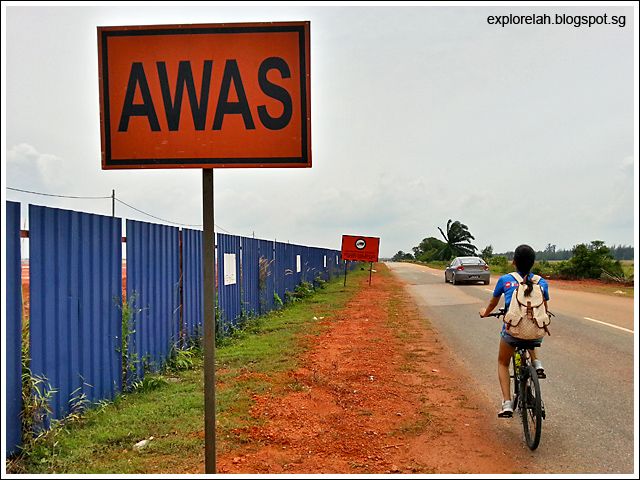 Cycling on the road always calls for extra vigilance even if the countryside gets little traffic.
Life goes on. What looks like a Lapwing who died from a broken wing.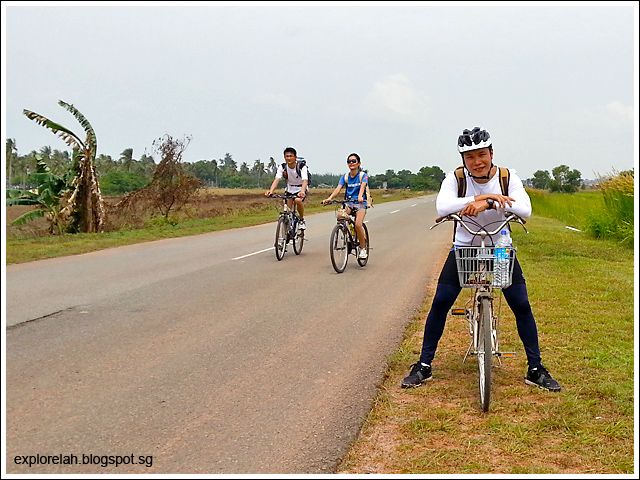 While I'm all geared up with helmet and full-length garbs, the couple behind me were not so kiasu. We took the same boat from Singapore and the guy has cycled the Sungai Rengit to Desaru route 8 times!
Along the way, we passed by a couple of cute ponies grazing by the roadside.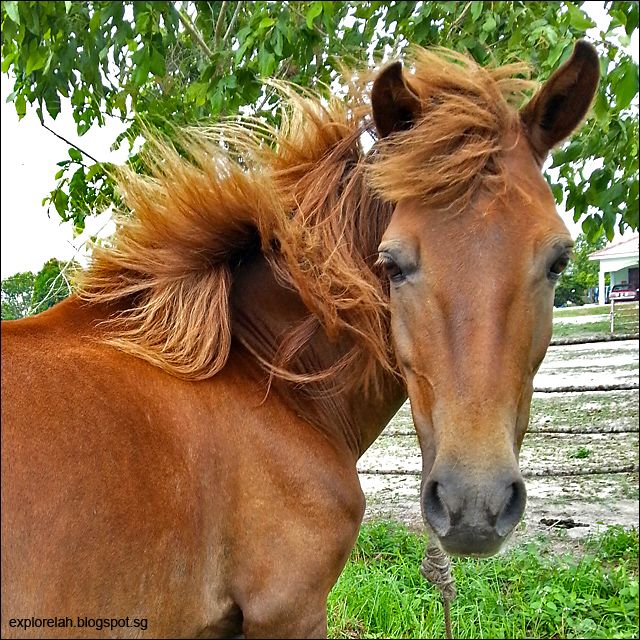 Mane attraction... Farrah Fawcett reincarnated?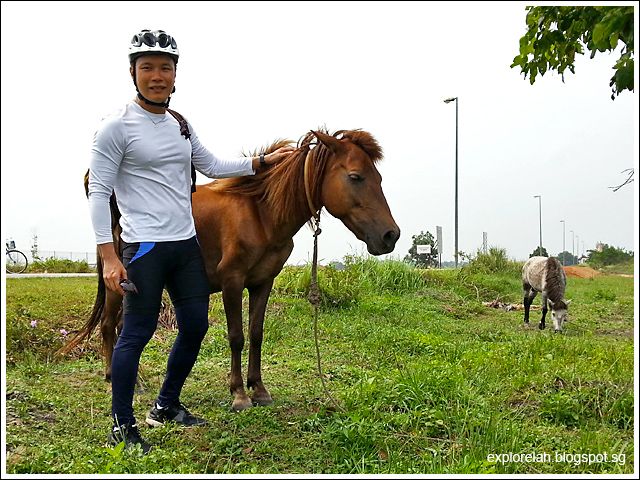 We were in such luck to get upclose with these beautiful creatures. Awesome!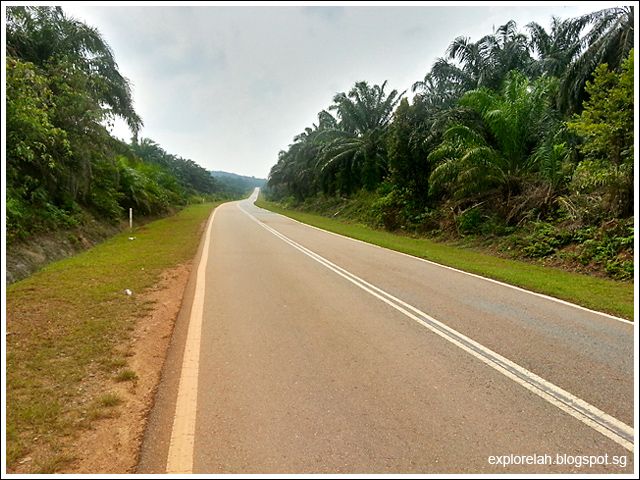 Long and winding road. Thank God for the overcast and cool weather that weekend which made cycling more enjoyable. But photos turned out flat though.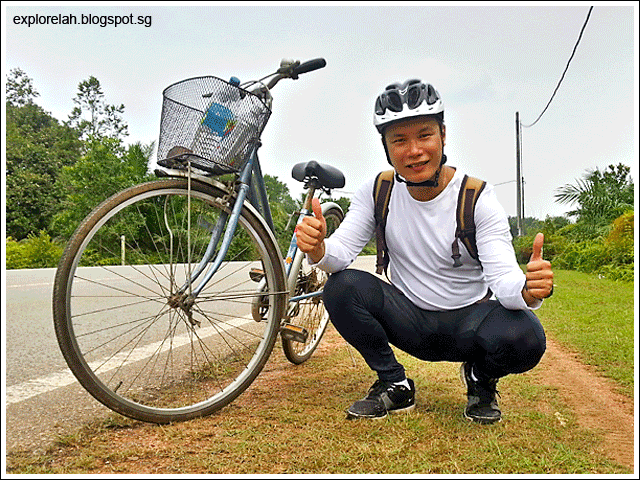 After about 3 hours of paddling, we arrived at this spot where we stopped and turned back the last time because we were so tired. But not this time, we are going to carry on beyond this point!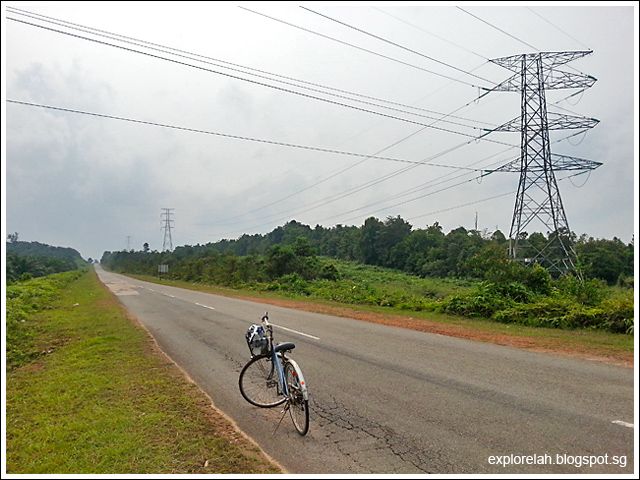 The road never seem to end! A real test of will power and stamina.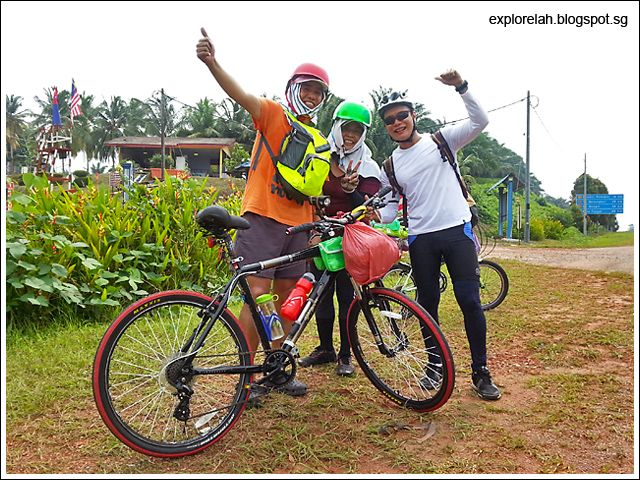 Met Ronald and Joanne who read my entry about Pengerang to plan for their cycling expedition. So surreal to meet people who actually read my humble blog. Hope the both of you are seeing this. Thanks for visiting my blog and it's been a great pleasure meeting you both! You've inspired me to go further than Desaru next time.
Light at the end of the road! Turning right at the roundabout which is just a short distance ahead, we finally reach...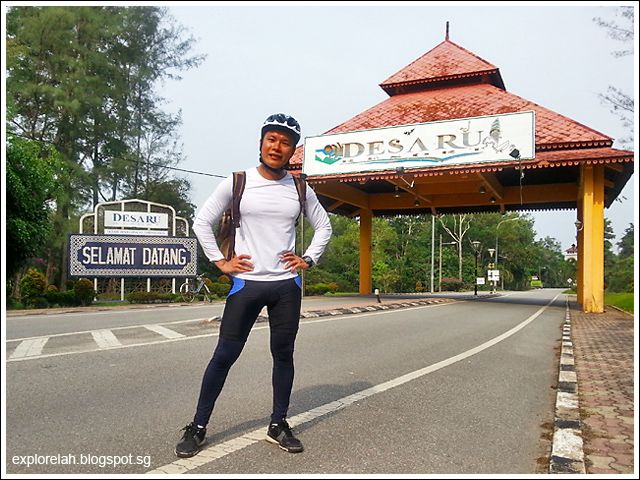 ... our destination! We made it to Desaru after an almost 5-hour journey (started at 12pm, reached at 4:30pm). We could've reached sooner if not for the various photo stops along the way.
Desaru Damai Beach Resort Review
After cycling 35km, our butts were toasted so we decided to rest for a night at Desaru Damai Beach Resort. There are 3 resorts (the other 2 being Lotus Resort and Pulai Resort) next to each other along Desaru beach but we chose Damai because it is the most cost effective.
A night at Damai Beach Resort starts from RM130 (est. S$58) for a twin-share room and comes with breakfast. We took the RM130 room since we just wanted to rest the night before cycling the 35km back to Sungai Rengit.
A RM20 refundable deposit is required at the point of checking in although I wonder why that was necessary. It didn't seem possible to break anything since the resort is already rather old and broken!
Appearance-wise, Desaru Damai Beach Resort resembled more of an old-school dormitory rather than a hotel. When we asked for a room, the guy manning the reception pass us the key to go inspect the unit first, which I thought was an odd practice.
But it is necessary to check that everything is in working order in the room first before taking in. Damai Beach Resort has more rooms than there are staff to maintain them in good condition. The couple who cycled to Desaru 8 times had a room with no electricity. Our room (no. 206) looked fine but we later found out that the toilet bowl doesn't flush.
The room was spacious but the paint work and furnishings were aging. Black stains spot the base of the bathtub and the towels smelled like they came from a bar. The pillow retained the odour of the previous guest who didn't seem to favour washing his / her hair and the bed was too soft. Got quite a few mosquito bites in the middle of the night too.
But the worst part was the attached balcony. Lots of yellowed and disgusting looking cigarette butts littered the floor. We wanted to have a drink at the balcony while enjoying the sound of waves but got turned off after seeing how dirty the balcony was.
The swimming pool at Damai Beach Resort looked decent though but it closes very early, at 6.30pm. It's the weekend but the resort was rather empty and the gift shop, restaurant, karaoke and other facilities were closed.
With nothing really better to do at Damai, we decided to check out the resort's beachfront and entertained ourselves by camwhoring. Heh heh...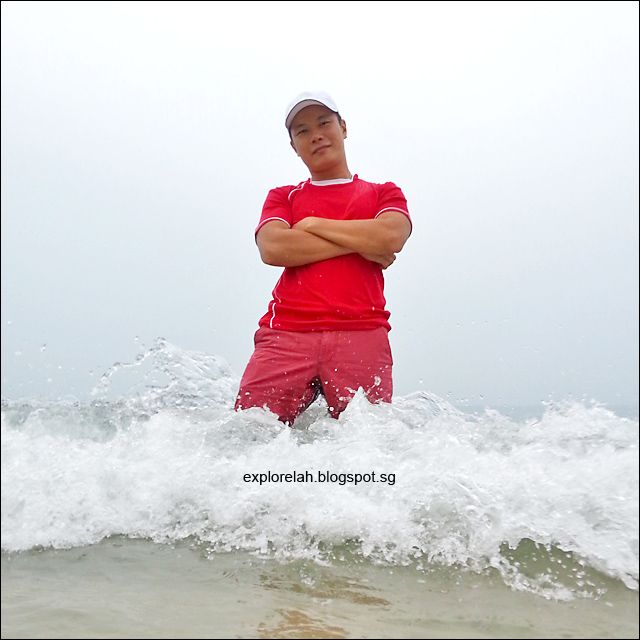 My favourite photo thanks to the skill of Siow Har, my photography, and now, cycling kaki! This angle and timely capture of the rushing waves made me look like Poseidon rising out of the sea. Muahahaha...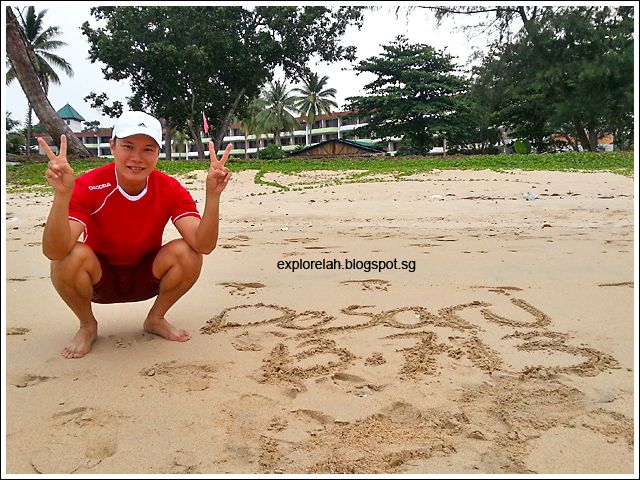 'V' for victory! We conquered the long ride and upslopes, the butt sores and muscle burns, but most of all, we preserved and didn't quit!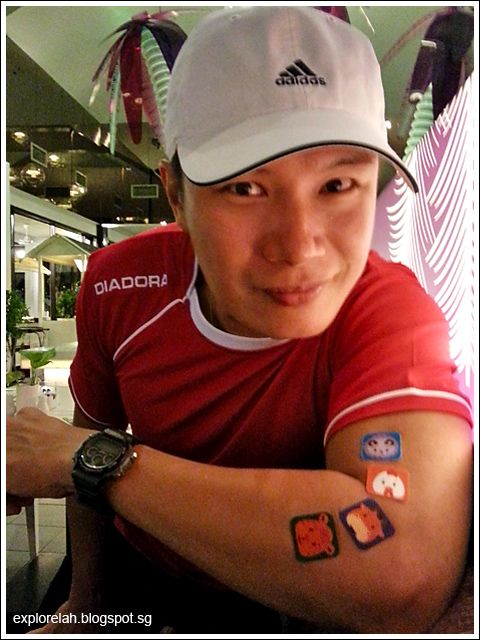 Check out my kawaii mosquito patches! Since nothing seem to be operating at Desaru Damai Beach Resort, we cycled over to Pulai Resort which is just next door for dinner. On hindsight, maybe we should've stayed at either Pulai Resort although a room cost at least RM260. The ambience and mood is much better. A dinner buffet of Malaysian favourites at Pulai Resort cost RM48++. Food quality was not too bad but the dishes were spread around the parameters of the restaurant which made it quite tedious to walk.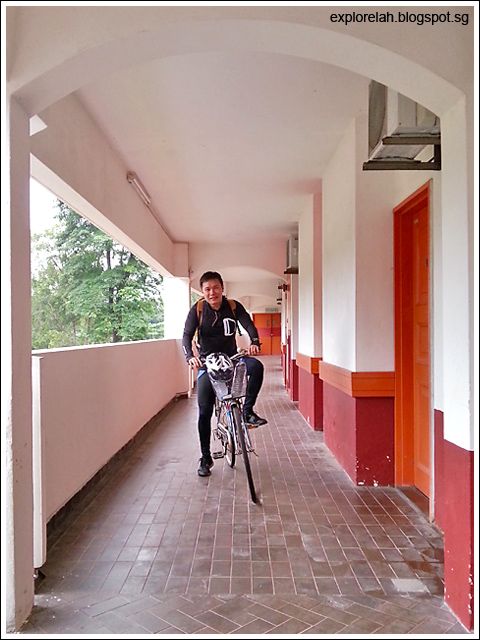 The next morning, we departed Desaru Damai Beach Resort at 9.45am for our ride back. The resort may not be a very good stay but the price point was reasonable. Staff were pretty friendly too. We wanted to stock up on water for our journey but the gift shop was closed (it never did open once during out stay) so we asked the kitchen to fill up our bottles, which they did.
Reaching the Destination was Only Half the Journey
While we were jubilant on reaching our final destination, that joy was quickly dowsed by the thought of riding back. But having done it once, completing the ride again didn't feel like the hell it was before.
Look ma, no hands! Riding like it's my grandfather's road. Please don't follow my bad example on safety!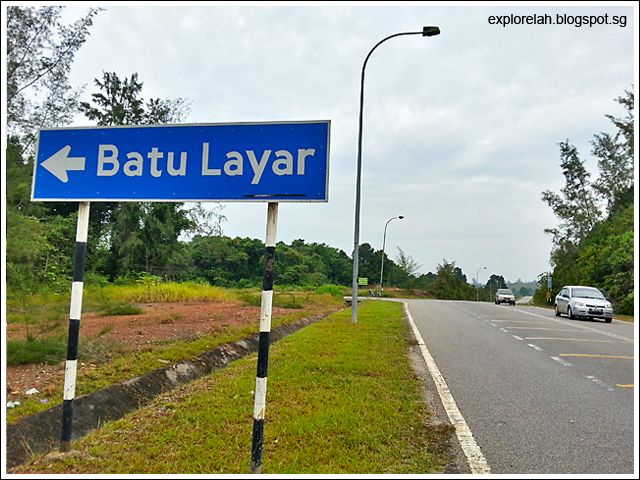 On the way back, we saw this sign pointing to certain new discoveries and the curious explorer in us decided to follow it.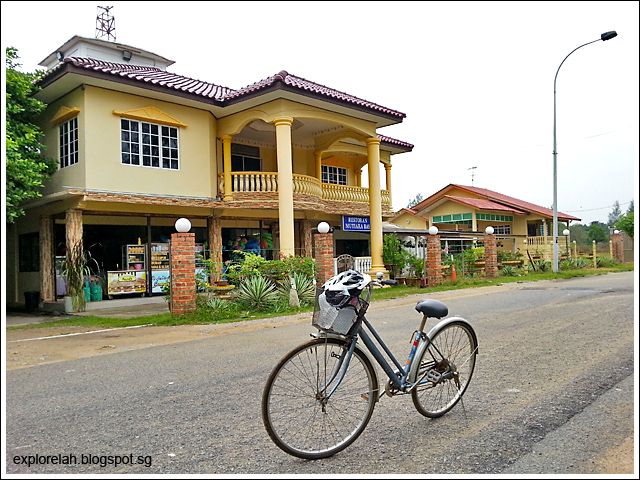 Following the sign, we turned into a short road which leads to a stretch of beachfront at Batu Layar. Nothing much here except for a provision shop cum eatery serving a small population of beachgoers.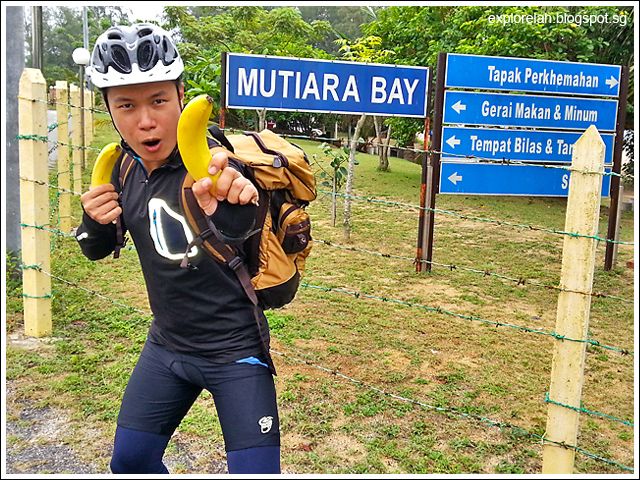 We took the opportunity to take a break and go bananas.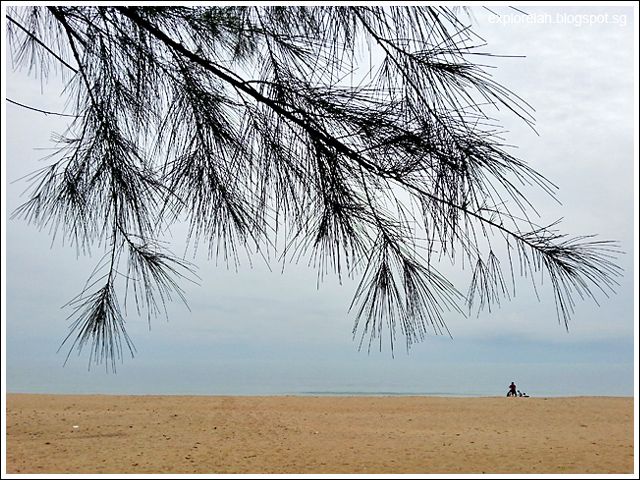 Mutiara Bay at Batu Layar is relatively quieter than Desaru beach although the water and sand quality are the same.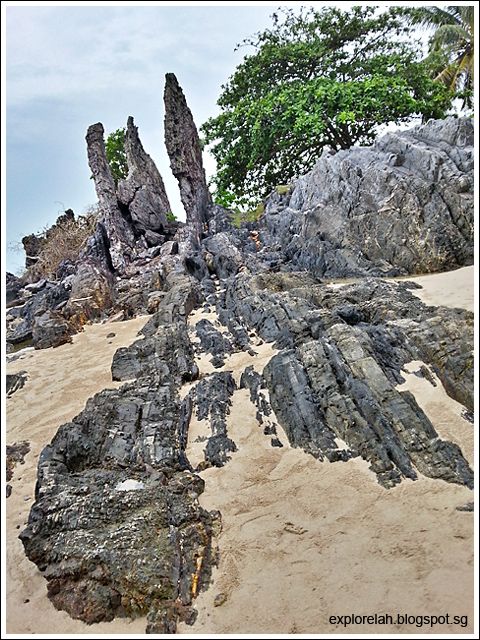 Further down the stretch of Mutiara Bay is an outcrop of statuesque black rocks with very interesting formations known as Pantai Delima Putih.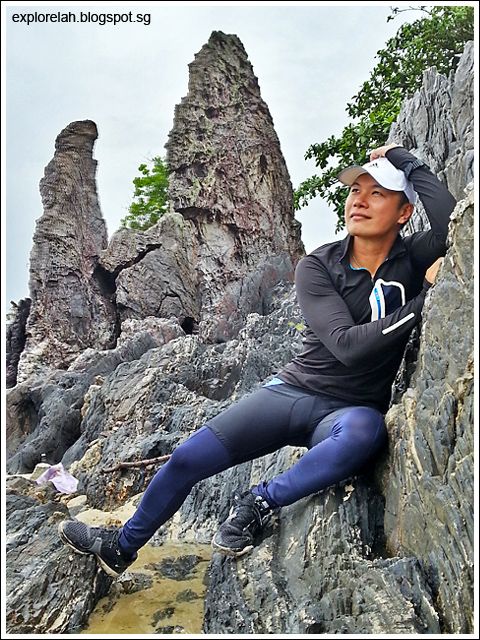 The jagged rock profiles reminded me of some monstrous sea creature's teeth. A perfect backdrop to 拍 shameless 写真集! LOL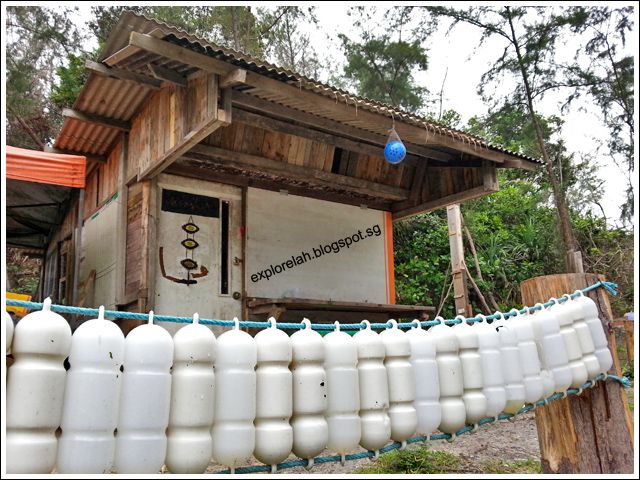 Further upshore, attempts at commercializing the rocky attraction is apparent. A resort sits nearby but it looked like it didn't host any guests for a long time. I thought it was abandoned until I caught a glimpse of someone watching TV at one of the huts.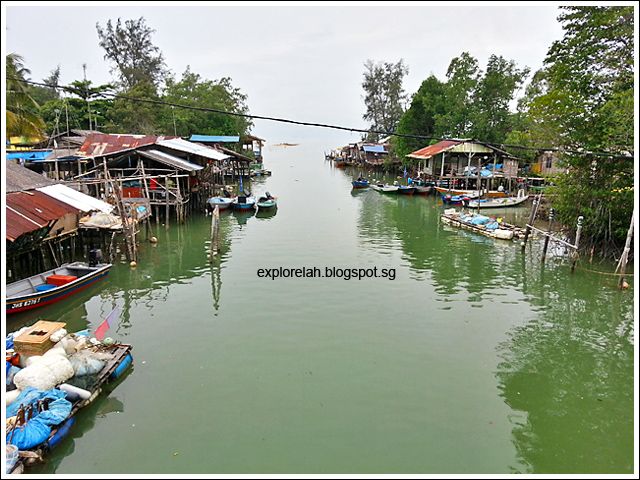 Taking the Batu Layar path was a good choice because we got to ride along the beach away from the main road and the road brought us into traditional Malay kampongs and a small fishing village.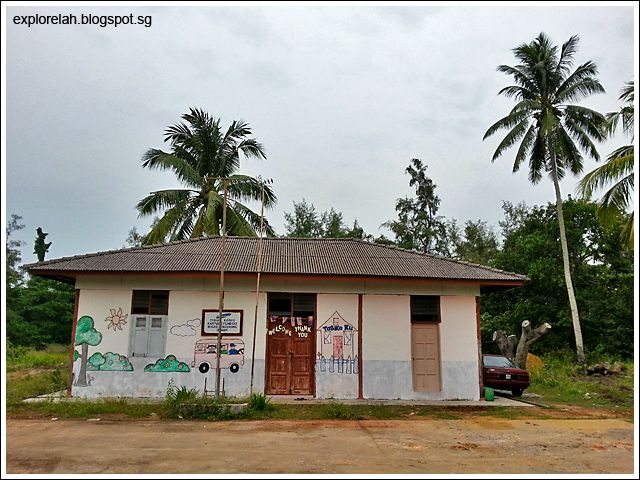 A kampong school.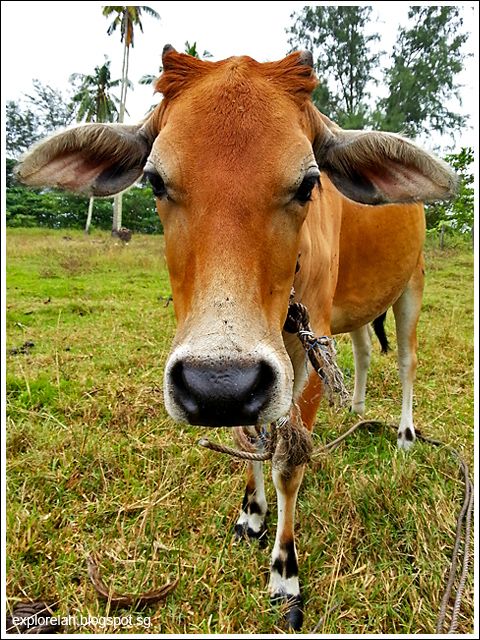 "Moo-ve out of my way and stop disturbing my peace!" the cow seemed to say.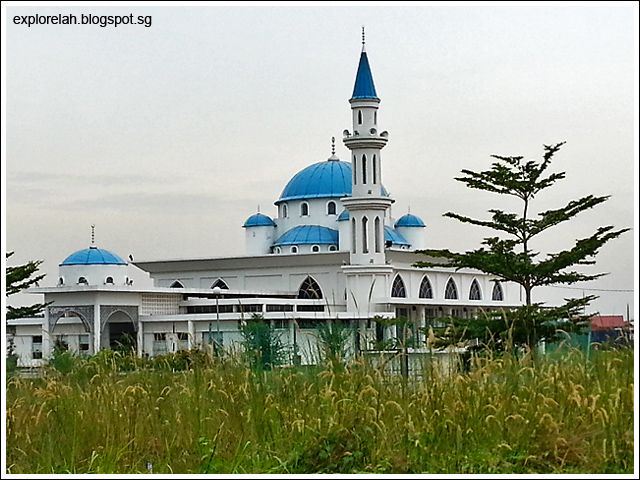 One of the landmarks that helps us gauge our location from the expanse of green fields is this mosque. Seeing this, we know we are about half way to Sungai Rengit.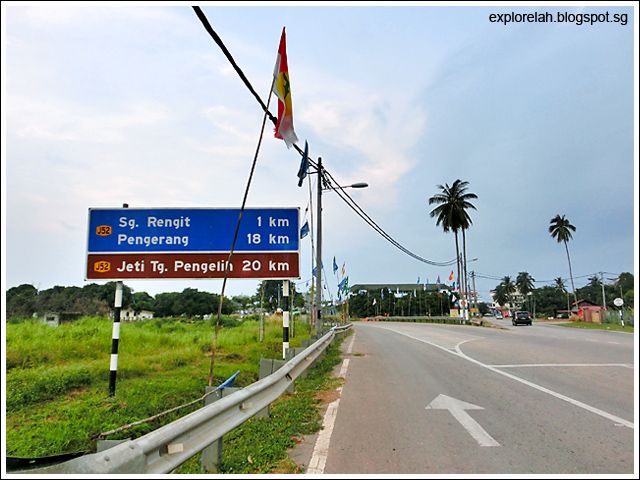 It drizzled slightly on our ride back and that kept us nice and cool despite the effort we exerted on the paddles. But if it rained any harder, I think we wouldn't be able to carry on so do bring along a raincoat and plastic bags to waterproof your belongings. And yes, we made it back!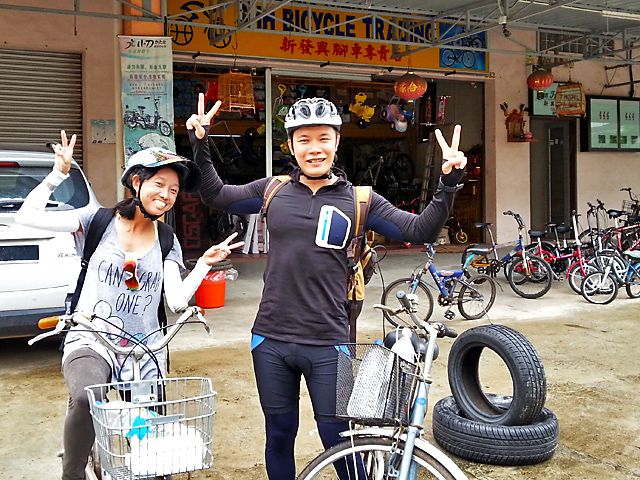 Double 'V' for twice the victory of making it to Desaru and back! Returned our bikes to S.H.H Motor & Bicycle Trading, the only bike rental shop at Sungai Rengit. A bike's rent costs RM15 (S$6.10) per day.
Before embarking on this second attempt, Siow Har and I were prepared to be totally trashed physically by the 70km ride but surprisingly, we didn't suffer as much aches as we did the first time.
It must be due to our constant hydration with energy and isotonic drinks as well as eating an apple or banana at the half way mark to fuel the exercise and snuff out cramps. The gloomy weather helped a lot too as compared to the blazing heat we cycled under during the previous ride.
If you're looking for a short weekend getaway that's different from the usual packaged tours to Desaru, why not try cycling there? You'll definitely arrive home much fitter than before! :o)
Related Post :
Cycling Tour from Pengerang to Desaru
(March 2013)