Date of Exploration :
30 Jun 2012
From roadside makeshift stalls at Patpong to the labyrinth-like maze of Jatuchak Market to utility complexes like MahBoonKrong to shiny upmarket shopping malls such as Siam Centre and the creative concept store Terminal 21, Bangkok is a shopaholic's multiple orgasm.
But paradise just got even better with a new mega shopping development by the Chao Praya waterfront. Called
Asiatique
, the riverfront lifestyle enclave promises to be the place where happiness happens.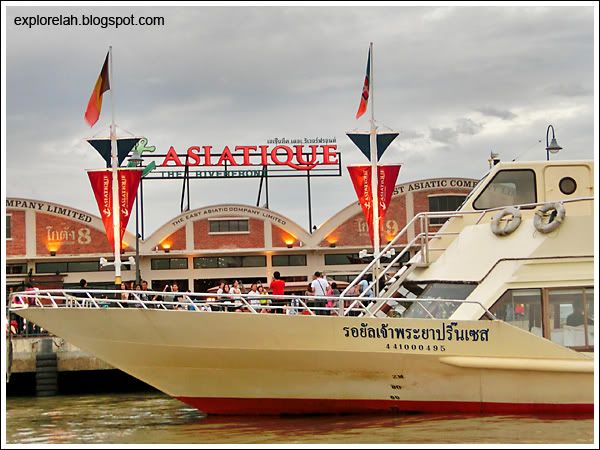 My Thai colleague told me about Asiatique when I visited in May this year and since then, the curiousity cat within me has been tickled. So this trip, I decided to check it out even though the weather wasn't quite welcoming the day I went.
GETTING TO ASIATIQUE
There are quite a few ways to get to Asiatique but the easiest and most cost effective would probably be to
take the BTS to Saphan Thaksin Station
and
take the free shuttle boat service at Sathorn Pier
. Here's a pictorial guide to getting there...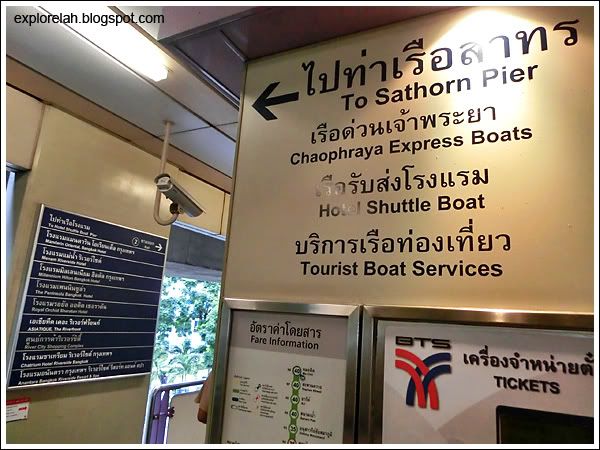 Take Exit 2 at Saphan Thaksin BTS Station.
Look out for signboards that direct the way to Asiatique. Upon exiting Saphan Thaksin BTS Station, look straight ahead towards the river and you should see Sathorn Pier. Walk towards it. Takes only about a minute or two.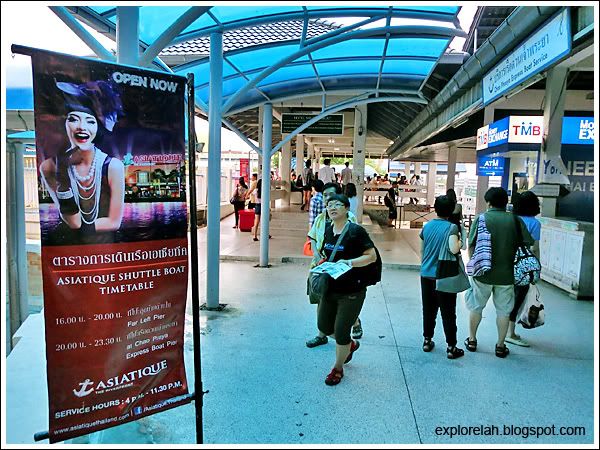 Sathorn Pier. There are three platforms which are side-by-side at the pier to board river boats. Look out for posters that advertise the timings of the free Asiatique boat shuttles and the platform to take them at.
The boats come at a frequency of about 10 - 15 minutes.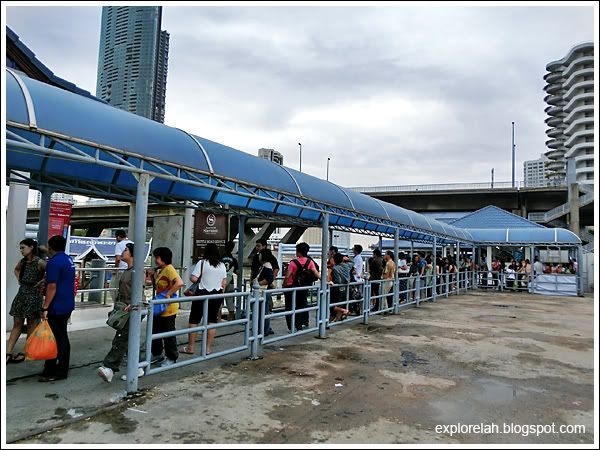 Asiatique was a new fascination so there's a long queue waiting to get there. I queued for about 35 minutes before getting on my ride.
Boats were packed to the brim, a definite capsize hazard.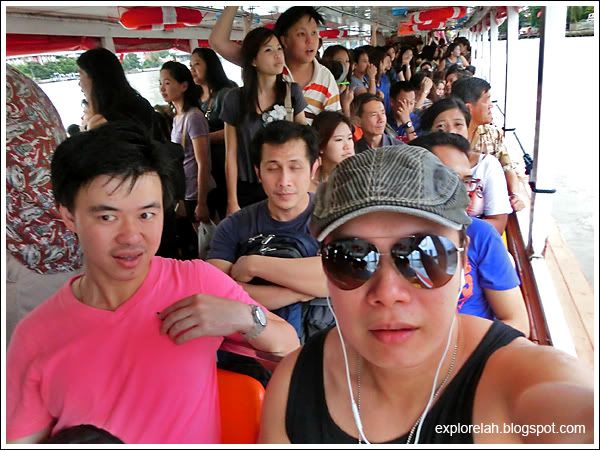 It's standing room on the boat.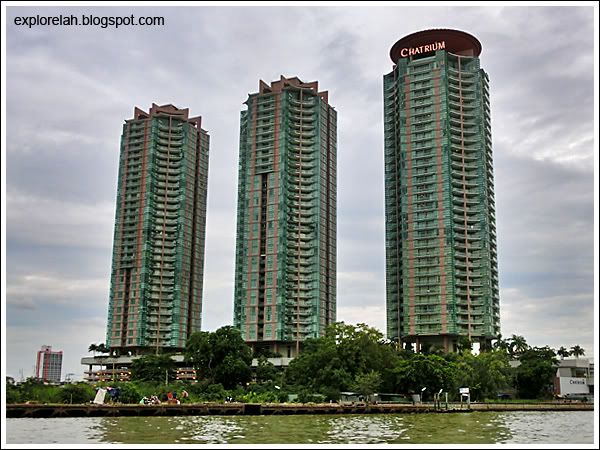 Along the murky waters of the Chao Praya, we passed by strapping hotels and residential developments that overshadowed the awe of Bangkok's main arterial river.
A Drop of Asian Antiquity
After a 10-minute boat ride, we arrived at Asiatique, which kinda reminded me of Singapore's Boat Quay where disused godowns and warehouses were turned into restaurants and shopping arcades.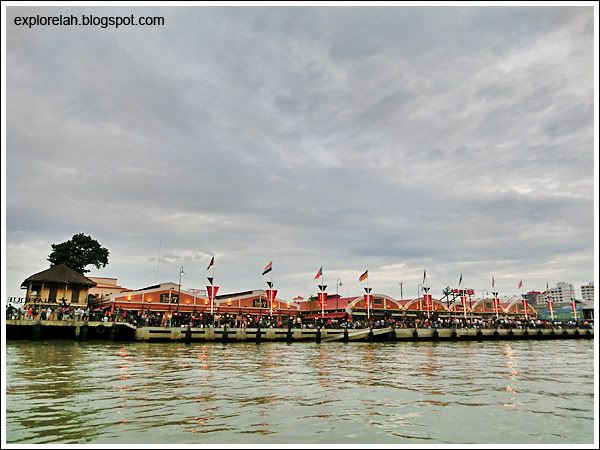 Asiatique sits on a site built during the 1900s as one of the earliest portals where the Kingdom of Siam (now known as Thailand) opened it doors to the Western world. The pier was used mainly as an export centre of Thai teak to Denmark.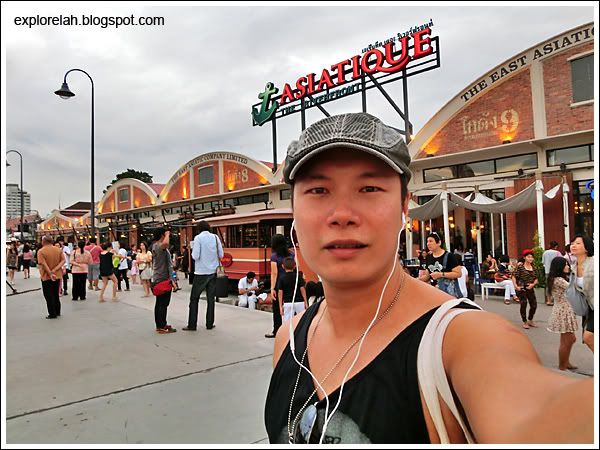 I was expecting a grander representation of the many fractions in Asia with a name like Asiatique but it was more of a converted pier and less of a historic showcase of the region.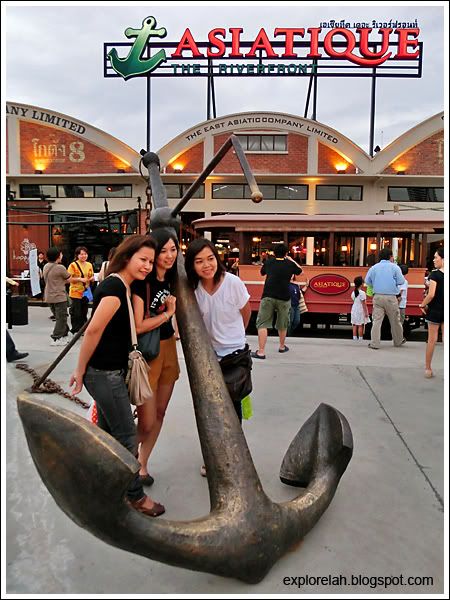 Parts of the place was still under construction so perhaps a stronger Asian cultural flavour will emerge upon completion.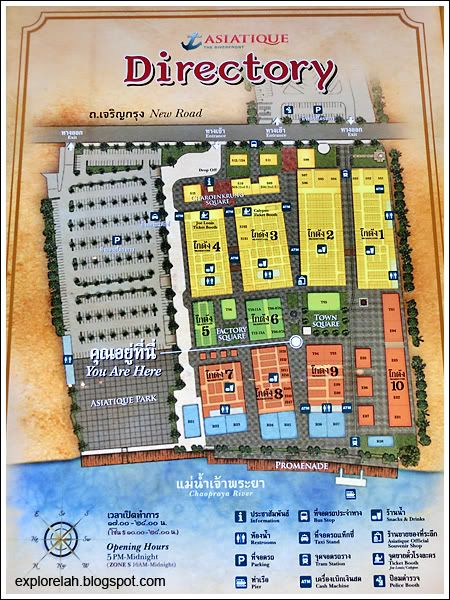 Basically, fine-dine F&B outlets are located in the orange section closer to the riverside while the green sections housed a foodcourt and some retail outlets. The main shopping action takes place in the yellow sections.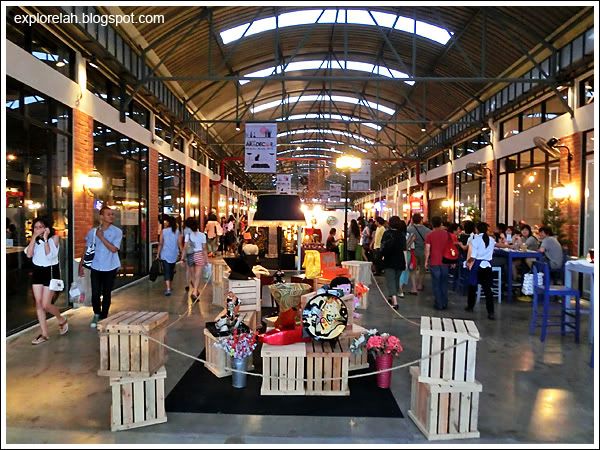 Stepping into one of the godowns, although they had been retailised, I could still feel a vibe of its yesteryear energy and imagined how the space must've felt for coolies labouring within it. I thought about the sweat that had seeped into the grounds.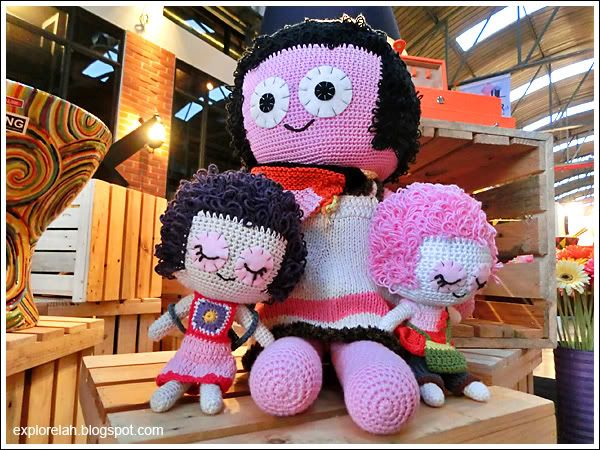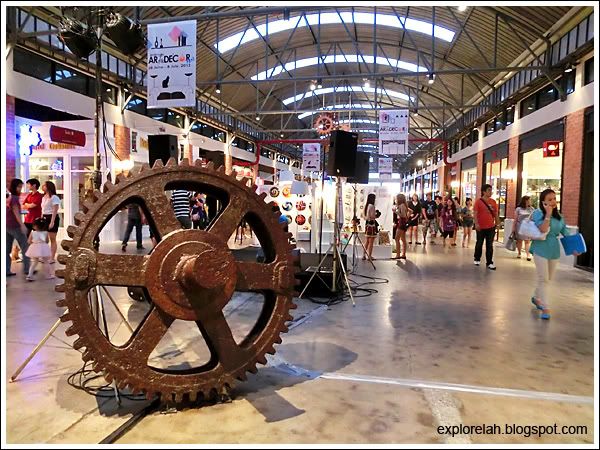 Antique ship parts, statues depicting life at the pier and replicated installations decorated Asiatique to fulfill its mission to marry modernity with antiquity. But the effort felt rather half-hearted.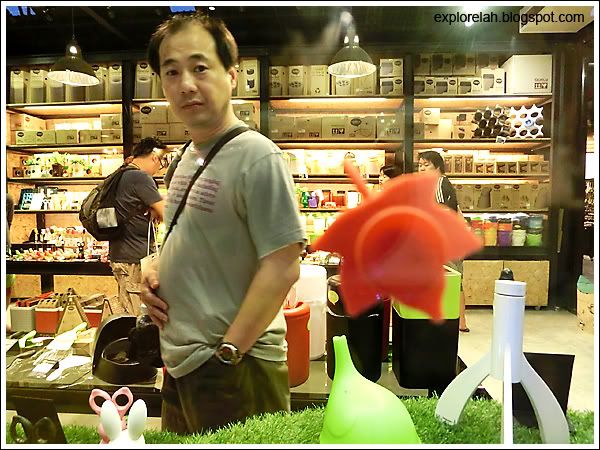 Classic clock tower at the Town Square section (green).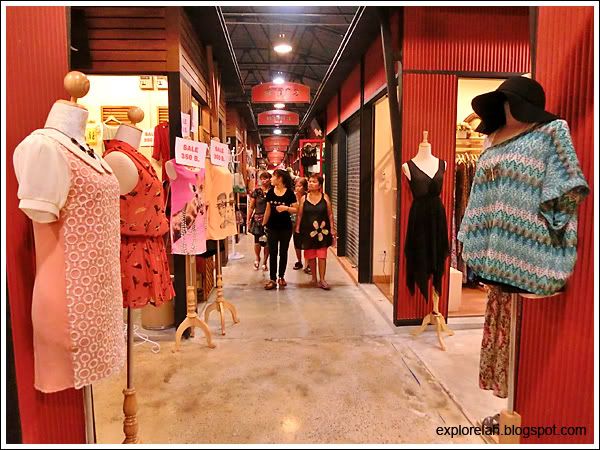 Shop stalls at Asiatique sell an eclectic mix of fashion by local designers, home decor stuff, arts and crafts, and novelty items that stretches one's imagination.
The non-airconditioned retail sections consist of rows after rows of capsule shops. Personally, I felt it was a less chaotic and cleaner verion of Jatuchak Weekend Market or shopping at MahBoonKrong (MBK) without airconditioning.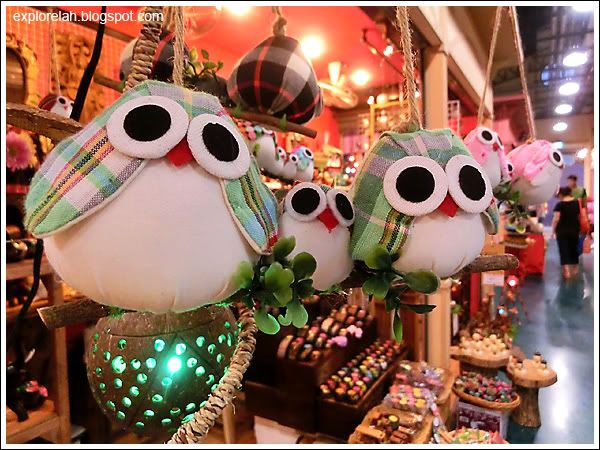 My interest was more in photographing the place than shopping so I didn't buy anything here. But I did check out prices on some of the merchandise and found them to be close to those at MBK. However, I saw a brand of home-spa products that I usually buy at Jatuchak to cost more here. At Jatuchak, 6 bottles of its aromatherapy essential oil cost 600 baht, but at Asiatique, they cost 700 baht. Then again, I haven't been to Jatuchak recently so prices may have been adjusted.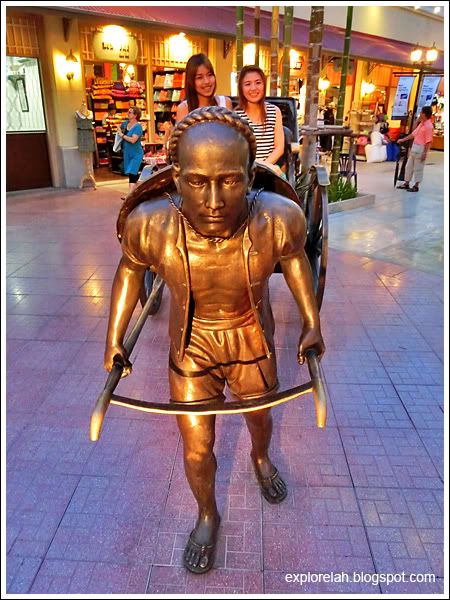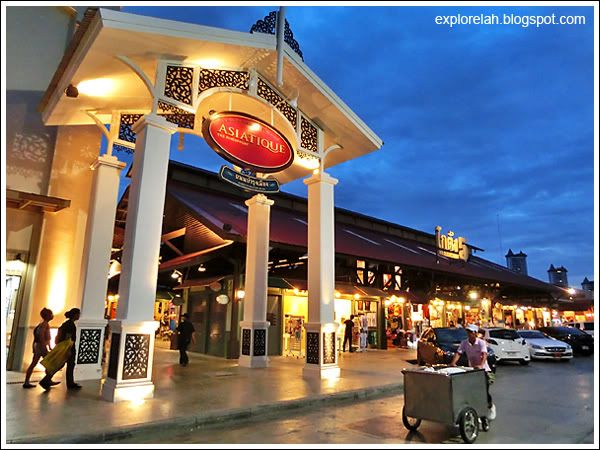 Other than Asiatique's riverine location and its banking on Thai modern heritage, the other draw would be its opening hours. Asiatique is open from 4pm to 12am!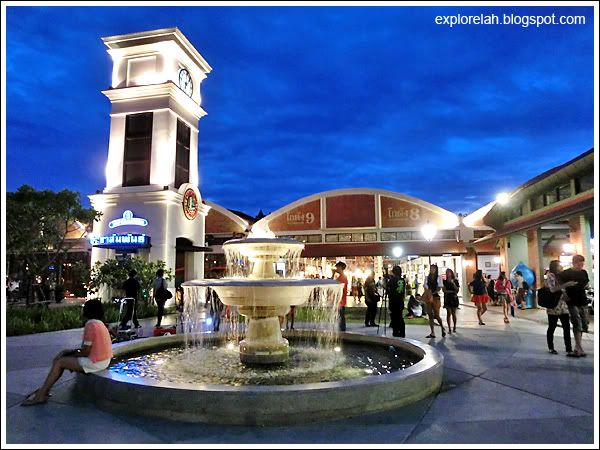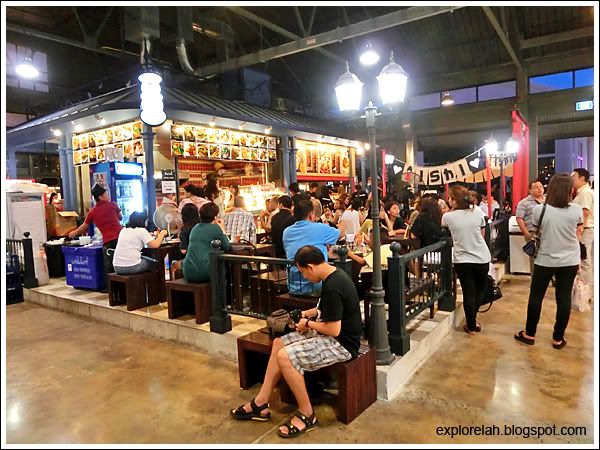 Inside Asiatique's foodcourt that houses a variety of Asian cuisines. I feel that more seating is needed although I do enjoy the wide pavements to walk on between stalls.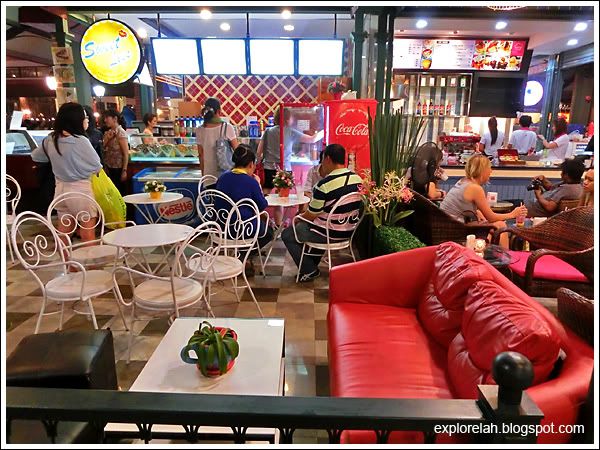 Unlike most foodcourts in Singapore that swear by a homogenous identity, food stalls at Asiatique try to forge their own character, sometimes with quirky results!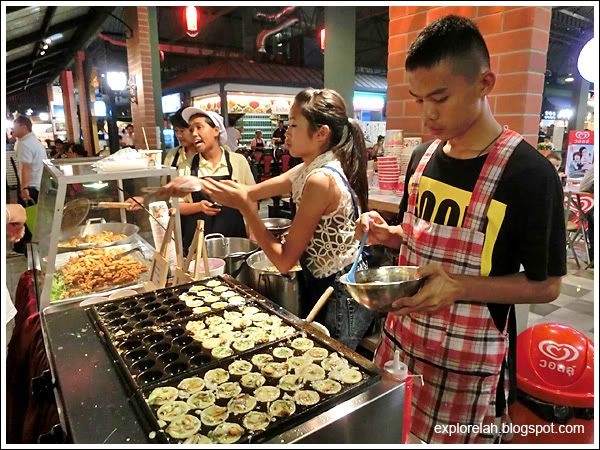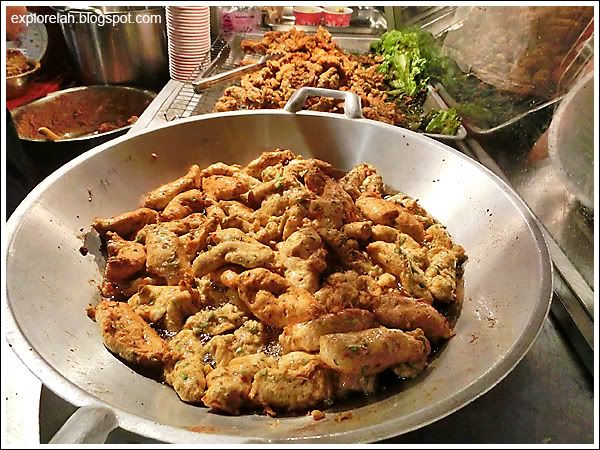 Tod man pla (fried Thai fishcake). Since I couldn't find a seat for dinner, I snacked on this quinessential of Thai favourites. 40 baht for about 8 pieces.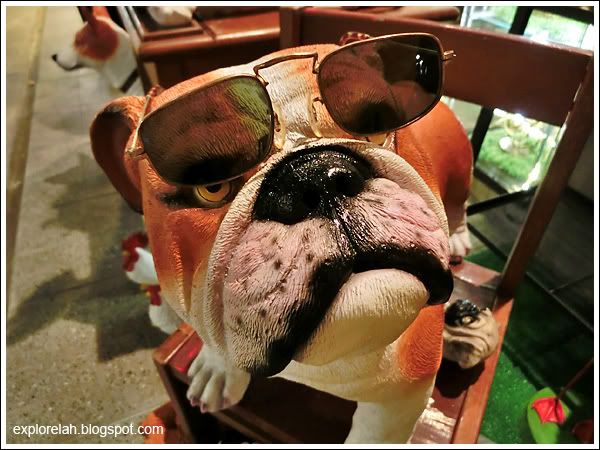 Who let the dog out?! Woof... woof woof... woof woof!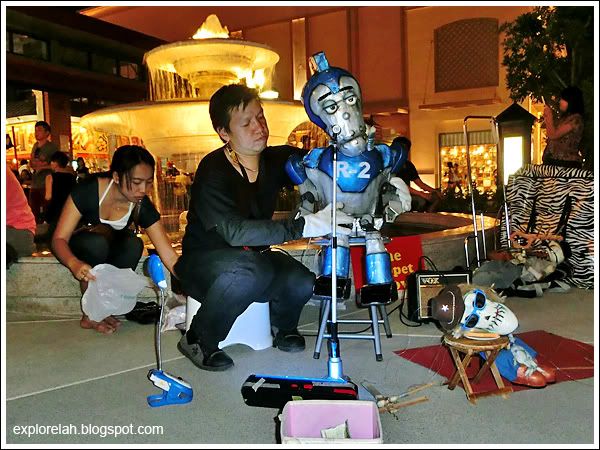 There's suppose to be a puppet theatre here but I didn't see it. But this street performer lip-synching a puppet robot to pop hits was rather delightful to watch.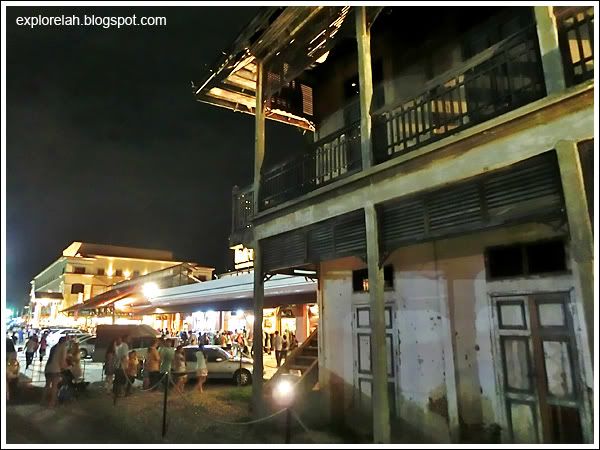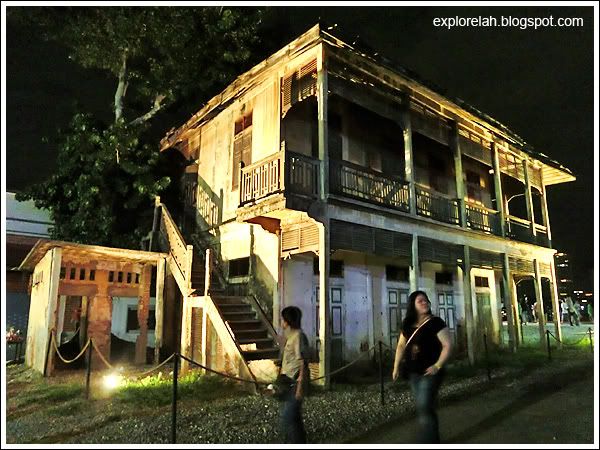 Remnants of an original heritage two-storey living quarters at the historical site.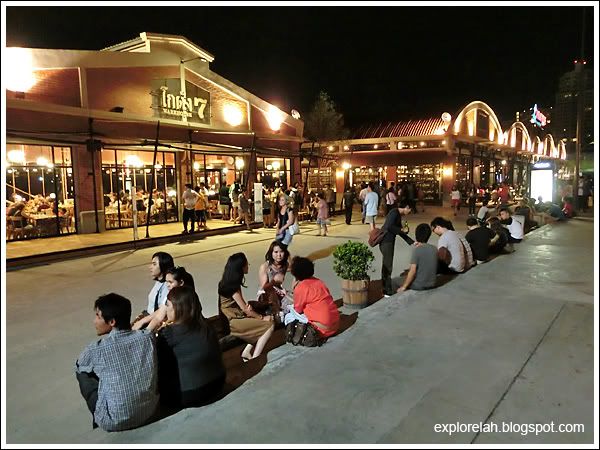 Asiatique brightened up the Chao Praya waterfront... making it another development that surpassed the river in its magnificence.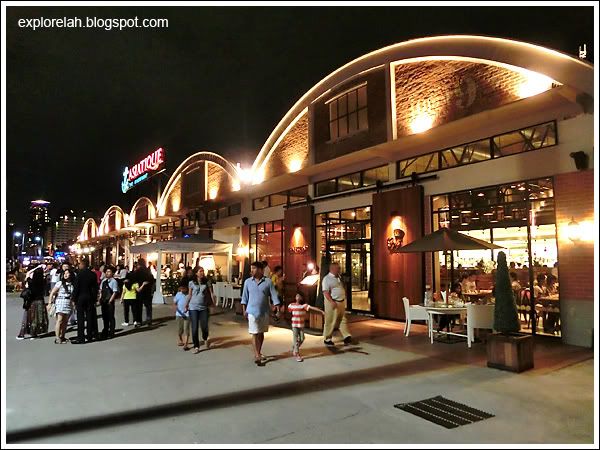 Spending almost three hours at Asiatique, I kept trying to find reasons or excuses to make this a must-come place for my subsequent visits to Bangkok. But I found none.
Perhaps it's because I'm not a hardcore shopper or the trouble of getting here that made this place seem like a whole lot of nothing to me. Then again, different people may enjoy a destination differently, so for a unique shopping and dining experience that's away from the cityscape, Asiatique would be the perfect escapade.