'Sabai' is Thai for the state of being well / good / happy; and repeating the word intensifies the expression to describe a wellness beyond words, to mean "not a care in this world"... a state of super chill euphoria!
And that's the degree of chill-out bliss I've come to associate with Phuket after my two previous trips there. But this time round, instead of chilling, I'll be going on a sea cave canoe adventure. How exciting! The great thing about Phuket is that you can choose to just take it easy and relax, or kick off the sand for some serious aquatic adventures.
I find it incredibly exciting to be at a radically different place each day. It's like waking up to a huge present to be unwrapped daily. What's more, getting to these places by cruise means there's never a down moment throughout the journey!
Unlike our Port Klang arrival in the early morning at 7:00 am, we were docked off Phuket's coastal waters at 1:00 pm, which gave us ample time to catch up on rest and have lunch before embarking on another full day of activities.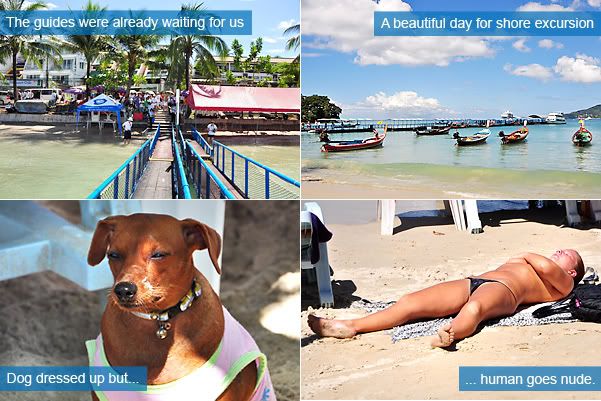 For Phuket, I'm signed up for the Sea Cave Canoe Adventure tour which costs US$139. It is a very popular shore excursion so do book early with the onboard shore excursion tour desk or you can book it
online
. The Sea Cave Canoe Adventure lasts from 1:30 pm to 8:30 pm (approx. 7 hours).

There are eight shore excursions offered onboard Legend of the Seas and there's something to suit every preference be it a leisurely eat-shop-massage tours, cultural explorations of the temples in Phuket, or sea adventures to Phang Nga Bay and its surrounding islets.
As with the land tour in KL, we were issued with a group number and once on land, we just need to look for the respective guide holding our corresponding digits. It can be quite chaotic because there isn't a proper holding area for administration so you basically have to look for your group number and stick close to the guide.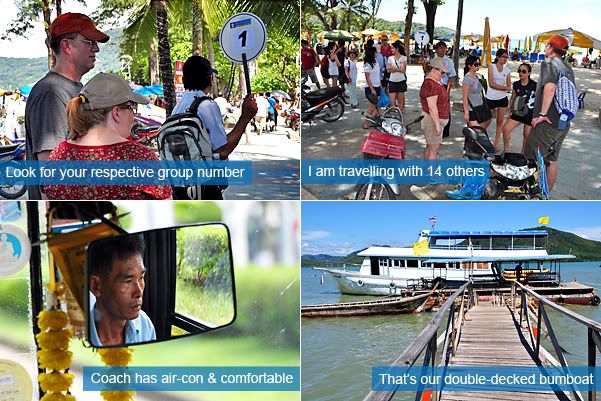 Again, I was almost left behind as I was taking pictures and slow to report to my group's guide. Photography can be such a hazard! Thankfully I located them while they were making their way to the coach bus. It'll be an hour's drive to a small jetty where we'll transfer to a boat and take another hour to reach our canoe site.
To get to the sea caves, we took a 1-hour coach ride from Patong Beach to a jetty and took a 1-hour boat ride to a cluster of islets for the canoe adventure.
However, the islands and caves we'll ultimately end up visiting is dependent on the tide conditions on site. At times, the tide would be too high and floods the passages leading through the caves or there's not enough water for paddling. What if we are inside the caves and the tide comes in or resides huh?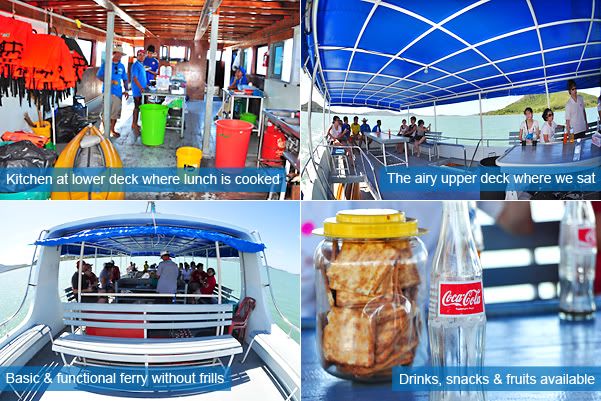 The hour-long boat ride was comfortable enough although I would think that those suffering from seasickness may want to medicate before boarding. Biscuits, fruits (tangerines, bananas and longans) and an assortment of drinks (mineral water, fizzy drinks and fresh coconut juice) were provided.
All food onboard is included on the tour package so there's no need to pay anything extra except for tips if you like the services of the staff. Personally, I found the service to be really good and the staff friendly. Then again, it's Thailand we're talking about. They're not called the land of smiles for nothing. So time to just sit back, sip a cold drink and feel the constant wind while the distant islands grow from hazy specks in the horizon to towering cliffs.
Along the way, there's lots of time to just let your mind unwind. It is one of those occasions where you don't need to consciously tell your mind to quiet but it just does. Even with the hum of the boat's engine and hoo-ing wind, you sort of stop hearing them as you project your vision far into the horizon, thoughts half-forming and released quickly to the scene before you.
I was half dreaming about what's it like inside the secret lagoons I'm about to visit.

Our first stop is Ko Hong, which is shaped like a donut with a crust of limestone hills circling to form a recluse pool within. This unique feature of the island is also what got it its name. 'Hong' means 'room' in Thai. So Ko Hong literally means 'room island' to reflect the reclusive chamber it hides within.
Apparently, there's another much bigger, developed and inhabited island called Koh Hong nearer to the shores of Phuket. It's easy to get these two islands confused. This Ko Hong is much smaller and uninhabited.
Limestone islets are made of dense layers of calcium bicarbonate compacted together and rose out of the sea due to colliding tectonic plates movements. And depending on the other types of minerals trapped with them, these sea hills may be streaked or coloured a rusty red, grey or black.
Our sea canoes were really just inflatable kayaks that looked like three bananas stapled together at the ends. I liked the fact that they're open-faced so there's no restriction in movements but sitting on them require skill.
Because there's no backing like the traditional fibreglass-hulled canoe, I had to constantly straighten my back and hold my core muscles to keep balance and sit upright. A great workout for the abs! But at times, I just gave up holding that stance and just lie all the way down and just admire the passing scenery.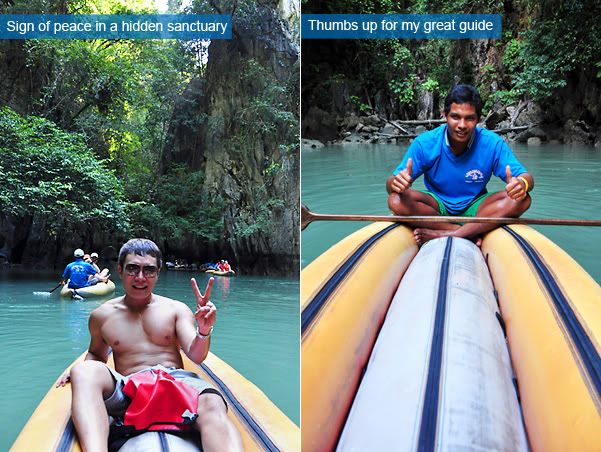 Initially I thought we had to paddle our own canoes but thankfully not. Each canoe comes with a 'boatman' and can sit two. I was fortunate to have the canoe all to myself since I was on the tour alone. This allowed me to move around to take videos and photos of the whole experience. And it's good that they came with a paddling guide too because the wooden paddles were really heavy!
We spent about 10 minutes at Ko Hong's inner lagoon to enjoy the otherwordly silence and take photos of rock formations that resembled a sitting buddha and the head of a dog. Waterproof bags were issued onboard the boat for us to bring our cameras onto the canoes.
I was tempted to jump into the jade green lagoon waters a couple of times to have a feel of what's it like but decided not to for fear that my Nikon D90, Canon Ixus 980IS and LG Optimus One decide to join me too. Always try to trap some air in the waterproof bag before sealing it so that if it drops into the water, it'll float.

As we were leaving Ko Hong, my attention was pointed to this huge boulder that really resembled the head of a piranha or some fierce, prehistoric fish. This gallery of nature is astonishingly stocked with prolific promontories, beautiful cascading cliffs and artful stones. What an eyeful! I felt so small and in constant awe coming sooooo close to the power of Gaia.
Nature imitating nature... Watch out for that monster fish! It is exhilarating to encounter such bizarre likeness of beings especially when they are handcrafted by nature herself.
And that was only our first stop. Next up, we're going to explore the bat cave and its internal lagoon. I wonder if it'll be just as breathtaking... To get to it, we had to board our boat again and take a 30 minutes ride there. We'd actually passed by the bat cave earlier before reaching Ko Hong so we were back-tracing.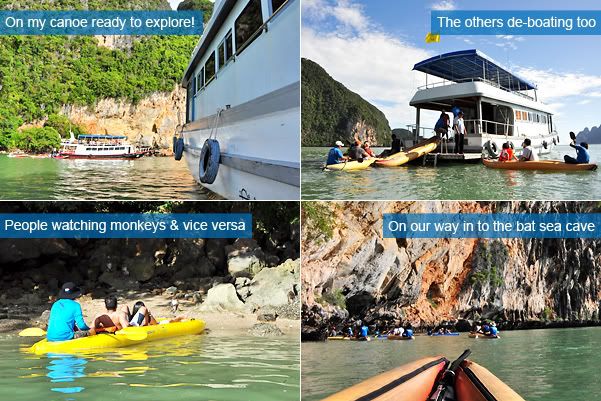 On hindsight, tunneling through the bat cave was breathtaking alright. It made me breathless because it stank. I thought the smell was only characteristic of bat dwellings on land where their droppings are trapped on cave grounds but since the sea bats have a natural flushing pool below them, the cave shouldn't smell. But the air was pretty foul.
Not only that, it was pitch dark inside and for a moment I felt panicky not knowing when the darkness was going to end. We were given torches but the black was so dense, I could only see the small halo projected onto the cave's ceiling in trying to spot the bats.
As for the bats, well, they kinda blended with the wall so I didn't find looking at them to be of particular interest and it's somewhat eerie when your torch catches their eyes and they glowed. It's as if there's something sinister above staring at you. Oh, and always keep your mouth closed when looking up unless you want your kisses to smell like the cave.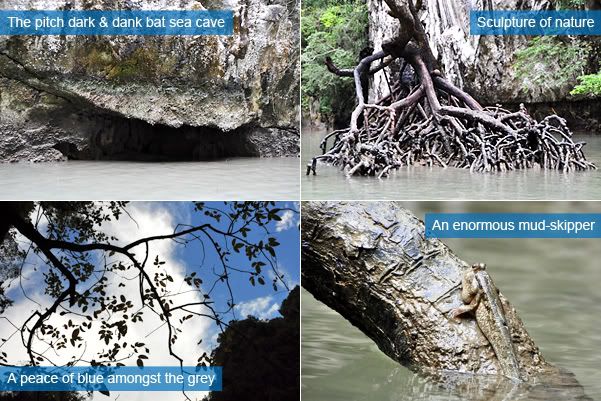 The best part about this tour was seeing light again. Although the total darkness took some mental adjustments, it was a pretty short paddle through the grotto to reach the internal estuary. It must've been low tide during our visit because the water was murky and muddy.
Scenery-wise, the place had a sea-jungle feel with mangroves spearing out of the water amongst a surrounding wall of greens. Eons ago, these islets together with Phuket and Krabi were supposedly traversable by foot but the land was eventually drowned out, creating these sea hills and mountains instead. Their connected past must explain why this species of monkey was found on this island that seem to spring out of nowhere in the middle of the ocean.

Following the canoe around the bat cave, we came back onboard and lunch was waiting for us. Well, they call it lunch but having it at around 4:00 pm, it's more like a very early dinner. Food is served late so have a full meal before coming on this tour. So, what's for our lunchner?
While we were having lunch, the boat drove us to the nearby Ko Lawa Yai. The boat was anchored some distance to shore so that we could leap right off the deck and swim or paddle the floating bananas to shore. This time we do our own paddling.
I wanted to see Ko Lawa Yai so I borrowed one of the canoes.
Man, these things are heavy!
And the paddle carved from a single wooden block might as well have acted as a dumbell in the gym. I've never felt more strenuous paddling that short distance to shore and I'm an ex-dragonboater! The lactic build-up in my shoulders were so extreme using that paddle, I had to rest mid-way and I would like to emphasize again that the boat to shore distance was very short. At most only about 150m.
On shore, there's really nothing much to see. I don't think the island gets many visitors. The beach was nothing to shout about as the surrounding water was brackish without any signs of marine life. The only indication that it is clean was by comparison to the black drift twig flakes floating the length of the shoreline. It's that kind where once you take a dip, they'll cling on to your body like loose tea leaves in a cup.
So I shelved the idea of swimming in it and decided to paddle around a bit more. It was a very different feeling paddling here as compared to Singapore because back home, everywhere we paddle, we're not far from civilisation.
Here, there were no breakwaters, no skyscrapers, no giant ferries wheel, no expressways... just me, my canoe and the stretch of ocean and islands before me. I felt powerless yet very much in control.

By the time we were heading back to Phuket, the sun I was stalking was beginning to assemble his bodyguard of stars with their moon commander preparing a roll call. Our boat was headed in the direction of the sunset and so I chased it some more down its golden path with some parting shots...
With this account of my amazing experience to explore the oceanic of nature, I've come to the end of my blog series on my 5D4N adventure onboard Legend of the Seas, Isles of Southeast Asia cruise. I hope you've enjoyed the many chapters that showed you what's it like and what you can expect from a luxury cruise holiday.
Although I've not been on other cruises to compare, I would say that nobody could have done it better than Royal Caribbean. The service is just superb and the ship is simply beautiful.
I would like to specially thank Nicole, Phyllis and Stanley from Royal Caribbean International for picking me to be one of the lucky 10 to experience this cruise; Alvin, Weiding and Jack from Omy.sg for capturing our highs during the trip; and all my new blogger friends who added the spice onboard -
Calvin Timothy Leong
,
Catherine Ling
,
Cherie Lee
,
Christine Ng
,
Estelle Kiora
,
Eunice Khong
,
Fong Yee Leong
,
Philip Lim
(Keropokman), and
Phan Mui Yee
.
THANK YOU ALL for making this such an unforgettable and enduring adventure for me! For more photos from the trip, please
click here
.