Date of Exploration :
29 Mar 2016
After 4 days in Tokyo, we bade the eclectic capital city farewell and made our way to Kyoto. We were initially anxious about securing train tickets from Tokyo to Kyoto but there was really no need to worry as the frequency of trains plying between the two cities is very high.
A train departs Tokyo for Kyoto once every about 20 minutes so it wasn't necessary to pre-book tickets online. But being kiasu, we bought the tickets a day in advance at one of the ticketing outlets at Shinjuku Station where our hotel is near. During peak tourist season in Japan such as during the sakura season, it is advisable to buy tickets earlier in case tickets get sold out on the intended day of travel.
As Japan's train network is notoriously confusing, one trick I've learnt is to always look for a station's control booth next to the entry / exit gantries or information counters to ask and confirm details before making a ticket purchase. They are very helpful and most of them speak decent English so there's really no reason to get lost. When in doubt, just ask.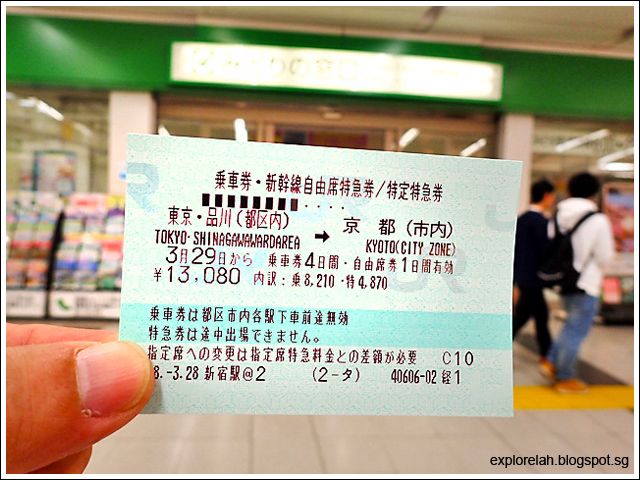 We bought the train ticket from Tokyo to Kyoto a day earlier on 28 Mar to travel on 29 Mar. The one-way train ride costs
¥13,080 (approx. S$172) for the non-reserved seat and takes about 140 minutes (2hrs 40mins) between Tokyo and Kyoto

.

A non-reserved seat means that you don't get an assigned seat and have to get on the train carriage to look for an empty seat. If the train is full, you'll have to wait for the next one. A reserved seat would be one where you are assigned a seat number but it would costs more per ticket (
¥14,000 / S$184).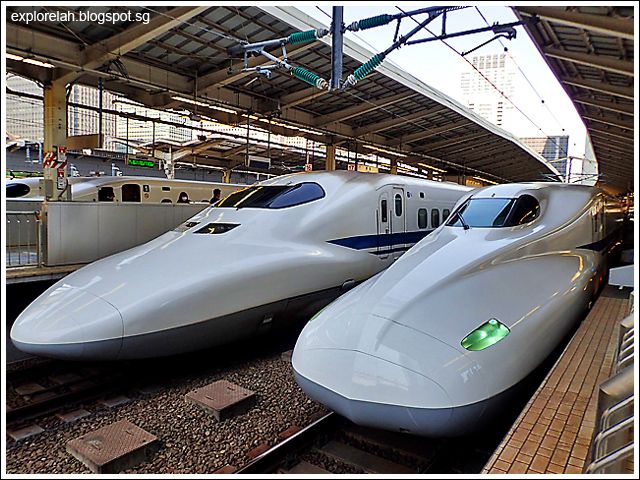 The sleek Shinkansen (Japanese bullet train) that look like they just arrived out of a sci-fi movie is our ride from Tokyo to Kyoto. The train line that connects Tokyo to Kyoto is known as the Tokaidao Line.

Now, this is where it gets complicated. There are different travel durations for the Shinkansen to reach Kyoto - Nozomi train takes 140 minutes, Hikari train at 160 minutes and Kodama train is the slowest at 4 hours. So check the departure noticeboards and board the right train as all train tickets to Kyoto cost the same price. And make sure you board the right class - Reserved or Non-Reserved seat, which are indicated outside the train carriages.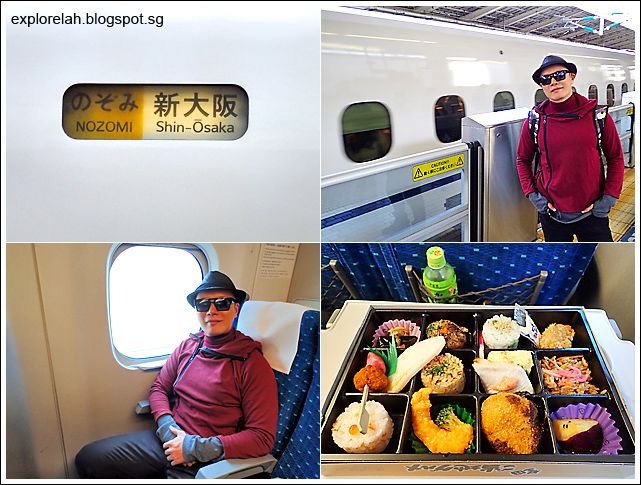 The Tokaido Line actually links Tokyo to Kyoto and then onward to Osaka so it is not uncommon to see Shin-Osaka or Osaka listed as the final destination of a Shinkansen train. But always, when in doubt, ask a fellow passenger or a train captain who strolls pass as they change shift before getting on a train. I asked 3 different people to confirm the train I was getting on goes to Kyoto before I got on.

There were a number of food shops at Tokyo's Shinagawa Station which offered very pretty looking bentos which we bought to fill up during the long ride. A set of these tic-tac-toe bento boxes costs around S$10. And don't worry about eating or drinking on the train as there are toilets on board in case you have a very active digestive system.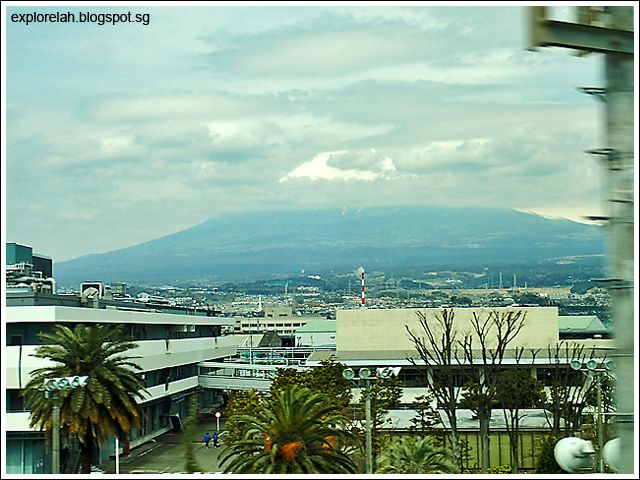 A passing glimpse of the snow-capped tip of Mount Fuji. When visiting Japan, one of the trophies to bring home is a photo of Mount Fuji is full view with its white tip. However, due to weather and environmental conditions, getting an unobstructed and clear view of Mount Fuji with its summit covered in white snow depends a lot on luck.

We didn't get to see the iconic mountain's summit when we visited Lake Kawaguchiko, a prime spot to see and photograph the famous mountain. But on our way from Tokyo to Kyoto, I caught a fleeting glimpse and thus this photo of Mount Fuji's white-capped top! Here's a tip... when facing the forward direction of the train, sit on the right side (see photo above) for a view of Mount Fuji passing by your window. Mount Fuji is visible about 35 minutes into the ride so prepare your camera!
Hello Kyoto!
We left Tokyo at about 11:50am and arrived in Kyoto at 1:10pm. The trains are very punctual for departure and arrival which made the whole travelling experience so definite and predictable. Love the Japanese for that!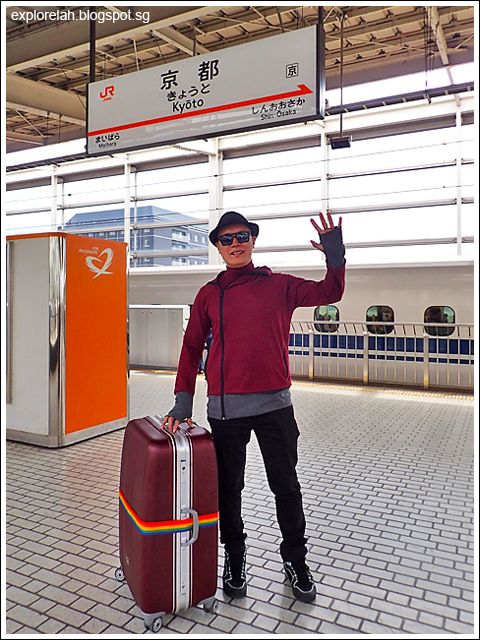 I come in two pieces... my luggage and me. Lesson here is not to play matchy-matchy with the luggage as it's hard to discern which is which.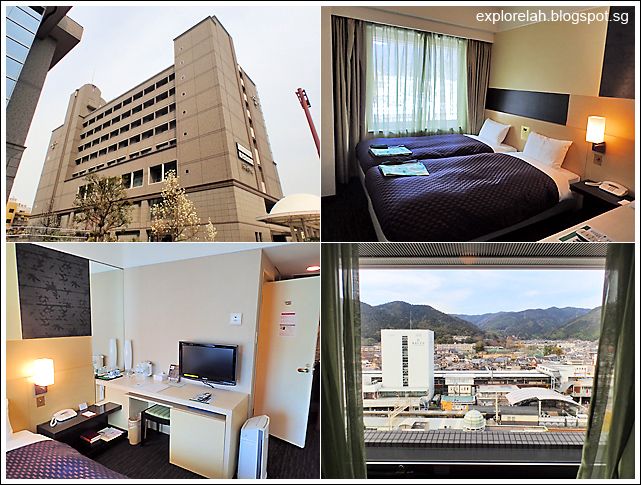 Our nest in Kyoto was Hotel Brighton City Kyoto Yamashina which was near a local train station and easily accessible. The hotel comes with free usage of an indoor onsen that has stipulated schudules to separate male and female usage of the shared hot pools.

We paid S$495 for 2 nights here. Our room was very compact like most Japanese hotels but it has quite a nice view in the direction of the train station with mountain ranges in the background. After we put our luggage and bags, we had to tip-toe around the room.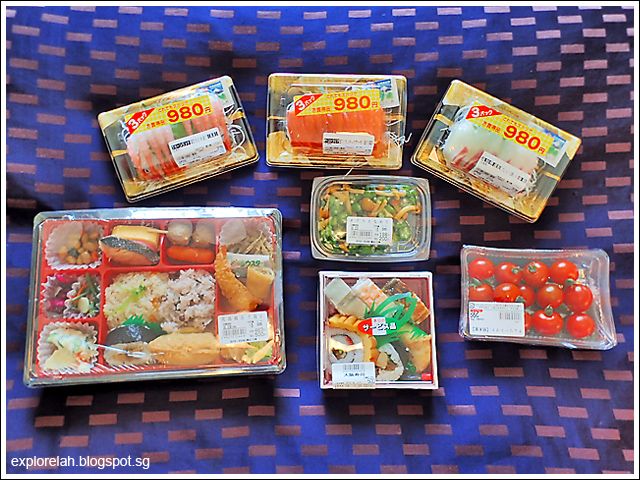 One major convenience we enjoyed about Hotel Brighton City (Kyoto, Yamashina) was its next-door proximity to Daimaru shopping mall via an underground link. This provided a great opportunity to go food shopping at the the mall around 7:30pm when ready-to-eat stalls at its supermarket section start offering steep discounts for quick sale of their perishable bentos, snacks and meals.

We bought 3 sets of sashimi
after discount
at

¥980

(S$4 each) and delicious bentos for about S$6 for dinner. It was a sumptuous budget feast in bed!
Down the Way of Bygone Days
After dropping off my dressed-alike luggage at the hotel, we headed straight for Gion, the heritage district of Kyoto. It was just a shot train ride from Yamashina Station where our hotel was to Gion and we were instantly transported to a time-yellowed era of Japan's yesteryears.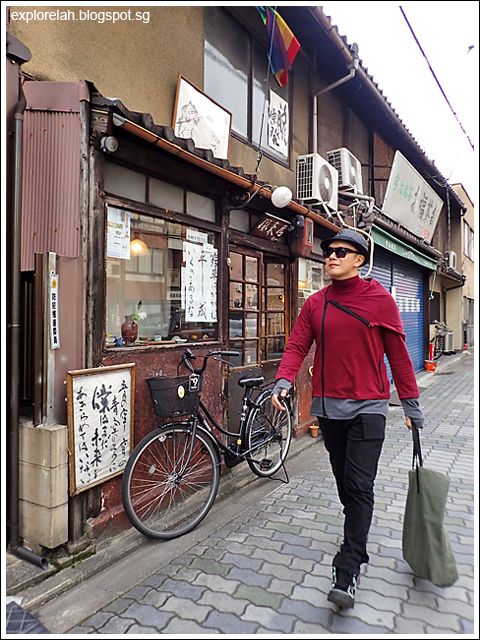 Kyoto is so very different from Tokyo. The streets are quieter and pace of life slower with countless remnants of the old world beautifully aged in place.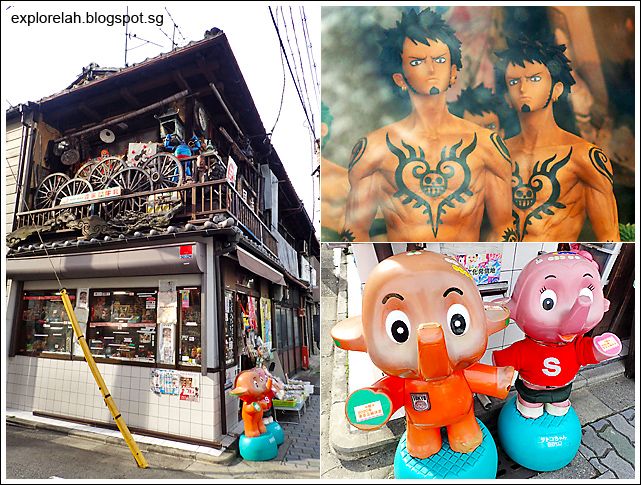 Antiques within an antique... Passed by this vintage toy shop that is itself a piece of history. I had a hunch that early sex toys were disguised as elephants.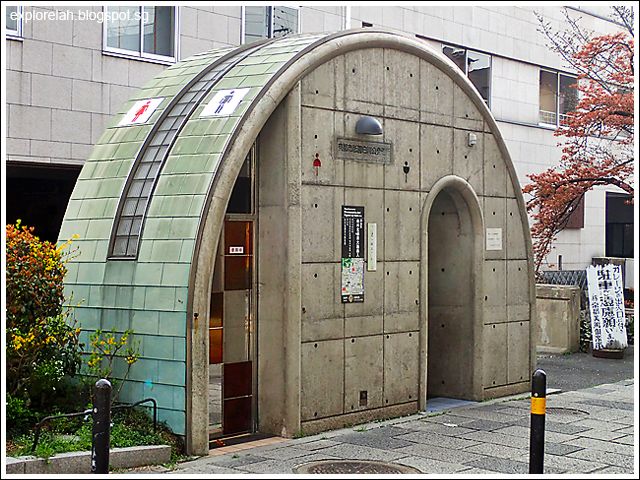 This roadside lavatory that resembled a slice of Swiss Roll Cake cracked me up! Guess many would be doing some baking inside.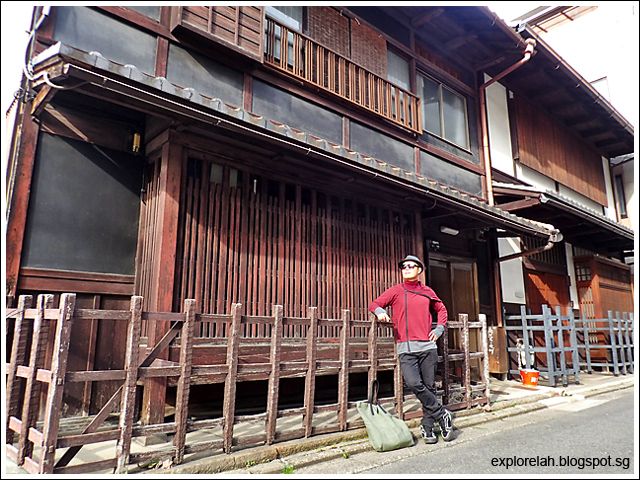 Wood you still love me tomorrow?
First bloom of a sakura tree reaching towards Kamo River taken on Sanjo Ohashi Bridge.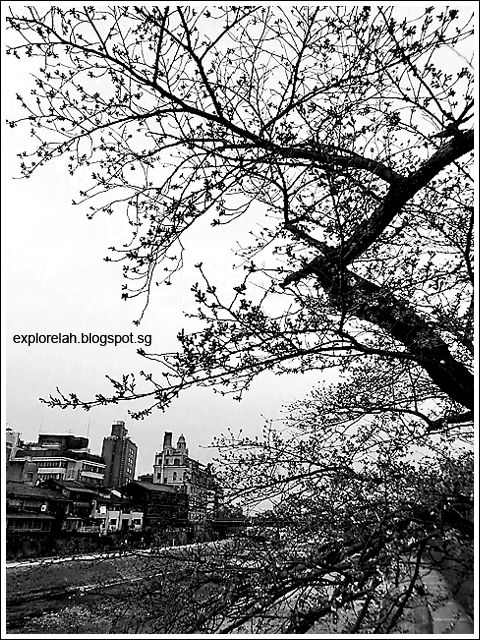 Pulling back a little more, this is the same sakura tree as the one above in black-and-white with Kamo River to the left. The river is near the Gion old quarters.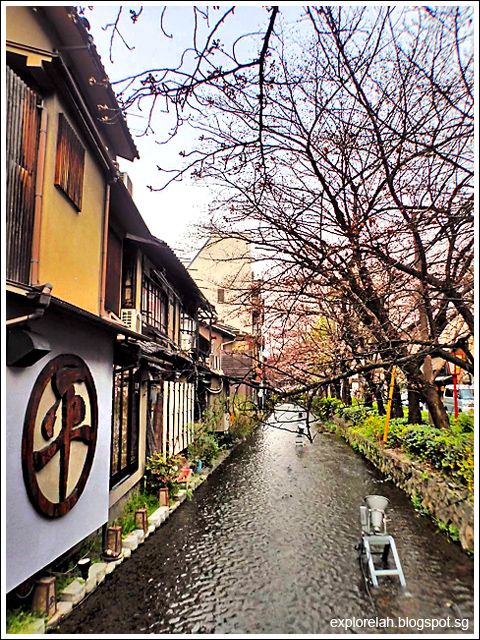 Crossing Sanjo Ohashi Bridge over Kamo River from Gion, I was brought to a very quaint neighbourhood of restaurants and cafes along Kiyamachi Street. With a canal lined on one side with old shophouses and the other with cherry blossom trees, the street is a natural lens pleaser. But this place is not to be confused with the Shirakawa Area which is the most scenic old streetscape in Kyoto.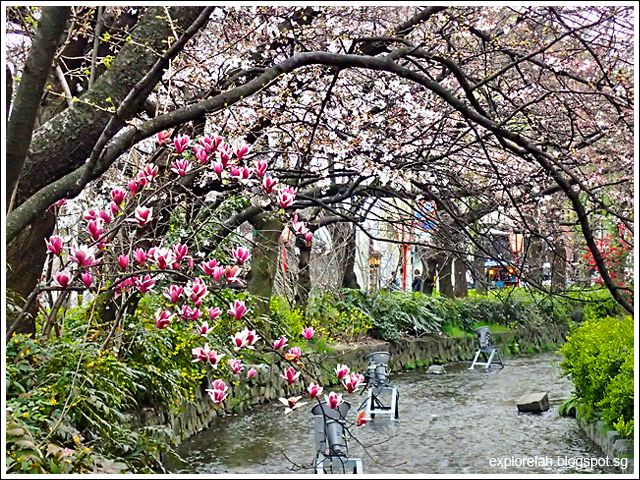 Double flower power! A pink magnolia tree held its ground to attract eyeballs amongst the crowd of sakura blooms along
Kiyamachi Street

. I think the 2 flowers complement each other wondrously.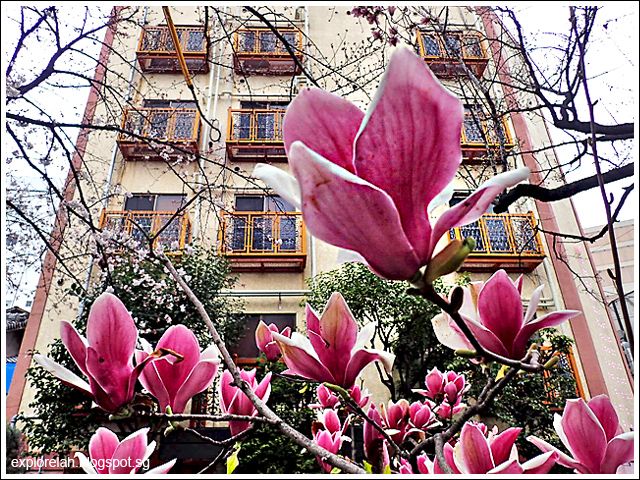 Pink magnolias typically bloom in spring on a bald tree.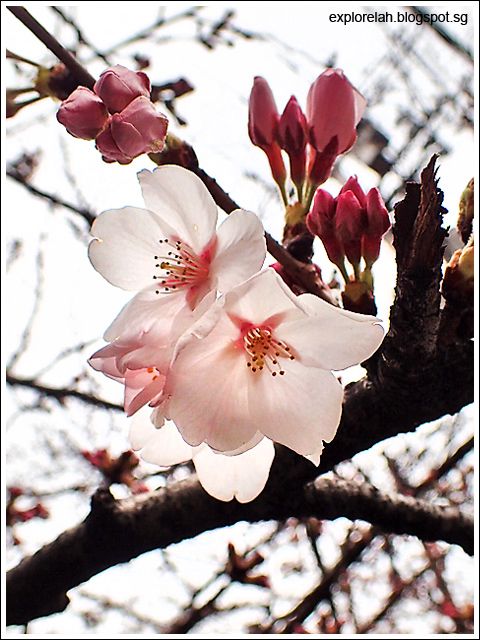 It is always such a joy to discover sakuras in bloom. This is the pink variety of the five-petaled Yamazakura. This species sprouts leaves the same time as its flowers bud and bloom.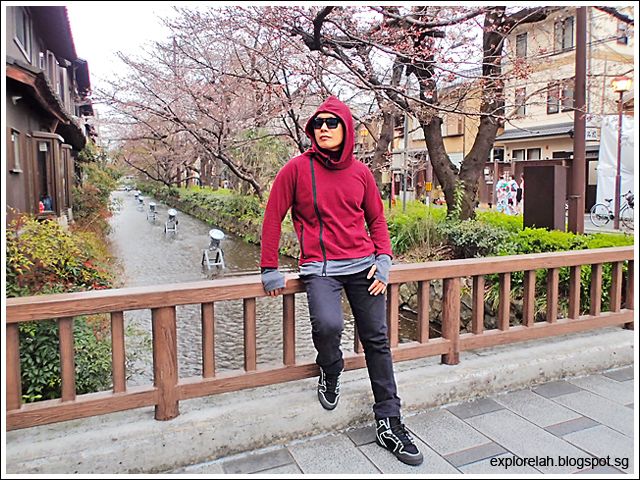 Having a Little Red Riding Hood moment in the enchanted sakura forest. LOL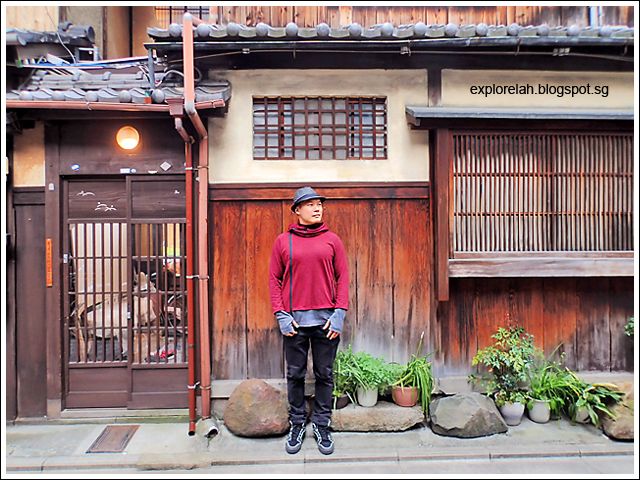 I wood always love you... Yup, I'm smitten by the classic wooded facade of olden day Jap architecture.
Doing my best interpretation of Spirited Away.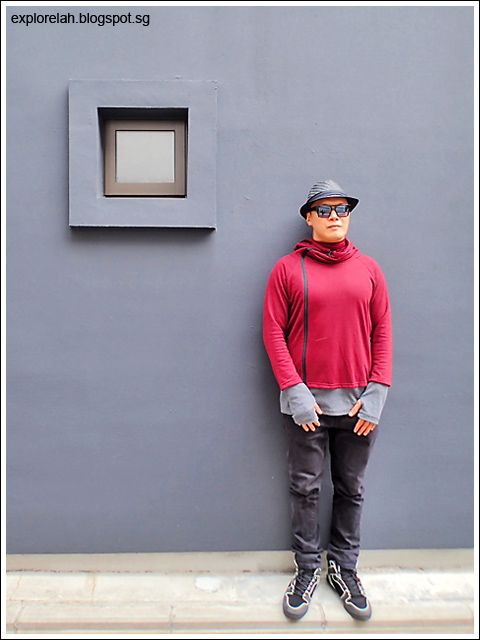 Getting in on the minimalist chic-Zen movement of Japan by cam-whoring with an uncluttered backdrop.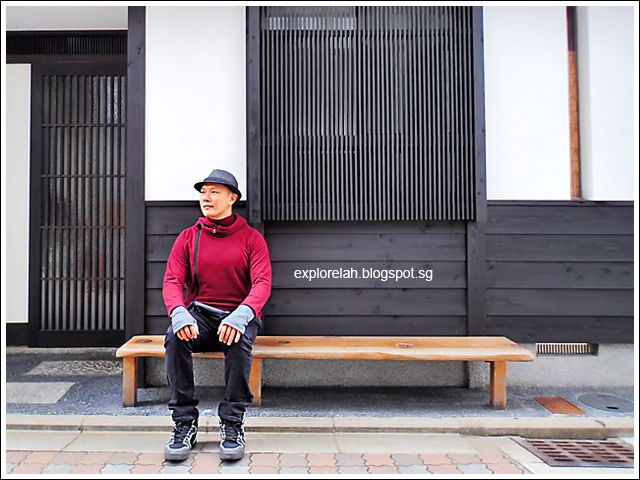 The bench needed company so I decided to let it feel better by sharing the weight of my loneliness.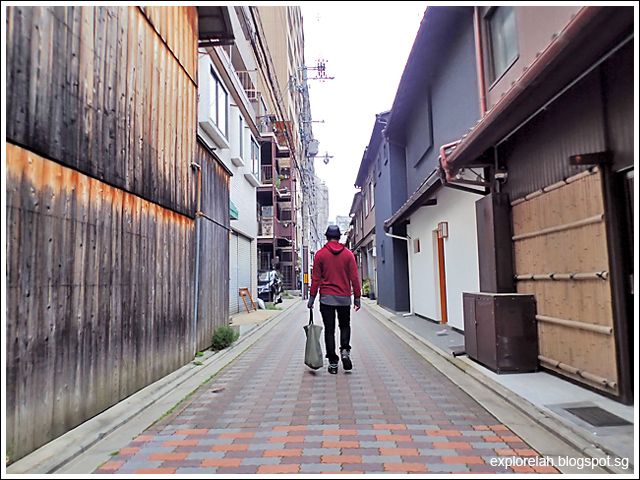 A scenic setting for great snaps, Kiyamachi Street and its surrounding grid of streets and tidy back alleys provide a unique backdrop to indulge in narcissism.

We didn't find much things to do here as we did not venture to the nearby market and shopping area and decided to head back to the Gion old quarters to catch the coveted cultural performances by maiko. Exploring Gion and its photogenic nearby districts of Kiyamachi Street and Shirakawa Area is definitely a time opportunity in Japan not to be missed!