Date of Exploration :
29 Mar 2016
Passing through the high walls that hid Gion (祇園) from the modern eye was like slipping through a crack in time to old Japan. And midst the labyrinth of wooded classical Japanese shophouses and abodes, a hunt is on for a glimpse of that elusive living cultural treasure of Japan... the geisha. It takes luck to spot one.
Gion is a famous geisha district, not just in Kyoto but the whole of Japan, which makes it a magnet for tourists hoping to chance a meeting with the traditional artisans. Historically, geisha are female performers who entertained male patrons with song and dance as well as offering consort and company during Japan's late medieval period from the 1600s. In those days, some of the geisha also provided sexual services and districts where they operate were condoned off and designated as pleasure quarters. Thus was the beginning of Gion. Or so many would think.
Taking a walk down the vintage Gion district is like going on a time travel to Japan's medieval past.
Contrary to popular belief, Gion was never a red-light district and geisha are not prostitutes although some worked for the pleasures of the flesh.
The true origins of Gion, as I read off the web, is that the district started as an entertainment hub to serve visitors of the nearby Yasaka-jinja Shrine (a.k.a Gion Shrine). Today, Gion has evolved into an attraction in its own right and serves as a bridge into the old world.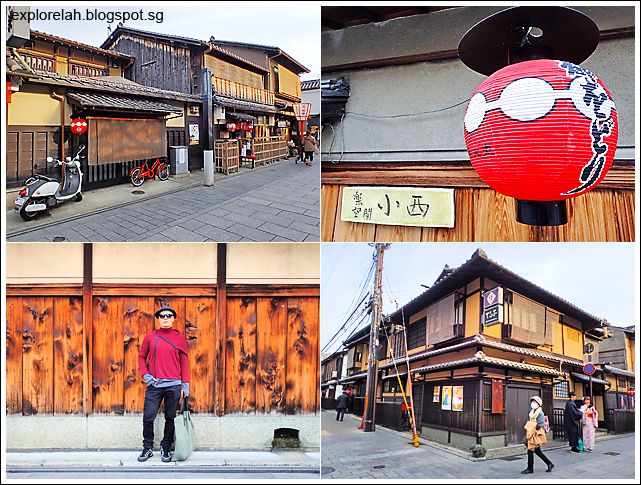 What greets visitors at Gion is a grid of streets and alleys packed with fine dining restaurants and tea houses (called chaya in Japanese) that will have credit card companies preparing a funeral for the banks. Eateries within Gion are known to be pricey.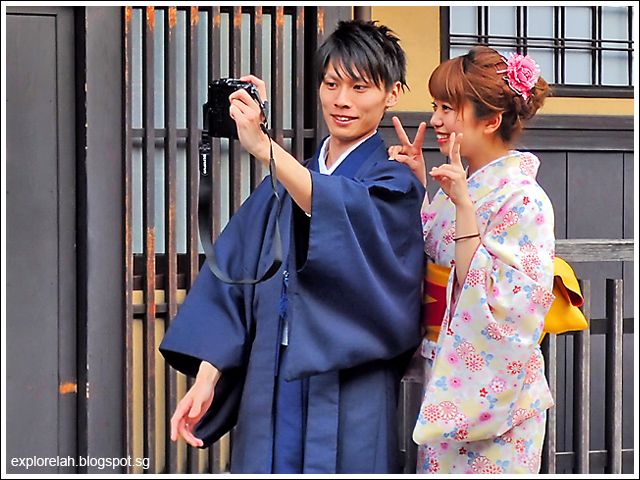 The IT thing to do at Kyoto is to rent a kimono (from

¥

3,000, approx. S$40) and play dress-up to resurrect a nostalgic Japanese era with you in it. There are many ladies in traditional kimono but they are not geisha or maiko (apprentice geisha) so do not be mistaken.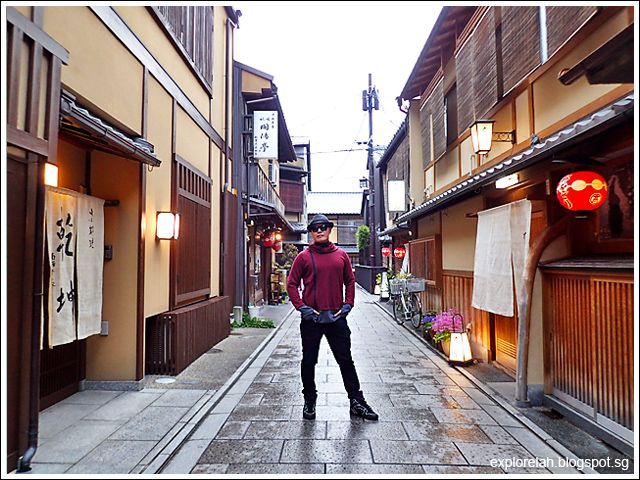 I also played dress up... aiming to channel Chage and Aska in a hip (I think it's hip lah) top but looking like Barney forgot sunscreen for the legs. Heh heh... Love the mostly old world feel of the alleyways at Gion.
Catch a Traditional Show at Gion Corner... if You Can
Tucked at the end of the Gion main street (if you are coming from Shijo-dori Street) is Gion Corner where you can catch a variety of traditional dances and ceremonies as well as performances by maiko (apprentice geisha).
Click
here
for the official website of Gion Corner for their performance dates and schedules.
Tickets are at
¥
3,150 (S$42) per adult but if you
click
here
to download a coupon, print it out and show it during purchase, you can get the ticket at
¥
2,800 (S$37.50). However, Gion Corner so run special promotions during special seasons and tickets can go for
¥
2,500 (S$33.50) per adult so do check at the ticketing counter which is the best deal.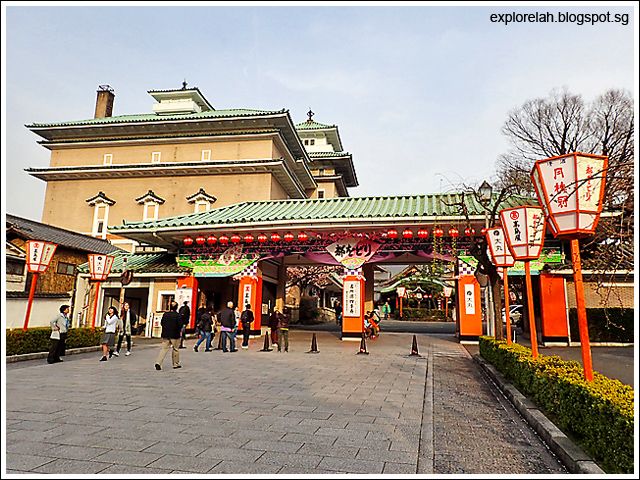 Entrance to Gion Corner where a study of 7 different kinds of traditional performances await. The performances include Kyo-mai Dance, Flower Arrangement, Tea Ceremony, Koto Zither, Gagaku Court Music, Kyogen Theatre, and Bunraku Puppet Theatre.
I looked forward to catching the the performances and came ahead at 4:30pm to purchase tickets for the 6:00pm show but was turned away. Ticketing only opens 30 minutes before the two nightly shows (unless stipulated as closed) at 6:00pm and 7:00pm.
Hence, for the 6:00pm show, tickets are available for sale at 5:30pm and 6:30pm for the 7:00pm show. We came at 5:45pm to buy tickets for the 6:00pm but it was already sold out. I was crestfallen but decided not to go for the 7:00pm show as I was famished and looked forward for dinner.
So my advice would be to start queuing at least 45 minutes before the stipulated show times.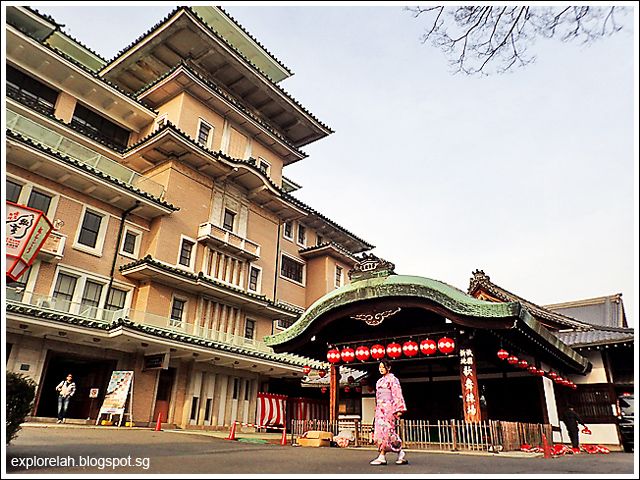 The performance hall of Gion Corner is the beige building on the left.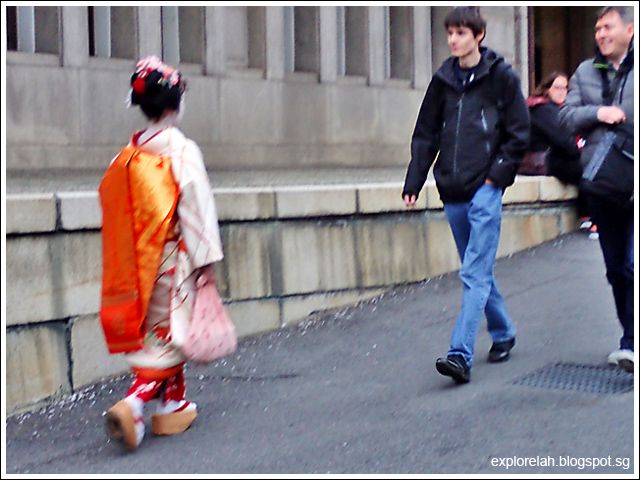 The good thing about being at Gion Corner early prior to the show times is that you may get to see a Maiko making her way to the theatre for the evening's performance! I was caught by surprise and they don't stop for photos so this smudgy shot was what I had to contend with using my Olympus Tough TG-4 compact cam.
Do Not Touch the Geisha or Hound them Like Paparazzi
It is very hard not to be all worked up and excited upon seeing a real-life maiko or geisha. Because of their reclusive and guarded realm, their secret lives have become something of an enigma that makes a sighting the highlight of a visit to Gion.
The enthusiasm to bring home a memory of proof of sighting by tourists has led to increasing complaints from the artisans that tourists have become disturbingly rude with them by blocking their paths, holding them back and chasing after them for photographs. This led to the following sign to remind visitors to be respectful of geisha...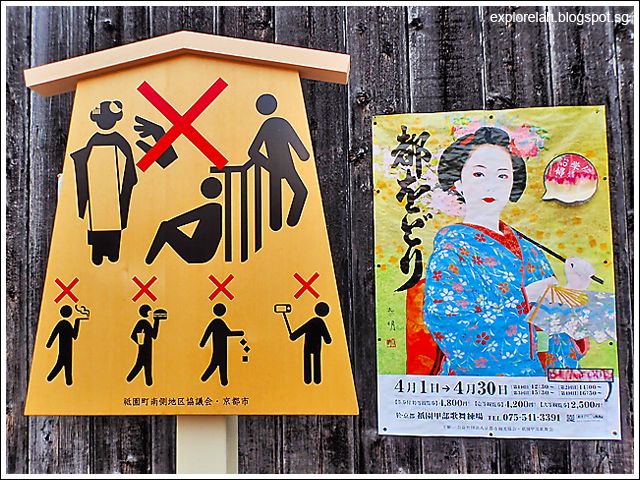 See no touch. Be respectful of Maiko and Geisha. You can take a photo from a distance but do not block their way or stop them as they are on their way to honour the booking of their entertainment services. That is, they are on their way to work. So stopping for photos with every click-hungry tourist would cause them to be late.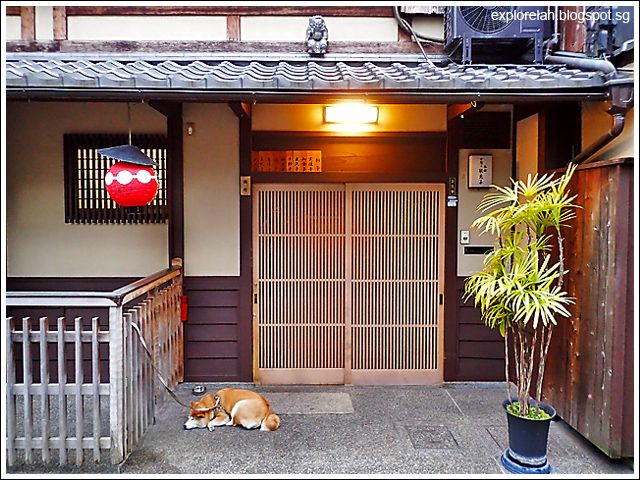 Weaving through the side streets and alleys of Gion, we came across houses with wooden tablets placed on top of the door frame. These are homes of a geisha and her charge of maiko (trainee geisha). Geisha is used both as a singular to describe one geisha as well as plural to describe many of them. Likewise, using the term maiko can mean one or a group.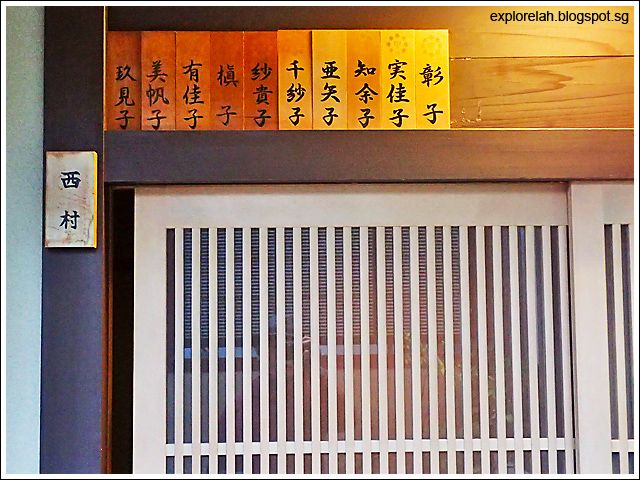 In Kyoto, the geisha is also called 'geiko' (pronounced as "gay cold" and not to be mispronounced as "gecko"). The village of the geiko is listed and the names of the maiko all ending in 子 (zi) are displayed outside the house.
In the past, a girl may start training as a maiko from the age of 8 years-old. The modern day maiko starts between the ages of 15 to 20 and their training could take as long as 5 years to complete before they 'graduate' to become a geiko. A geiko performance commands more prestige and a higher price compared to a maiko.
Face-time with a maiko! Again, the sighting took me by surprised and I tried to take a photo from the side without being intrusive. As the light was failing, she was constantly moving and I didn't want to shock her with flash photography, the photo turned out blur again.

She is the third maiko we saw during our time in Gion. We saw one in a cab on her way to perform in a private event, another at Gion Corner, and this one who walked face-on in my direction. We must be really lucky!

A maiko's costume is usually more vibrant and colourful as compared to the oft single-toned sombre hues that a geiko dresses in; that's how to tell them apart. Maiko and geiko don't perform for just anybody. You have to have connections to be invited to a private performance and be prepared to pay. Else, head over to Gion Corner for a sample of traditional dance performed by maiko.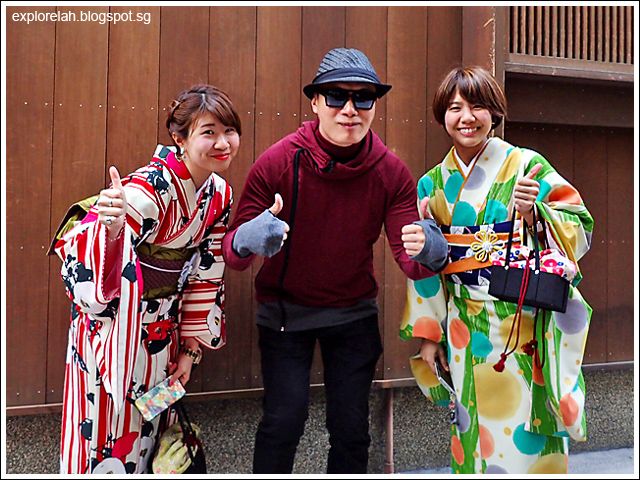 No selfie with geiko or maiko? No problem! Found these 2 cute and friendly gals in kimono to get my brush-with-history memento. Arigatou ladies!
Shimbashi Street in Shirakawa Area Switches on its Charms
While the walled geisha district of Gion that sprouted along Hanami-koji Street is a key tourist attraction in Kyoto, there are many other scenic spots to explore outside of it and the most charming of them all would be Shimbashi Street in the Shirakawa Area. Especially at night when the night lights come on.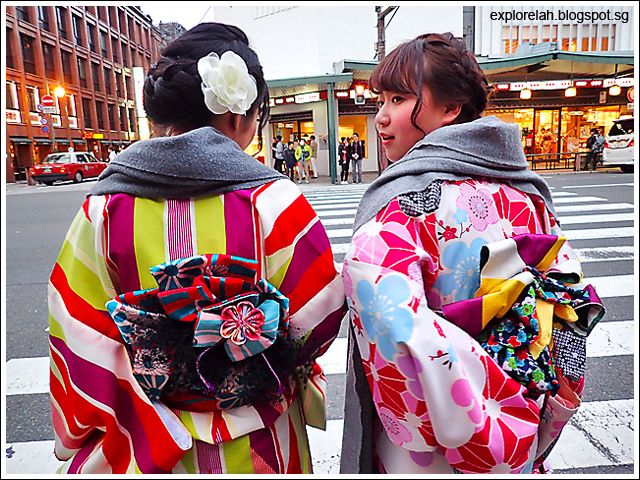 We didn't really know our way to Shimbashi Street so we just followed the backs of strangers who seemed to have a destination in their stride and hoped that we'll stumble upon the famed street.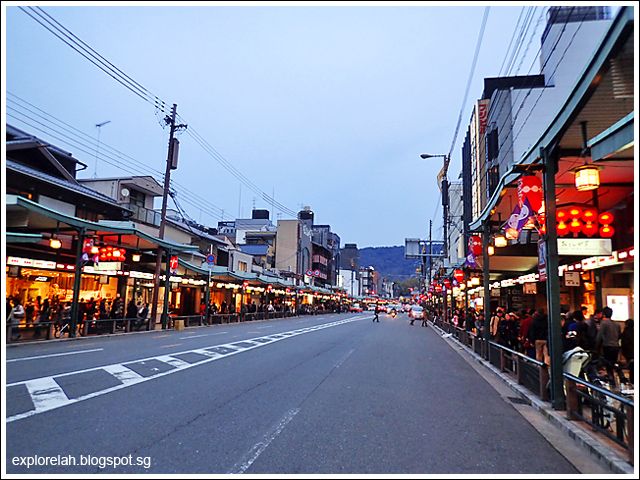 Countless shops line the vehicular streets immediately outside of Gion. We were wandering blindly but thankfully, we arrived at...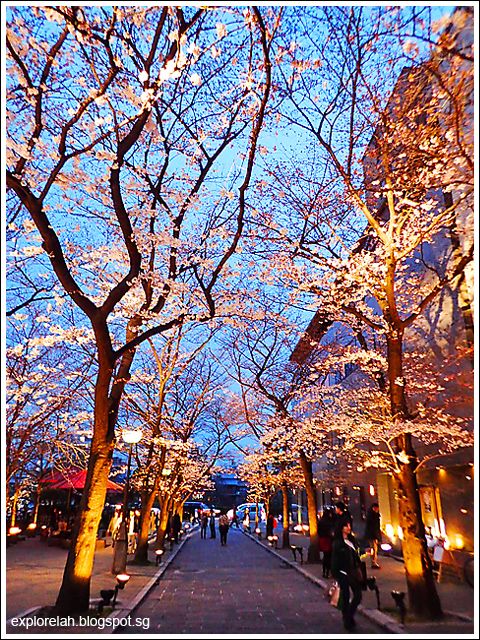 ... Shimbashi Street! This is one side of it lined with blooming sakuras. It took us under 20 minutes to walk from Gion to Shimbashi Street.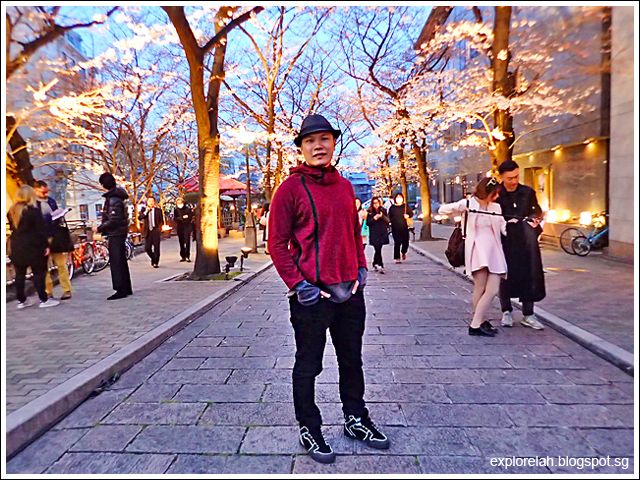 The boulevard of statuesque sakura trees filled the atmosphere with romance and magic... and then I had to stand there and spoil it. LOL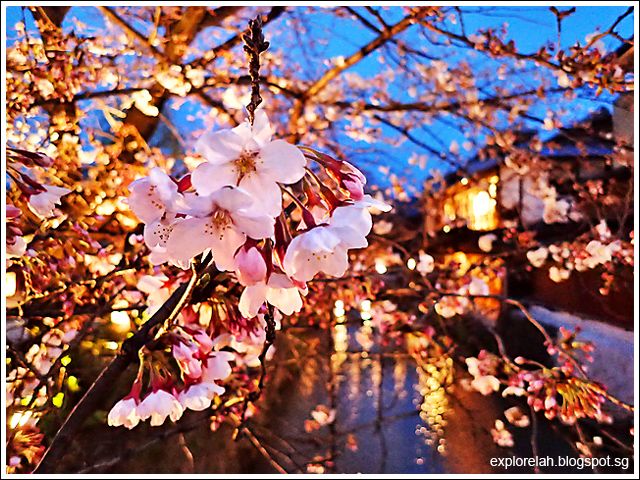 Across from the boulevard of cherry blossoms is the Shirakawa Canal where the most enchanting street-scape of Kyoto unfolds along the waterway.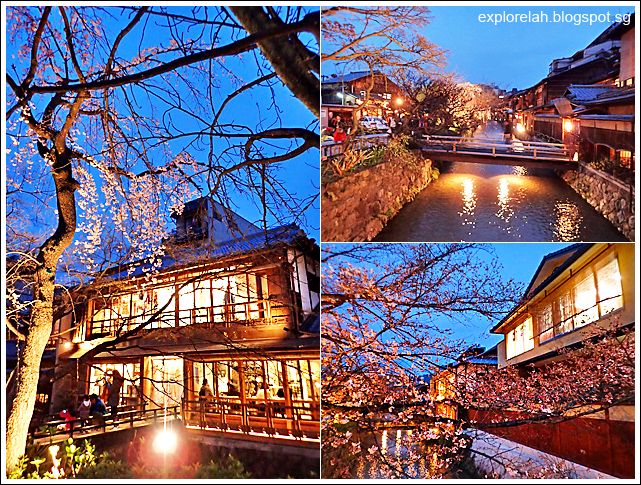 Sakura lined streets, bridges, a flowing stream and classical architecture... Shimbashi Street with the accompanying Shirakawa Canal brought to life a fairytale scene.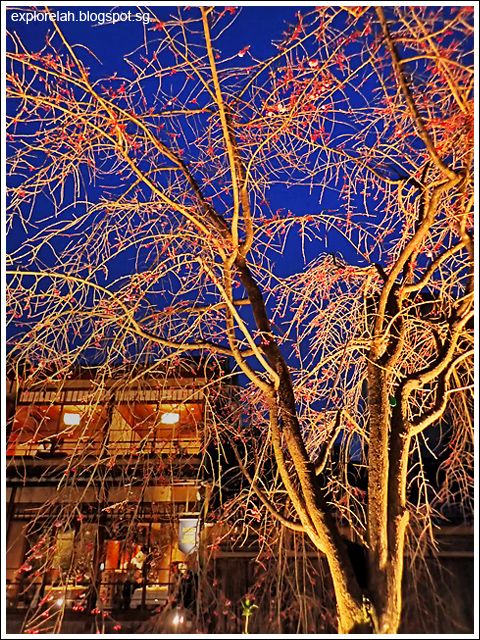 The best time to visit Shimbashi Street is during the evening when the day crosses over to the night. This was taken at 6:40pm when the blue hour was at its peak.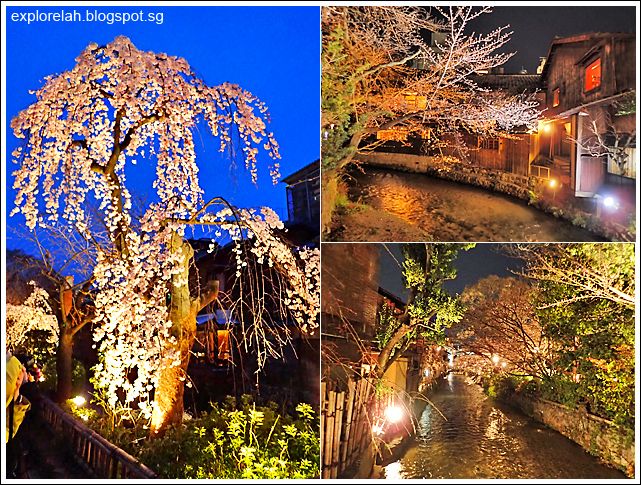 Words and photos are inadequate to fully express the period beauty of this lyrical poem residing in a bewitching painting.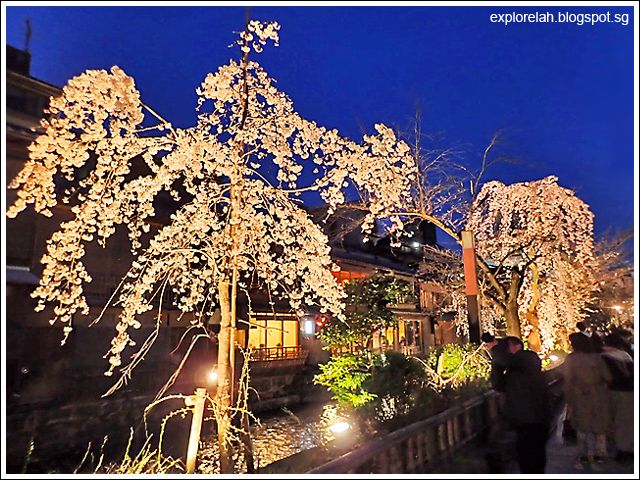 Lots of visitors and photographers fell under the spell of Shimbashi Street. On the other side of the canal, premium restaurants and tea houses line the banks to offer a prime dining experience.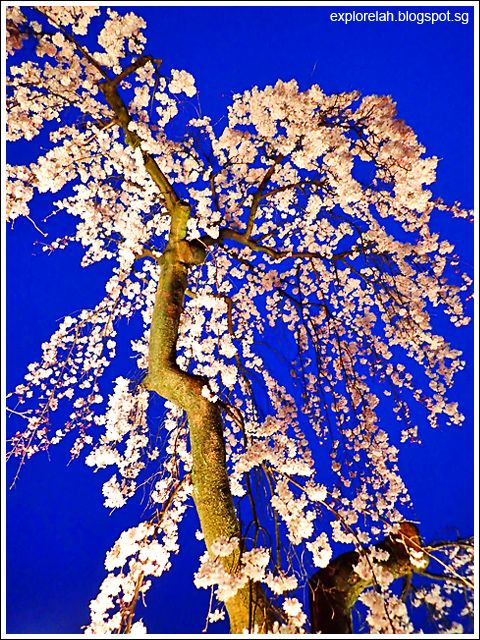 A cascading spray of cherry blossoms in full bloom.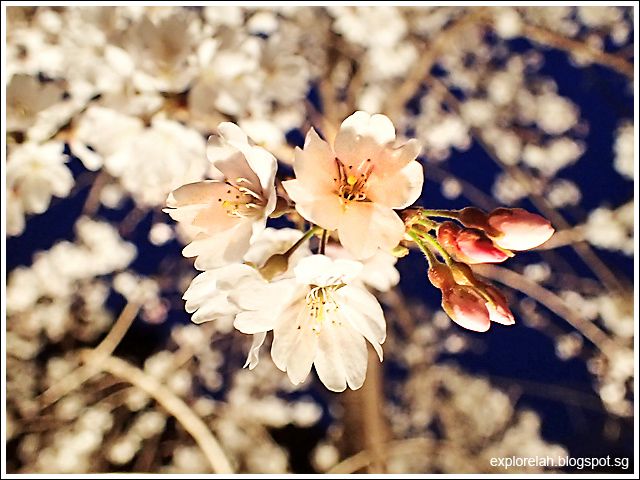 The sakura flowers radiate beauty both in daylight and artificial light.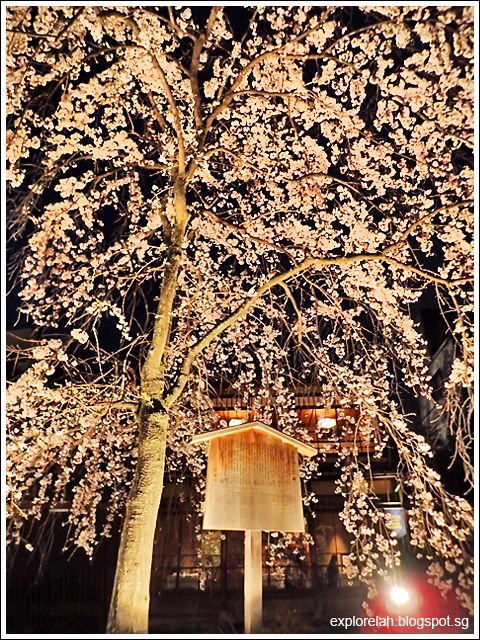 No leaves just flowers.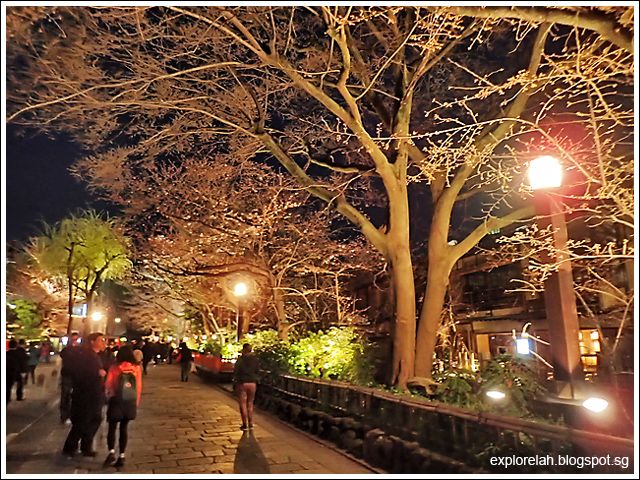 We took a very scenic night stroll down Shimbashi Street.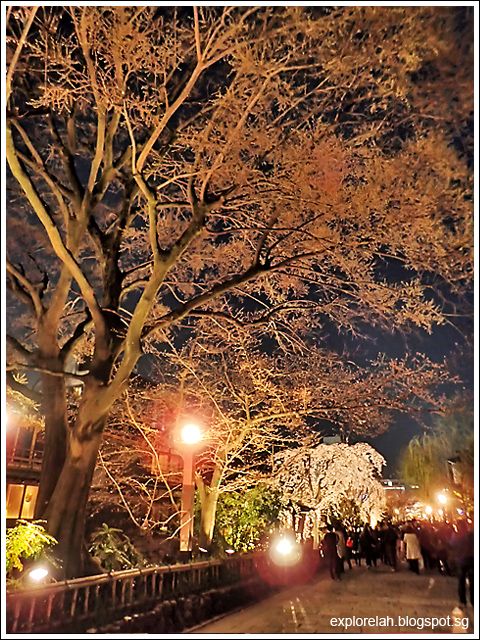 Shimbashi Street receives an endless stream of visitors during sakura season.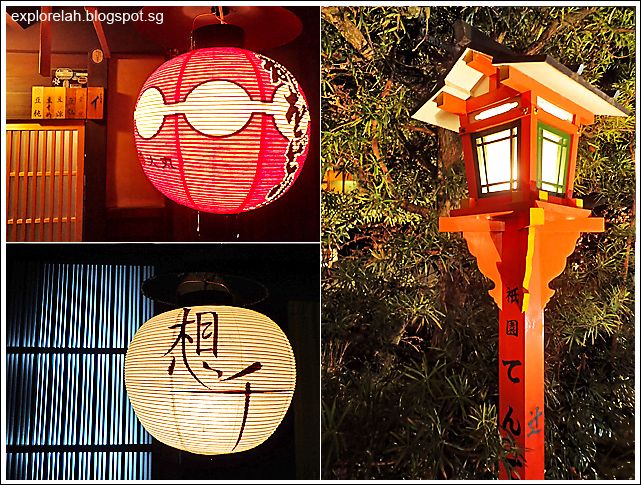 I liked the lights found around Shirakawa Area that are such beacons of Zen.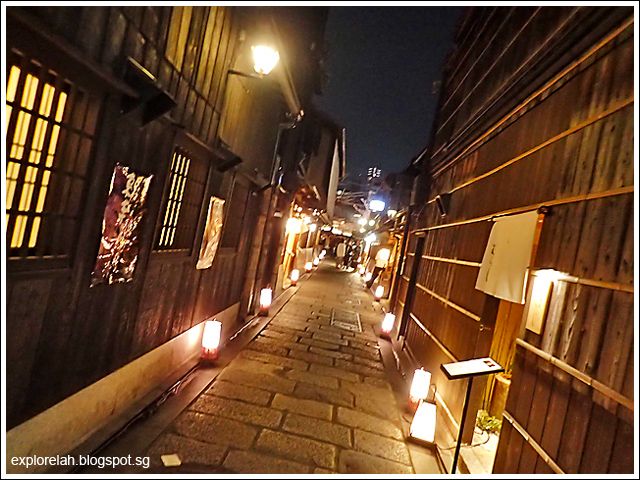 The tight alleyways of Shirakawa Area are home to numerous restaurants waiting to be savoured.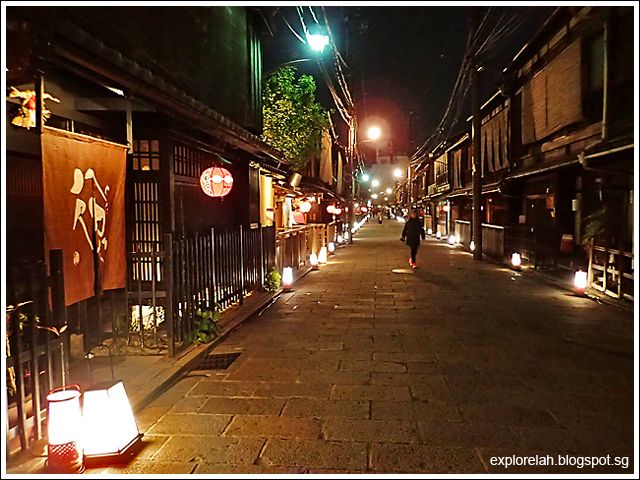 Old world in a new light.
Our visit of Gion and the scenic areas beyond it began from 4pm and ended at 7pm. Personally, I didn't find a lot of things to do except for landscape photography and and posing in them.
Restaurants and shops at these heritage quarters have an obligation towards authenticity so it's impossible to see beyond the wooded frames and paper screens to know what's offered inside. Their commitment to uniformity in building material also led to a somewhat homogenous look where it is hard to distinguish one eatery from another.
Yet, those are the factors that distinguish Kyoto from other Japanese cities and that which made this place a come-to to escape the hyper urbanity and frenzied life-pace of Japan.