Date of Cycle :
9 - 10 May 2015
Putting medals to the pedals, the inaugural
Casio Nongsa Cycle 2015
rolled off to a brisk start by attracting close to 200 cyclists from around the region to participate in this cycling event. Held in Batam (Riau, Indonesia), the event caters to both competitive racers as well as leisure cycling enthusiasts and spotlights the island's potential as a destination for long-distance pedalling.
Although my speed on the two-wheeler is about as fast as a sloth on its most active day, I decided to accept the invitation by Casio Singapore to take part in the race. Not to win, hell no, not with my 16km/h crawl compared to the 28km/h average speed of pro racers, but to explore the possibilities of going on weekend cycling vacays in Batam and test drive the Casio EX-FR10 action camera.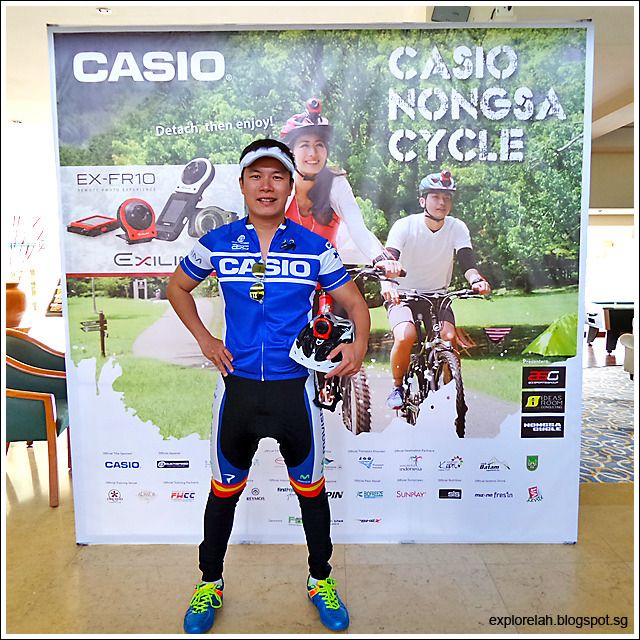 Trying my best to look the part of a pro racer. Pass or not? Heh heh...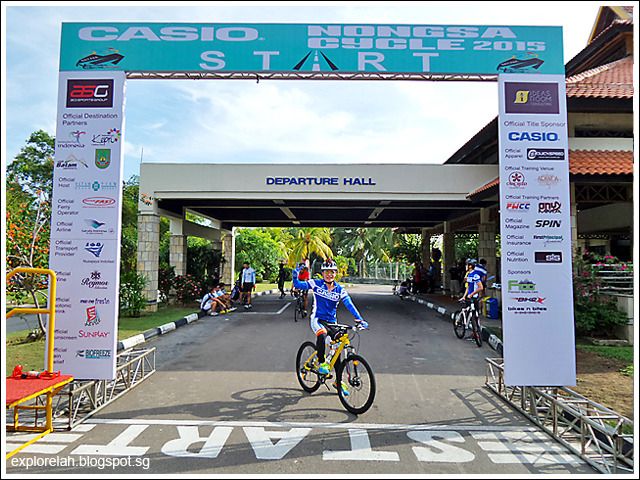 The starting point was at Nongsa Ferry Terminal. Batam island consists of a number of key districts served by a couple of ferry terminals scattered across the island.

The Nongsa district, about an hour by car from the island's busy downtown area known as Batam Center, is a much quieter part of the island with a couple of high-end resorts located here. Nongsa is also where the best beaches on the island can be found.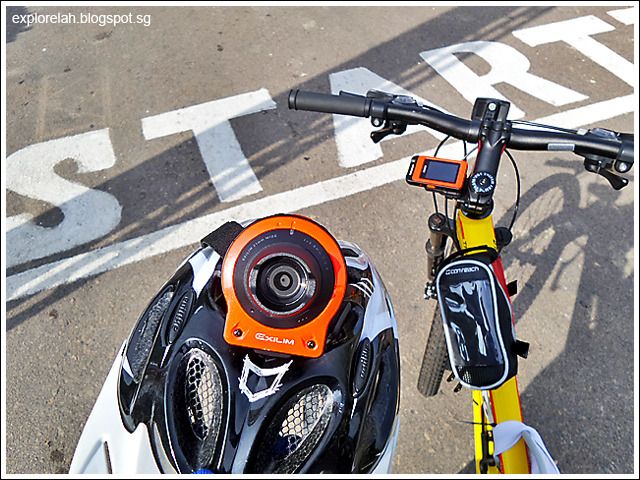 Being an enthusiast of bicycle touring, I've been thinking of getting an action cam to record my cycling trips but found single-screened cams rather restrictive as I can't see what I'm filming.

Casio EX-FR10 comes with a camera that can be detached from its viewing screen so that I can mount the screen on the bicycle handle and see the footages I'm shooting and make adjustments. The screen also serves as a touchscreen control panel to turn the camera on or off and choose shooting modes such as single photo, video, or time-lapse video. This camera also makes taking selfies easier as I can frame the shot by looking at the detached screen and using it to take a shot remotely. My only grouse is that the screen's luminance is rather low under natural lighting conditions and hard to see.
Getting ready to roll off... this is the only moment I managed to capture the racers behind me because as soon as the starter horn sounded, they zoomed past me and disappeared in the blink of an eye!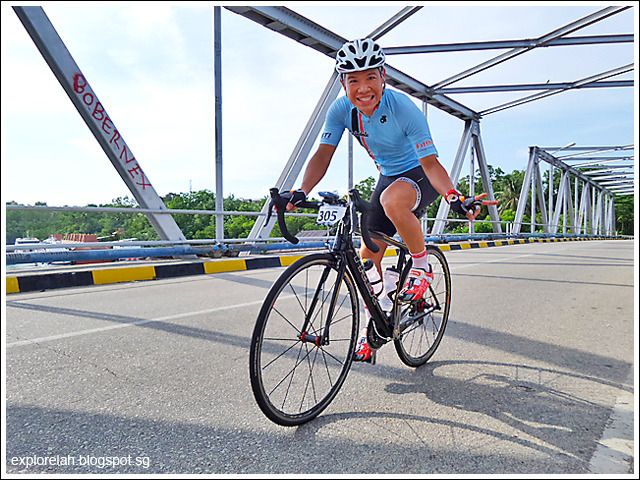 But not all who took part in Casio Nongsa Cycle are professional racers. There are other leisure cyclists like me who are in it for the exercise and thrill of a self-powered road trip.
This vehicular bridge straddling an estuary below is found near Nongsa Ferry Terminal and the most scenic stretch of my ride. Scenery-wise, there's not much to see as the 12km cycling route at Nongsa follows a loop from the ferry terminal that passes by a couple of small villages and private resorts.

Compared to the choked roads in Batam Centre, Nongsa's lighter traffic and well-paved roads make for a safer and less stressful cycling experience.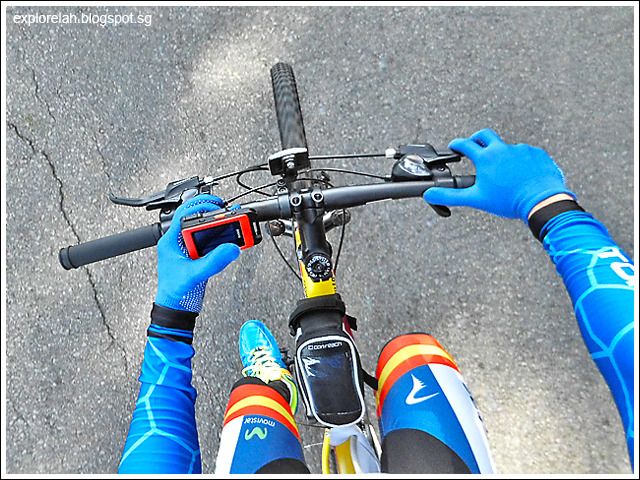 Taking a shot with Casio EX-FR10 with the detached screen and control panel. Recording the journey is definitely much more flexible with this action cam as I can change between photo mode, video mode or shooting time-lapse easily.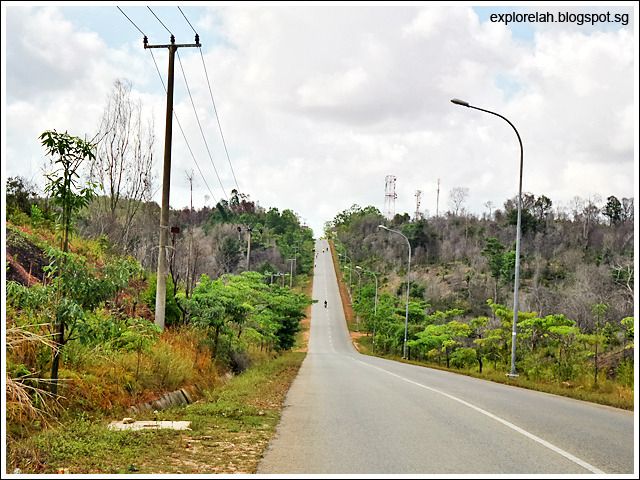 This insane upslope gave my eyeballs a heart attack! The toughest section of the entire 12km cycling route is this 1km long steep climb at 70 degrees elevation that seriously burns the thighs and aches the lungs. The tougher the challenge, the greater that sense of achievement in overcoming it. So yeah, I felt great reaching the top!

Then came the realisation that I have to climb this slope 4 more times as I 've signed up for the 60km ride. The route goes in a circle and each loop is 12km so I have to complete 5 rounds to clock 60km. Imagine those who registered for the 120km full marathon! After the initial shock of encountering this monster, it became rather monotonous to climb it but it sure fired up the adrenalin.
After an exhausting 4 hours, I completed my first bike-a-thon challenge! I may be smiling but my ass felt like it was on fire. I guess that's how buns of steel are forged right? LOL.
As this is my first marathon cycling event, I have no basis to gauge the logistics of Casio Nongsa Cycle but I think it was pretty well organised. Hopefully the event will gain traction to feature annually on the region's sporting calendar.
A 2D1N Nongsa Cycle early bird package cost about S$350 per pax (twin share) and includes ferry transfers from Tanah Merah Ferry Terminal to Nongsa Ferry Terminal, bicycle handling, land transfers, hotel stay, race pack, jersey, medal, and celebratory dinner.
Outside of the Nongsa Cycle event, you can bring your own bikes over from Singapore onboard the ferry to Nongsa for a cycling trip. A bicycle handling fee of S$10 is levied.
The less populated Nongsa district is suitable for an easy cycling weekend getaway to explore the tranquil side of Batam away from the downtown hustle and bustle. But we still got our shopping and massages done after the race by hopping on the free shuttle bus provided by Batam View Resort Hotel (where we stayed) to Batam Center's Nagoya Hill Shopping Mall.
If you are a seasoned cyclist, you can consider arriving at Nongsa, cycle from Nongsa to Batam Center (approx. 28km according to Google map), stay a night and return to Singapore via Batam Center Ferry Terminal. There aren't that many arterial roads on the island so I think way-finding should be pretty straightforward although sign posts may be lacking. Perhaps I'll try this route one day. Or if you've done it, please share the experience and tips with me :)
This being my first attempt at a competitive cycling event, I was more focused on catching up with the pros, which I failed miserably, than taking more shots and videos with Casio EX-FR10. Below is a video shot by my fellow cyclist Danny for a preview of the action camera's performance as well as scenery along the 12km Nongsa cycling route. Hopefully it'll inspire you to bring your wheels overseas with wonderful memories to keep...
This post has been made possible by
Casio Singapore
.