Date of Exploration :
13 Apr 2013
With the shopping gene missing from my tourist DNA, I rarely plan mall visits into my travel itineraries except when I'm in Bangkok. The Thai capital is ever brimming with creative products, fashion designers and concept malls that are as fascinating as the merchandise they retail so I make it a point to sniff out new shopping joints on each visit.
This my umpteenth trip to Bangkok, I paid legwork to
Mansion 7
, a horror themed mall-cum-entertainment outfit replete with a haunted house and promises to make the night come alive!
Don't I look like a suitable prop?
Making customers change their underpants since November 2010, I can't believe it took me almost 3 years to learn of Mansion 7's existence. My delayed discovery of this place is kinda unforgiveable because my obsession with horror movies is as legendary as my penchant for tom yum goong so it came as a surprise that this mall of terrors escaped my travel radar.
If you are up for something unusual to check out in Bangkok and brought extra inner wear, read on...
Getting There
Mansion 7 is located in the nightlife district of Huai Khwang. As it is just a few MRT stops from Chatuchak Weekend Market, a possible itinerary could be to visit the market in the afternoon and then dropping in at Mansion 7 in the evening. Mansion 7 is open from 6pm onwards.

To get to Mansion 7, take the MRT to Huai Khwang (also spelt Huay Kwang) station and take Exit 1.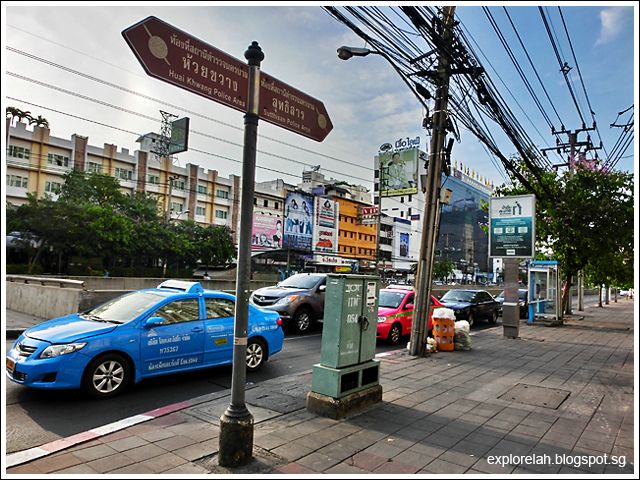 Turn right upon coming out from Exit 1 and walk in the direction of Sutthisan Police Area. The main road in this photo is Ratchadapisek Road which Mansion 7 is located on.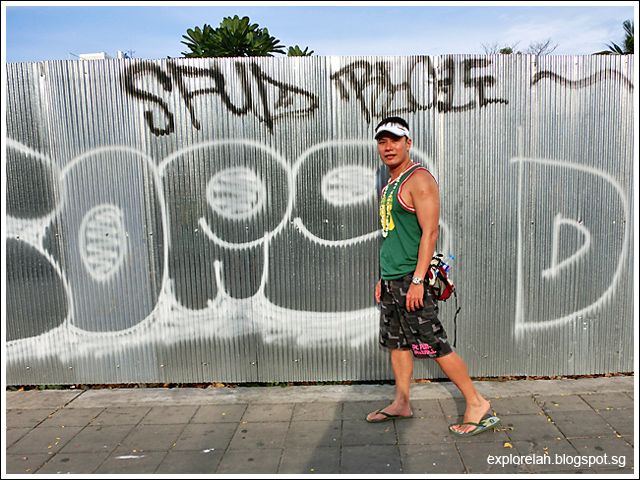 The walk from Huai Khwang MRT station to Mansion 7 is under 5 minutes.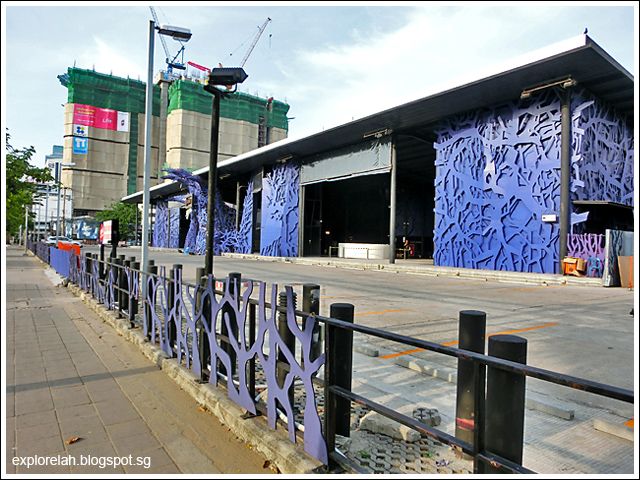 After a short walk, the shock of purple marks the spot.
The Trouble with Purple
The first thought that ran through my head when we reached Mansion 7 was that it has gone out of business. The façade looked rather rundown in daylight and I wasn't sure if the venue was in the process of being taken apart or already abandoned.
Even the
official website
of this amusement mall seemed uncompleted and severely starved of details to entice a visit. And other links I consulted were dated mostly in 2010 so I wasn't sure if the mall is still around. But despite the operational ambiguity of Mansion 7, Juliana and I decided to try our luck and drop by anyway. We heaved a sigh of relief when we confirmed that Mansion 7 is still open for business.
Phew!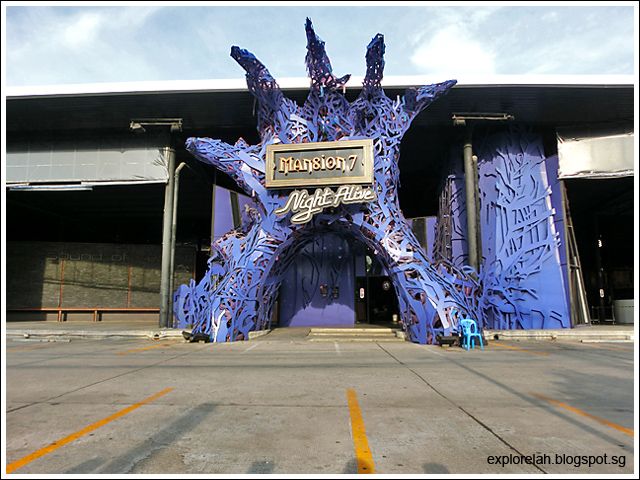 Mansion 7 extends a hand of welcome at its entrance with ghoulish digits ready to claw visitors in.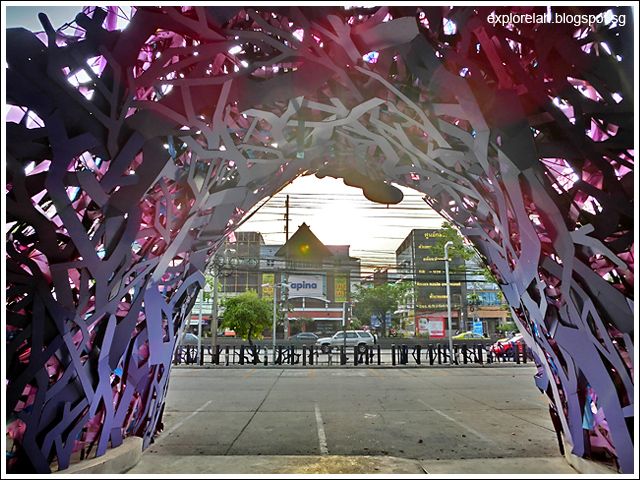 View of Ratchadapisek Road from under the massive zombie hand.
We arrived at 5:15pm so Mansion 7 was still asleep. The amusement mall wakes up for business from 6pm onwards but the retail section was in permanent coma. All the shops, except for the Mansion 7 gift shop, were hoarded up and closed for business.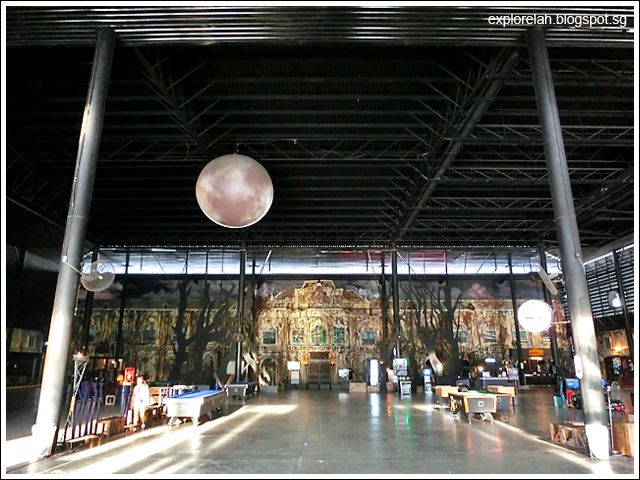 Mansion 7 in daylight. To the right are the shops; ahead is the Haunted Hotel flanked by a cocktail bar (right) and beer bar (left). The extreme left houses a wine bar and what looks like a F&B outlet but they were closed.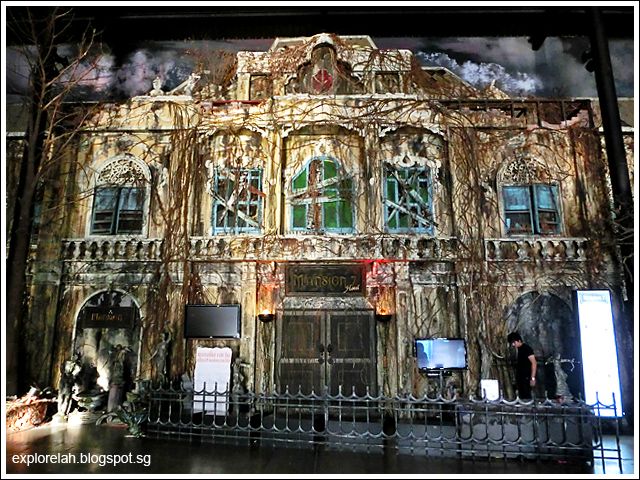 With the shops closed indefinitely, the main draw at Mansion 7 would be its Haunted Hotel. The elaborate staging was intriguing and looked creepy good, which gave the feel of a movie set rather than an entertainment haunt. It's Halloween here everyday!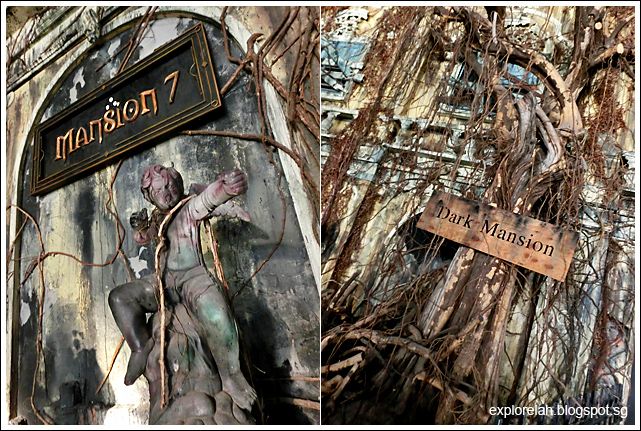 The Haunted Hotel is built around a fictitious legend of an unscrupulous owner who erected the hotel for profit despite paranormal warnings. As a result, many people died and the hotel became home to restless souls waiting to claim their next victim.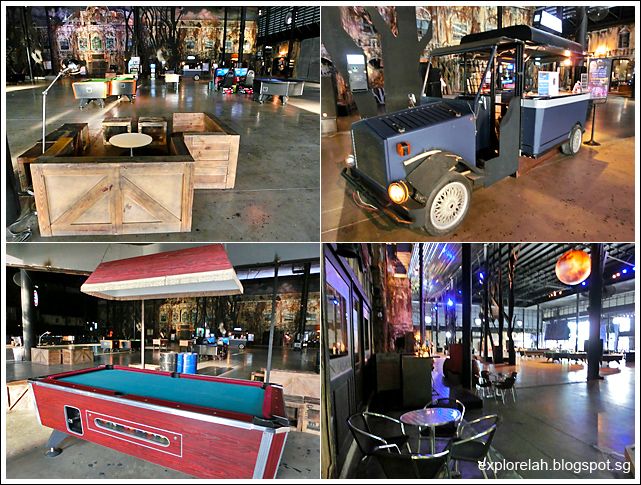 An assortment of sitting huddles, pool tables and arcade games sparsely littered Mansion 7's huge hall space. It felt rather empty and a whole lot of nothing if not for the club music that filled the void.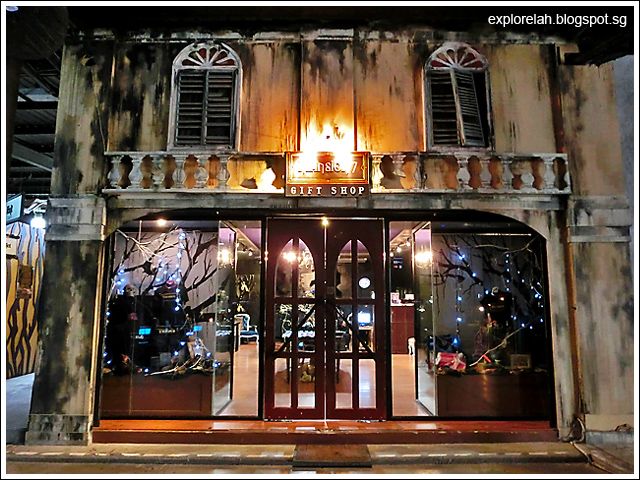 Storefront of Mansion 7's Gift Shop. Love the dilapidated visage that forebode of eerie endeavours.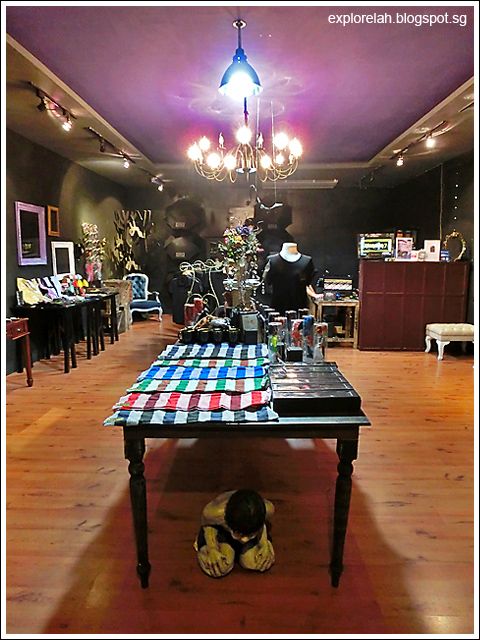 Having a child ghost beneath the table was a nice touch!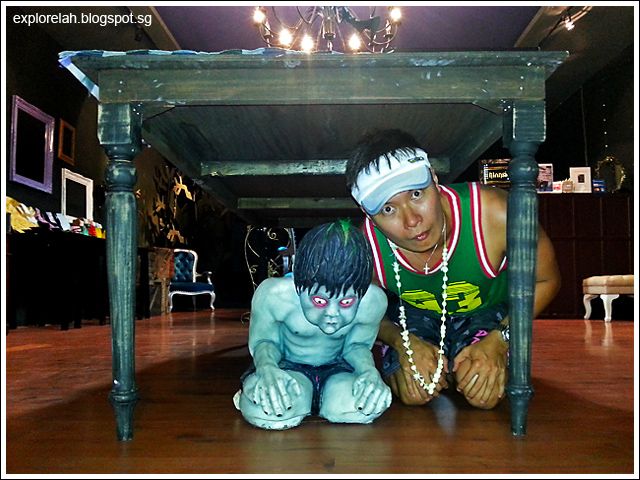 We had fun posing with this Toshio lookalike from the Ju-On horror trilogy.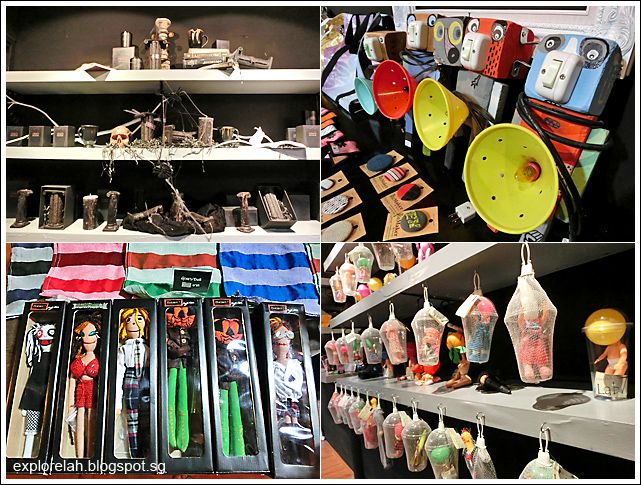 The gift shop sold an artistic collection of knick-knacks and Mansion 7 branded merchandise.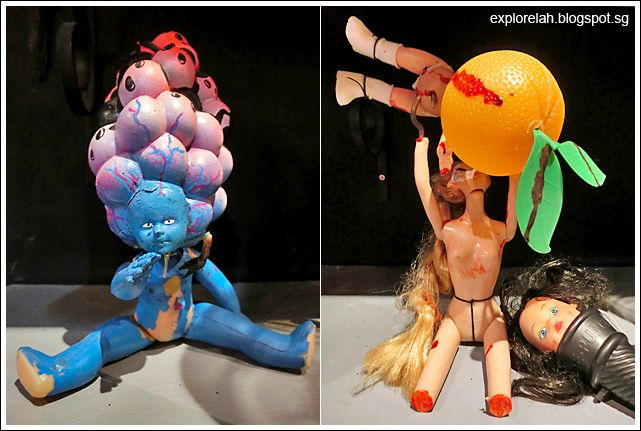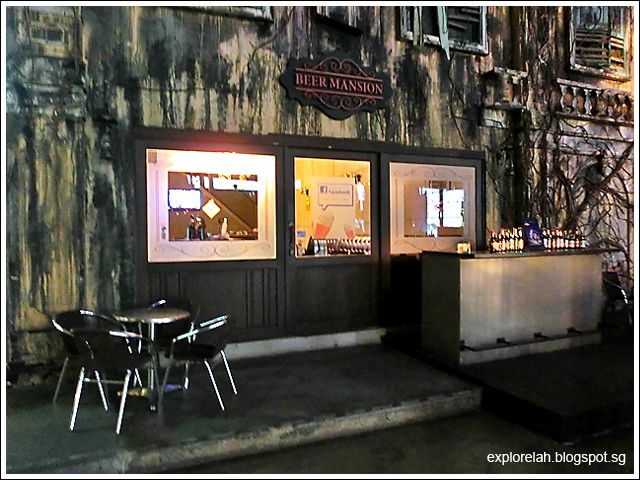 Beer Mansion is a beer retailer that serves brews from all over the world. Wanted to check it out but it was locked.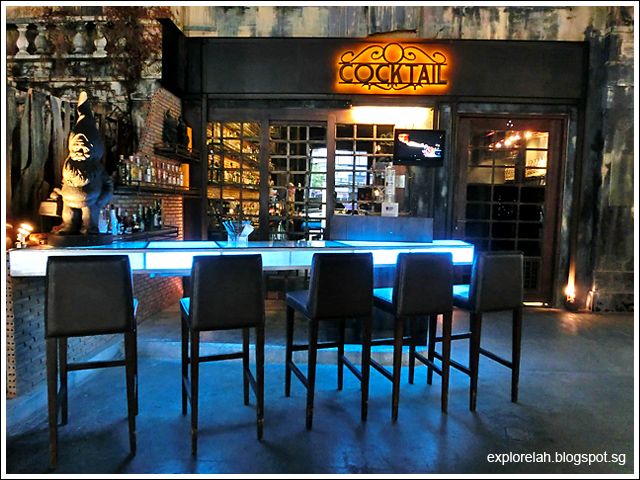 The other drinking hole at Mansion 7 is Cocktail which serves up, according to its namesake, a wide selection of cocktails. Happy hour is 1-for-1 from 6 - 9pm.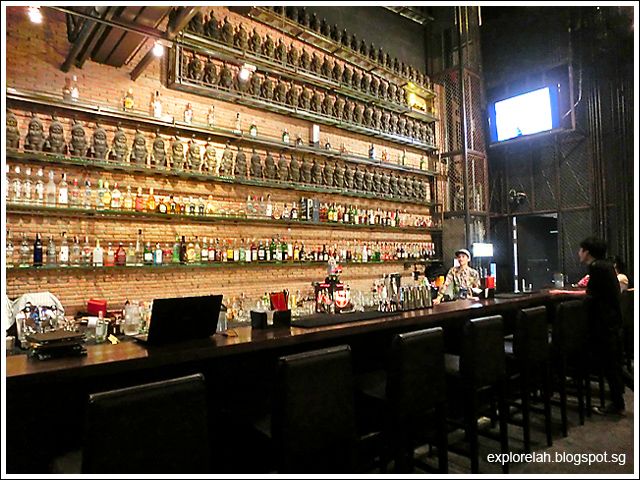 The interior of Cocktail sports an underground industrial chic lined with as many gnomes as there are booze.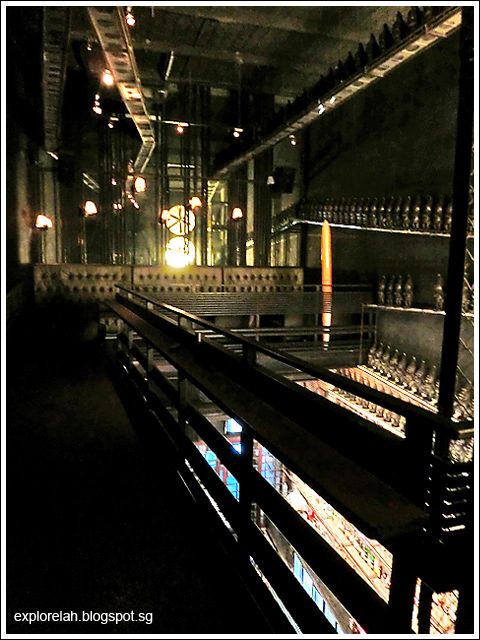 Upper deck of Cocktail bar.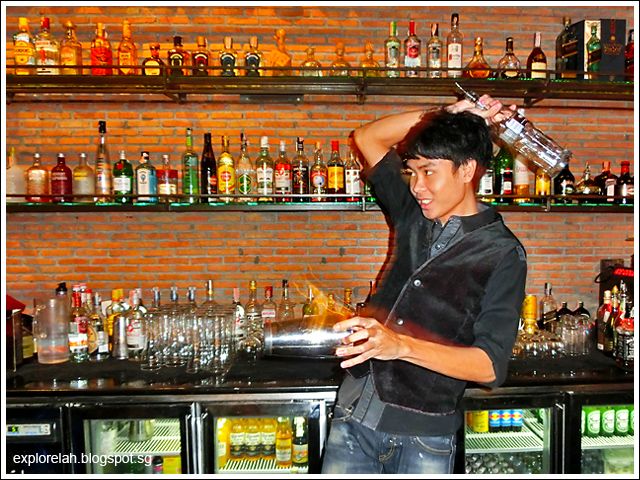 The staff were friendly and the bartender had some really smooth moves in mixing our cocktails. He was really entertaining to watch.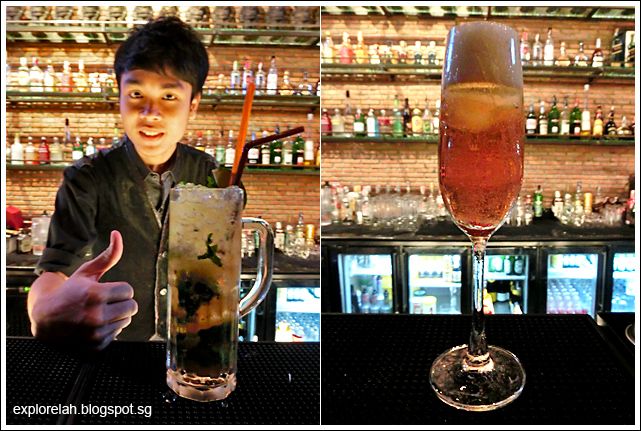 I ordered Creepy that tasted like Mojito with beer and Juliana got Shy (beer with Crème de Cacao White and strawberry concentrate). Price of each drink was 280bht (S$11.50) but since it was Happy Hour, we got both drinks for the price of one. The cocktails were pretty good.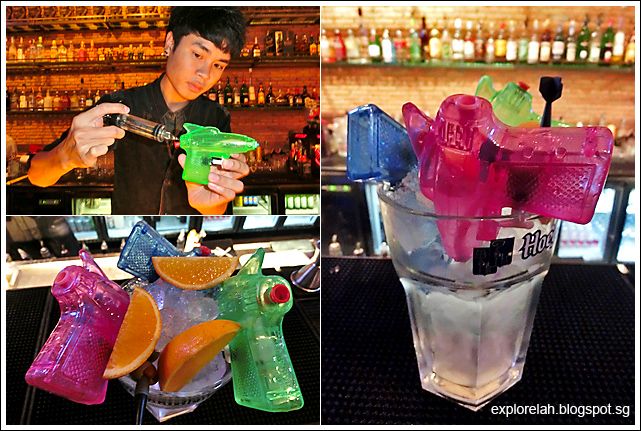 The bartender introduced us to a small list of cocktails in their Halloween menu and we decided to try out this drink called Suicide. Each shot costs 250bht (S$10.50). I ordered one but we were served 3 and cost 750bht.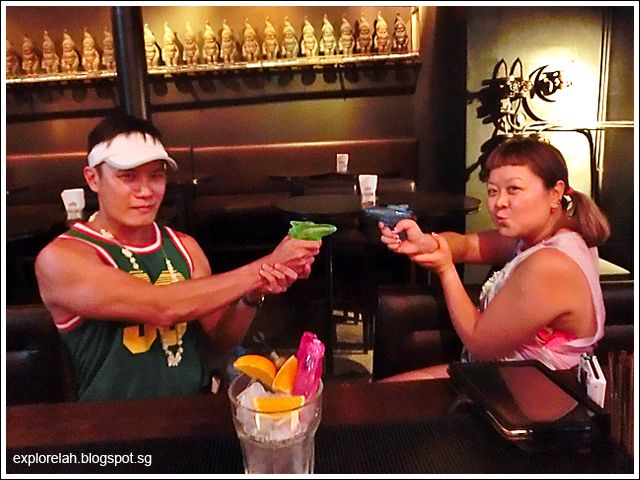 Suicide was basically a strong Vodka concoction served in a water pistol. Juliana and I turned frenemies trying to knock each other out with the stiff shots.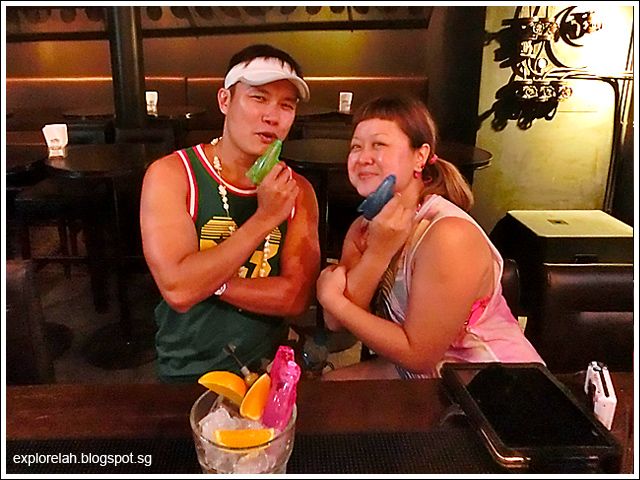 It was fun for the novelty but a tad too pricey.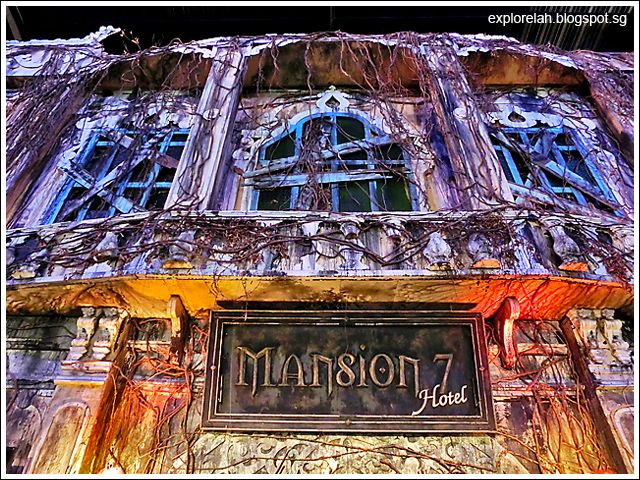 After loosening our nerves with a few drinks at Cocktail, it was time to test our lungs at the Haunted Hotel. An entry fee of 320bht (S$13.50) applies and tickets can be bought at the car-shaped counter.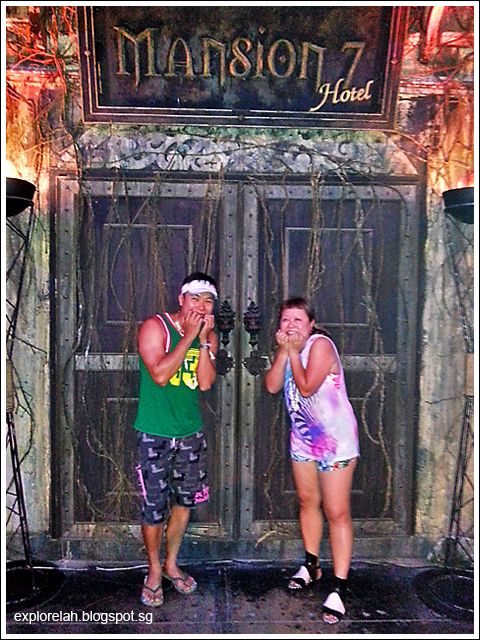 No retail therapy so we checked ourselves in for some shock therapy.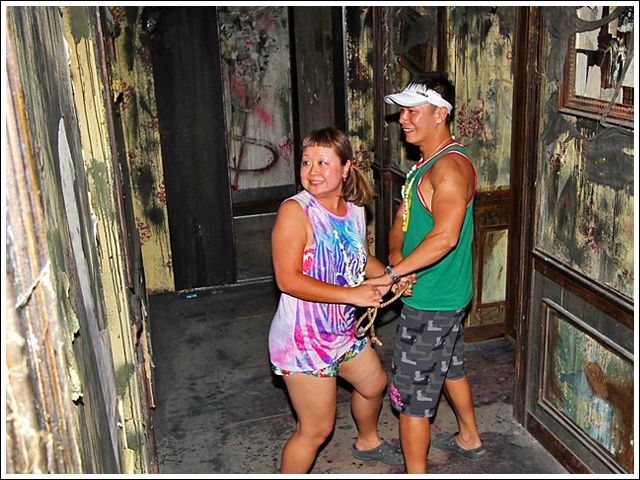 I wasn't expecting much but the haunted house set-up was pretty good. No photography is allowed inside the Haunted Mansion but shots were taken at designated spots and sold as souvenir photos (270bht for 2 shots) at the end of the walk.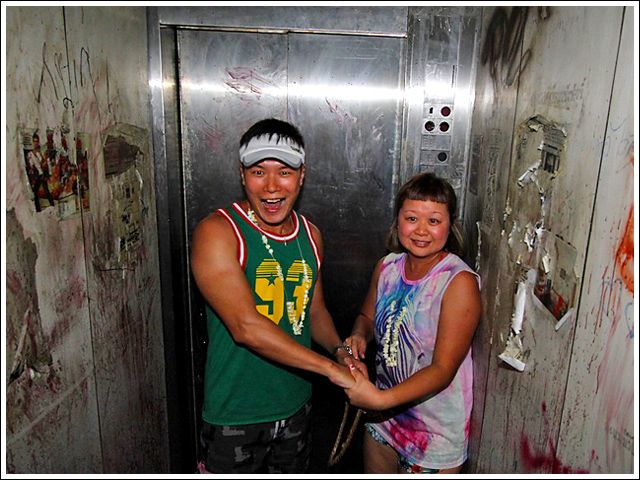 I shan't divulge too my much about what to expect so as not to spoil the suspense but I would say that the experience was pretty good. We were told the walk lasts 20 minutes but I think we completed it in 10 minutes.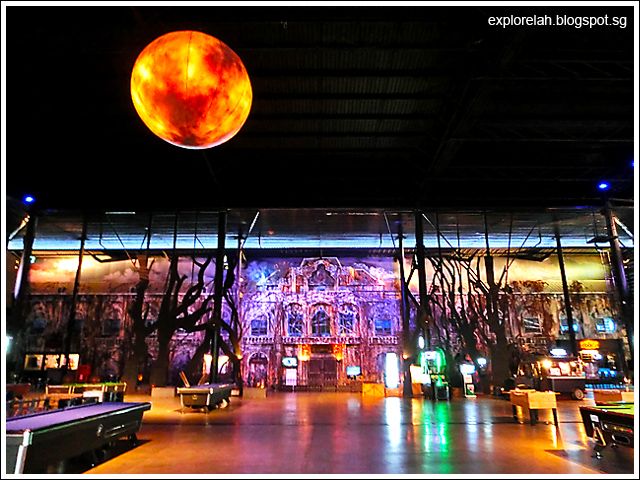 Mansion 7 looked so much better at night when the lights came on but pity that patronage was low. With the music and huge space, this place has the potential to be a great chill-out club. Perhaps adding more horror sculptures for photo opportunities, face-painting services, horror-themed food menus, staff in costumes and bringing down the prices could draw in more local crowd and tourists.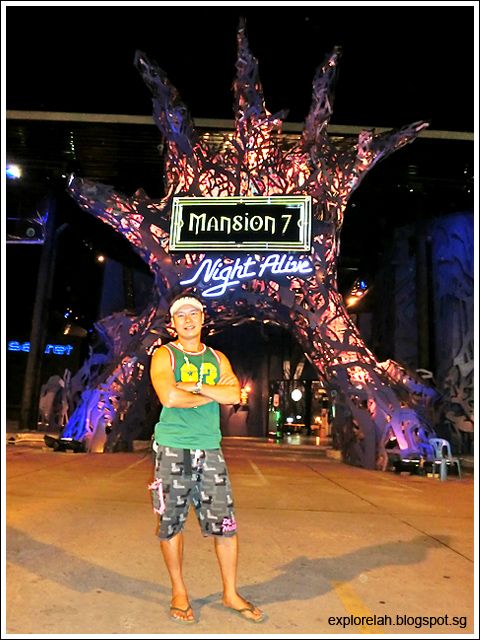 I came face-to-face with fear and it ran away! Tee hee...
In retrospect of my Mansion 7 experience, I felt the amusement mall had an interesting theme but the horror concept remained only on its purple surface and didn't burrow deep enough to milk the horror genre for all that it's worth. And since the mall component of Mansion 7 is missing, the venue has relegated to a mere haunted house attraction with a couple of drinking holes. No puns intended but the place felt rather dead.
However, I think Mansion 7 is still worth checking out for some scares and the great tasting cocktails during Happy Hour. Perhaps Mansion 7's developers can consider morphing it into a horror museum since the Thais has a rich subculture of the paranormal and occult. Or perhaps even organizing a horror convention for fans of the genre to meat and grit!
Address :
244/7 Ratchadapisek Soi 14, Ratchadapisek Rd., Huai Khwang, 02-692-631
Opening Hours :
6pm - 2am daily