Date of Exploration :
3 Jun 2012
To date, there are about 140,000 species of Lepidoptera (butterflies and moths) in the world, of which 20,000 are butterflies while the remaining belonged to moths. And out of these 20,000 species, 1,200 can be found in Malaysia. More species are being discovered continually but due to the destruction of habitats, more species are extinct faster than new ones can be identified.
My fascination for these beautiful, flighty art of nature has brought me to many butterfly farms, parks, and gardens both in Singapore and overseas. If I know there's a butterfly enclosure somewhere, it's the equivalent of what a flame does to a moth... it's a big draw.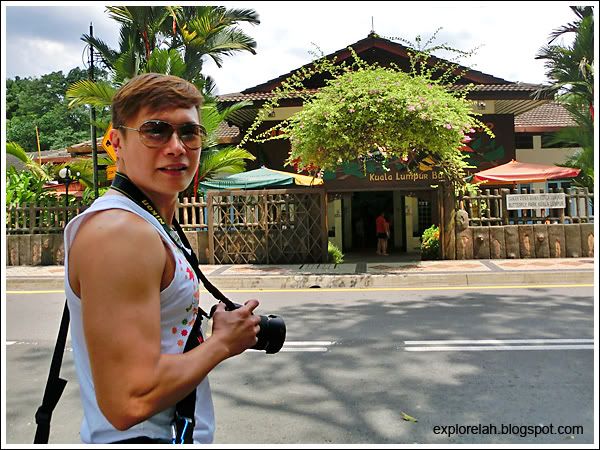 I heard about the Kuala Lumpur Butterfly Park quite some time back and had wanted to visit but my plans were postponed each time I'm in KL.
I almost didn't make it to the park during this KL trip too because of a snatch-theft incident the day before but I decided not to let that unpleasant mishap derail my quest to meet the winged nymphs of the Malaysian forests.

Tucked within the metropolitan city's designated nature reserve about 15 minutes by cab (without traffic jams) from downtown Kuala Lumpur, the KL Butterfly Park calls the
KL Bird Park
and Perdana Botanical Gardens as its neighbours so the area makes for a comprehensive day outing to get in touch with the greener side of urban life.
This post will be a photologue of my visit documenting to the best of my knowledge the butterfly species I encountered as well as what to expect when visiting.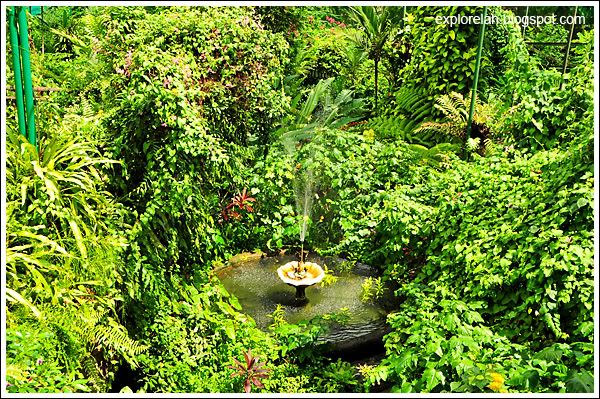 Nature was allowed to grow wild at KL Butterfly Park which upped the authentic forest ante but didn't make for very pretty photos.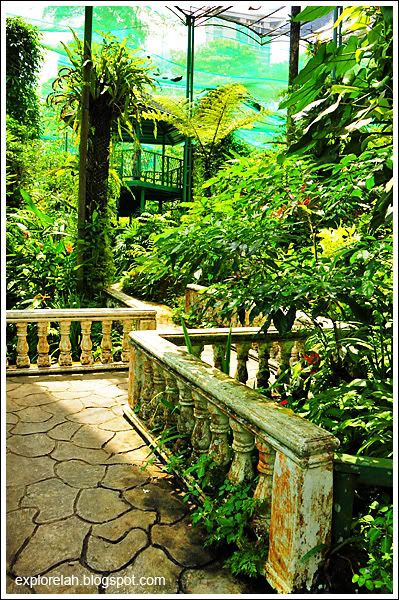 Pathways wound around the park but walk with caution as some parts may be wet and slippery.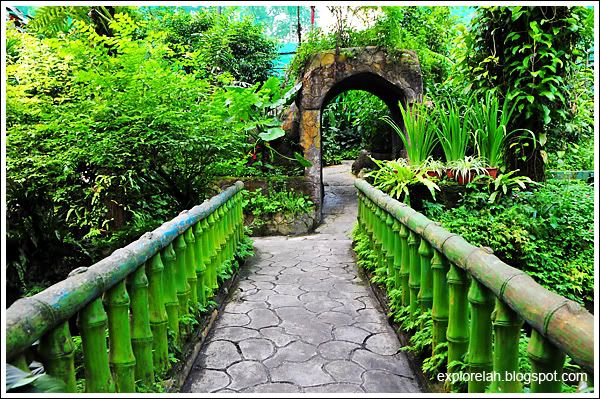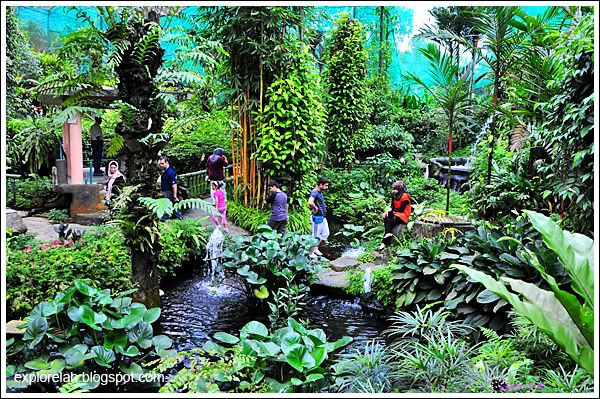 Water features were found in abundance at the park in the form of manmade streams, ponds, waterfalls, and fountains.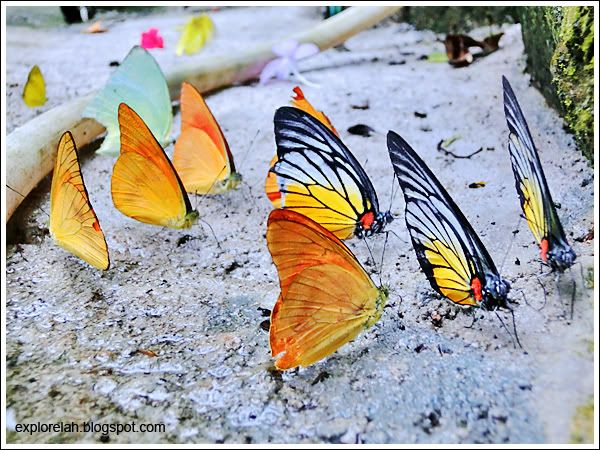 The Painted Jezebels (white forewings with yellow hindwings) extracting moisture from the ground with a group of Orange and Lemon Emigrant.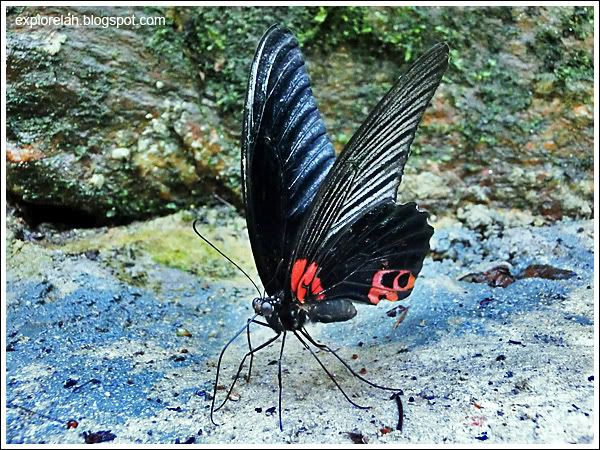 Butterfly ballet. The Common Mormon butterfly (pictured here) is a mimic of the less tasty Common Rose butterfly in colour and form to discourage predators from eating them.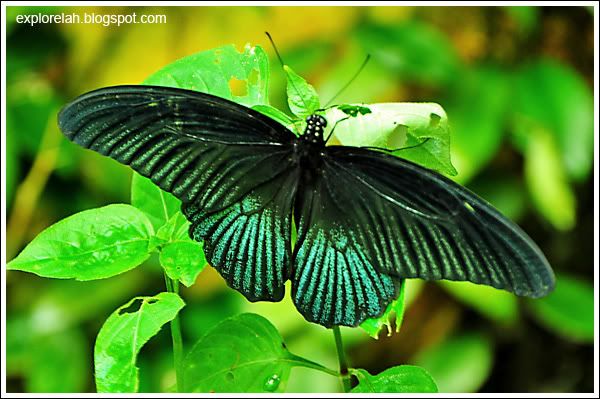 Upper side of a subspecies of the Great Mormon butterfly which wears an aquamarine coat with a black sheen over its wings that was lost when captured in photos.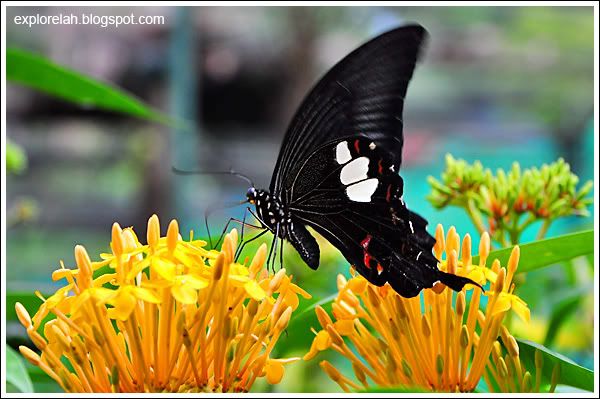 Underside of the Great Mormon.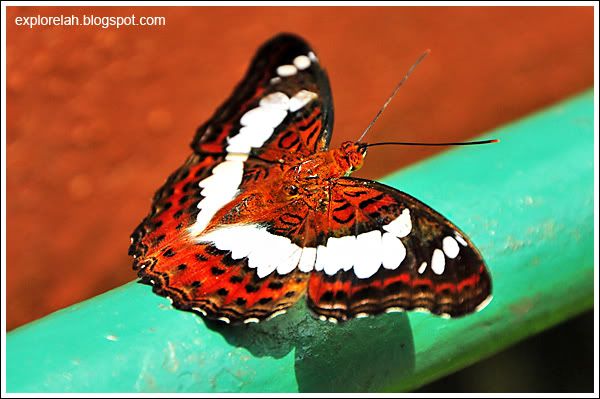 The smart and beautifully dressed Commander Butterfly.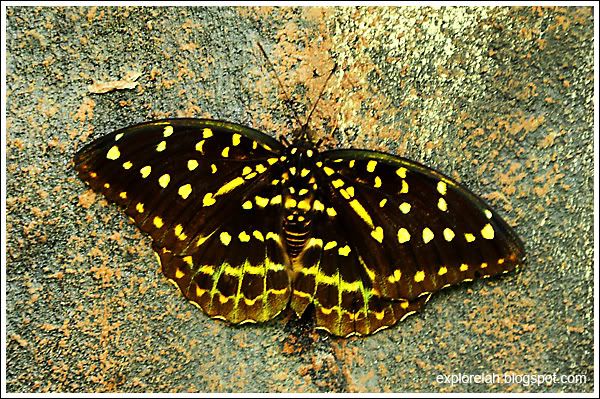 Lexias dirtea merguia butterfly, a close relative of the Archduke Butterfly.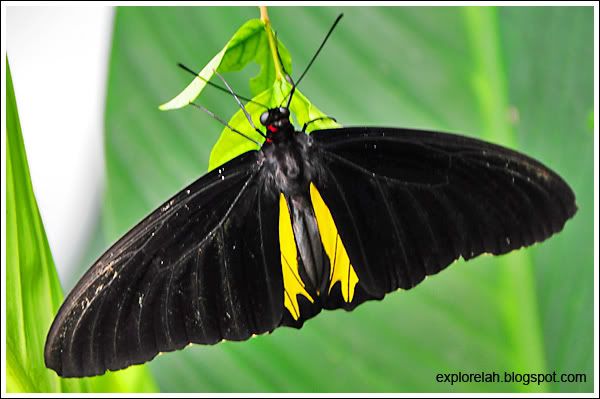 The Common Birdwing, one of the larger species of butterflies. It is the largest butterfly to be found in India. All Birdwings are listed under CITES (Convention on International Trade in Endangered Species) which restricts the trading of these butterflies.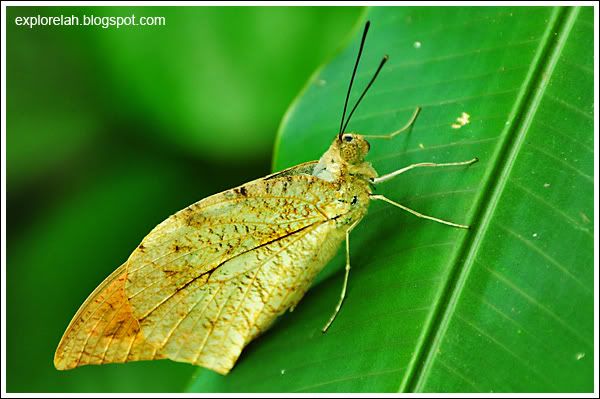 Not sure who this is but I think it belongs to a species of the Emigrant butterflies that mimic mottled leaves.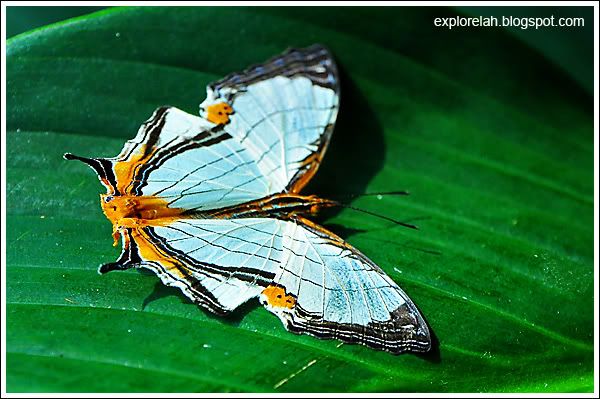 This was my most exotic find at KL Butterfly Farm. Never seen anything like it before. The butterfly resembles a very flat stealth fighter jet. So cool! I found it resting amongst foliage under dark and shady settings. I didn't see it flying around so I guess it must prefer solitude.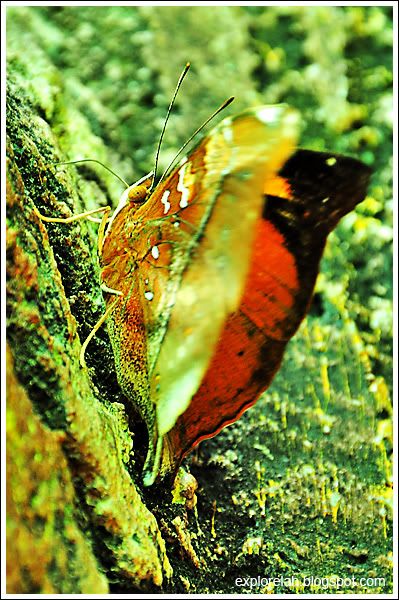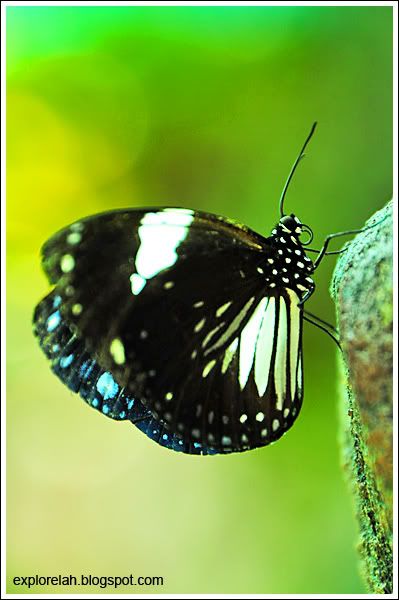 Side profile of the male Magpie Crow butterfly. Females are slightly brown in colour with more white.
Top view of the poisonous Magpie Crow which has a velvety black coat marked with white and blue spots.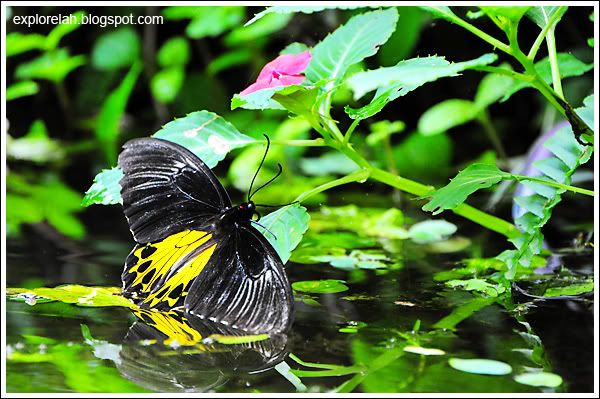 Hey Birdwing... Don't play with water or you may drown.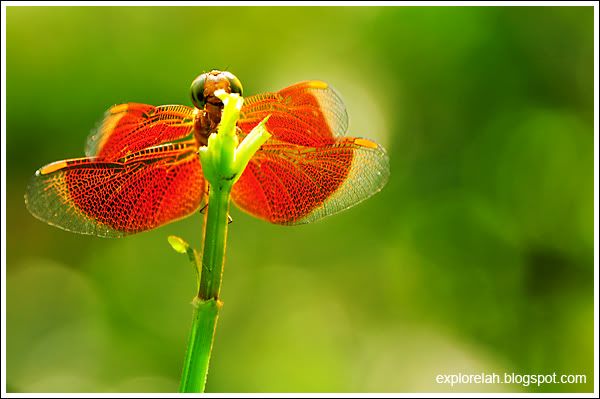 Saw this one species of dragonfly within the butterfly enclosure. They stay really still even when I got very close with my camera so they make great photographic subjects. But have to really look amongst the bushes and foliage as there aren't many flying around to give away their hideouts.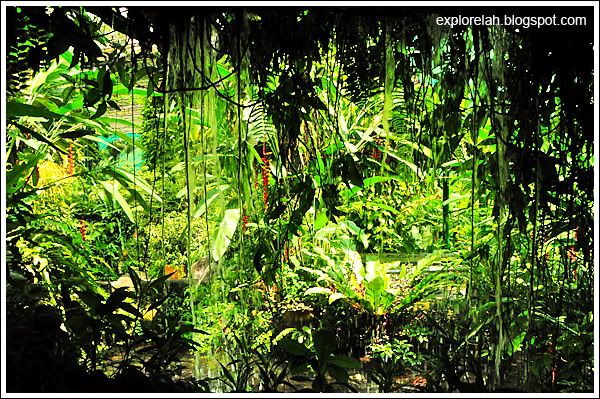 Overgrown landscaping at the park made it look kinda messy but after all, this is home for the butterflies, not urban dwellers like me.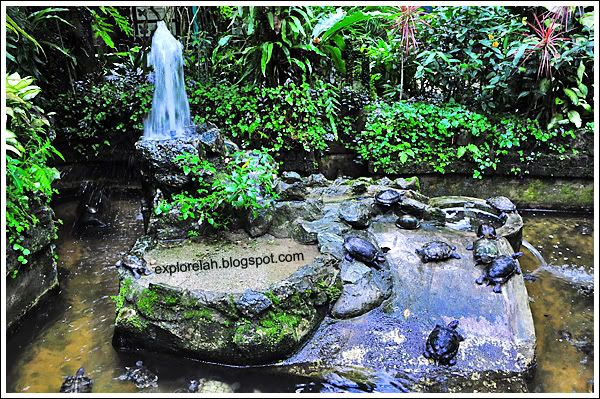 Apart from the butterflies, the park had koi ponds and this tortoise pool.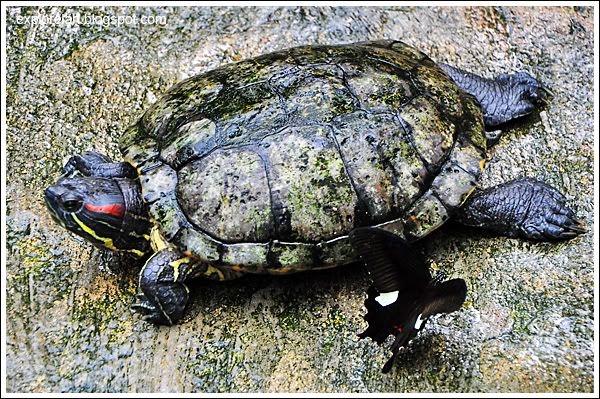 An inter-species love affair?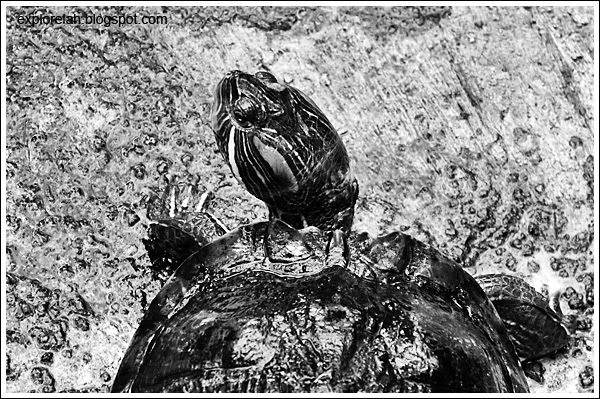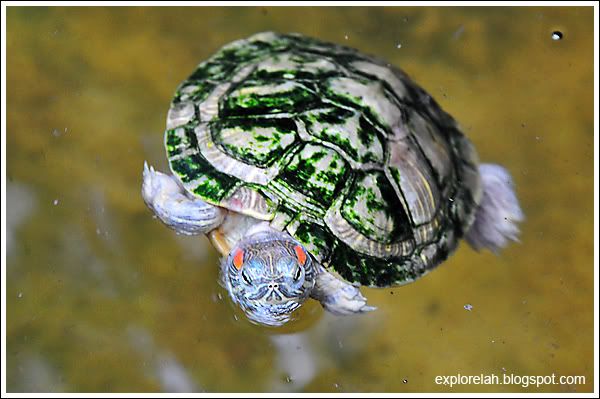 Are you looking at me?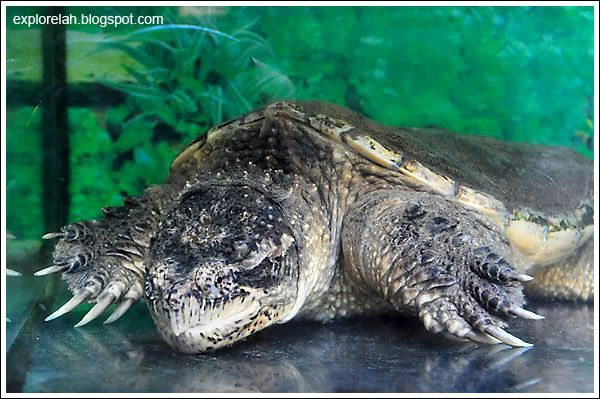 Don't mess with this beast of a Snapping Turtle.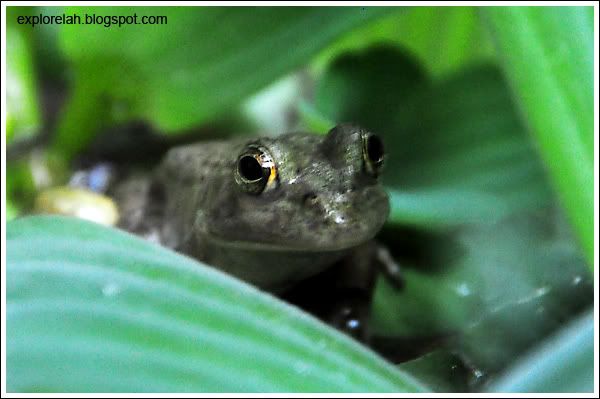 Baby Bullfrog among water hyacinth fronds.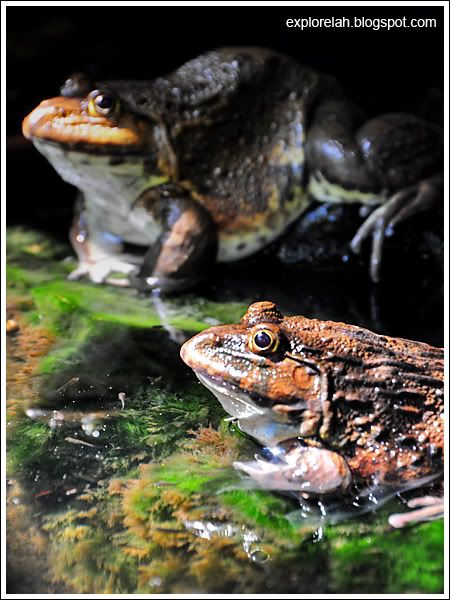 Adult Bullfrogs. They are a highly invasive species but good thing is that they taste so good!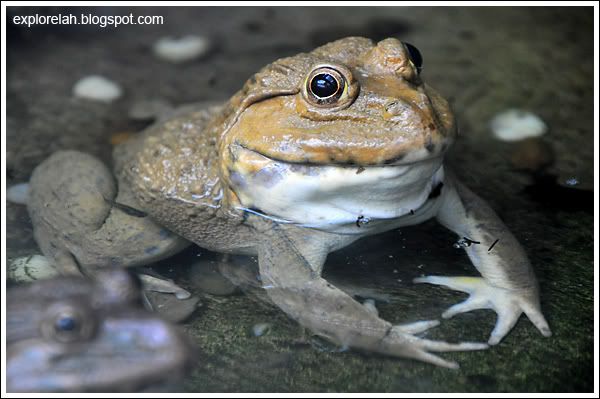 The real Kermit. Aww... it looks so adorable... and mouth-watering.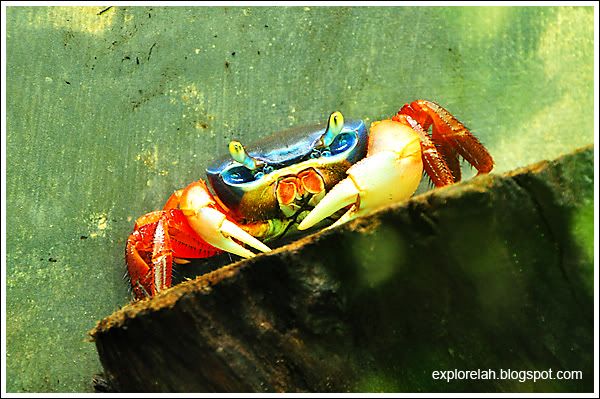 Doesn't it feel like a walk-in seafood restaurant with fish, turtles, frogs and now crabs?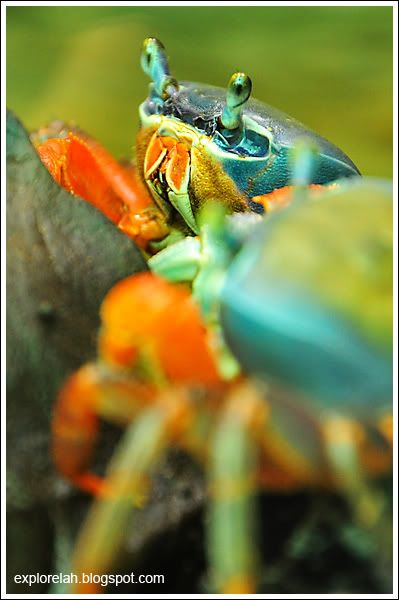 Love these colour critters. Can't decide between black pepper, butter, chilli or good 'ol steaming with ginger and garlic.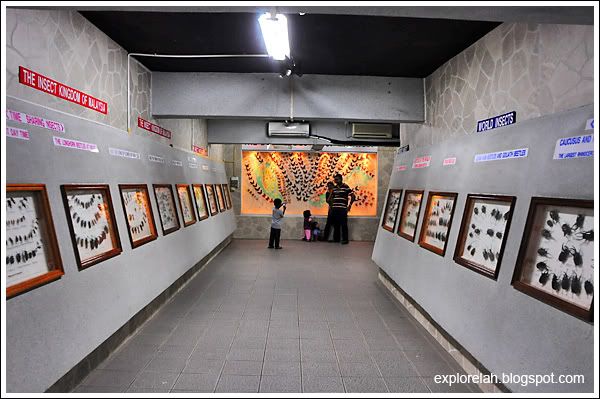 The park houses a quinessential insectarium which I felt was a little skim on educational blurbs.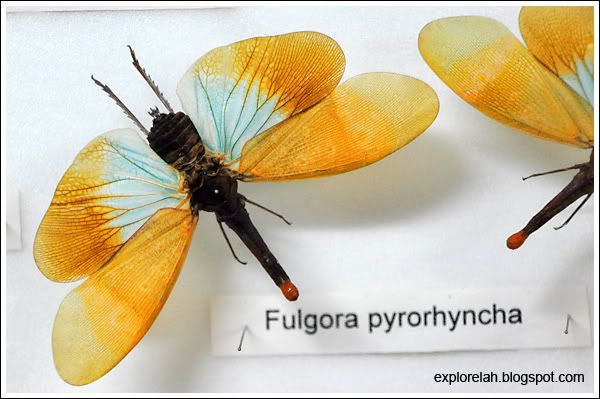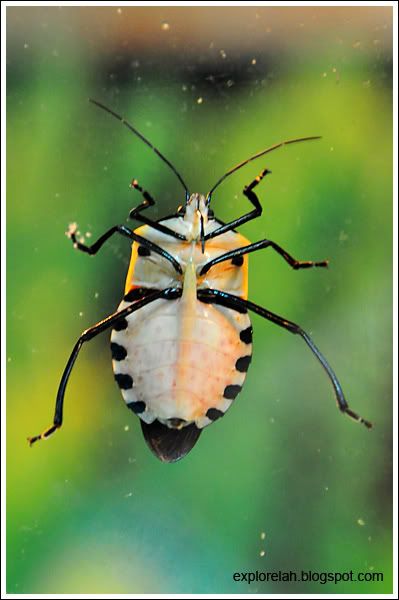 Underside of the freaky Man-Faced Beetle.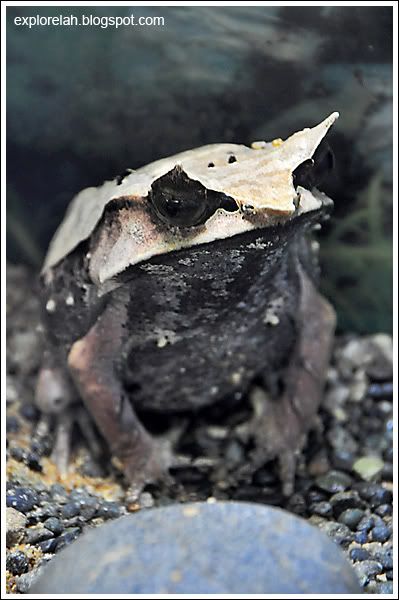 Horned Frog. This is one thing I won't want on my dinner plate. These buggers are highly aggressive and will attack by biting if threatened.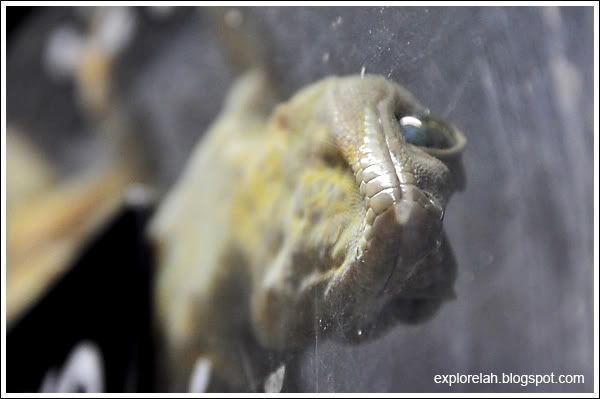 Green Eyed Gecko. I guess it is perpetually jealous.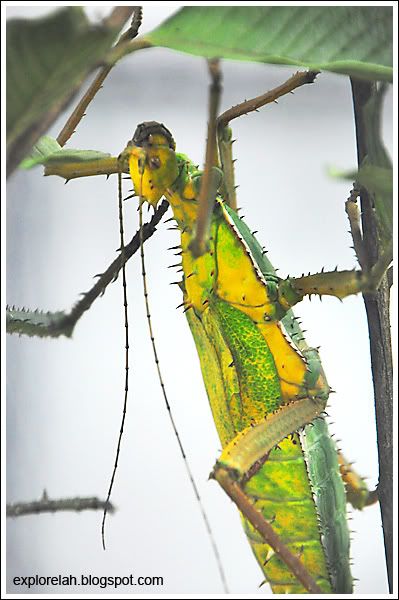 Nightmare on 6-legs.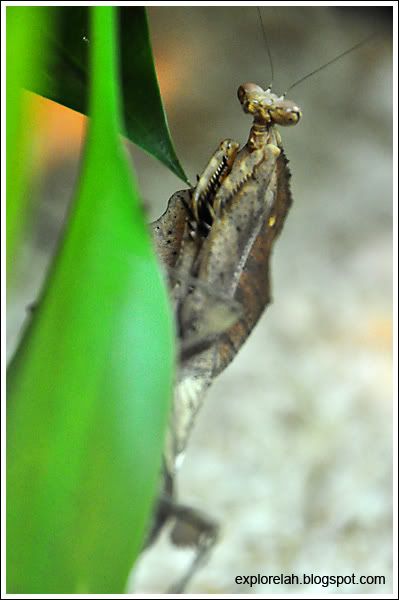 Dead Leaf Mantis praying that I will go closer with its toothed femur.
Spending about 2 hours at the Kuala Lumpur Butterfly Park, I was very impressed with the abundance of butterflies and range of species. However, the park looked in need of rejuvenation to tidy up the messy greens and visitors would benefit from having more introduction panels of the butterfly species installed so that we can better appreciate what we were looking at.
Another cool attraction that would make the visitation more memorable would be the inclusion of shows and touch gardens where visitors can hold and get upclose, other than butterflies, with exotic but docile insect and reptilian species such as giant millipedes, leaf mantises, iguanas, lizards, etc.
One other thing that bugged me about the KL Butterfly Park was also the dual pricing where foreigners pay double the entrance fees of Malaysians.
Despite the minor grouses, I think the butterfly garden was an attraction well worth dropping by. But be prepared to get your clothes drenched. I was dripping sweat early into my visit, which was good, because butterflies love salty moisture and would land on sweaty visitors like a saline buffet. Have fun exploring!
Address :
Jalan Cenderawasih, Taman Tasik Perdana, 50480 Kuala Lumpuur, Malaysia
Tel :
603-26934799, 603-26934907
Opening Hours :
9.00am - 6.00pm (Daily)
Admission :
Foreigners - RM20 (Adult); Malaysians - RM10 (Adult), RM3 (Child)
Related Post :
Day 155 : KL Butterfly Park