Recessed along Jalan Hutton,
Hutton Lodge
is huddled by rows of old shophouses seeming to guard this well-hidden gem of a budget accomodation. I stayed at the budgetel during a trip organised by
Project Penang
to experience George Town on a shoestring and I must say this place offers a good-value-for-money experience of living in a pre-war mansion.
I've never lived in a house like this. A very memorable part of my childhood was spent in my maternal grandparents' shophouse shared by my grandfather's family and his brother's family. Each family had multiple adult children so you can imagine how crammed it can be. I used to share a king size bed with my grandmother and two other uncles, sometimes three, while others slept on the floor.
We were a family of humble means and I'd always considered big mansions as impenetrable domains of the extremely wealthy. I never dared dream of stepping into one until this 3-nights stay. "That's so cool!" I thought to myself.
Although Hutton Lodge isn't one of those opulently flambouyant houses like the Cheong Fatt Tze Mansion or Peranakan Mansion (both also found in George Town), it has an understated old-world charm that doesn't try to overpower the senses. And that's good because after visiting all the insanely decorated homes and clan temples of the forefathers, I find respite in simplicity...
Address : 17, Jalan Hutton, 10050, Penang, Malaysia. Tel : 04-263-6003. Jalan Hutton is a side road off Jalan Penang, the main street that links to many attractions in George Town. As such, Hutton Lodge is very conveniently located in the thick of all the action.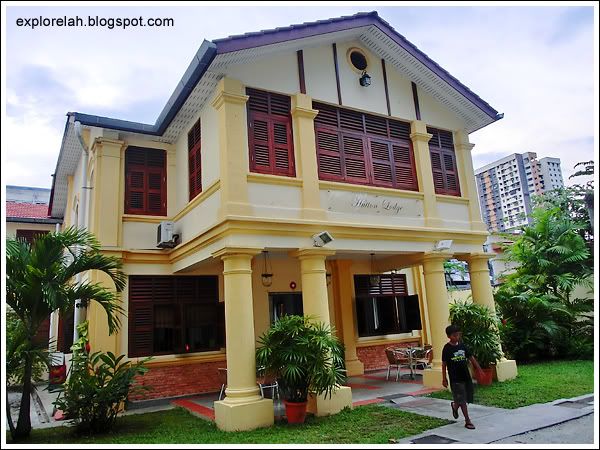 The budgetel occupies a two-storey Indo-Malay bungalow built in the 1890s.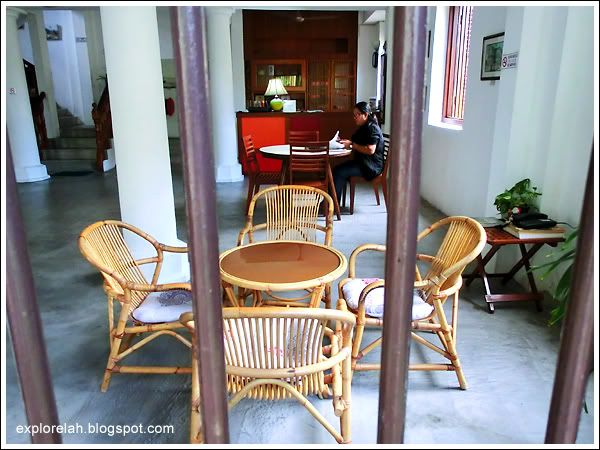 Peering through its window into the communal hall and reception counter. It feels like a family-run business where the staff aren't artificial in providing services. Friendly, but not particularly warm or intuitive.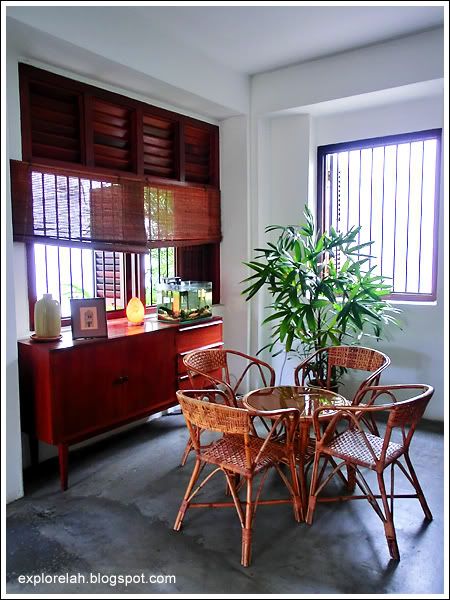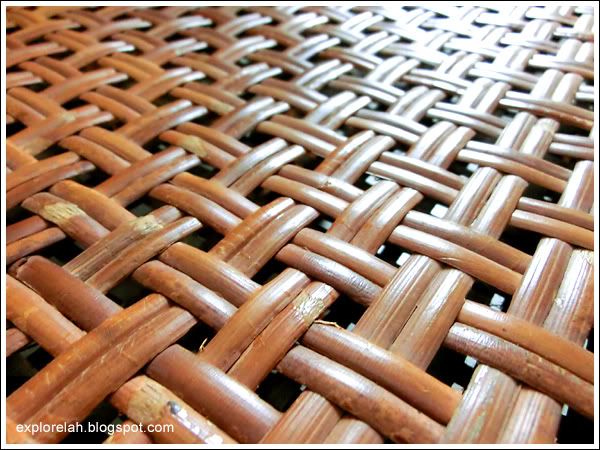 Hutton Lodge has a semi-rustic feel and texture brought on by its retro-wooded deco and furnishing choices.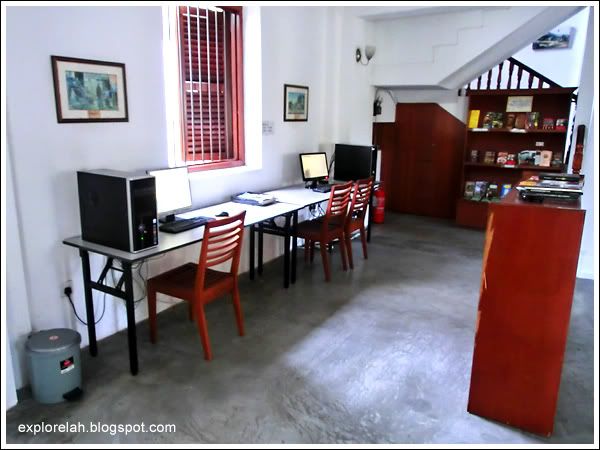 Free wifi is provided although the connection can be intermittent in the evening when many guests log on. Internet is available at a charge of RM3 per 30 minutes.
As I mentioned, Hutton Lodge wasn't quite flexible with its willingness to go the extra mile in providing service. I had problems posting photos on Facebook on my netbook, so I saved them into a thumbdrive and asked if I could just use their computer for a few minutes to upload the photos.
They were reluctant claiming that the computers were linked to a central station where they control the usage. Once they turn it on, the system will start registering the time used so if they didn't collect money for the usage, they can't answer to their boss and asked me to look for an internet cafe along Jalan Penang.
Like duh, what's the difference of paying to use here and at an i-cafe? I didn't intend to use it for long, just to upload photos and type some captions. Five minutes and I'm done, that's why I asked if they could dismiss the charges. RM3 was not unaffordable but to pay that amount every time I use it for a couple of minutes wasn't economical.
Even after sharing with them that I'm a travel blogger (although that's no big deal) and am spreading the news about their hotel, they remained unsympathetic. To think the time and effort that went into photographing their premises and writing this blog now, you would think they would be more willing to help. By the way, my stay at Hutton Lodge wasn't sponsored by the proprietor either so there's really no need for me to talk about them. But I thought the place has character that's why I'm sharing.
Back to the issue with the charges. I've seen the kids of staff using the computers to watch cartoons and play games. Does it mean a huge part of the staff's salary goes into paying for usage charges? Else, how are they going to answer to their boss? And I think the boss was this Indian guy who's usually there. When I asked to use without charges, he was one of them who refused to extend that as a goodwill gesture.
Moral of the story through this episode is that don't expect anything other than mediocre service when staying here. Budget hotel, budget services. Although I've stayed at hotels within the same price range in other destinations that provided 5-star hospitality.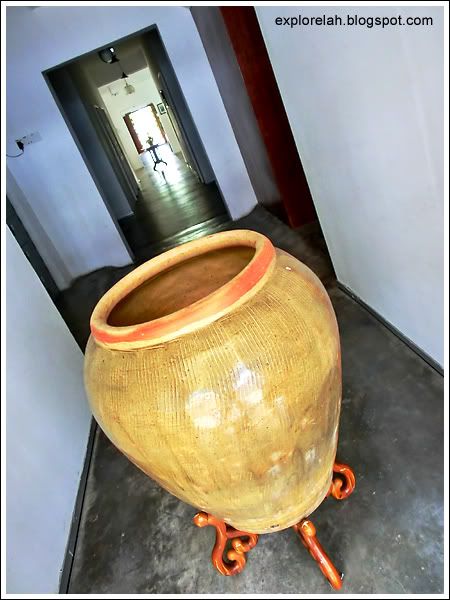 Hutton Lodge's front door links all the way to the backdoor forming a hallway that spans the entire length of the house.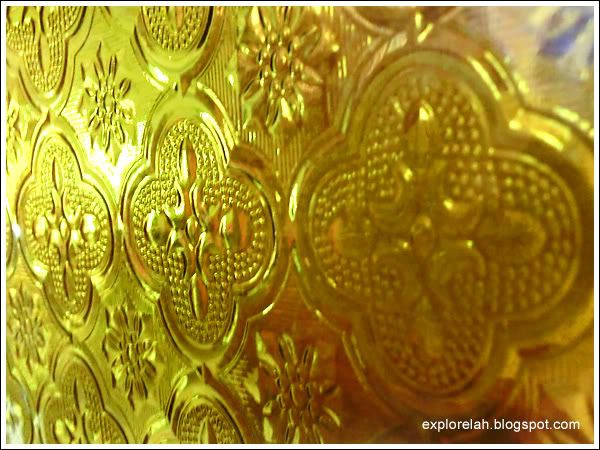 Glass motifs on a door separating a small indoor cafe from a patio.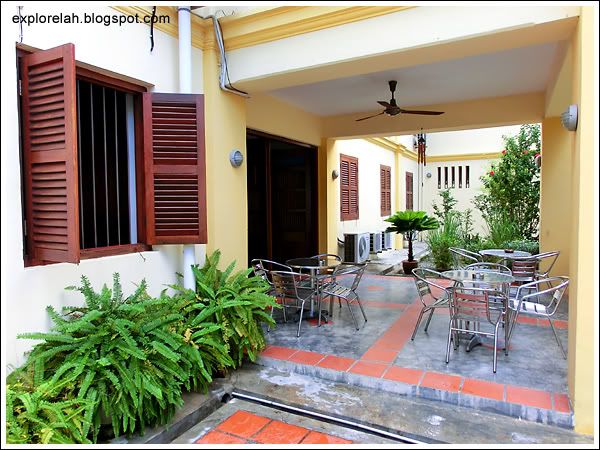 Outdoor patio where a simple breakfast of coffee, tea, juices and bread with jam is provided daily.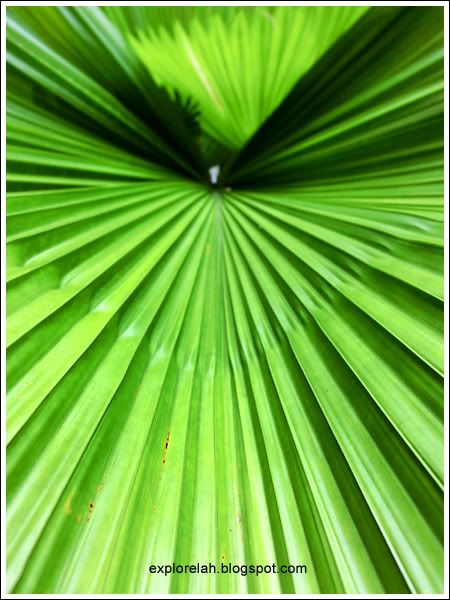 Palm foliage found at the patio.
Drinks can be bought at Hutton Lodge at more or less the same price as at 7-Eleven. No complementary water is provided in the rooms. A beer costs RM8 - 9, while a large bottle of water costs RM2.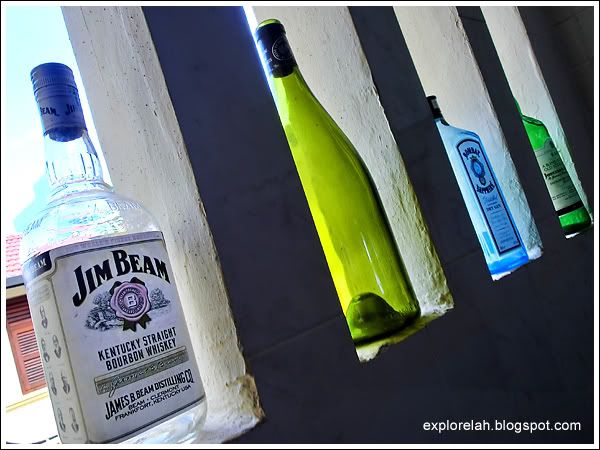 酒干倘卖无! Is this a pub of budget hotel? Heh heh. These empty bottles lends colour to the common toilets and bathrooms.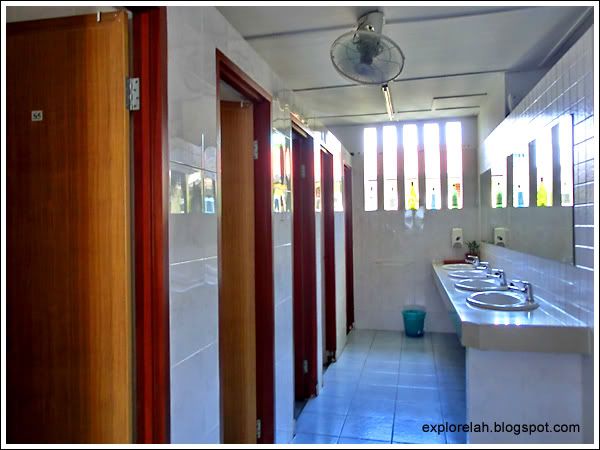 There are 3 co-ed shower stalls and 3 toilet cubicles on both levels. While I felt very conscious about letting my farts rip when the other stalls were occupied, it's fun listening in on the inter-stall conversations. I got to know a female guest suffers from insomnia like me and her friend was smitten with one of their male travelling companions. It's like live radio chatshow while I do my business.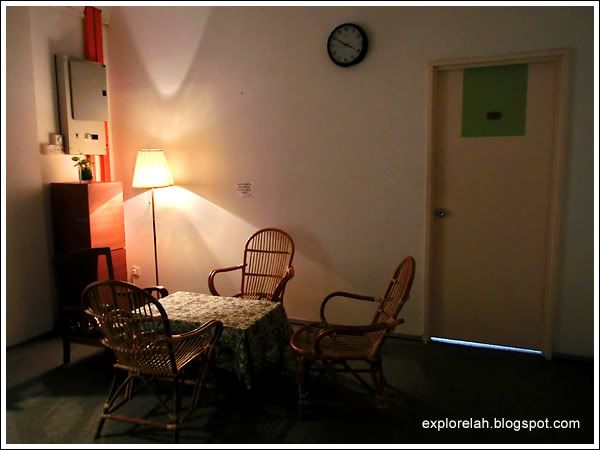 Stayed at the quad-share Room 208. The room costs RM130 per night while a twinshare with attached bathroom cost RM65. Very affordable!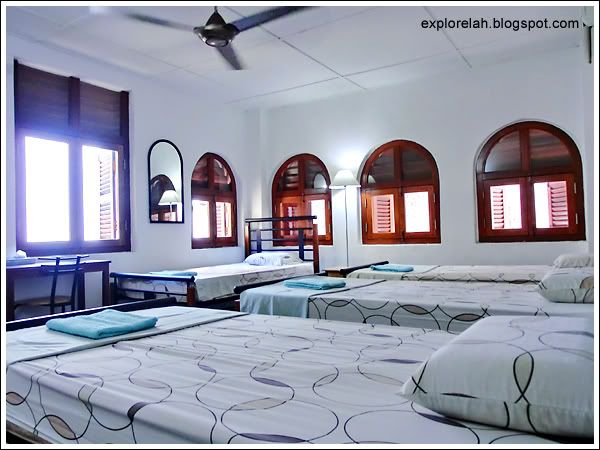 It was quite an experience, although not preferred, to be sharing a room with 3 other strangers. As I can snore pretty badly, I was worried I'll keep everyone awake so I waited for everyone to fall asleep on the first night before turning in. In the end, I couldn't sleep.

I saved the room for the last part because other than the windows, there's nothing special. The bed was comfortable enough although the pillow was too soft for me and the ricepaper thin blanket barely kept the cold out.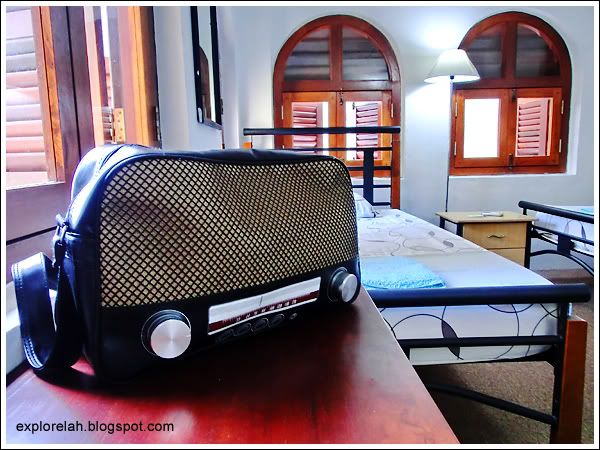 My retro radio slingbag looked so at home here! The room was decent, but it's not made up each day. After checking in, our room wasn't refreshed at all throughout the 3 nights stay. By the third night, our dustbin was overflowing with trash and the room smelled funky.
When I took up the budget travel invitation, I thought I would be getting my own room. Too bad the twin rooms with attached bathrooms were all fully booked.
Not that I have problems sharing a room with too many people but with strangers, I'm very conscious about being an inconvenience. Plus, putting 4 bloggers and heavy tech users in one room meant a fight for power sockets to charge laptops, camera batteries, and handphones. Derek had to sit outside the room while waiting for his phone to charge on one of the nights.
Overall, the experience had been an unusual one for me. My Malaysian roommates were so much neater compared to me. My stuff were strewned all over my bed and surrounding area while they had their clothes folded and stacked neatly on their lugguages.
As a parting opinion, Hutton Lodge is a pretty good stay for the price it commands as the location is superb in being close to the heart of George Town while offering some escape from the bustling city life.