Airports. The gateways to a vacation paradise. Or potentially a holiday from hell.
Whatever it may turn out to be, there's no denying the excitement that begins the moment we arrive at the destination's airport.
Immediately, we feel the first pulse of the country, the people, the culture, the smells. Yes. Smells. The aroma of local food pulling our noses towards them. Or away.
Of the many airports I've had the good fortune of getting my passport stamped at, Bangkok's Suvarnabhumi Airport has got to be one of the most ravishing.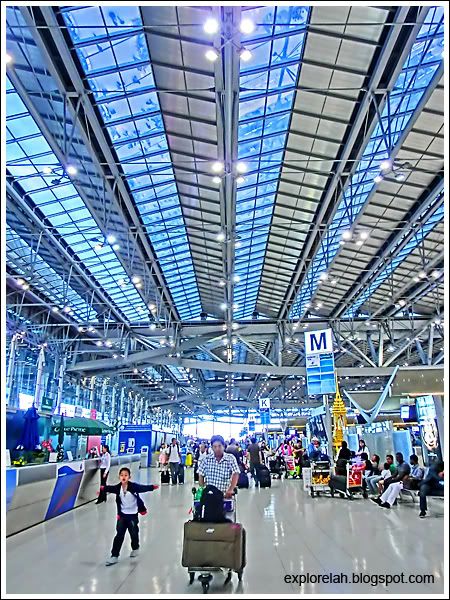 Suvarnabhumi means Golden Land in Sanskrit. Looks like the boy had a pretty good idea where he's at.

I've passed through it numerous times but never had the opportunity to take photos of it.
Upon arrival, we always can't wait to get out of it to check in to the hotel, and on departure, we arrive just in time to clear customs and get on the plane.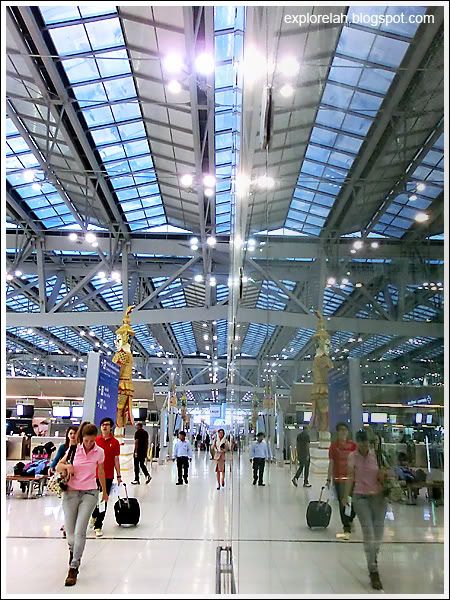 Airports connects us from one side to another side.
But during a recent trip, since I was travelling alone, I had the rare chance to take it slow and really appreciate the airport's architecture through the Casio Exilim ZR100 compact camera.
This was also one of those rare occasions where I left my DSLR at home even though I knew I was going to do more shooting than shopping during the trip. I felt a little insecure initially. However, the photos I was getting with it convinced me that my DSLR will grow mouldy from neglect soon.
So here are the images of Suvarnabhumi Airport to get you excited about visiting Bangkok!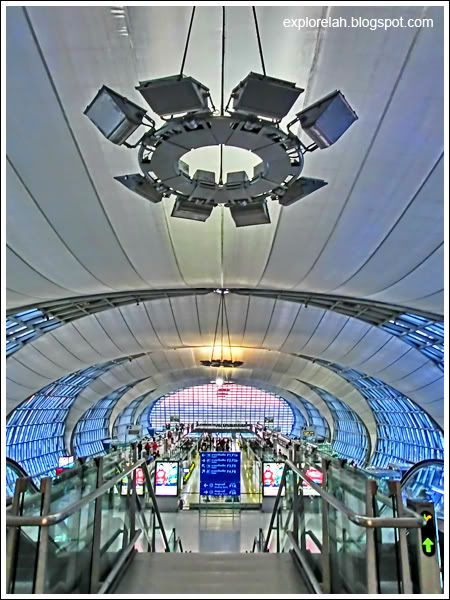 Construction of the international airport began in 2005 and it welcomed its first planes on 15 September 2006

.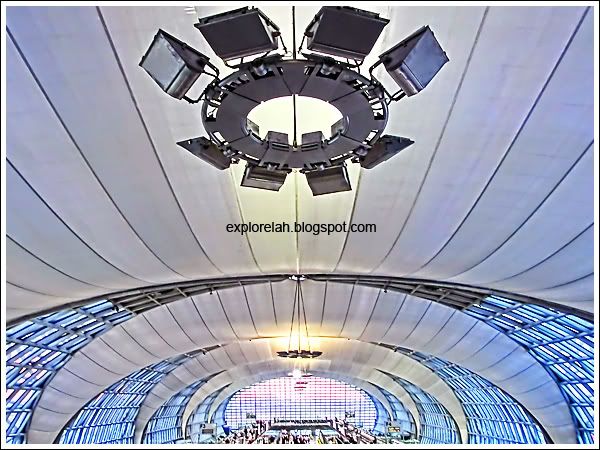 The development of Suvarnabhumi Airport was plagued by many problems and controversies including political upheavals, the 1997 Asian financial crisis, budget overruns, slack job construction and accusations of corruption.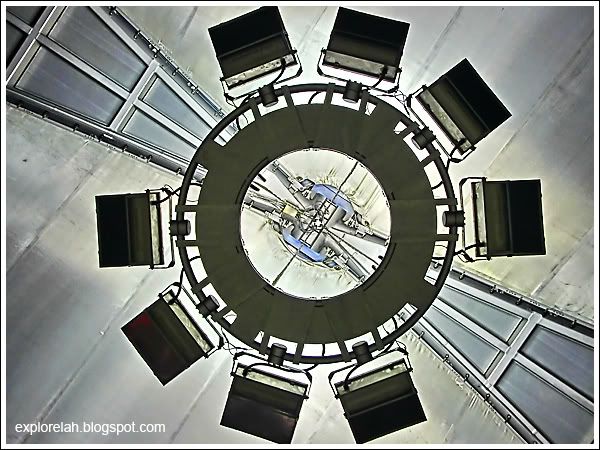 There were even reports by construction workers that the airport site was haunted and ghost sightings spooked the builders so much that they will only continue to work after a cleansing ritual was done. So on 23 September 2005, a Buddhist ceremony was held with 99 monks to appease the spirits.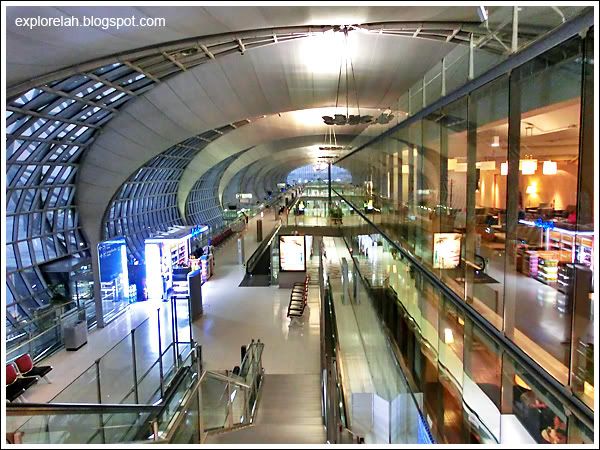 Gate G wing of the departure hall with a rest lounge at the side where visitors can shower, rest and chill out for a fee.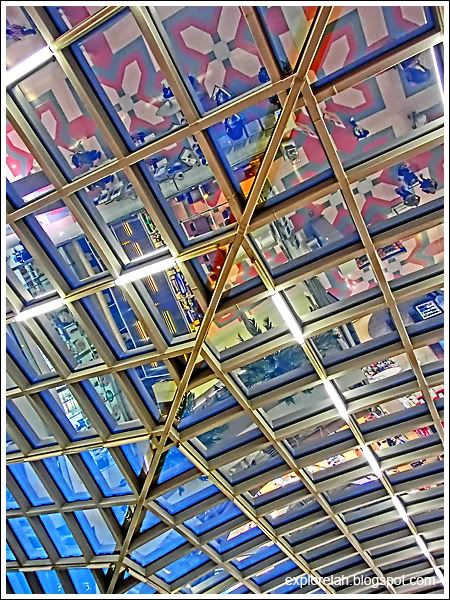 Floor tile design reflected on the glass ceiling of the departure hall. Looks so Louis Vuitton!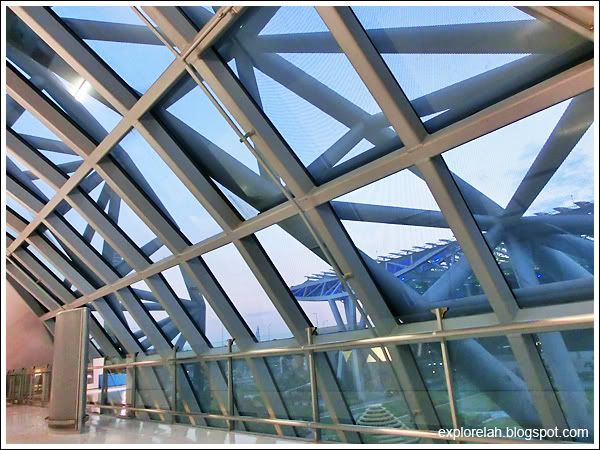 A web of beams keep the airport wrapped up like a cocoon where all who have experienced Bangkok leave metamorphorsized.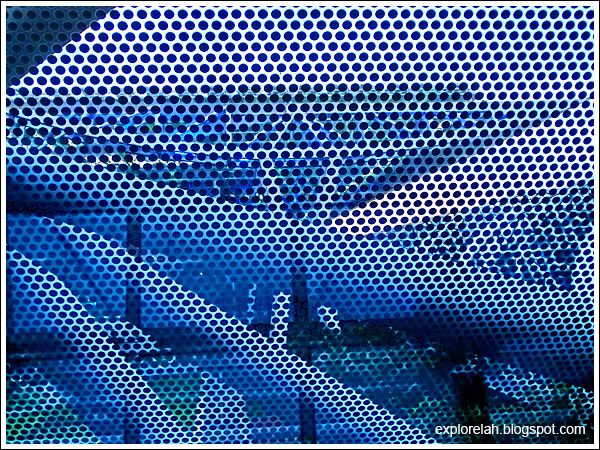 This is not a Photoshop effect. The windows are coated with a polka dotted film to reduce heat and glare from direct sunlight. But they make for an unusal photo. This view looks out to a garden filled with sculptures of white birds frozen in flight.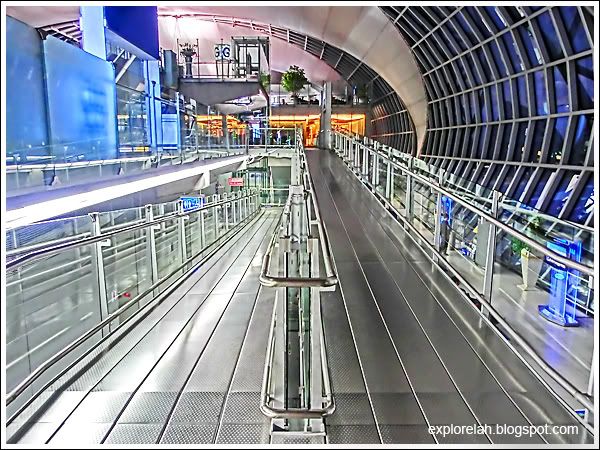 The bright and the dark side? Which path would you take? I would take the dark one because it leads to the airport while the bright one leads home. Can sense my reluctance to go home? Heh.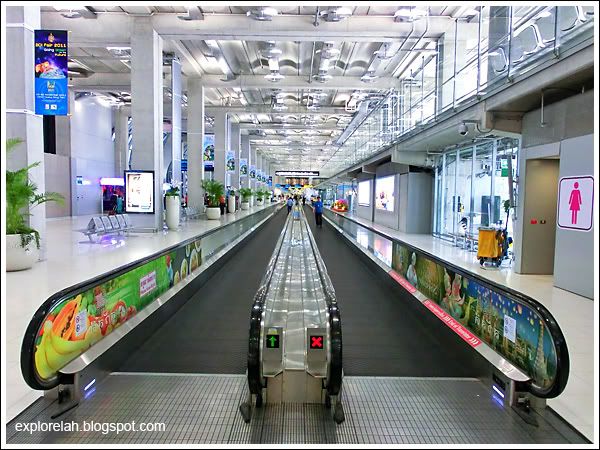 The airport seemed less busy during my visit as many holidaymakers postponed visiting Bangkok due to the floods. But central Bangkokwasn't affected at all.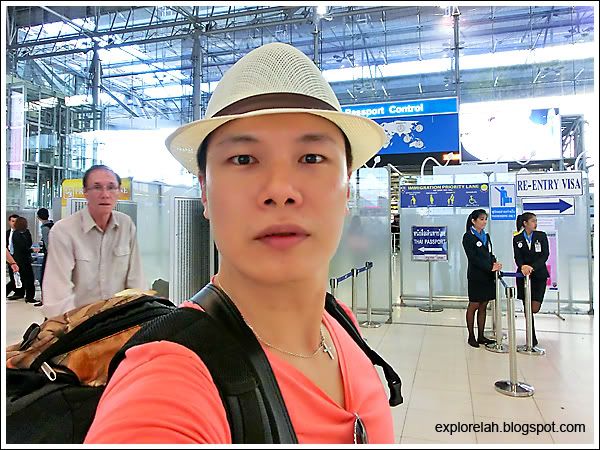 Will the real cam whore please wear a beige long-sleeve shirt?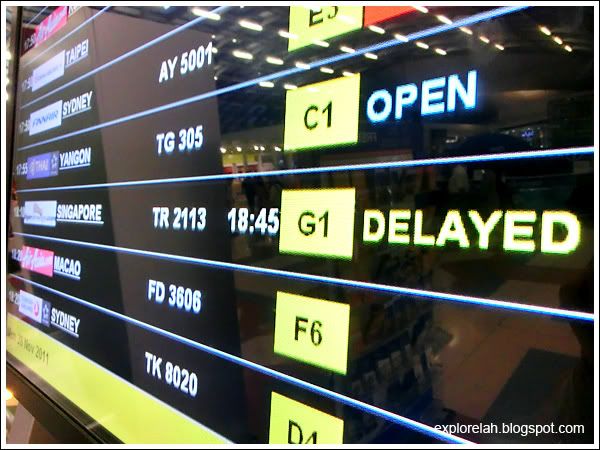 My return flight to Singapore was delayed by 35 minutes. The reason? Bad weather in Singapore caused the turn-around flight to arrive late in Bangkok.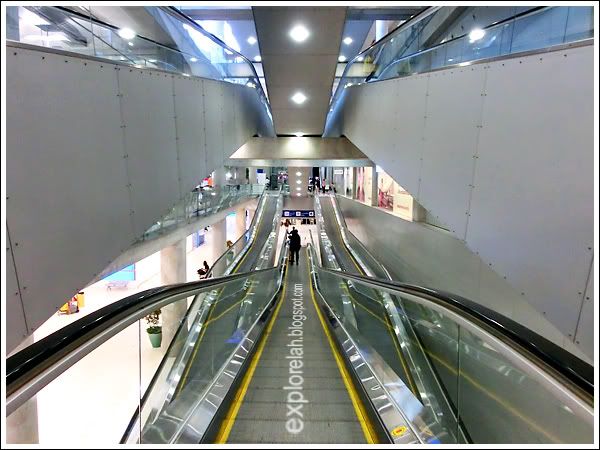 Gently sloping and graciously long travellators slides between the different levels of Suvarnabhumi Airport. I took this escalator to the B2, exited the airport and turned left to head towards a garden by the side. There is a local food court on that level called Magic Food Point. Prices there are much lower than eating at the airport restaurants.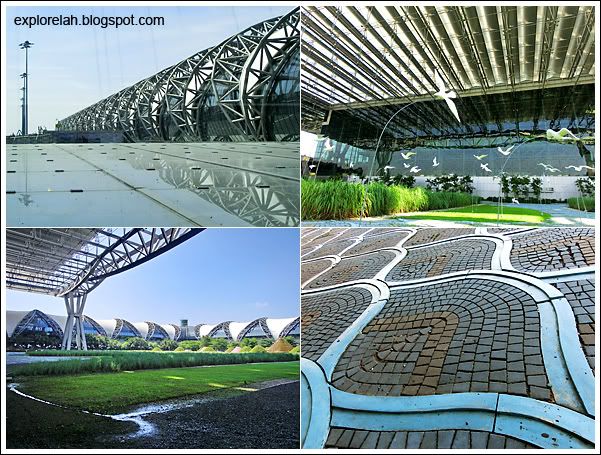 A small half-shaded garden sits quietly within the airport's compound, lacking visitors.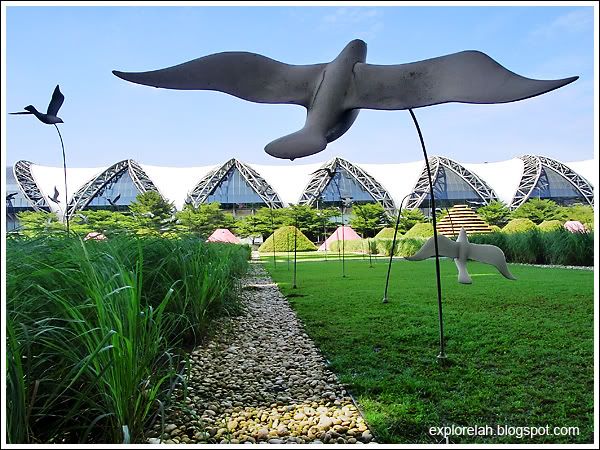 An installation of white birds frozen in various states of flight creates an element of interest to the courtyrad. Else, it's actually pretty boring with not much to see.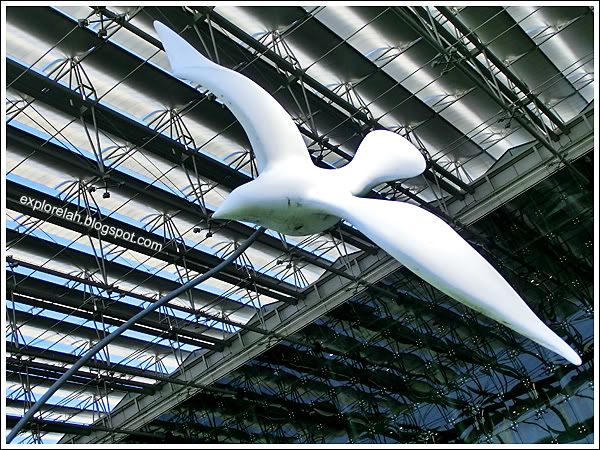 Flying free and easy in Bangkok without a fixed itinerary feels terrific! Whenever I travel, I pack my trips to the brim with things to see and do. It's good to not be so kiasu once in a while.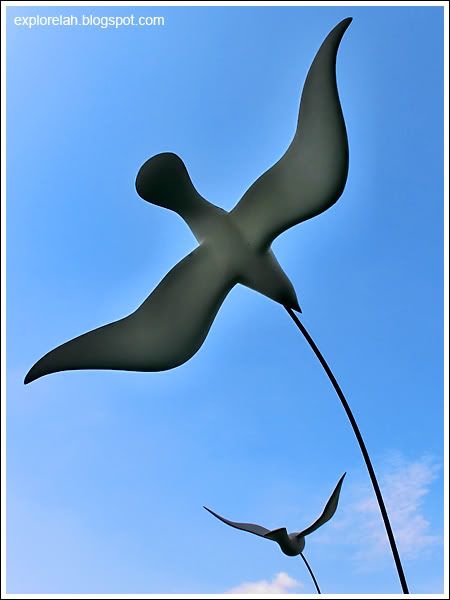 I was so blessed to have sunny skies and great weather during my 5D4N stay. And as always, Bangkok never fails to rejuvenate me. Love it here!
As I sign off this entry, I would like to share with you this absolute darling of a song called "Welcome to Thailand" by the queen of Thai loog thung music, Pamela Bowden. The tune is very catchy while the unpretentious lyrics and misprounciation of 'shopping' as 'chopping' always crack me up!