Date of Exploration : 21 May 2011
Life has a very funny way of creating coincidences. Last year on 21 May, I was trekking through the dense, untouched forestry of Bako National Park in Kuching, Sarawak (see post
here
). This year, on the same date, I'm trekking through Cat Cat Village, which is located at the bottom of Muong Hoa Valley in Sapa, Hanoi.
Kuching in Malay means "cat". So last year I was taking a long trek in cat city, this year I'm exploring Cat Cat Valley and village. Is this an uncanny coincidence or what?! Does it mean I'll have 9 lives?
21 May is kind of special for me. It's my birthday. Both trips weren't planned as celebration holidays. More of the case where a friend had an idea to go some place (in both cases suggested by my regular photo kaki Siow Har) and we planned. My birthday wasn't a consideration. I've stopped making a big deal out of my birthday for many years now. It's just another day. Maybe subconsciously, I wanted to do the long treks so that age cannot catch up with me! I'm 3 years to being 21 by the way. That's what I say every year after I passed 30. Ha!
Enough of self-absorption. Let's pussy-foot down the other big attraction of Sa Pa Valley.
Like our previous day visit to Lao Cai, Cat Cat Village was smothered by fog as well. The weather wasn't consistent. One second it could be dull and grey due to the mist, the next it could rain, and yet a minute later, the sun shines through.
You can see the varying effects of the lighting conditions in the photos here, where most of the shots look muted in colours while some have strong shadows and contrast when kissed by sunlight. The colours look rich in the pics because I've enhanced them using Photoshop.
For a great panoramic view of Cat Cat Valley, head up to the viewing pavilion shown in the top left photo. It's a very prominent building so it's hard to miss.
Navigating your way to Cat Cat Village from Sa Pa :
It is pretty easy to get to Cat Cat Village as a road from the Sa Pa Market leads directly to it. An entrance fee of 20,000 dong (S$1.20) is payable at the entrance to Cat Cat (Muong Hoa) Valley. It is possible to go there yourself without a guide as it's basically just one main road that runs from the market, down a winding hillside path, and leading to the entrance to the village.
From the village entrance, just follow the relatively well-paved main path that leads further downhill until you come to the steps that descend to Cat Cat waterfall. To get back out to the entrance of Cat Cat Village, either back track (not recommended) or take the path to the right of the bridge (on the left is the waterfall) and follow it. The trek is a looped path so as long as you walk where the road is well-trodden, you won't get lost.

A gorgeous aerial view of Cat Cat Village as we were coming down from the higher plain where Sa Pa Valley is. Sa Pa Valley is the nerve centre of the surrounding valleys and villages with hotels, restaurants, a wet market, town square and other urban amenities.

Enroute to Cat Cat Village, we passed by a local cafe called Gem Vallery Art Gallery, a short distance from the entrance steps down to the village. There's a couple of living quarters opposite it that's available for homestay.
The gallery has 2 levels of exhibition space filled with colourful abstract paintings of village life and culture. A balcony patio allows you to sip a cuppa while enjoying the magnificent geographics of the valley, both man-tamed and natural. A cup of tea costs US$1.00.
Another toilet advice, use it here before going on your way as you won't find another decent lavatory during the long descent to the valley. We spent a lot of time here because the hut offered a level of comfort in observing nature that was rare in our journey so far.
We were also delightfully enthralled by the very pretty daughter of the owner. She has such expressive, big doeful eyes that spoke to many of our apertures.
Amongst the paintings (I think they are ink on canvas because oil pigments would be too expensive and watercolour would smudge if left too long in such a wet atmosphere), what struck me was the portrait of what looked like a hippie E.T. attaining nirvana! He looks stoned.
When we finally managed to pluck ourselves from Gem Vallery Art Gallery, we arrived at the bustling mouth of the stairway to Cat Cat Village (where the coloured flags are in the photo above). The ticket we bought at the main entrance to the valley was asked for here.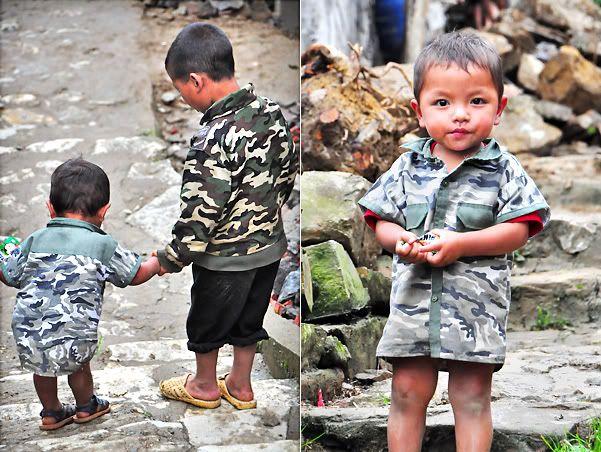 As I was coming down the steps, I met these 2 boys whom I assume to be brothers. I tailed them for quite a while and it's interesting to observe how the elder really cared for the younger. The smaller boy was eating some tidbits and grudgingly shared with his bro when asked. But when he dropped one of the small biscuits on the ground, he picked it up and offered to his big bro without being asked. Crafty little bugger!
Another unforgettable kid I met was this girl. When I first saw her, she was digging and picking dirt off her toes and toenails. I think her habit is so disgusting, even her dog didn't want to look. Then without warning, she pulled to toes into her mouth and started chewing! Dirt, smelly grime and all! Even when offered tidbits, she ignored and continued savouring her filthy digits, mixed with the yellow-green mucus from her nose. I almost showed her my dinner from the previous night.
Kids roam free in the village neighbourhood. A parent or adult kin was seldom close by possibly because everybody knows everyone and it's one big family where they all looked out for each other.
No money, no posing for photos! This ah ma repeatedly asked for money when we took her photos and when we continued to tak bodoh (act blur) and shoot, she covered her face. But I think this photo is even more interesting because it showed her fingernails. Most villagers have nails like those.
While many of the adults will ask for money when you take their photos, a small portion won't. It was a moral hassle for me to have to deal with ignoring their requests while taking their photos so I didn't shoot many adults. But the children, they've yet to learn to ask for payment.
We were advised by the trip coordinator not to give money so as not to help them become beggars. The villagers' demand for a fee evolved because of photographers who took their pictures, sold the prints, made a lot of
moolah
but they got nothing. So why should they pose for you?
I don't give money, but I brought along some Kit Kats and gummies to give them as a treat to show my appreciation and share a different taste.
Compared to Lao Cai Village, I think Cat Cat is better developed with more stone houses and paved walkways. But unlike Lao Cai, the farming note in Cat Cat is more of an echo rather than a full-volumed aria. But it still has its many charms nonetheless.
Ah, finally saw carpets of sapplings coating the terraces green. Had been seeing nothing but grey fields the previous day in Lao Cai Village. I thought it was interesting that soil in Cat Cat is tinted red by iron oxide while Lao Cai's soil is mud the colour of exhaust. The two rice plantations don't seem so far from each other but their ground colour looked so different.
Rice is the main agricultural crop in Vietnam as it is the world's second largest exporter with up to 80% of the country's population involved in its labour-intensive cultivation. Rice is known as 'white gold' in Vietnam with around 42 varieties farmed in the country. That's a lot of strains! I wonder how many varieties I've eaten as I'm a 100% rice-loving bucket!
Passing the neon green paddies, we descended a steep flight of steps to Tien Sa Waterfall. There are no railings and the stone surfaces are coated with the fall's mist so be very careful to not let your butt bounce the ground.
In my opinion, the Cat Cat Valley trek is not suitable for people with leg ailments as there are a lot of stairs to climb and the slippery conditions. For the adventurous, this trek offers quite a variety of changing sceneries.
To get a shot like this of the waterfall with a silky aquaeous curtain, you'll need a tripod for long exposure. I didn't bring mine and borrowed a friend's. But be prepared to wipe your lens often due to the fall mist. During this shoot, I learnt about polarising filters that help to make the colours richer by cutting out reflected glare from the wet surfaces.
Tien Sa Waterfall is rather smallish and uninteresting for me because I can't go in for a dip! The falls area is cordoned off because the pool is too rocky for water play. But upstream, the calmer riverine looks enticing to splash around in. However, I don't see any locals doing it. So better do
not
as the locals do
not
. I think the water would be too cold anyway.
With the waterfall behind us, we took a long and winding road back up the valley. Along the way, I had some time alone with my thoughts. I thought about the significance of such a tough journey on my birthday (I've really walked through some very deep valleys), about getting older (how much further can I go?) and where I'm heading to (what's next Darren?). And you know what? That little self-reflection exercise turned up nothing. It's either I'm right where I need to be, or I still don't have a clue about my life. Do we ever really know?
We spent a long time at Tien Sa Waterfall giving everyone ample time to experiment with settings and filters to best capture the falls. My photography volcabulary was widened but I can't help feeling if I'm still weak in my technical knowledge and practical know-how, I'm not optimising the potential of this photography trip.
Most of the time I was wondering why my photos were always dark until someone pointed out that my screen setting was negative brightness. I don't recall altering my settings! Then while on location, I was so intimidated by the 2 or 3 camera bodies and tons of lens the others brought that I lost my fire to shoot. Most knew what they were doing. I only wish I knew too. I can't make heads or tails of my photos.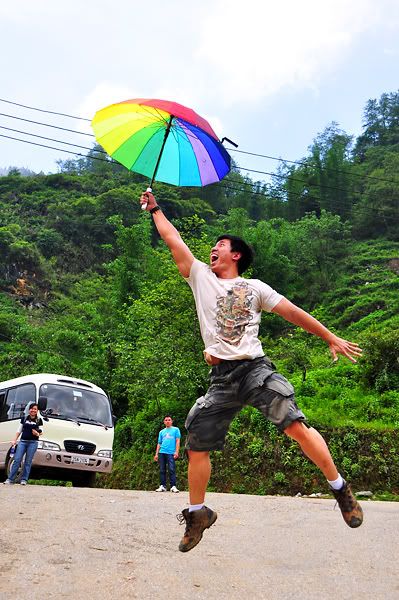 Get your Kenmera ready! Our entourage's resident hunk-cum-model showed us his version of Mary Poppins. He's such a fun doll to have at any photoshoot. No wonder his name is Ken!
We didn't complete the intended itinerary for our trek as we spent too much time at the gallery and waterfall. That's the good thing about a purely photography trip. Everyone is of the same mind and ample time is given to explore our shots. But that's a compromise with possibly seeing other sights.
If this post read like a banal spiral into melancholy fraught with inconsequential introspection, please pardon me. I guess getting much older scares us at some point. Or maybe I'm just mental. Just like this song that kept ringing in my head throughout my exploration of the countryside over the 2 days. It's called 不会说话的爱情 by 周云蓬.
There's a certain stoic resonance about it, an everyday mundane feel of simplicity yet the imageries conjured by the lyrics rang deep. For me. So I've put together some photos and videos I took during the trip of Sa Pa, Lao Cai Village and Cat Cat Valley to create a clip. I won't call it a "MTV" so as not to insult the song, but I tried as much as possible to match the visuals to my interpretation of what's being sung-spoken. Hope you'll enjoy it.
Explore the melancholic side! :o)