Date of Exploration : 22 May 2011
One of my favourite things to do while travelling is to visit the local markets. Not that I have anything to buy but to
kaypoh
(busybody) about what's being sold and to browse through folk handicrafts in the hope of finding cheap souvenirs that look expensive. But usually without success. I'm not good at price haggling and I'm born without a shopping gene so I always ended up just taking photos of the markets.
Hence, the visit to Bac Ha Market during my photography trip with SGTrekker was great because the focus was on filling my memory card and not draining my credit card. Bac Ha Market is a Sunday fiesta where 11 ethnic minority groups in Vietnam gather to trade and spend a day of R&R. With so many tribes coming together, you can expect it's going to get really colourful and busy at Bac Ha. Well, not exactly. But that's my opinion.
The Sunday market wasn't as vibrant as I thought it would be but it has a very local vigour. That is nice because you don't feel like tourism has 'corrupted' the place yet with cosmetic surgery to make it foreigner-friendly.
It was also much quieter than I imagined but that's good news for that means more room to move around while taking photos. I've been to packed markets before and I constantly worry if I'll leave them with a chunk of me missing because I can't always see where the chopper is going while lost in my viewfinder.
Since my purpose of visit to Bac Ha was photography, I shall put up more photos on this post and let them do the talking. Hope it'll give you an idea of what to expect here and for photographers, an impression of the subjects you can find.
Getting to Bac Ha Market :
From the township of Lao Cai, you can look for tour agencies that organise excursions to the market. But remember it's only opened on Sundays from 9:00 am onwards. As mine was a packaged tour, we basically took an overnight train from Hanoi (9 hours) to Lao Cai and then taking a van to Bac Ha. The van ride was approximately 2 hours.
I saw quite a lot of yellow and red vans there used by the locals. Not sure about their fares and stops but from the looks of them, unless you possess a Viet tongue, the prudent way not to get lost is to go with a reliable tour operator.
Bac Ha Market itself isn't very big. It consists of a main stretched of road lined with clothing and souvenir stalls that leads to a market compound. One part of the compound is occupied by food stalls while another part trades sundries, meats and crops. That is the main market but quite a lot of these makeshift tentage stalls also spill over to the sidewalks and surrounding streets, creating a maze of merchandise.
You can expect to find your usual fridge magnets and other touristy knick knacks here but what I found unique were porcelain smoke pipes shaped as a horse or small Chinese urn. You can also adorn their ethnic identity with hand-sewn tribal costumes and metal jewellery worn by the womenfolk.
What I found interesting was that almost all the women were decked out in traditional costumes but the guys wore cotton pants with T-shirt or shirt. I saw many couples, the wives would be wrapped up in the layers of tradition while the husbands had it light and easy.
Remember to watch your belongings while you walk about at Bac Ha Market. I squatted down to take photos of a girl playing with Viet figurines (photo above) and got pretty engrossed. My camera bag containing my wallet and passport was slung behind me. When I'm done shooting, I stood up and turned around.
At the same time, a guy behind me also stood up. Then he picked up a briefcase-looking bag and walked off. Gosh, was he trying to pickpocket me but I got up in time?! I quickly checked my belongings and thankfully, I don't have to look for the Singapore Embassy in Vietnam.
While I'm very adventurous when it comes to food, I wouldn't eat at the market. The food preparation seems to be of dubious hygiene standards. My stomach is not built like theirs so I better not invite E. coli or Salmonella.
Amongst the usual Vietnamese pho, I think I saw blood porridge being sold too though I'm not sure if it's of porcine or avian origin. I haven't had pig's blood congee since the life juice from hogs was banned in Singapore in the late 1990s due to some outbreak.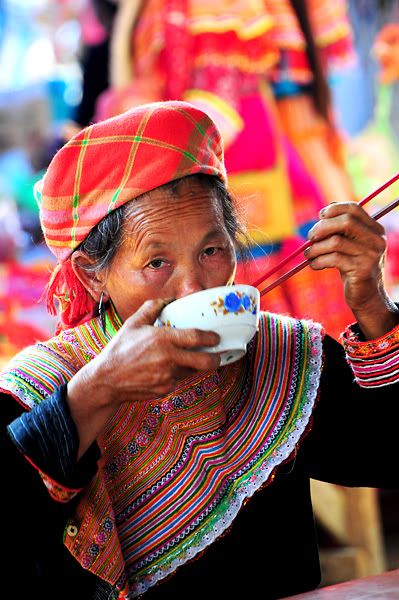 The lighting conditions were very challenging at the market area for photography because of the wide contrast in shade and sunlight. I was taught to use spot metering instead of matrix metering when taking photos under these kind of circumstances.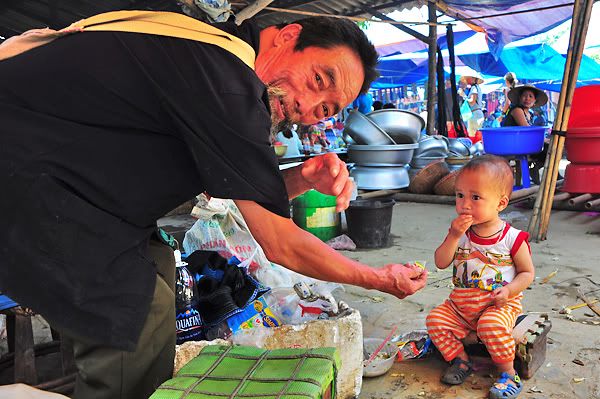 As Bac Ha Market is very close to the border of China, some of the people here have very Chinese features like this ah gong. After taking some photos of the boy, I gave him a gummy and the elderly man came over to thank me. He then asked the boy to look in my cam and pose some more. Very nice of him. And he didn't ask me for money. Quite a lot of the people here will ask for money or for you to buy something if you took their photo.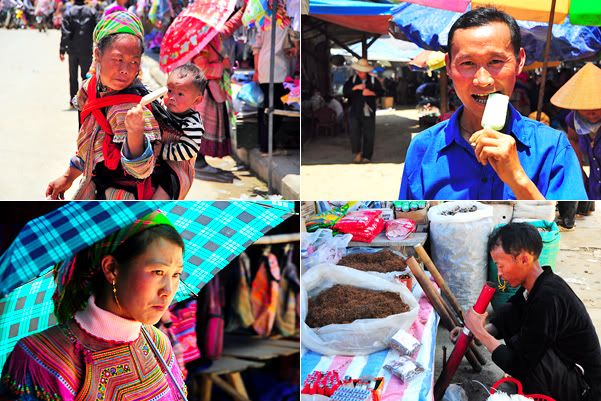 General environment and people shots. While I was the one hunting for people to shoot all the time, the man in blue eating an ice-cream approached me to have his photo taken. Yay... such luck! So I took a few shots and he asked to see them. He reeked of corn wine and the ice-cream was dripping onto his fingers while he held my camera. Arrggghhh... such luck!
After the hawker area, I came to the section selling meats and farm produce. Come to think of it, I won't call what they sell as meat. More like carcass. Parts of the dead animals were just laid out on a wooden table like an autopsy gone horribly wrong.
The freak-o-meter further went off the chart with the skinned head of the animal. I think it's a horse. If this stall open in Singapore, sure very good business from the
dai ee loong
(loansharks).
After the grisly encounter, I traced my way out of the market and took a road to the right at its entrance. It led to an open field where horses and buffalos were traded. It's definitely worth making a trip to the outback because the grassland-lake-mountain-sky scenery was simply heavenly. It really felt like I walked into a painting except for the stench of ammonia which brought me back to watch the ground I thread on.
The poor animals were parked under the hot sun without water. Vietnam was experiencing a heatwave as high as 37°C during the period we visited. Ten minutes under the sun to take the animals' portraits and I already felt roasted. 做牛做马真辛苦!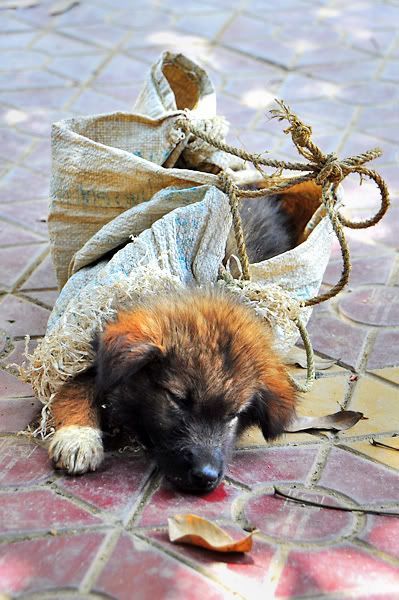 But stallions and bulls weren't the only livestock on sale. Saw this poor doggy tied up in a sack by the roadside too weak to even pant in the heat. Dogs are sold for their meat here as well. Hope this pooch isn't for dinner. Felt so bad seeing the dog this way but what can I do?
We spent about 1.5 hours shooting at Bac Ha Market before having lunch at one of the restaurants there. Food was so-so. My tummy wasn't feeling too well from a spoilt meat skewer I had the night before so I didn't quite have an appetite.
After the meal, we took a 2-hour ride back to Lao Cai. The sun was blazing and the van was stuffy. And I took the seat where the right wheel was and got stuck in an uncomfortable position with my legs crammed up throughout the journey. I arrived back in Lao Cai feeling like I belonged on that wooden table at Bac Ha Market.
As I end this post, I'll leave you with these two portraits I've converted into black and white. Amidst the striking colours, I think the fine patterning of the native costumes and weathered faces makes monochrome shots interesting. Have fun exploring! :o)