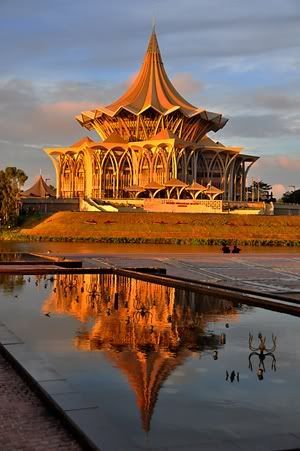 Date of Exploration : 20 – 23 May 2010
Kuching – its name is Malay for 'cat'. But to me, it meant somewhere between the boondocks and where the Swamp Thing lives. That was until I started researching about the place and my recent trip there... it totally changed my mind! I guess no matter where we go, as long as the mind never ceases to explore and wonder, the world is our oyster. (Never quite understood that 'world is your oyster' idiom since an oyster is tightly closed and to become a pearl involves being trapped in it. So why is that synonymous with the freedom to achieve?!)
While there were quite some cats (real or objectified) in the city, Kuching got its name not because it was the birthplace of any exceptional feline feats but rather, from the longan fruit. A stream, Sungai Kuching (Kuching River), used to run through the city and had its origin from Bukit Mata Kuching (Cat's Eye Hill). The hill was so named because of an abundance of the local fruit (mata kuching) on it; and due to the fruit's semblance to a cat's eye, with a black pit showing through its translucent peeled flesh like a pupil, hence the nickname. (To the Chinese, 'longan' is translated as dragon's eye).
The river had since been filled up to make way for urban development but the name stuck. Today, the cat has become an affiliated identity that this biggest city in the East Malaysian state of Sarawak holds dear to. But apart from all the pussy puns you can make with this city, it is also known as the Land of the Hornbill and famous for being home to the world's largest flower, the Rafflesia. So what does Kuching has to offer?
KUCHING WATERFRONT
The most prominent area in the city is probably the 1km-long Kuching Waterfront on the south bank of the Sarawak River. One side of the waterway contains all the urban developments such as hotels, shopping centres, financial centres and residential districts, while the opposite bank offers a somewhat rustic back-to-kampong appeal with wooden houses and dense forestry.
You can commute between the two sides by taking one of the many sampans known as tambang along the river. It costs only RM0.50 one-way but check with the boatman for the time of the last service. If I'm not wrong, they stop operating around midnight.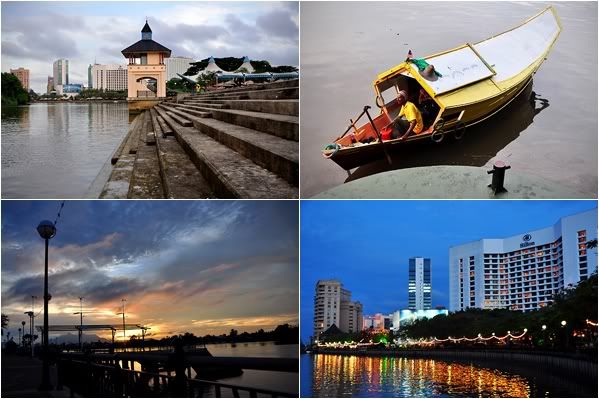 We stayed at Tune Hotel Kuching, which is along the waterfront and right next to Hilton Hotel. Costing approximately S$28.00 a night, it is a choice accommodation considering the price and location. The rooms are clean and pleasant enough but expect only the very bare lodging essentials.
Along the waterfront, you can find some F&B tents but I doubt their integrity in hygiene. There's really not much to do there except to take a leisurely stroll and enjoy the sunset, which can be pretty spectacular.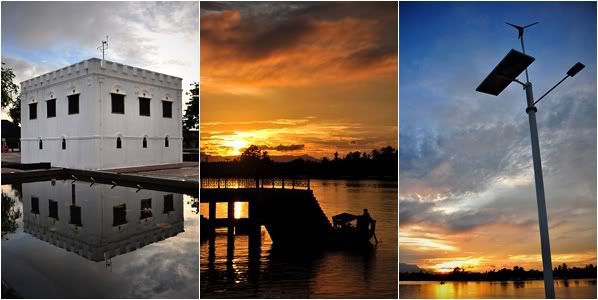 BAKO NATIONAL PARK
Day-tour Price : RM160.00 (originally RM190.00)
Duration : 10:00am – 4:00pm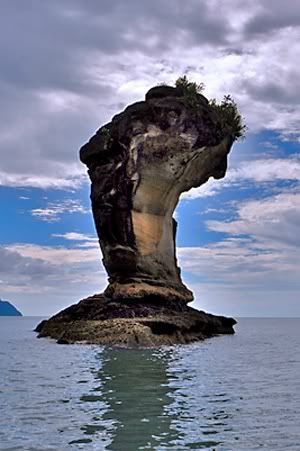 Any trip to Kuching would not be complete without a visit to one of its many natural attractions. If you're one who loves nature and adventure, this place will have you doing Tarzan's
orh-eee-orh
in no time! There're more than a dozen national parks in Sarawak and Bako is probably the most popular and accessible from Kuching.
Initially, we planned to take a half-day tour to see the Rafflesia flower at Gunung Gading National Park but there were none in bloom during our stay there. It is a matter of luck to see these rare flowers, especially the really huge ones that could measure up to 1m in diameter. A Rafflesia's bloom lasts between 5 – 7 days and the natives pluck the flowers for medicinal uses so there's the added race of getting to the stinky blossoms before they do. Always check with the local agents on your chances of seeing a Rafflesia booking the tour.
There're quite a few shops along the waterfront that offer day-tour packages. You can choose from half and full day tours around the city, to forest safaris that last several days. We booked our tour with an agent located within Hilton Hotel. Since the Rafflesia was not in bloom, we decided on Bako National Park instead. The original price was RM190.00 but the agent said there's a discount on that day and we paid RM160.00 per person. Maybe that's just a ploy to get us to go as we were hesitating upon finding out that our original plan to see the Rafflesia had to be changed.
Moreover, he had 3 other tourists booked for the Bako tour so having the 2 of us join would be just the perfect group size. At any rate, it's a win-win situation but it showed that the listed prices of the tours may be negotiable.
The package includes a 2-way land transfer, 2-way boat trip, and a park guide. Lunch was not included. If you do not take a tour package and decide to charter a boat (that can hold up to 6 tourists) at the jetty itself, it costs RM93.00. I don't think that price includes a park guide.
A 40 minutes minivan ride took us from the city centre to a small jetty. Then we boarded a speedboat and it's another 30 minutes to reach Bako National Park. During the water taxi, the silhouettes of giant mountain beckons and it's really awesome for a city boy like me.
Bako is a huge park with various trails with varying levels of difficulties and length. There's accommodation in the park for those who plan to stay longer. We were first brought on an easy trail with paved roads and I expressed my disappointment to Siow Har that there's no 'feel' in a trek like this. That was until we were brought on a real forest trail…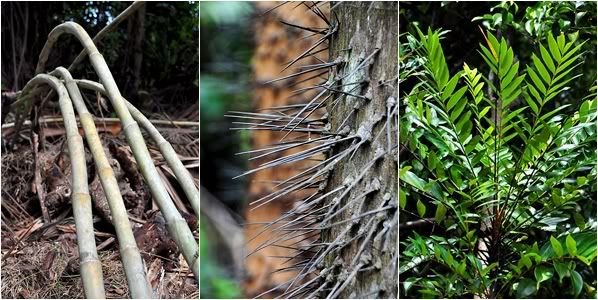 At the park, we were introduced to various species of flora and fauna with explanations on their usefulness. We saw rattans growing in the wild and a thorny palm whose spikes are used as blow darts by native hunters. The spikes were really sharp! But the most interesting plant was the Tongkat Ali – the Malay folk medicine equivalent of Viagra.
A small segment of Tongkat Ali sells for a high price so it's important to verify the authenticity of the plant. There're 3 confirmation tests that can be done with its leaf :
1) Roll its leaf with your fingers – real Tonkgat Ali's leaf won't break
2) Slowly tear the leaf – the 'wound' should present a feathery texture
3) Taste the leaf sap – it is very, very bitter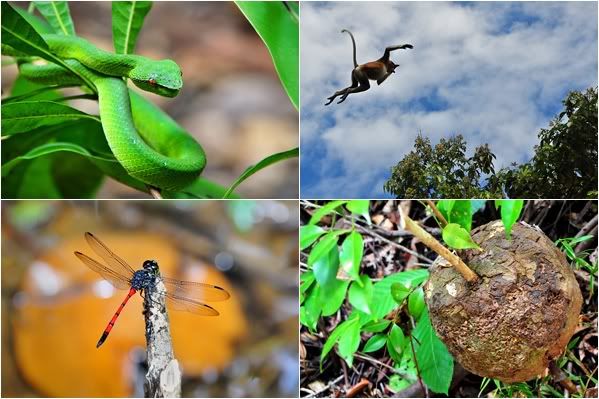 We also saw quite some wild animals with our closest encounter with danger coming from a poisonous green snake perfectly camouflaged on a small shrub at shin height. I would not have seen it if not for the guide pointing out to us. And there was also a termite's nest the size of a bowling ball hanging precariously on a thin stem right next to a forest path. I would hate to walk into one of those!
That's why for the uninitiated, it is useful to have a guide and always stay on the designated paths. I was told that even very experienced guides can get lost in the Bako forest. There was a recent case during my visit but thankfully he made it out after several days. But the biggest use of a guide was that he knew the hotspots to see the Proboscis Monkeys. Catching a glimpse of these monkeys in their natural habitat is the key attraction of Bako.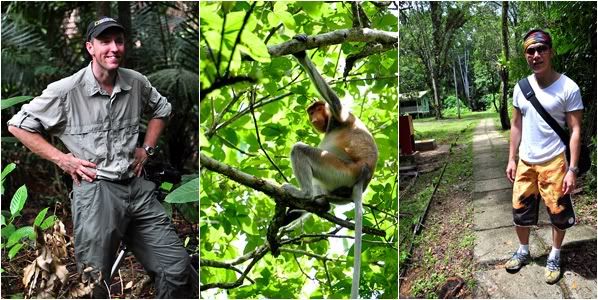 Nicknamed the Dutchman Monkey for the locals observed a similarity between the two primates, the Proboscis Monkey is listed as an endangered species. There're only about 250 of them in the whole of Bako National Park now. We managed to see quite a few of them during our visit so that's an accomplishment.
Another rare meeting was seeing a National Geographic lensman at work! For someone who's just started learning about photography, meeting a Nat Geo photographer was like seeing an idol! His name was Mr Klum and he's filming a documentary about the park's wildlife. He'll be coming to Singapore to give a talk about rainforests in Asia at the Vivocity Nat Geo store in September 2010. Maybe I should print out the photo of him and ask for an autograph like a fan would. Haha…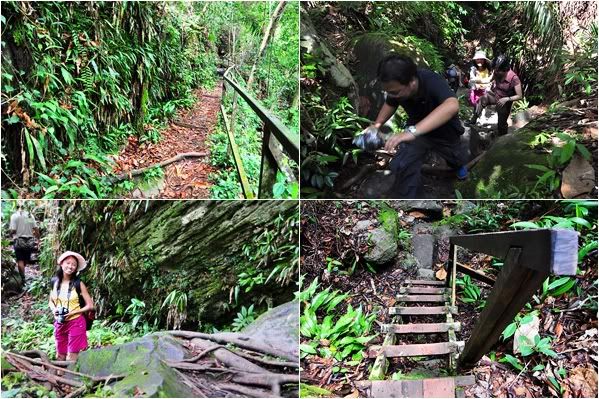 After the paved trail to see the Proboscis Monkey, we embarked on the forest trek and it's really quite an experience. The path was formed by countless roots compacted together and some parts required a little climbing. It was really no fun dangling a heavy DSLR around our necks while negotiating the roots and stone trail. And the stairs found on the trail were nothing more than flimsy wooden constructs.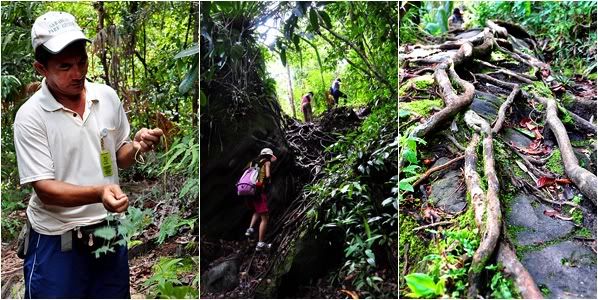 Along the way, the guide pointed out various trees and plants and how to use them. He showed us how to extract a vine from a creeper and make it into rope and many other lessons which I missed because I was busy clicking away. Must really learn to shoot faster.
After trekking 700m in about 1.5 hours, we finally reached one of the many beaches on Bako. Nothing spectacular about the beach except for the presence of cliffs embracing it. From here, we have 2 choices – take the trek back to our starting point, or take the speedboat back (15 mins) for an addition RM40.00 per boat. We shared the speedboat fee. As part of the journey back, we were brought to see some amazing rock formations along the coastal area of the park. The most iconic formation would be the statuesque profile of a boulder that resembled a cobra rising out of the sea.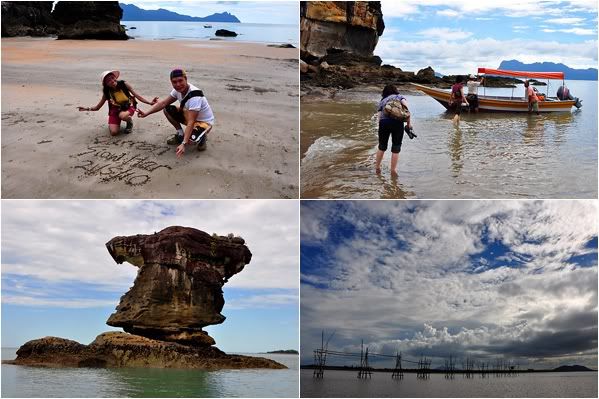 By the end of the Bako day trip, Siow Har and I got really burnt so remember to bring sunblock. Wear insect repellent too and have on comfortable shoes for trekking (but bring along slippers). Bring water to keep yourself constantly hydrated during the treks and be prepared to get sweat-soaked!
Oh, and beware of quick-handed monkeys near the canteen area. They'll snatch food from you. Siow Har was eating a muffin in the canteen when a monkey climbed onto the table and snatched it from her at lightning speed! Another snatched her can of drinks. So keep a watchful eye and secure all your valuables such as jewelry and camera.
SARAWAK CULTURAL VILLAGE
Entrance Fee : RM60.00 for foreigners; RM25.00 for Sarawakians
Opening Hours : 9:00am – 5:15pm daily
Cultural Showtimes : 11:30am – 12:15pm; 4:00pm – 4:45pm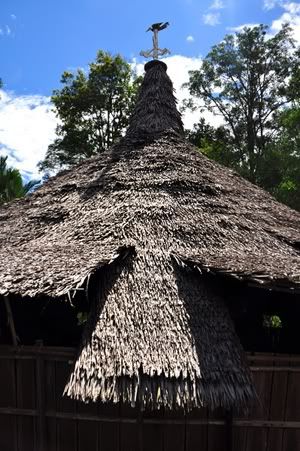 Sitting at the foot of the majestic Mount Santubong, the Sarawak Cultural Village is a half-hour drive from the city centre (and you'll pass by Damai Beach which is really close by). There're day tours but our very kind Kuching friends, Justin and Elizabeth, drove us there. Their immaculate hospitality exemplifies what we're about to experience at the Cultural Village soon… a sort of communal kampong spirit where people look out for each other without asking for benefits.
Six weeks before my trip to Kuching, I posted on my Facebook status of my intention to plan a trip there. Justin replied to offer help with my itinerary. Two weeks later, he came to Singapore for a work trip and Siow Har and I met up with him very briefly (just to make sure neither party was Mas Selamat). After that, we exchanged a few emails, he made some changes to our self-planned itinerary, and the 2 of us landed in Kuching. Throughout our 4D3N stay, Justin chauffeured us around, showed us many local sights, and took really great care of us even though we've only met once!
Justin and his friends were the main reasons the Kuching trip was so enjoyable. The city itself doesn't have much to offer actually, but their company made up for the vast shortfall. And the fun we had at the Cultural Village was testament that it is not where you go, but who you go with that truly mattered.
That, and of course Justin got us a RM20.00 off the entrance fee due to his connection with friends in the Kuching tourism industry. So we paid RM40.00 each to see a collection of the different dwellings that the native Borneo tribes live in. There're 7 major racial groups in total – Bidayuh, Iban, Penan, Orang Ulu, Melanau, Malay, and Chinese. A stone sculpture representing the 7 tribes unified on 1 land welcomes visitors at the entrance to the theme park.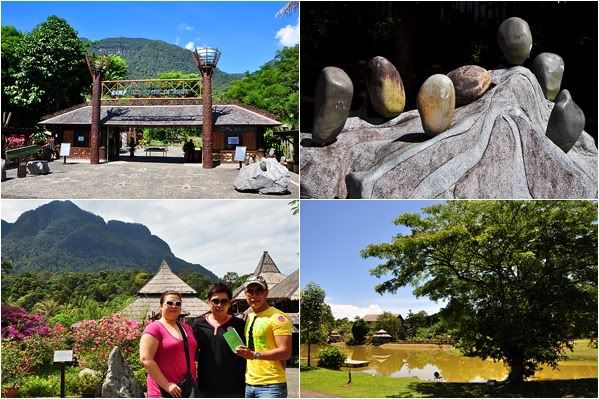 An outdoor museum of the different architectural styles unique to each tribe, the village features life-size replicas of these huts and longhouses complete with artifacts and furnishings. The foreigner visitors were given a green 'passport' to collect stamps from each tribe they visit. By the time I completed my stamp collection, my t-shirt was stamped onto my body. It's really hot so be prepared to be sweat-drenched.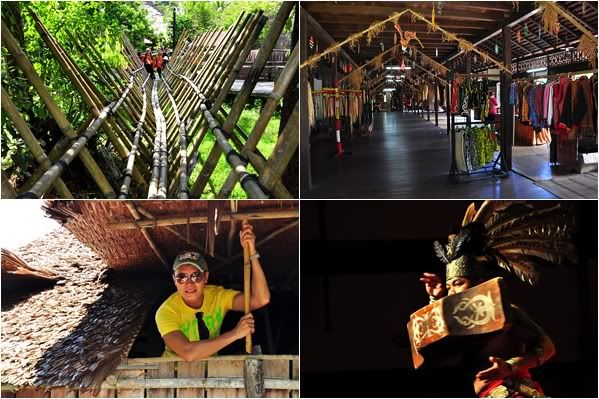 There're are 2 sessions of cultural show daily at 11:30 am and 4:00 pm. You get the drift with cultural performances so I won't into details about their song and dance, but there's one performance that's notable – a guy picking up a block of wood with just his teeth! No tongue-hockey for him.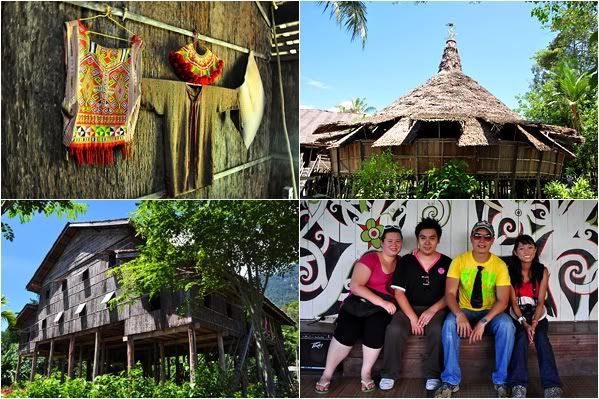 In my opinion, amongst all the native dwellings, I like the one that houses the performance theatre best. The reason? It's air-conditioned.
Apart from watching the cultural show and experiencing the living conditions, you can also buy some of the traditional food being made on the spot with charcoal stoves. In one of the huts, you can also test how good a job you fare at blowing darts. I sucked (no pun intended) at it.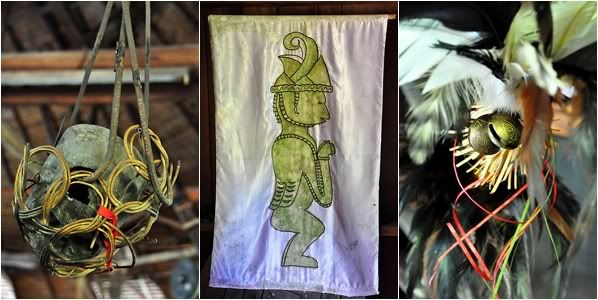 Probably the most bizarre exhibit here would be the smoked human heads. Most of the tribes were headhunters and warriors kept the decapitated heads of their enemies as a trophy.
While we were there, the village was making preparations to host the Rainforest World Music Festival which happens in July. As a whole, the Sarawak Cultural Village makes for an interesting half-day visit if not to see the whimsical folk art and tribal lifestyle, then it's for some good photo opportunities.
SARAWAK MUSEUM
Entrance Fee : Free
Opening Hours : 9:00am – 4:30pm daily
The oldest museum in Borneo, the Sarawak Museum is also reputed to hold one of the best collections in Southeast Asia. The first floor of the museum houses the natural history (lots of birds, fish, mammals, geological artifacts) while the second level is home to ethnological relics of Borneo's indigenous tribes. A gallery across the museum houses some exhibits of modern folk art while a botanical garden and war memorial can also be found in the area.
The museum is about a 20 minutes stroll from the Kuching Waterfront and pretty prominent. Just ask for directions along the way.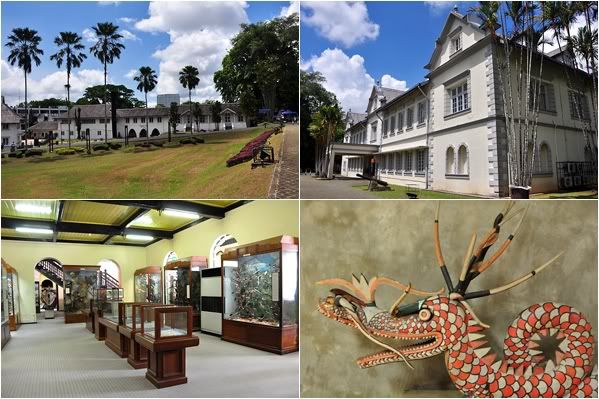 As we visited the museums just hours before our flight back to Singapore, we didn't spend very much time there. Besides, photography was not allowed in the museum so it was just browse and go.
Some of the interesting things I saw included the skull of a man-eating crocodile, bones of whales, and a burial totem – where the indigenous people put their dead in jars and recess them into the cavity of a tall wooden column.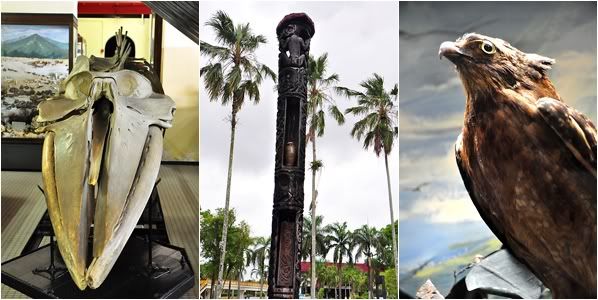 The museum really holds a strict code on its no-photography rule. I was taking some photos when the curator stopped me. Then he hung around our group the whole time. I don't understand why photography is not allowed here but that ensured we spent no time in getting out quickly.
CHINA-MALAYSIA FRIENDSHIP GARDEN
Entrance Fee : Free
Opening Hours : All day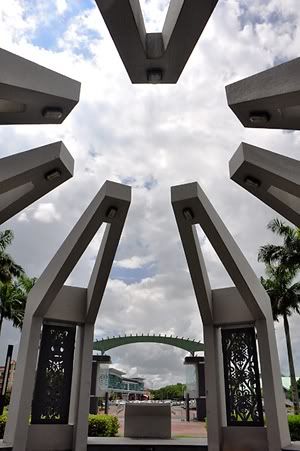 Built in 2004 to commemorate 30 years of diplomatic ties between China and Malaysia, this outdoor garden is unofficially known as the Zheng He Garden to the locals. With the presence of a China Embassy in Kuching, you can guess that the Chinese population there must be pretty sizeable.
Justin drove us there so I have no idea about its position but it must've not been very far off from the city centre and it seems to be nestled within a residential area. I think it is one of the nicest gardens in Malaysia.
There're 2 entrances to the park – one side with a Sarawakian influence, the other in ornate Chinese style. Amongst pagodas, rock gardens, and weeping willows over a pond are huts of indigenous Sarawakian fashion; and the friendship between the 2 countries is cleverly represented by a 20-foot statue of the Admiral Zheng He facing a fountain with 7 pillars representing the 7 major ethnic groups of Sarawak.
Admiral Zheng He was credited for being China's ambassador during the 15th century to extend the dynasty's influence and build relations with many countries in the Indian Ocean basin. Born into a Muslim family, he was made a eunuch at age 11 and given the name, San Bao (meaning Three Treasures).
In his lifetime, Zheng He led several voyages and expeditions to Southeast Asia, South Asia and East Africa, collectively known as the travels of Eunuch Sanbao to the Western Ocean. It is also believed that the admiral gave the hand in marriage of Princess Hang Li Po to a Malaccan Sultan, which greatly spurred the rise of the Peranakan culture (more info can be found in my earlier blog on Malacca).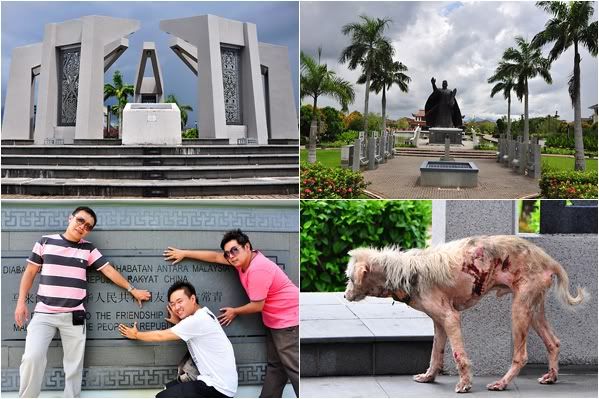 There's no better place for 1 Singaporean and 2 Malaysians to celebrate their friendship than here! But we saw this poor, lonely, wounded dog taking refuge at the park. Too bad I don't have anything for it to eat or drink. Sigh… see already heart pain!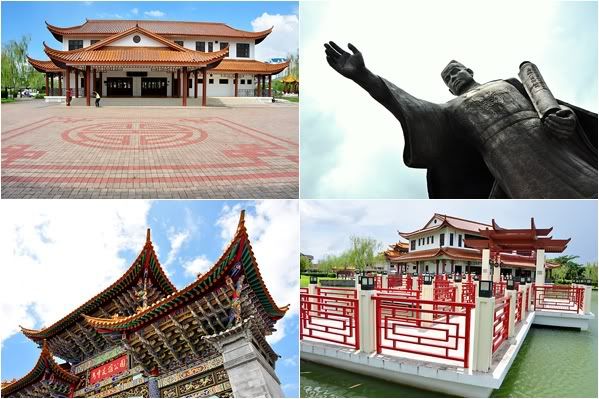 There used to be a lot of kois in the manmade pond but they died overnight due to a fault in the filtration system about 2 years ago. They've never been replaced. The quaint Chinese building used to be a teahouse for dim sum but due to its operations polluting the surrounding environment, it was closed down. What a pity.
SUNDAY MARKET & OTHER SIGHTS
By Justin's recommendation, we dropped by the local Sunday Market for a look. It is open in the late afternoon of every Saturday till Sunday. Since we didn't have any chance to shop, we thought we'd nab some bargains here. In accordance with the image of weekend markets, things here are supposed to be cheaper right? Wrong!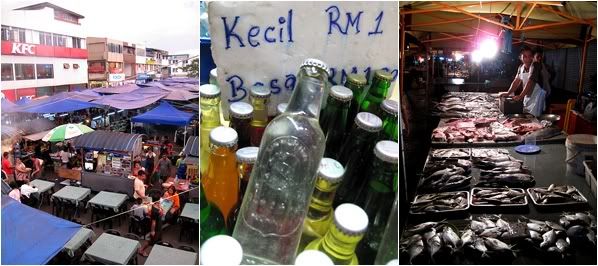 I bought some fridge magnets at RM10.00 for 4 pieces but at the row of souvenir shophouses along the waterfront, I could get 5 pieces for the same price. The designs are the same and there's more variety to choose from.
I also bought a bottle of pepper powder (Sarawak is famous for its pepper) at RM2.00. The stall lady told me it's a discount as the original price was RM2.50. But at those souvenir shops, the same size bottles, although different brands, were sold at RM2.00 each without discount.

Do I sound like a petty price haggler! Ha. My point is just to show that the general low-price rule of local markets does not apply here. The market spanned a few streets but the stalls sold mostly perishables such as fruits, vegetables, seafood and meats. It is more of a wet market for locals to shop than meant for tourists.
I was told I could find fresh grubs to try but I didn't see any either. All I saw were the meal worms meant for pets. So unless you just want to go for a feel of it, give it a miss even though it's located not far from the city centre. A less than 10 minutes cab ride there cost us RM10.00. (The cabs don't run by meter so you have to confirm a price before getting on.) The place was also pretty stuffy so go during sundown. But the problem with that is, most of the stalls were poorly lit.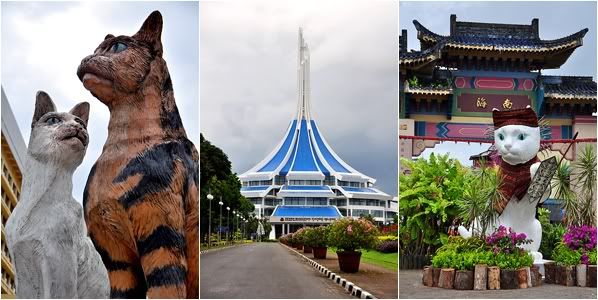 How can a visit to cat city without photos of cats?! Here're 2 of the famous cat statues in Kuching. The coupled felines can be found at a roundabout junction that marks the city centre, while the white cat stands in front of the gate to Chinatown. The white cat changes costumes with each festive season. Here, it is wearing traditional garb to herald the upcoming Gawai Festival. The 2 set of statues are within walking distance.
We also passed by a pretty interesting and iconic building in Kuching, the Boulevard Bandaraya Kuching Selatan. From the Google map, you can see it protruding like a blue nipple!
TASTES OF KUCHING
I'm glad you've made it this far. You've expended much energy 'visiting' the sights of Kuching with me, you must be hungry. Here's a binary feast on some of the local favourites for you…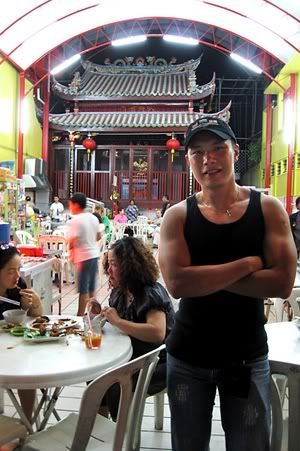 1) Kolo Mee –
Supposedly a culinary signature of Kuching. It is somewhat like wanton noodles without the
char siew
and dumplings but with prawns, pork and some other condiments. Nothing very unique. I preferred the
bak chor mee
in Singapore.
2) Kuching Laksa –
It tastes like a watered down version of curry mee. Again, not a big draw for me as I prefer the heavier broth of Nongya laksa.
3) Hinghwa Pa Mee –
Hinghwa is my dialect group and it's rare in Singapore to find the traditional
pa mee
at local hawker centres or foodcourts. Every CNY, my recently deceased Ah Ma will cook this dish. So when I had it in Kuching, I was expecting
ang pows
!
This is by far my favourite. Not because it slurps from my childhood, but because the soup was light yet flavourful, and the noodle was soft but not gooey. But the key difference between this version and the home-cooked one is this… my Ah Ma fried the seaweed till it's crispy. That's still the bestest!
4) Mussel Cracker Omelet –
Tried a version of Kuching's
or-jian
(oyster omelet) made with mussels. The presentation was pretty interesting as the egg was made into a cracker bowl with the shellfish stuck to it. If only it tasted as interesting as it looked. The egg lost its flavour and the mussels were too cooked.
5) Stir-Fried Fern Shoots –
Don't remember what the name of the fern is, but it's a species native to Sarawak so you probably can't find the dish elsewhere. Its availability is also seasonal and unpredictable coz it is harvested in the wild. The plant will only grow in clean, uncontaminated soil. Texture-wise, it would be the offsrping when a stalk of watercress married a ladyfinger. Me likey!
6) Sweet-Sour Mutton Ribs –
Taste just like the 红烧排骨 (Sweet-Sour Pork Ribs) in Singapore except with mutton ribs. This dish was grazed my tongue bewetifully and had me going baack for more even though it's quite fatty.
7) Claypot Braised Fishhead –
Not sure how to describe its taste because it was rather forgettable. All I remembered was that a thick layer of oil floats on the dish. Elizabeth said it's the omega oil from the fishhead but I doubt it. This little amount of fish can't produce that quantity of oil.
The fishhead had been deep-fried before braising so I think the oil was from the frying and not the fish. When something is deep-fried and cooked again later in water, the trapped oil will be leeched out and sits as a layer above the sauce.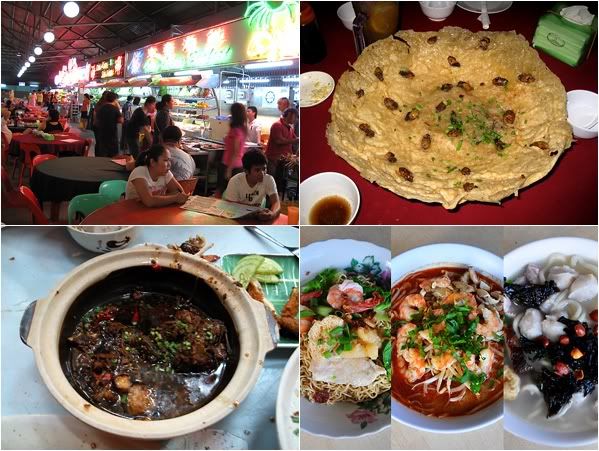 We had items 1-3 at a local coffeeshop that was packed for breakfast, items 4-6 at a popular roof-top Halal seafood hawker centre located at the city centre (near the famous cat statues), and item 7 at this coffeeshop opposite a clan temple (just behind the row of conserved waterfront shophouses selling souvenirs).
9-LIVES
After a full dinner, it's time to check out the nightlife in Kuching! In our 3 nights there, we visited some cafes with distinctive characters, a karaoke near our hotel, and the clubbing district referred to as Pavilion.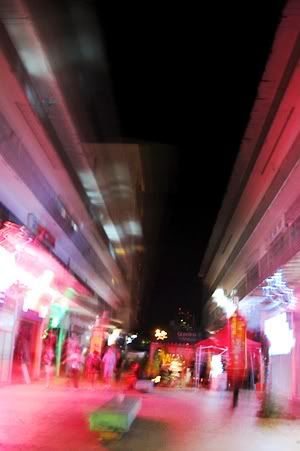 Night 1 – Q-Bar Karaoke
Not quite tired on our first night there, we went to a karaoke bar near our hotel to sort of celebrate my birthday at around 12:45am. There wasn't a crowd that Thursday night so the hearing damage I caused was thankfully limited. It's an open karaoke (no rooms) and a bottle of beer here cost RM10.00.
Most of the patrons sang Malay songs but it did have a selection of Chinese, Cantonese and Hokkien songs. However, you have to know how to write the song titles and artistes in Chinese as there's no book to flip or electronic selection system. We made friends with an uncle at the next table and he turned out to be an employee of TM Asia Life Malaysia! What a surprise! I'm an insurance agent with TM Asia Life Singapore. So we bonded easily and had a few round of drinks.
Night 2 – Café Hopping
The second night, Justin showed us some cafes / bistros with thematic decors. There was The Junk with its conglomeration of eclectic antiques, the chic and relaxing Living Room, and the one we eventually settled for, Bla Bla Bla.
The place is one of those new age fusion restaurants with a touch of resort zen (the water feature, Buddha head, bamboo ensemble). Didn't try the food there but had a glass of house wine. They serve the Lindeman's chardonnay and it cost RM23.00 per glass.
Justin and his friends bought a slice of cake and sang me a birthday song there. Super touched since that night was the first time I met many of them. We called it a night at about 11:00pm but the glass of wine got me going. So I went to a local coffeeshop and bought 2 cans of 500ml Stella Atois. Each can cost only RM4.00!! By the way, 7-Elevens there don't sell alcohol.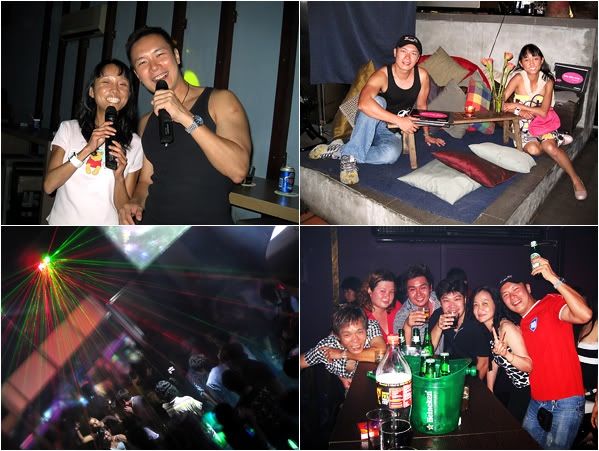 Night 3 – Clubbing District
Our last night there, we decided to go all out and visited the clubbing district. It's really amazing how many danceclubs, karaokes and bars fit into such a small area of 2-storied shophouses. Most of the clubs there don't charge entrance and beers cost RM10.00 a bottle.
After browsing through a few clubs there, we settled on Pavilion. It had a good crowd although the music can be vastly improved. The club plays trance and house music, which I love, but the selection of songs had too much undulating moods that didn't lift it to the trance high typical in such clubs. Either the DJ wasn't skillful enough, or I was too sober. I think it's the latter.
So after leaving the club at 1:45am, Siow Har and I bought another 2 cans of Stella Atois, headed down to the waterfront, and lit the sparklers she brought from Singapore. Don't ask me why she brought sparklers there but it was a great way to mark the end of a spectacular trip!
For more photos from the trip, please visit my album Kuching (20-23 May 2010).