The biggest headache I had while planning for the Barcelona trip was naturally, accomodation. Many of the mid-range hotels were competitively priced but when I factored in the
exchange rate (€1 = S$1.80)
, they became rather out of reach. So I searched for budget accomodations on the web and came across a listing of hotels that were within my budget after conversion.
I needed to book 2 duration of hotel stays - 2 nights prior to the Liberty of the Seas cruise, and 4 nights after the cruise. I didn't have much problems finding a place to stay for 30 Apr - 4 May but it was a big challenge to find lodging for the first 2 nights from 23 - 25 Apr as it was the Holy Weekend (Good Friday and Easter Sunday). Confirmation on the price for my parents to sail with me came pretty late from Royal Caribbean's Singapore office so my search for accomodation was held back.
By the time I started, all the budget hotels in Barcelona city was filled, had only 1 night available, or weren't able to accomodate a triple-share. So I was so glad when I finally found Hostal Les Torres. It was cheap and only 30 minutes by car from the city. In my haste, I booked the stay without further research as all the other hotels I checked were unavailable. While the hotel was extremely good value for money, it was a hefty mistake to stay so far away from the city because transport cost was a real killer!
Hostal Les Torres
Address : Camí Can Prats, s/n 08635 Sant Esteve Sesrovires (Barcelona)
Website :
http://www.lestorres.net/
How to Get There :
Refer to website for directions. Best way is to take a cab from airport as the hotel is quite obscure. Otherwise, take a feeder bus from the airport to the airport train station (5 mins) then take the RENFE line to Martorell (1 hour), then take a cab from Martorell station to the hotel (10 mins).
You know how some travellers like to say how every place they've stayed, everything they've seen or did in a foreign land is fantastic so that it seems like they've gotten the best deals and how very smart they are? Well, they could be. But I'm not one of those who will say I had roses when what I really had was just the thorny stems without the blooms. And such a case was the stay at Hostal Les Torres.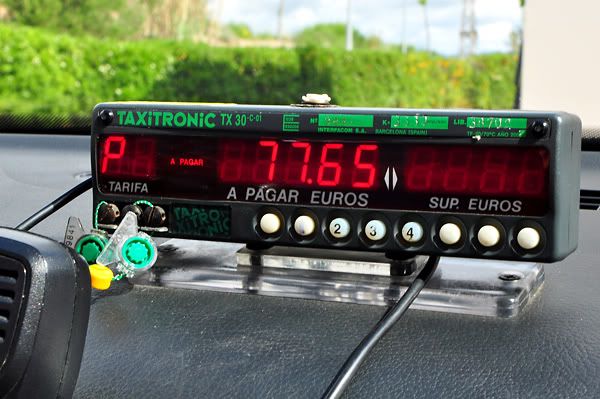 Don't get me wrong, the hotel was a decent stay, the scenery beautiful and the staff very helpful. But when weighing in on the best investment for a tourist dollar, this place is a bear cave (a bear run on the financial markets is a negative return on investment). It's located 30 minutes from Barcelona city by car and about 45 minutes from the airport. In cab meter milege, that cost us €70 (S$126) to get there from the airport. First time in my life I paid so much for a cab ride! The original fare was about €80 but I negotiated since the driver didn't know his way and got lost. I read from Tripadvisor and other online sources that it should cost about €50-60 to get here from the airport.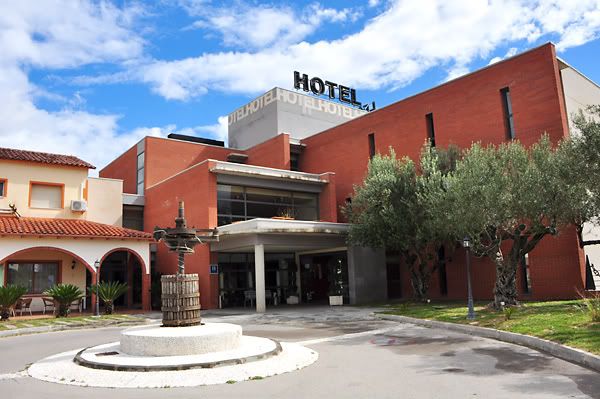 Visage of Hostel Les Torres with an attempt to structurally merge the classical with the modern.
On hindsight, I think the hotel is great for domestic travellers but not for international tourists. If you're living in Barcelona city and want to get away for some respite, this is a good choice. But if you've flown more than 14 hours to Barcelona and hungry to see the sights, this place is a vacation graveyard.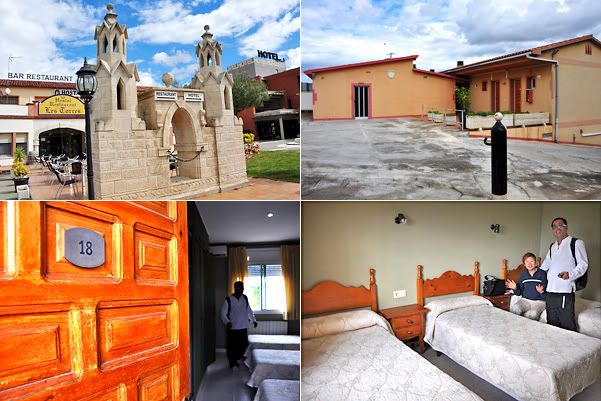 The room was decent but just barely made it to house 3 persons comfortably. No safe deposit box in the room, a very small TV, only soap for toileteries and breakfast not included. There's free wireless internet connection in the room though and the signal is strong.
I love the chance to breathe in fresh air though. But that's not what we were here for. Beside detoxifying the lungs, this place is as dead as the gloved one. It is located within the township of Martorell, which is a small suburban area outside Barcelona city and home the country's main automobile manufacturer, SEATS. So basically, we were living in a hotel in the midst of factories and storage houses. Something like staying in a hotel built within the industrial estate of Jurong West.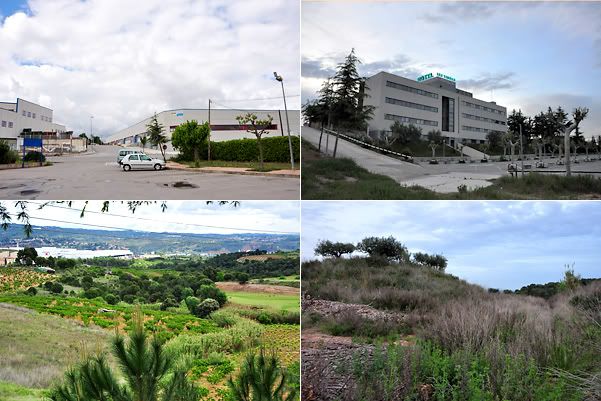 Surrounding scene of Les Torres. Top left pic shows the entrance to the hotel. As you can see, it is pretty much a factory / industrial area with no shops or lifestyle establishments. Bottom left pic shows the farm fields beyond the right fence of the hotel. Top right pic is the back of the hotel taken in the evening and the bottom right pic shows the grassland facing the hotel's rear. If you like peace and quiet with NOTHING to do, this is paradise. Else, it's the boondocks.
There are no shops, attractions or any tourist-friendly establishments within the immediate radius of Les Torres. To get to any convenience stores, we had to take a cab to the nearby town centre of Martorell. Now get this. Booking a taxi to pick us up from Les Torres (because no taxis in their right mind goes there) incurred a fee of about €7 (S$12.60). I'm not kidding. I have photos to prove.
Going to Martorell town centre is only about a 5-minutes drive but guess what's the average taxi fare we paid? €12 (S$21.60)! That's one way. So to go from Hostal Les Torres to Martorell town centre where everything is and back, it cost us about S$50 each trip lasting a total duration of only 10 minutes.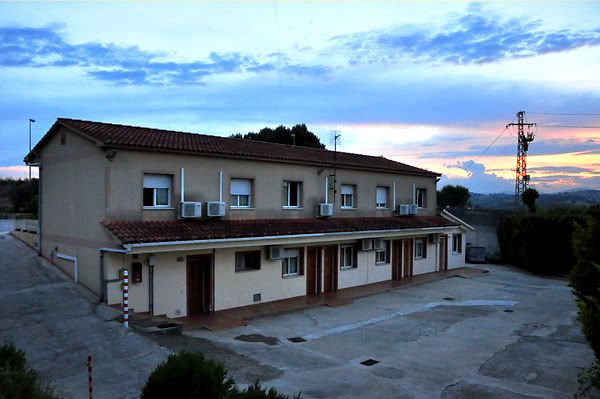 Back of the accomodation block. Our unit was the one at the leftmost corner with an open window. This photo was taken at about 9 pm but check out how bright the sky is!
So what's at Martorell town centre that we have to go there for? Shops, supermarkets, eateries, and the well-known attraction of the town, Pont del Diable, otherwise known as the Devil's Bridge. I'll share more about it in the next post on Martorell and its famous medieval bridge.
For now, we're still on the topic of how costing only S$239.72 for 2 nights for 3 persons (S$39.95 per pax per night) isn't always necessary the best deal for tourists from faraway.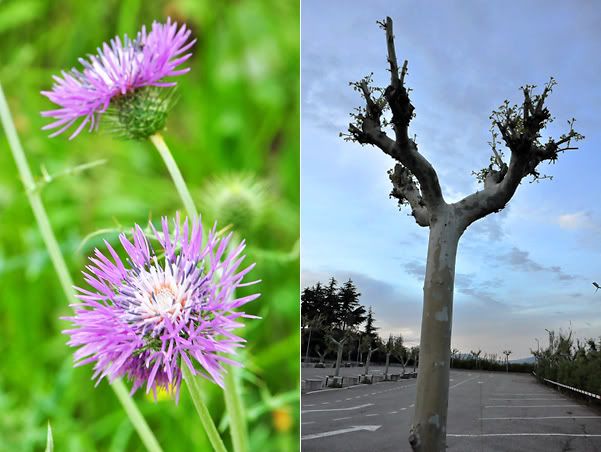 Being close to nature, the hotel is surrounded by an assortment of colourful flowering plants. If the garden is given better care and landscaping, I'm sure it would be a delight. There are also a lot of these rather bald trees. Dunno their species but their stout branches with few leaves do make decorative logs out of them. There are rows of them in the car park at the back of the hotel.
There is a bar cum restaurant next to Les Torres and it's the only place to eat unless you are a goat, or cow and thrive on eating grass. As you can see from the photos above, the hotel is surrounded by fields in the middle of nowhere.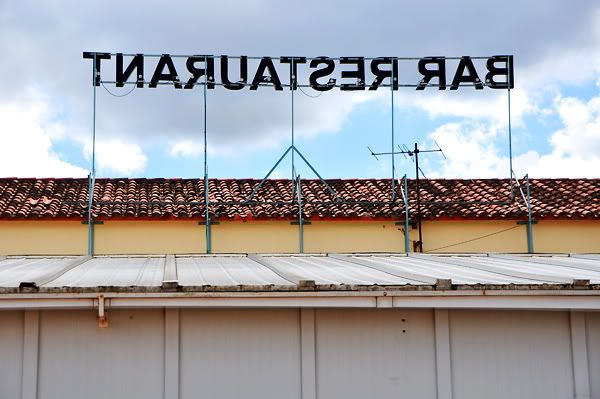 There is only ONE restaurant there right next to the hotel. But it seems the restaurant does a brisk business in hosting group luncheons and dining events at its function room.
Without any choice, we had our first meal in Barcelona at the Les Torres Hostal Restaurant. The place has the feel of a local coffeeshop with simple country-style decor. As they don't speak much English, ordering was a lot of pointing here and there. We settled on the Spanish national dish, Paella (rice cooked in a pan), since I've been told to try it. We chose the seafood version which came with some pieces of shrimp, squid and mussel which the 3 of us shared.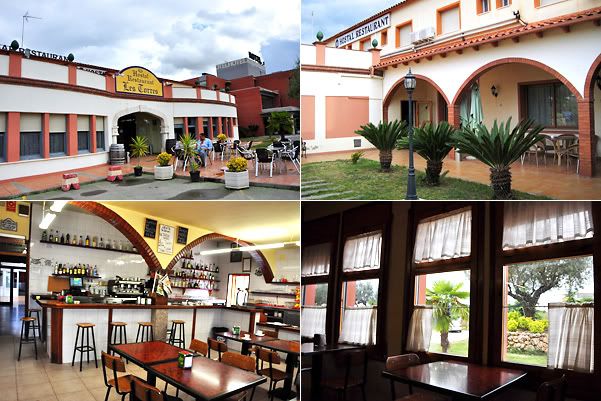 Restaurant's surrounding and interior. A very classic Spanish country cottage feel. I wanted to take a photo of the staff who mans the place because he's a good looking guy but he hid behind the pillar at the counter. Too bad people, no eye candy for you.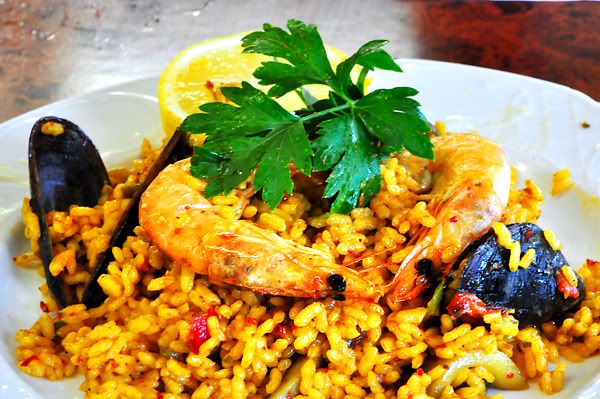 This was the most expensive meal we had in the whole of Barcelona. Just an order of Paella for 3 of us with some bread and olives as appetisers, a coffee and a bottle of water cost €53 (S$95.40)! Felt like we've been robbed in daylight and the Paella wasn't that exquisite in taste. In Barcelona city, we could have a set meal each for about €30+ (S$54+).
With our stomachs half-filled but wallet seriously drained, I would have to say that I won't recommend staying at Hostal Les Torres for non-domestic tourists. I think most of the guests here are folks from who drove up from Barcelona city or Spaniards from neighbouring towns making this place a rest stop en route to somewhere else.
The hotel rate is relatively cheap but the inconvenience and expense of getting around is not worth it. To get anywhere, we had to book a taxi through the hotel. The cabs will come from Martorell town and they start charging the meter from there to the hotel. So by the time we got on the cab, the meter was already at €6-7 on top of a booking fee. And the cab meters here seem to jump every 2 seconds! Not sure if we've been swindled but the meters of the city cabs don't increase as quickly.
The only great thing about staying here is that it is close to the picturesque Devil's Bridge and the mountain monastery, Montserrat. Montserrat is only 5 train stops away (15 mins) from Martorell compared to the hour ride it takes to get there from Barcelona city.
Although this turned out to be an accomodation mistake, I would still like to thank the staff at Hostal Les Torres for being very friendly and helpful.