Bangkok has always defined Thailand
for me with a little Phuket, Pattaya and Hat Yai thrown in. But from my trip to Chiang Mai last month, I've discovered a new love for the Land of Smiles. Things are cheaper there, the people friendlier, pace of life less hectic, and great natural landscapes for outdoor adventures.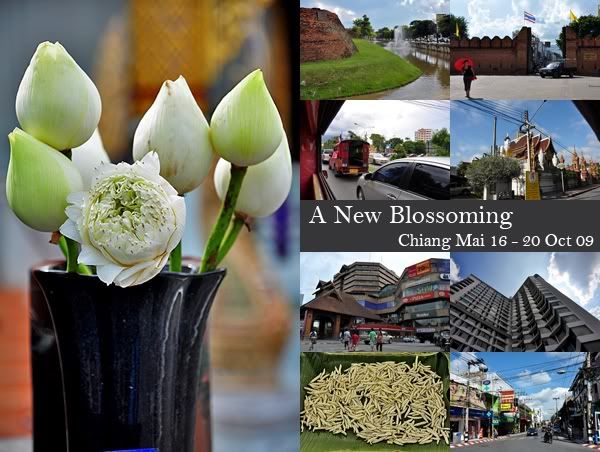 Didn't get to do everything during the last trip, but here're some sights and highlights that may help if you're going there for the first time. I'll definitely be going back again, probably in November 2010 for the Loy Krathong Festival. Meanwhile, here're memories of a Thai destination that could just be my new Bangkok…
Travel Budget :
Air Ticket (Return) : S$286.00 (Silkair)
Accommodation (4 nights) : S$105.00 (Centara Muangtawan Hotel, Loy Kroh Road)
Travel Insurance : S$28.00
Exchange Rate : S1.00 = 23.70 baht
Expenditure : S$400.00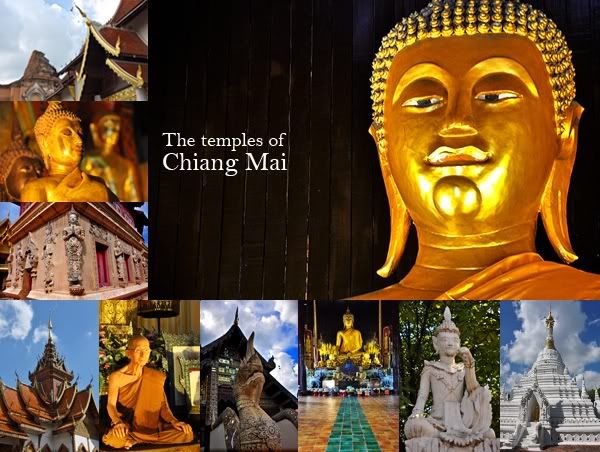 Any trip to Buddhist Thailand
would not be complete without a visit to its many temples. The temples in Chiang Mai share many similar features with Thai wats across the nation with the exception of having many small bells hang off the temple roofs. The decorative style and colours of temples here are also pretty varied and makes for an interesting visit.
I went to Wat Chediluang, Wat Phantao, Wat Pra Singh, 3 other temples along Thapae Road and the famous mountain temple of Doi Suthep.
Something happened while I was at one of the temples taking photos. I don't know if it should be called a spiritual 'warfare'? At one of the few unnamed temples that I was taking photos at, a monk called to me. He asked me in to his prayer room so that he can pray for me. I declined the offer, but he insisted.
So I went in, knelt down and he tied a white string around my pressed palms. I'm Christian by the way and praying to idols is against the second commandment. But I didn't want to let the monk down nor dampen his good intentions. So while he chanted prayers, I kept saying sorry to Jesus. He sprinkled water on me as blessings, and I rationalized that I was not praying but receiving blessing from another fellow being.
That was my first time being blessed in Buddhist goodwill. Then the monk tied a fragranced braid around my wrist and told me not to take it off. After that, he removed the lid from the silver container next to him and asked if I would like to donate. I donated 100 bht.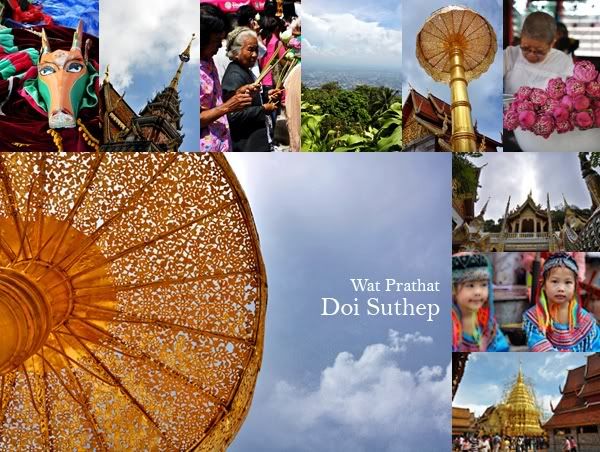 The biggest and most prominent temple
in Chiang Mai is Wat Prathat, located atop Doi Suthep. It is commonly referred to as just Doi Suthep, although that is the mountain's name and not the temple's.
According to legend, the temple is built on the spot where a white elephant carrying a sacred relic, believed to be Buddha's shoulder bone, had trumpeted three times and died. To get to the temple, you have a climb 309 steps to reach it. There's a sign that calls for visitors to pay an entrance fee but I just walked right in.
You have to dress appropriately to visit the temple and shoes must be taken off before going into the central temple ground. Doi Suthep has lots of children in colourful tribal costumes performing cultural dances and music for a donation. Being high up, you can also get a bird's eye view of Chiang Mai city on a clear day. When I was there, the main stupa was undergoing refurbishment works so any hope for a nice photo was marred by iron poles.
Getting there is rather interesting. Eugene and I took a red tuk tuk from the city. These tuk tuks usually charge 20 bht per person to go anywhere and I thought that's the price to Doi Suthep too. But no. At the foot of the mountain, the driver came out and asked if we wanted him to take us up and down for 400 bht. We said no so he dropped us at a stop where a roadside operator charges 140 bht person to take us up to Bhuping Palace, Doi Suthep and back down.
For these roadside operators, they'll move only if they can fill a tuk tuk which can sit 8 people comfortably. If there's less than that number, you'll have to wait for an unspecified period of time for the passenger seats to fill up. So on hindsight, maybe 400 bht is a better deal to have our own tuk tuk driver for the trip. But that's to Doi Suthep only. I wonder how much it'll cost to charter a private tuk tuk to include Bhuping Palace as well.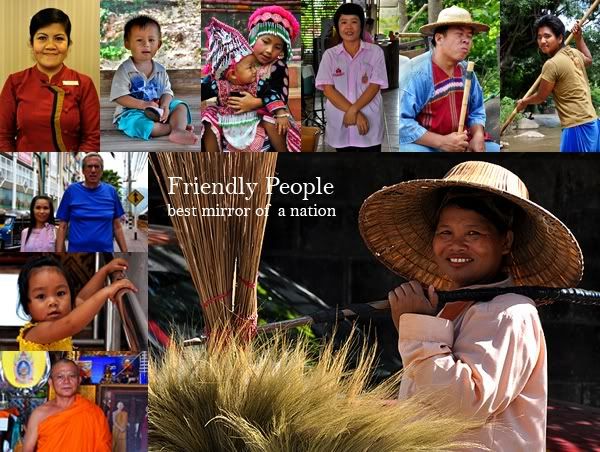 Thais are known for their friendliness
and mild manners, but in Chiang Mai, I discovered they have a great sense of humour too. Especially memorable was the check-in receptionist at Centara Hotel. She's the most humourous hotel staff I've ever met. She cracked a lot of jokes and was very vivacious. She even got us the elephant camp day trip at a discounted rate (we checked with the other tourists during our tour and our price was slightly cheaper).
When I requested to take a photo of her and show my mother, she immediately said my mum would think Chiang Mai ladies are fat and ugly like her. Well, I don't think so. She's a spark of life just like the many people I encountered during this trip.
I really love taking the red tuk tuks. There're like travelling communication pods where you sit so close facing a stranger that you can't help but smile and say hello. We met this retired American teacher and his lady companion on our way back to hotel and ended following them to a flower exhibition at a shopping mall we otherwise would not have went.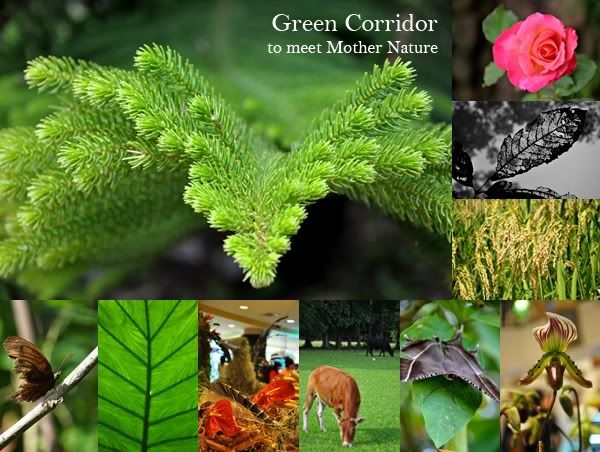 Nature tourism
, if it doesn't involve being parked at the beach with a cold beer in hand, doesn't appeal to me. But that was until I came to Chiang Mai. After coming back from the trip, I realised there's so much that I've yet to do and see. For the next trip, I'll definitely go on the hill tribe tour to visit the long-neck women (Karen Tribe), try the Flight of Gibbons, visit Doi Inthanon National Park and maybe even try exploring Chiang Mai on a motorbike.
During this trip, much of my encounters with nature were at Bhuping Palace. Further up-mountain from Doi Suthep temple, this tourist attraction wasn't originally on my itinerary but did it so that everyone didn't have to wait any longer at the tuk tuk stop (see Doi Suthep portion above). We took the ride with two young girls from Bangkok (one of them is named Bung) and three mainland Chinese. It was great meeting them and I'm surprised that in China, it is common for travelers to post their itinerary on travel websites to look for travel buddies. Two of the Chinese travelers were siblings and they met the third just a day before and went on tours in Chiang Mai just like that. And I thought they were long time friends. Pretty amazing.
I don't know much about Bhuping Palace except that it is rather chilly and foggy (when I was there), and the road up is suicide for people with car sickness. An entrance fee of 100 bht (I think) applies and appropriate dressing is a MUST. Guys in bermudas are not allowed. Eugene had to rent long pants at the entrance which costs 50 bht.
There weren't many things to see at Bhuping Palace except for the beautiful roses, flora and fauna. But Chiang Mai as a whole offers lots of opportunities to get close to nature with the various land tour packages and proximity of these places.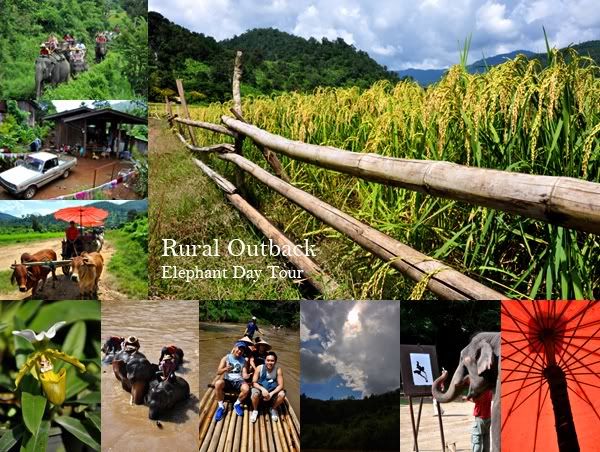 Golden padi fields
stretching towards mountain valleys under blue skies decorated with massive clouds. Yeah, the hills are more than alive. Julie Andrews would be so envious! But a minute under the hot sun to admire the raw state of what goes into my rice cooker was enough. Being able to see far into the horizon was really awesome. It was a beautiful scene and I watched this while riding on the back of an elephant.
The rural trail was part of the elephant camp tour package which also included performances by the leathery beasts, ox cart ride, lunch, a ride on the water rafts, and a visit to an orchid farm. We paid 900 bht per person for the day trip which costs 1,000 bht. Although the elephant camp segment was boring for me (taking photos with the elephants, see them bathe, play ball, perform tricks and paint), the day trip as a whole wasn't too bad to have a glimpse of rural life. Be prepared to tip the mahouts though and like many touristy places, commerce is never far.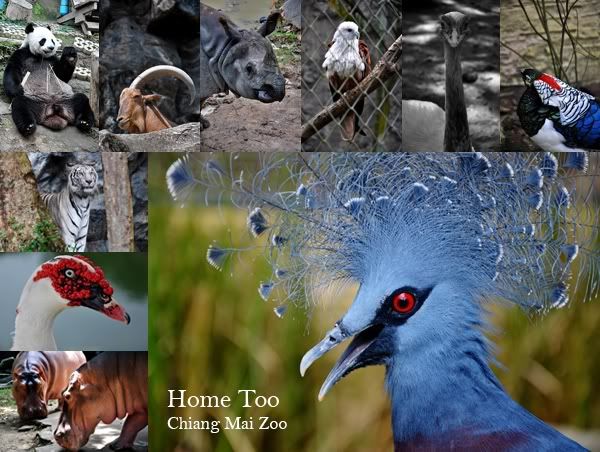 The zoo has a dual price system…
foreigners pay double the price of locals. The entrance fee costs 50 bht for Thais and 100 bht for foreigners unless you have a student pass or working permit. Still, it is still much cheaper than the S$18.00 that the Singapore Zoo charges, but of course premium pricing brings with it experiences of a different quality.
The key attraction at Chiang Mai zoo would be the pair of pandas on loan from China (Singapore had recently been given a loan too and the pandas will come here in 2011). They had given birth to a baby panda in May this year so the hype is attracting lots of visitors. An extra charge of 100 bht is payable at the entrance to the panda exhibit. When I bought the tickets, I was sold the local ticket of 50 bht each. But at the door, the ticket collector spoke something to me in Thai that I cannot understand. She promptly sent me back to top-up my ticket to match my tourist status.
It's air-conditioned in the panda enclosure and do go early (about 9am) as they're active only during the morning feeding time. In fact, most of the animals are active in the morning due to the feeding schedule and cooler air. There's also a newly completed aquarium at the zoo and the admission charge is an additional 450 bht. I didn't go for it.
To get around the zoo, you can walk (which I did), get tickets to ride the tram, or paid to ride the monorail. Go for the tram option as there're more stops and it moves faster than the monorail which has only 4 stops. On the whole, the zoo is not too bad a visit to remind myself that our Earth belongs to these magnificent creatures too. My favourite was this white ostrich with blue eyes that seem to know its photo was being taken and actually poses for it!
For more photos from the trip, please visit my album
Peace of Mai
.