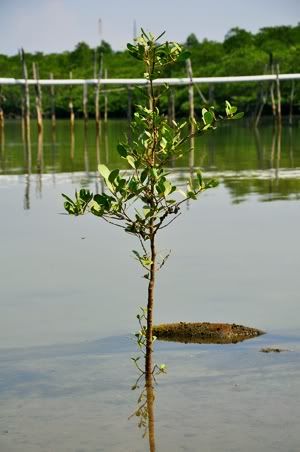 Batam scarred me for life. When I was 12 years old and had just gotten my BCG injection, I went to Batam because my father had a small business there.
I can't recall what he dealt in, but it's definitely not fatherly duties. Those days, Batam was pretty much undeveloped and brown-dirt roads were the highways. For leisure, the locals would drive into the forests and splash around in one of the many natural rock pools.
The water was so clear, I could see the bottom along with the small fish that were traumatised by our visits. I loved these excursions to nature but I didn't yet know how to swim. And one time, someone pushed me into the waters.
I can't swim. I struggled frantically and in the process, broke the blister of my BCG shot. I was rescued, but my punctured blister began to rot in the days that followed. I won't go into details about the process but I ended up with maggots on my BCG wound and had to see a doctor to clean it up.
Twenty-three years later, I'm back in Batam. The roads changed, but the dirt remained. That old country feel still glowed, but somehow, it has lost its innocence. Insofar, it seemed a last minute bastardisation of commerce and natural landscape. Therein lies its charm and inconvenience.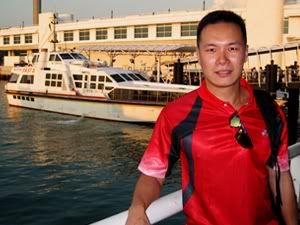 To take a break from the many responsibilities of Singapore living, I returned to Batam. Unfortunately, I wouldn't say that the place was worry-free. If not for the great company I had, Batam would be trying my patience for a 3 days 2 nights stay.
Here are the highs and lows of my recent re-visit to Batam. Hopefully it'll provide some useful information if you're planning to make a trip. As what we look for is different and every experience would be unique, take everything I say, good and bad, with a pinch of salt. And sometimes photos can make something look better than it really is.
NOT TOO BAD A WEEKDAY DEAL
We took up the 2-days-1-night weekday package offered by Transtar to Harris Resort Hotel and extended another night's stay with KTM Resort. The Transtar deal costs S$98.00 per person and included the following :
- 2-way ferry
- 2-way ferry terminal to hotel transfer
- 2-way hotel to Nagoya transfer
- 1 night stay
- 2 breakfasts
- 1 hour massage each and free use of spa facilities
- 1 free pizza
- 1 free game of bowling
For KTM Resort, we paid S$100 for a Deluxe Cottage with breakfast for 2. It also offered a free transfer to the ferry terminal which was less than 10 minutes away.
While the resort hotels and some cabs accept Singapore dollars, the local businesses prefer Indonesian rupiah. The exchange rate was S$1.00 = Rp 6,750.
HASSLE-FREE HARRIS
Harris Resort is every bit the family hotel with loads of multi-generation activities right down to the children-friendly colours. The rooms are pretty big and they have adjourning doors so it's great for large groups. My grouse would be the mildewy smell along the room corridors. The hotel looked like it could use a holiday itself.
But a new wing next to the yellowed-ager has just been completed and looks ready for singles and honeymooners. However, I suspect a pool full of shrieking kids would have the effect of turning champagne into beer.
The landscaped pool is the best part of the hotel. It is clean and lined with cuddle-baskets (or baby cots, depending on who's interpreting the pool-side furnishing) and in the path of the sun so you don't get building shadows marring an early morning or late afternoon tan (since skin cancer is purported to photosynthesize between 11am and 4pm).
And a nice pool IS IMPORTANT because the coastline around that area is so awful, even crabs won't want to live in them. Even the water sports hub opposite the hotel is nothing more than a large pond dug into the ground. If you would like to see what a kampung scene might be like, you won't be disappointed here. That's the rustic charm; I imagined that the days of the sampans must've felt like this.

Harris Hotel is near the Waterfront City Ferry Terminal in Batam. Although it's called a waterfront city, I thought Tarzan would've been more comfortable here. In front of the water it is, but to call the area a city requires a very lively imagination. Or delusion.
The star attraction of the Harris Hotel 2D1N package is the 1-hour massage at its in-house spa outfit, H Spa. It is located atop an annex building that houses a gym, karaoke, gift shop, bowling alley and billiard room. The place has the look-and-feel of the old Toa Payoh SAFRA, but H Spa managed to mimic, with some success, the ambience of a spa village.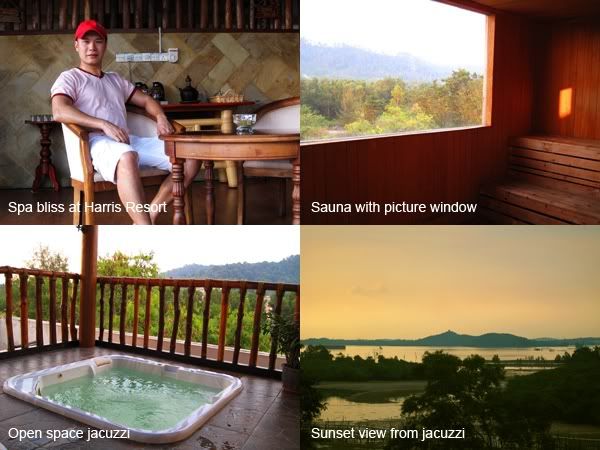 I tried the Indonesian massage and it's pretty good. At least it didn't feel like the masseur was trying to tickle me. But, the experience would've been much more enjoyable and relaxing had I been allowed to take a shower before being kneaded. Batam is humid. I've just returned from a half-day Nagoya town trip (and being trapped 45 minutes inside the hotel's 12-seater minivan which broke down on our way back) and had perspired so much, the skin between my thighs was giving me a bikini wax.
I did request to bathe, but was told to do so only after the massage. But after the massage, we were promptly led out towards the exit until I asked about showering and the complimentary use of their spa facilities. Thankfully I asked. How does bubbling away muscle tension is an open-view jacuzzi while catching the golden hues of a sunset sound to you?
KTM RESORT - THE SAND POTENTIAL
"Dear Darren… I think you look so funny."
How did she know that?! So far, we've only exchanged about 5 emails and I haven't even checked in to KTM Resort yet.
I received that response while trying to book a night's stay at KTM. There is no online reservation function at its website and the only way is to email them. I tried approaching the 2 Singapore agents it listed, but I was turned away as they only made arrangements if I took a spa package that includes lodging. Yet the irony was, even if I had wanted to take the package, I couldn't because all the spa therapists had gone home for Hari Raya Puasa. The Muslim holiday was on 20 Sep 09 (Sunday), my trip was from 23 – 25 Sep (Wednesday to Friday).
I wanted to stay at KTM on 24 Sep (Thursday) but the therapists will only be back on 25th, so I had to contact the resort directly to make a room-only arrangement. I emailed KTM weeks before my trip and waited another ice-age before I got a reply from a staff. Let's call her S. I asked for a Deluxe Cottage at S$85 a night with free pick-up from Harris Resort (the room rate includes free breakfast for 2, and a 2-way free transfer from Sekupang Ferry Terminal). Her reply didn't answer my requests.
So I wrote in again, waited, and finally called. I was told that they'll confirm my booking by email. Then I got a reply giving me another room type. So I wrote in again to ask for the Deluxe Cottage, which I stated in my first email, at the weekday rate of S$85.00 a night (weekday and weekend rates are different). I waited again. No response. I called again. S told me she needed to confirm with her manager about the pick-up from Harris.
Getting closer to my travel date and still no response. So I emailed again and got the "you look so funny" reply with a confirmation to stay in the Deluxe Cottage at S$100.00 (weekend rate) and no free transfer from Harris. If I wanted them to pick me up, I had to pay an extra S$50.00 for the service (is it a loanshark hotel?).
I wrote in again saying 24th Sep, being a Thursday, should be charged at the weekday rate. The reply was that it was still the Hari Raya holiday period so it is a weekend rate. But, Harris Resort didn't charge me a weekend rate! Anyway, I got the accommodation type I wanted without free pick-up and a breakfast buffet with only 3 choices – fried noodle, friend rice, and fried kway teow.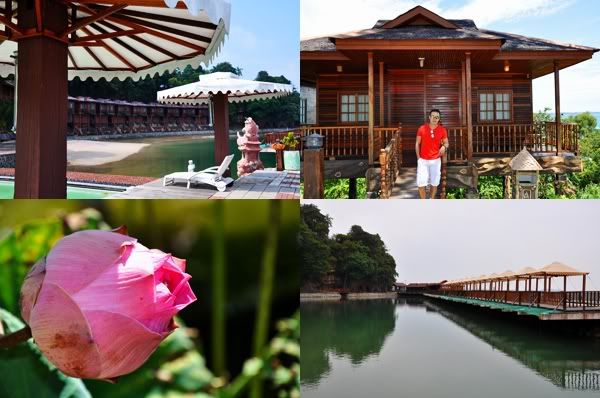 But despite all that, I thought KTM has great potential to offer a unique lodging experience. It is like a grain of sand, a potential seed to become a pearl. Or a yet to blossom lotus bud (lots of lotuses there since the resort has a very strong Buddhist influence).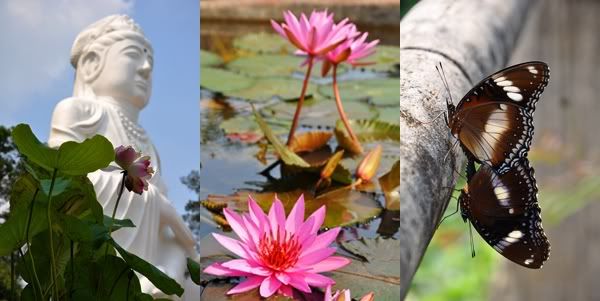 KTM has a great seafront view, a supposedly therapeutic, natural seawater pool (though I didn't try), comfortable rooms, close to nature (but beware the mozzies), and quirky landscaping that are attractions all unto themselves.
PURA AGUNG AMERTHA BHUANA
Having travelled to quite a number of places in Asia, I've come to the conclusion that regardless the destination, be sure to visit its religious monuments. These totems of man's faith describe the size man's fear of the afterlife and an attempt to exert control on fate, destiny, luck, or whatever we call it. I mean, aren't prayers a way of telling or requesting the unseen for a desired outcome?
That's a construct of hope. I guess. And I am a hopeful person. So I have no qualms in embracing the different triggers that make living more bearable. I've seen many Chinese temples, Muslim mosques, Thai wats, and English Churches, and their design and scale never stopped taking my breath away.
But in Batam, I encountered an image of Hinduism that was new to me. There were no rows upon rows of brightly coloured sculptures of deities and animals, but white-washed stone carvings of fearsome creatures. I've read of Shiva, Mount Meru and some mystics of Hinduism, but Pura Agung baffled me. What is that serpent-dragon?
My lack of knowledge notwithstanding, this temple is unlike what I've seen and the 'no photography', 'no visit by menstruating women', and the no going up the main stupa rule only piqued my interest further.
But please don't think I disrespected the 'no photography' rule. When I was in the historic site, masons working to restore the temple actually encouraged me to take photos, and take lots of them so as to share and raise awareness about that place. Well, here's my tribute to the great masonry.