Date of Exploration :
29 September 2014
I love zoos but their remote locations usually make them quite a trip to Mars. Not
Taronga Zoo
though. Located just a 15-minute boat ride from downtown Sydney at Circular Quay, the city's resident wildlife attraction is as easily accessible as a dog's tongue finding its nose.
Opened in 1916, the 52 acres zoo houses more than 2,600 animals from 340 species. Of the species, most of them are found exclusively in Australia with a collection of animals from other continents. I've wanted to come by Taronga Zoo during previous vacays in Sydney but the steep ticket price would have its teethmarks felt on my travelling budget.
Thankfully, on this trip, my friend from Sydney graciously lent me his transferable annual pass to the zoo so my wish for a visit was realised. It's for me to visit my 'relatives', he said...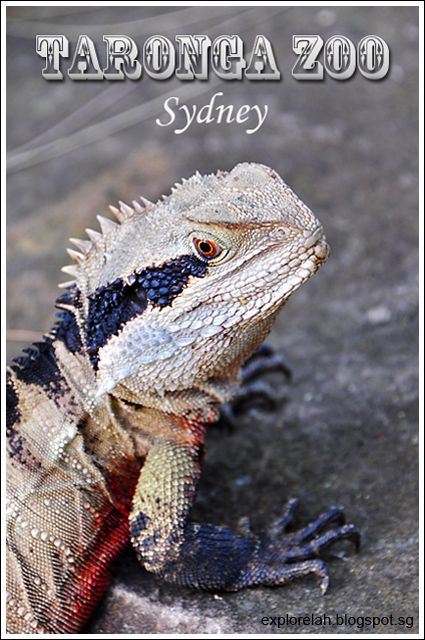 Stepping onto the park grounds, this Australian Eastern Water Dragon strutted across my path to bake on a nearby rock. Such a delight!
Getting to Taronga Zoo
There are 2 ways to get to the zoo... by bus or ferry. I took the ferry option as it is the easiest and more scenic. A ferry departs half-hourly from Circular Quay (Wharf 2) for Taronga Zoo. A return ticket for adult costs around A$12 - 15.
You can also get a cruise-cum-zoo-entrance-ticket package with other operators such as Captain Cook (approx. A$99 per adult, includes whale watching cruise) and Yellow Water Taxis (approx. A$65 per adult) at Circular Quay.

Do get your camera ready to snap photos of the Sydney Opera House and Harbour Bridge as the ferry pulls away from the quayside.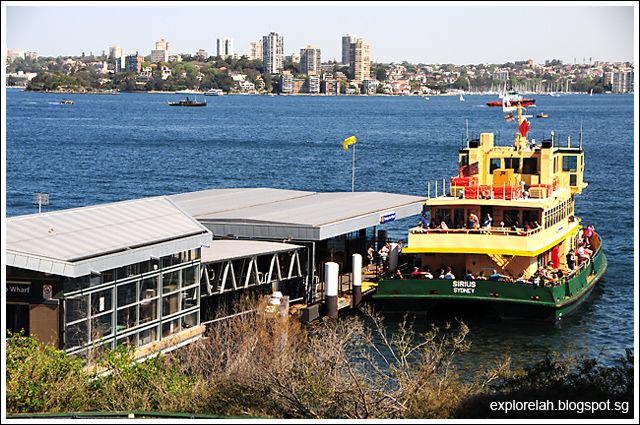 Pictured here is the Taronga Zoo Wharf looking out towards downtown Sydney.
Portraits at Taronga Zoo
Cascading down the side of a hill,
the city zoo gathered unique Australian wildlife distributed across the country onto one zoological park that also serves as a vantage lookout point to take in all of Sydney's vibrant cityscape

. So the zoo is kind of a two-in-one attraction to see the exotic animals and city view.
Plus, if you took the ferry, you would've drifted across the scenic Circular Quay precinct of Sydney Harbour. And if you stayed till the zoo's closing time, you can catch a sunset on the cruise back (see end of this post)! My camera never had a dull moment.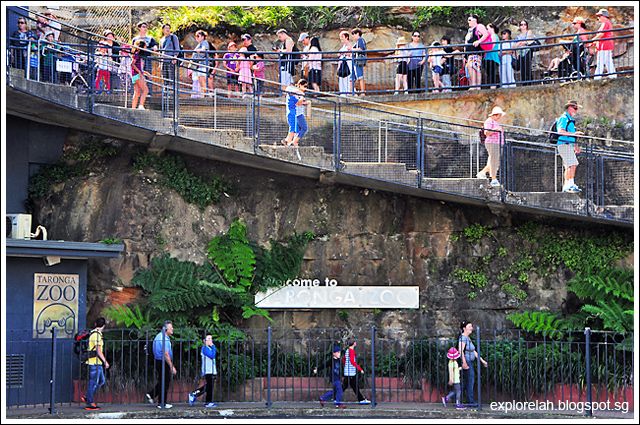 This is not the main entrance of Taronga Zoo but the queue to board a cable car (Sky Safari) to the top of the zoo. If you hold a season pass or bought a packaged ticket at Circular Quay, you can join the queue immediately. Else, go to the main entrance to purchase a ticket.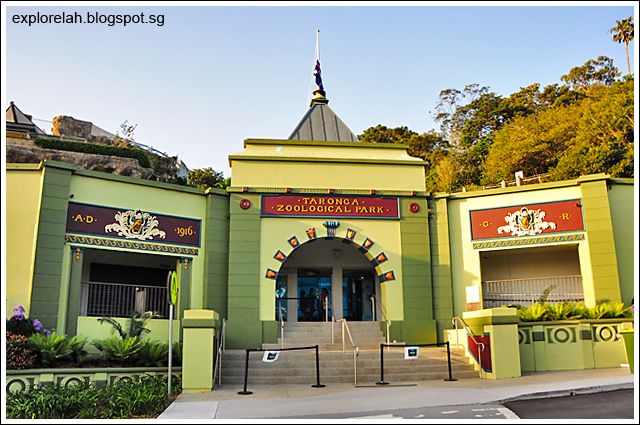 Main entrance of Taronga Zoo. Coming out from the Taronga ferry jetty, to the left is the cable car boarding point and to the right, up a road about 200m away, is the main entrance. This is where you can purchase the admission ticket to the zoo.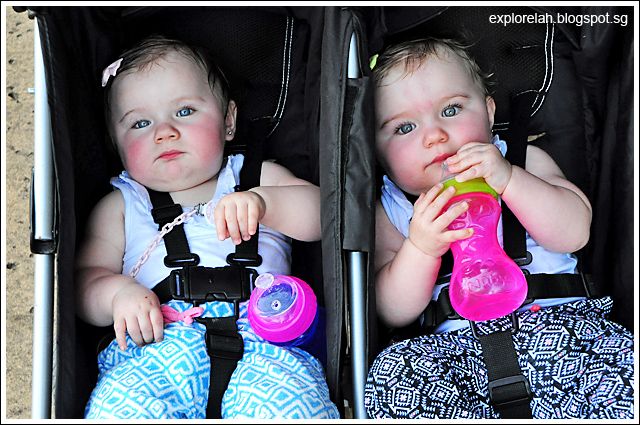 Seeing double... Met this pair of adorable twins while queuing for my cable car ride.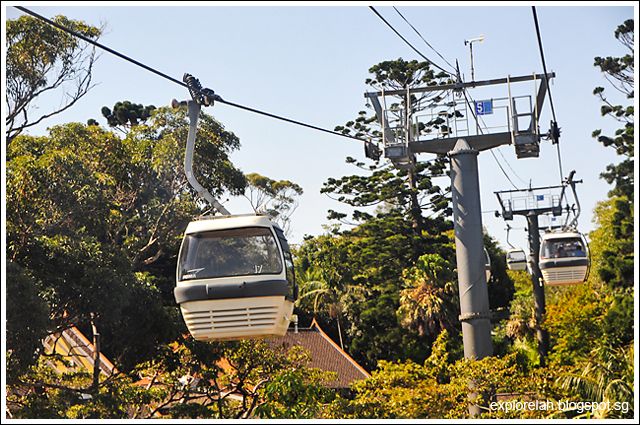 There are 2 ways to visit Taronga Zoo... Take the cable car from the foot of the zoo to the top and sightsee all the way back down, OR enter from the main entrance and sightsee all the way up then take the cable car down.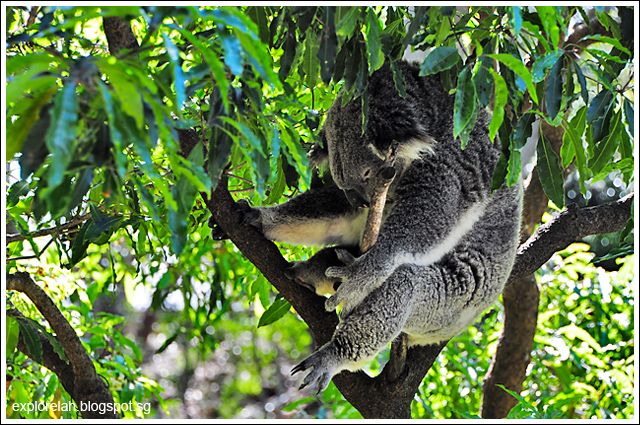 A living mascot of Australia... The Koala bear is actually not a bear but closer in relation to wombats and kangaroos. Due to its highly specialised diet of eucalyptus leaves which are low in nutrients and energy, koalas sleep for up to 20 hours a day and have a small brain compared to other mammals.

Their small brains contribute to slow learning and adaptability which is why captive koalas must be kept with live eucalyptus trees as they will not recognise the trees' leaves and branches when they have been plucked and fed to them, thereby leading to starvation.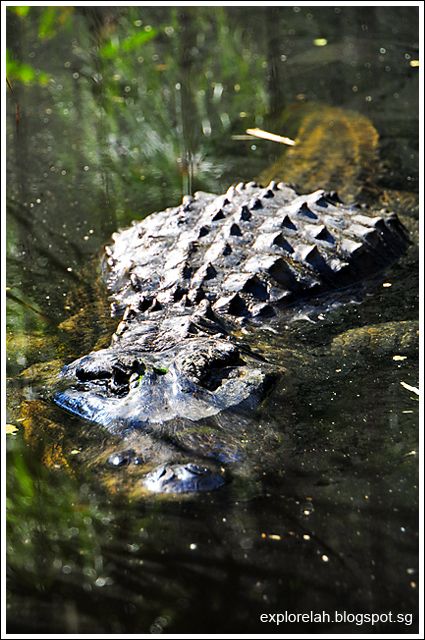 The king of Australia's outback. Not known for lions and tigers, Saltwater (Estuarine) and Freshwater Crocodiles are the top predatory jaws in the continent's tropical wilderness. It is estimated that crocodiles kill an average of 2 persons a year.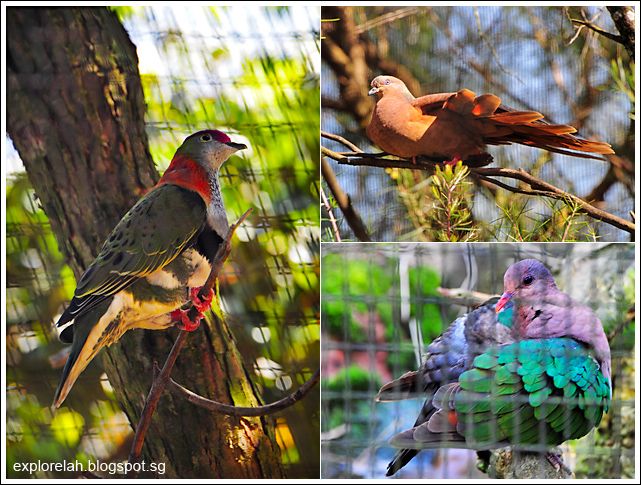 Aviaries within Taronga showcase a kaleidoscope of feathered hues found throughout Australia. My favourite was the Emerald Dove (bottom right) for its electric green wings contrasting with a mauve body.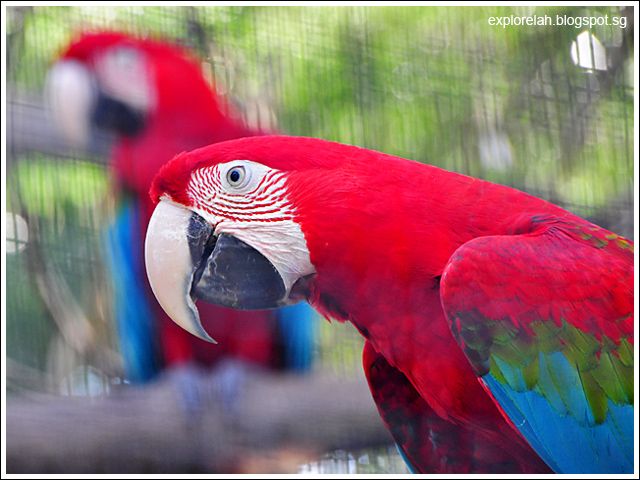 Scarlet Macaw... the facial patterning on macaws are unique like fingerprints.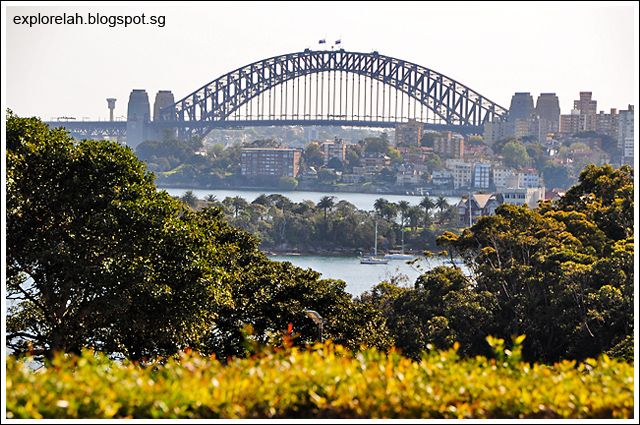 One of the many foliage pockets at Taronga Zoo that offer a beautiful glimpse of Sydney Harbour Bridge and the city skyline.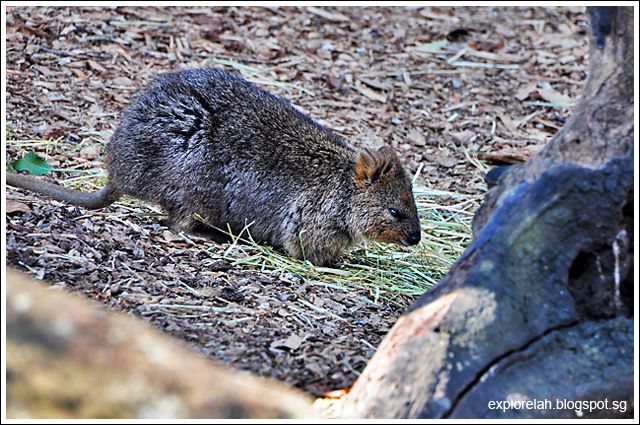 This is not a rat on steroids but the Quokka, a mouse-like relative of kangaroos and wallabies found mostly on Rottnest Island off Perth.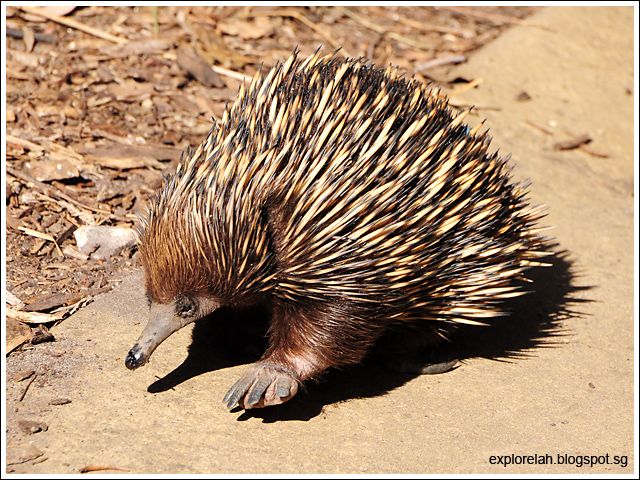 This walking ball of needles is the Short-Beaked Echidna. It is different from the hedgehog (insectivores) and porcupine (a rodent that is herbivorous) in that it feeds on ants and termites and lays eggs instead of live young like the other two spiky mammals. The three are of totally different species who have evolved a similar defense strategy.
"Never skip your breakfast to jump-start the say," says Mr Kangaroo.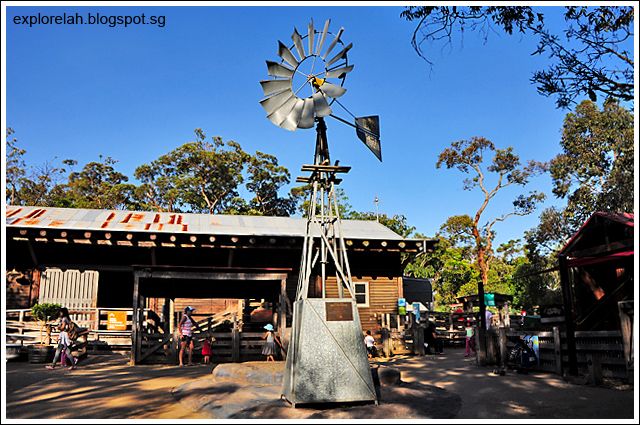 Taronga is zoned into various sections and trails that showcases Australian wildlife in the woodlands, arid regions, wetlands and ocean as well as non-indigenous animals imported from Asia, Africa and other parts of the world.

There are also a couple of themed exhibits such as this farm-based one that replicated the barn and ranch complete with livestock.
Mutton's gonna stop me from getting close to you! Totally enjoyed the face time with sheeps at the barn where I got to stroke their coats. They never stopped eating the whole time I was there.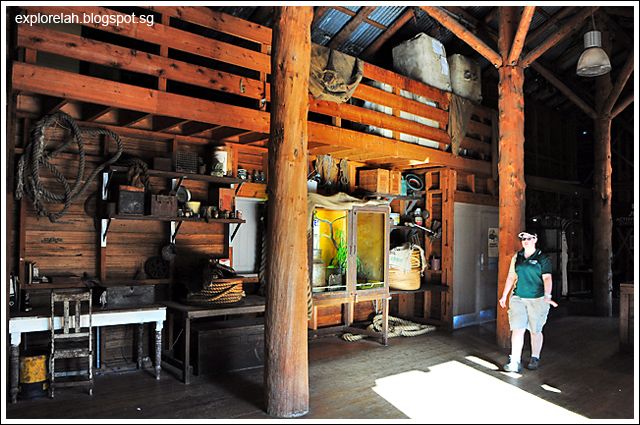 Inside the barn is an opportunity to learn about the animals and pests Australian farmers have to deal with.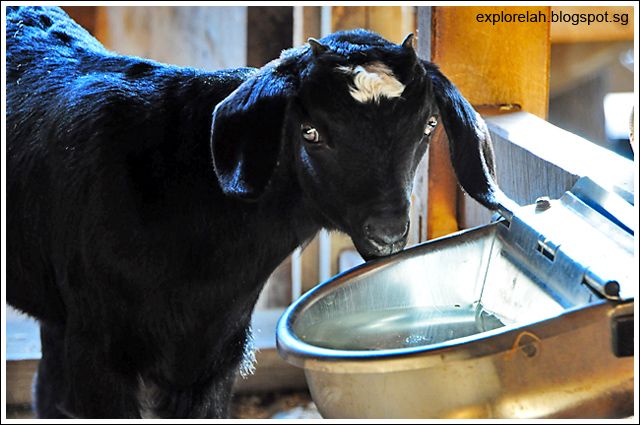 A kid drinking from a toilet bowl shaped water trough.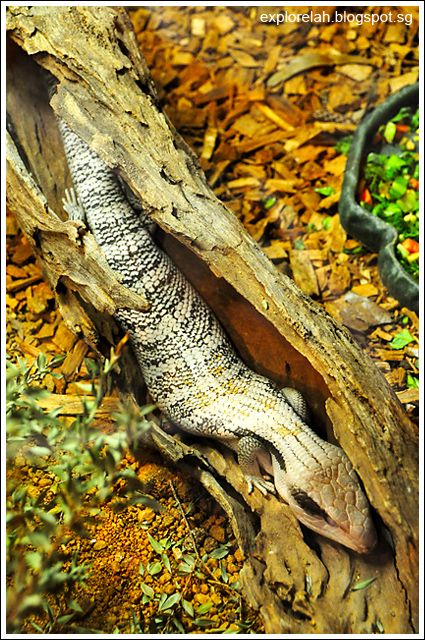 Eastern Blue Tongue Lizard... a skink commonly found in gardens and the open country. Because its legs is hard to see, it is sometimes mistaken as a snake but the brilliant blue tongue within its pink mouth is an identifier of this gentle crawler.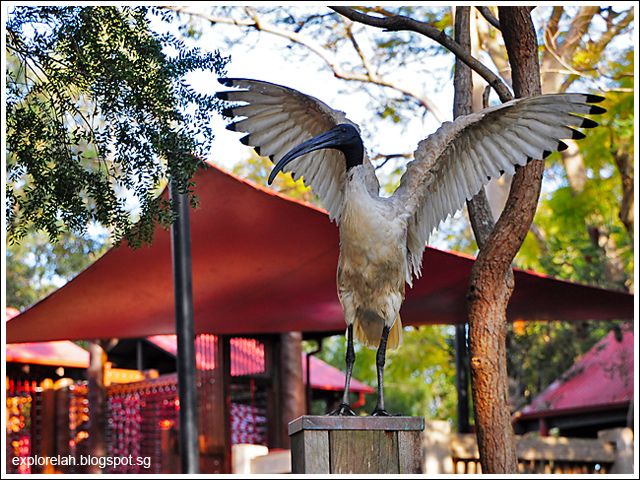 A free-ranging Australian White Ibis doing its best impression of a hawk. These birds are notorious for giving off a foul stench. Perhaps coz they air their armpits so much like in this photo? LOL.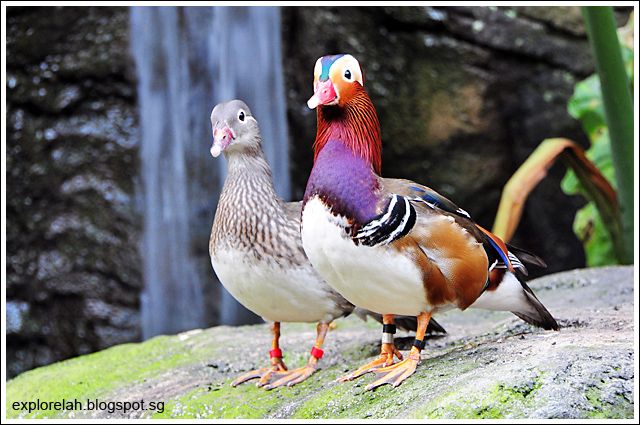 A handsome pair of Mandarin Ducks at an Asian themed enclosed garden.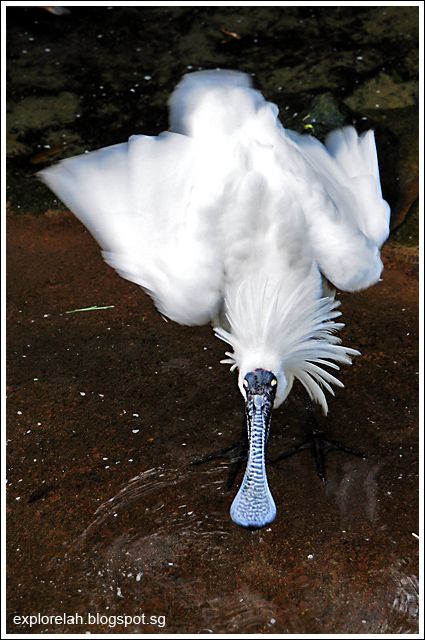 A Royal Spoonbill fluffing its white plumage while sifting the faux pond for an afternoon snack at the Wetland Aviary.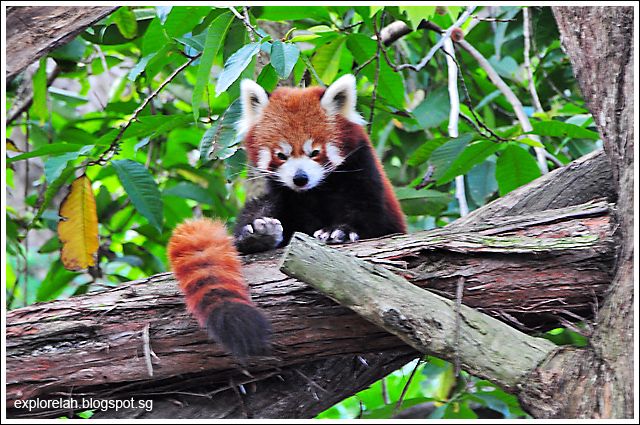 Red Panda sighted at Taronga Zoo!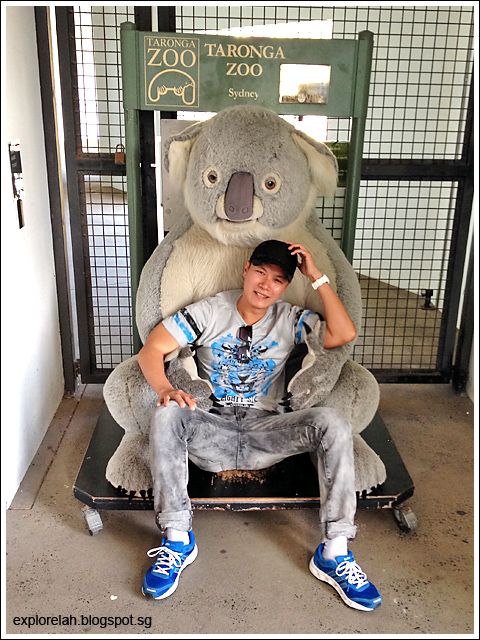 Giant koala plush near the zoo's exit for a huggable photo op. There's a huge kangaroo plush nearby to pose with too.
An Unofficial Sunset Cruise
A bonus to visiting Taronga Zoo is that if you stay till its closing time at 5pm and catch the ferry back, depending on the season, the ride will probably coincide with an early sunset. And that becomes something of an unofficial sunset cruise down Sydney Harbour to end a day's outing to meet Australia's wildlife.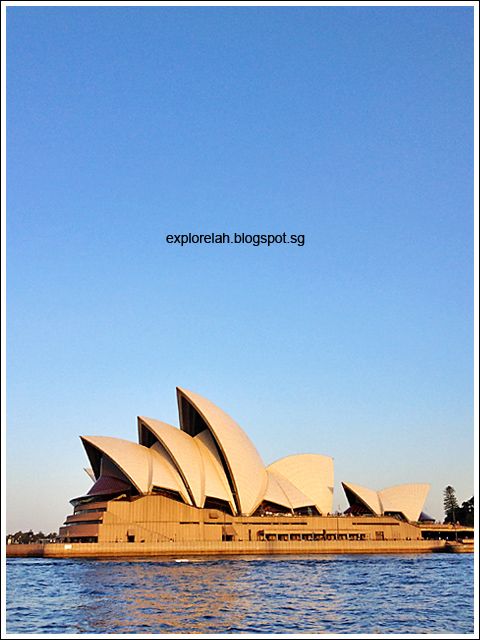 Sydney Opera House wrapped in the evening's gold.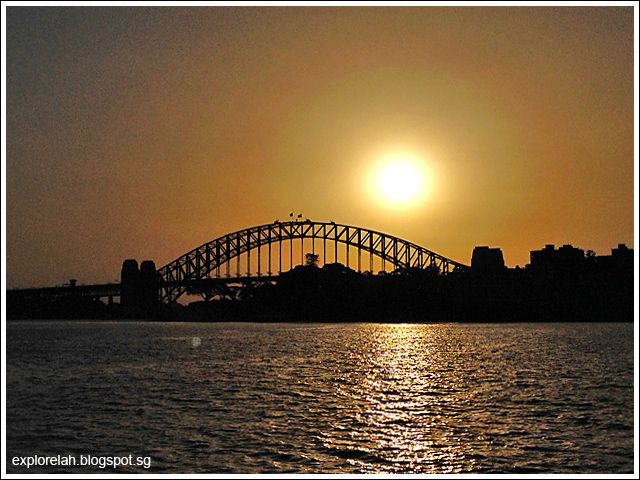 5:17pm : The single yolk radiating behind Sydney Harbour Bridge. What a sight to behold and a beautiful full-stop to my visit to Taronga Zoo :o)
Taronga Zoo, Sydney
Address :
Bradleys Head Rd, Mosman NSW 2088, Australia
Opening Hours : 9:30am - 5:00pm daily (till 4:30pm from May to August)
Entry Price :
A$46.00 (adult) / A$23.00 (child). Price includes Sky Safari cable car ride