For the trip, we are put up at The Mira Hong Kong. Other than the destination, I think the hotel is the next most important factor that makes or breaks a vacation. I think many of us put a lot of time into finding the best hotel that'll meet our budget, needs and be at an easily accessible location.
Price-wise, The Mira commands a premium with rates starting from HK$1,600 (approx. S$280) a night. But after checking into it, I would say it's worth every penny! Located at a prime area along Nathan Road, the hotel's visage doesn't seem like much. But it beguiles the avant-garde design and luxury within. Ok, I'm easily satisfied and impress.
Well, here're some pics for you to decide…
When I entered the room, I was literally jumping up and down in joy! First or all, the room isn't a sardine jacket that most hotels are in Hong Kong. Secondly, it comes equipped with a full range of hi-tech gadgets – web surfing with the TV and a wireless keyboard, iPod dock with speakers, and a multimedia player (DVD, USB, memory stick, etc). There's even a handphone provided in the room although I have no idea what it is for.
Next, there is quite some cool designer stuff in the room… silver packed sundries, specially designed water bottles, and we're using Salavatore Ferragamo toiletries! My hair and skin feels expensive already.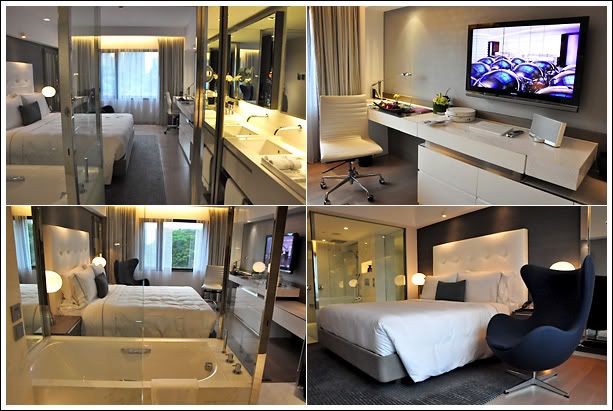 On top of that, the service was impeccable and the staff are really courteous and friendly, Walk out the doors of The Mira and it's a different world out there. I would only say that the services I've experienced so far from places I visited today is that the Hong Kongers treat you like family. So it's a 'get the job done' kind of attitude.
But the thing that delighted me the most was the welcome treats they left in our rooms. Designer sweets, black truffles chocolate and fresh, juicy strawberries and lychees. I almost didn't want to go sightseeing. Such a waste to leave the room empty.
Before coming here, I checked out the hotel from its website and the photos made the place looked really good. Now that I'm here, the photos weren't a smokescreen or a mirage. The place does look as good as the pics make it out to be.
And I've yet to visit the gym and swimming pool, which are supposed to be another 'wow' in the waiting…
For more photos, please visit my album
A Lingering Fragrance
.