What makes Singaporeans tick? What bothers us at night while we lay in bed? Well, without a doubt, it's the Singaporean dream… the
5Cs
–
Condo
,
Car
,
Cash
,
Credit card
, and
Career
.

But a visit to the National Museum of Singapore earlier this year, I realised that our obsession with the 5Cs is chronic. It has always been in our blood. If you don't believe me, pay a visit to the museum and meet the 5Cs' ancestors…

Couture, Cuisine, Cinema, Camera, and quite curiously, Carriers.

That's the idea I got after visiting the 5 main exhibits collectively known as the Living Galleries. Even our history is about spending, or buying… is this the origin of our love for shopping? Haha.
I can't remember when the last time (or first time) was that I visited the National Museum. All I remembered was being told that it was haunted in my early teens (now, that's a long time ago so you have a reason to pardon my poor memory).

I was told the dome used to be sealed off from public access because there had been many sightings of ghosts. I was also told a cleaner was found dead in the most unnatural manner under its watchful 'eye'.

Not sure if they were urban myths, but from inside the rotunda today, I could see all the way up to the dome, a delightful feature of colonial-style stately architecture. The ring of stained glass that encircled the dome reminded me of a palette of fake fingernails.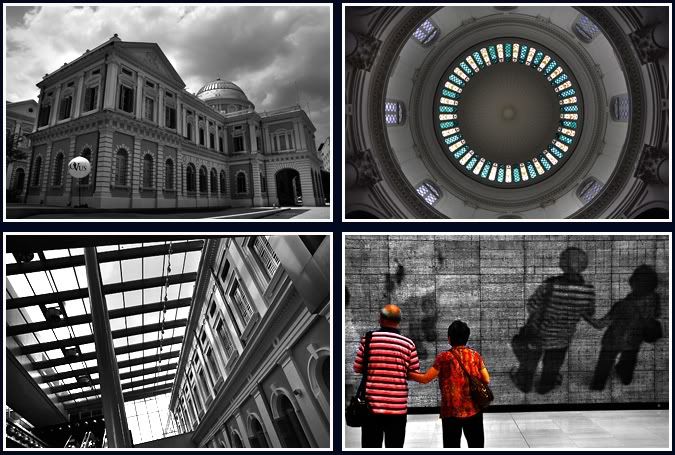 Fake, that's what some friends said about the museum's restoration. They said the place lacked 'flavour' now. But do we really need grandma to dress up in a samfoo and cook over a charcoal stove before we can appreciate her dishes? I very much enjoyed the newness of it, the use of interactive media and innovative exhibitory technologies that brought history to life.

The most interesting was this huge black and white LED wall that captures and projects your image on it much like walking in front of a videocam hooked up to a TV. But I thought the image capture should've been frontal face rather than the back view.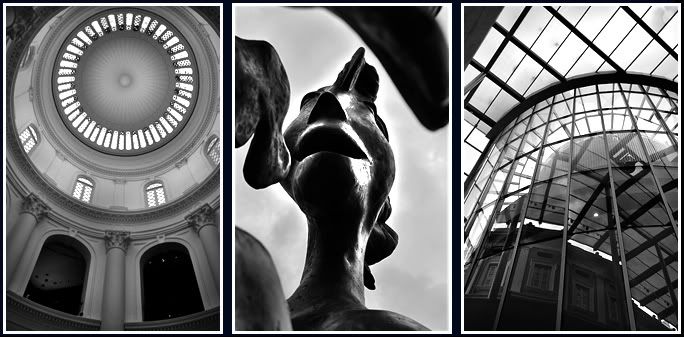 So within the small geographical borders we call home, here's what bothers Singapore, historically… Fashion, Food, Film, Photography, and an exhibit I didn't have time to photograph, Carrier bags.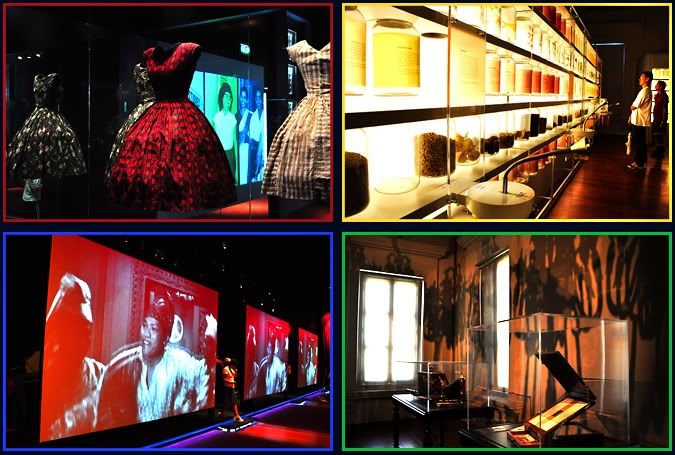 You can probably guess what goes on display in the galleries of the olden day 5Cs. They trace the development and evolution of the respective topic in the different eras.

Apart from that, the museum also hosts thematic and travelling exhibitions. There was an Egyptian exhibition going on when I visited. I love the mysticism that surrounds Egyptology but the queue was too long to view the exhibits.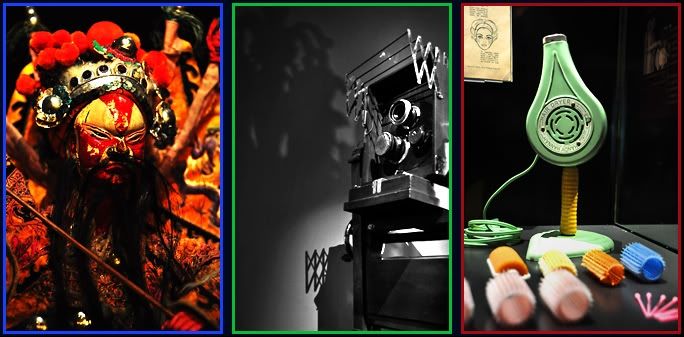 As a whole, I felt the National Museum focused more on the collective cultural aspect of Singapore rather than it being an anthropological study of the different ethnic groups. That in-depth study is distributed amongst the many museums such as the Asian Civilisation Museum, Peranakan Museum, Hua Song Museum, and other boutique galleries.

I saw on a bus ad yesterday morning on the way to work that Singapore has more than 50 museums! Such a small and young country got so much history and things to preserve meh? Or is it because we move so fast that things become obsolete and relic-fied in an instant so we have such a big pool of artefacts to remember? Many of the things I saw at the National Museum weren't too unfamiliar actually. Well, at least for my generation.





And the uncle in me cannot recognise what's that fruity thing marking the museum's entrance facing the former Government Hill (Fort Canning Hill today)? Is it a cherry? Or is it a shriveled capsicum? So undecided. Not here not there. Perhaps that's to reflect the trouble we have in grappling with the Singaporean identity.

Apart from our Singlish lah!

If you're interested to find out more about the National Museum, click here.