Dates of Exploration : 29 Sep - 5 Oct 2010
For many years, Bali eluded me. It was for me, what a transparent glass jar full of candy high on a shelf would be for a child. Or a very short person. Who likes sweets. I was that financially short person who never quite had the means to reach it. Bali isn't an expensive place to go to from Singapore but when one starts realising just how hard-earned money is, spending it became a personal taboo.
I joined the workforce in 2000 and Bali has always been a place I wanted to visit. Friends who've been there all raved about it. When I saved up enough, that's where I'm gonna go. Then in 2002, the Bali bombing happened and its appeal as a tropical paradise went up in smoke.
But the terrorist situation seems to have diffused in the last couple of years with increased security collaboration between the Indonesian government and the various embassies, especially Australia. So I decided it's time to visit this island of the gods.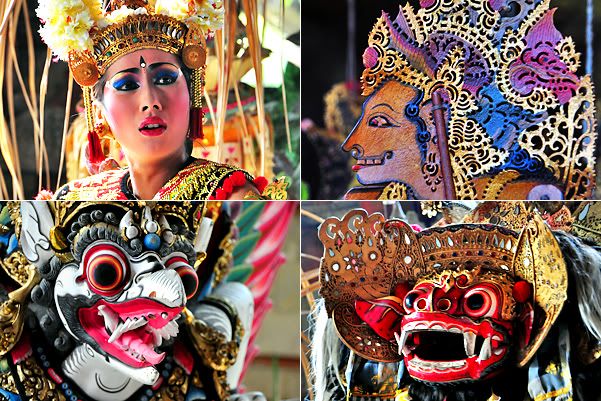 AIRFARE & ACCOMODATION
My airfare was booked about 4 months in advance during a Jetstar promotion. For accommodation, we decided to spend 3 nights in Kuta and 3 nights in Seminyak. Kuta and Seminyak are along the same stretch of beach. While the Kuta area is more vibrant and messy, the Seminyak district has a laid-back feel with many nice-looking hotels and resorts. In-between the 2 is the Legian area where its beach is known as Double Six. It is possible to walk along the beach from Kuta to Legian to Seminyak in about an hour.
Jetstar Ticket :
S$28.00 return – not inclusive of Rp 150,000 (S$22.50) airport tax paid when departing from Bali
Exchange Rate :
S$1.00 = Rp 6,670 / Rp 1,000 = S$0.15
Tune Hotel, Kuta :
Approx. S$25.00 per Single Room per night
The Tune budget hotel chain is great value for just having a place to sleep at night. I've stayed in Tune Penang and Tune Kuching and my experiences were always pleasant. This hotel choice is great when you've travelling with friends because the cheap rates mean you can get a room each rather than having to share.
Harmony Hotel, Seminyak :
Approx. S$85 per Deluxe Room per night
The Harmony Hotel resembles a collection of semi-detached houses facing a common pool. The rooms are spacious so it was very comfortable even for triple-sharing. There's nothing really wow about the hotel but I love it that there's free wi-fi and free use of the hotel's computers that comes with Photoshop CS2 for image editing! The internet connection was pretty fast too.
TRANSPORTATION IN BALI
For tourists, the best way to travel around Bali is by hiring a car and driver. All hotels have cars for hire or you could just get a metered cab on the streets. Every few steps you take, there will be cab and private car drivers who will ask to take you around so there's really no need to worry about transport. There are other modes of transport such as the bemo, which is basically a van, and buses that the locals ride in but I never saw a bemo or bus-stop so I have no idea where to get on or get off.
The flag down rate for a cab is Rp 5,000 (S$0.75); each increment per kilometer is Rp 4,500, and if you require the cab to wait for you while you visit the tourist attractions, a charge of Rp 30,000 (S$4.50) per hour applies.
On our first day, the 3 of us booked a 7-seater APV from Tune Hotel for 10 hours at the published rate of Rp 360,000 / S$54.00. We also had to pay a Rp 100,000 charge for petrol. But our day's tour lasted 13 hours so we paid an additional Rp 100,000 for the over time. In the end, we paid a total of Rp 560,000 / S$84.00 for the day trip (S$28.00 per person) which brought us to Batubulan (to watch Barong and Kris Dance), Royal Family Temple, Goa Gajah (Elephant Temple), Gunung Kawi temple, Tirta Empul temple, Batur Volcano, Tegallalang rice terraces, Kokokan (bird watching) and Ubud Palace (to watch Legong Trance & Paradise Dance).
A 10-hour packaged day tour with a similar itinerary costs between US$35.00 and US$45.00, so booking our own transport seemed like cheaper way to explore Bali. However, when factoring in all the entrance fees to the attractions and meals, following a packaged tour if you don't have many travelling companions may be a better deal. But of course, the good thing about having our own transport is that we don't have to follow a group schedule and can take our time to see the sights and skip those we're not interested in. The exception is if you intend to go white water rafting because it is more economical to join a package tour.
We also tried the flag-down cab mode of transport on our fourth day. After some negotiation, we paid Rp 300,000 / S$45.00 for an 8-hour day tour. The fare includes petrol and the cab driver suggested places for us to visit. We were brought to the center of Ubud where we visited the Ubud Palace, Ubud Market, had Babi Guling, visited the Monkey Forest Temple, Mengwi Temple, and Tanah Lot sea temple. Other than an occasional jam during peak hours, traffic in Bali is pretty smooth flowing.
CULTURAL ENCHANTMENTS
As soon as I stepped out of the Bali airport, the first thing I noticed was that the air smells different. It smells of the sea. And the other thing I noticed was the distinctive motifs and cultural emblems used in Balinese architecture.
The whole island is one big intricately carved living museum of culture and arts. Everywhere we went, original modern art is infused with the traditional artistry of elaborate temples. The island should be called B
art
li.
NATURAL AMUSEMENTS
I've always thought there's nothing more to Bali than just temples and beaches, but I was so wrong when I realized just how many amusements parks of nature there are on the island. Rice terraces and never-ending stretches of corn fields aside, the island bleeds with countless rivers and waterfalls, and offers a wide range of activities to delight in nature's bosoms.
SHOPPING & FOOD
If there's only one thing you remember about shopping in Bali is to BARGAIN. Everything can and should be bargained. And you can push the prices down as low as just 20% of the asking price. Yes, I'm not kidding. I have lots of anecdotes in being a fool to pay a higher price. The following are some examples…
Sunglasses –
I bought a pair of sunglasses at a shop for Rp 50,000 / S$7.50. Then when I was at the beach, I was offered the exact same pair of glasses for Rp 20,000.
Straw Hat –
The asking price for a woven straw hat was Rp 150,000 / S$22.50. I offered Rp 40,000. No deal. I raised it to Rp 60,000. Still no deal. I walked away. I was promptly called back and sold the hat for Rp 60,000 / S$9.00.
Henna Tattoo –
I first got a rather large henna tattoo on my back for Rp 70,000 / S$10.50. On the next day, I got a slightly smaller but equally intricate tattoo on my arm for just Rp 20,000 / S$3.00.
If they don't want to lower the price, just walk away. There're many shops and vendors selling the same things. They'll likely ask you back. In fact, you can't walk 2 steps without someone trying to sell you something or offer to drive you around. It can be irritating but I guess tourism hasn't been reinstated after all the bomb scares.
The best food we had was at Warung Murah in Seminyak. It is like a chap chye beung (mixed vegetable rice) stall in Singapore but the food is delicious at a reasonable price. I love the chicken skewer and beef curry there. Address : Jln. Double Six, No. 99. Another yummylicious place to eat is a fastfood outlet, Es Teler77, at Discovery Shopping Centre in Kuta. The avocado, coconut and jackfruit dessert is divine.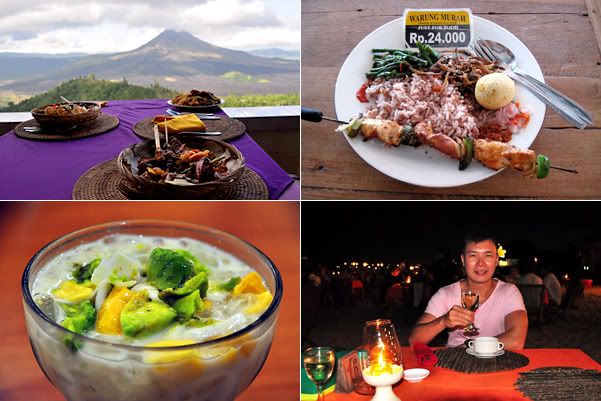 CELEBRATING LIFE IN BALI
There's no reason to not celebrate or enjoy life in Bali. It may not be polished or offer the convenience of city-living but there's a certain magic in the atmosphere where one can live it up, or find solace in the abundance of nature.
For a place that has survived terrible acts against the freedom of belief, Bali invokes a sense of peace that's not to be taken for granted. While its people are friendly and cheerful, there's no denying that life is pretty hard there. And the best way to forget about life's troubles is to celebrate with the Kuta Karnival which is held every year around late September to early November to heal the 2002 tragedy.