Date of Exploration :
31 Mar 2016
Every city has its icon or signature district and Dotonbori (also spelt Dotombori) in Namba is Osaka's loud and unabashed declaration of the city's personality and stake to fame. Being here actually made me feel small because everything about this electrifying commercial enclave is so larger-than-life, I felt as if I've been shot by a shrink ray.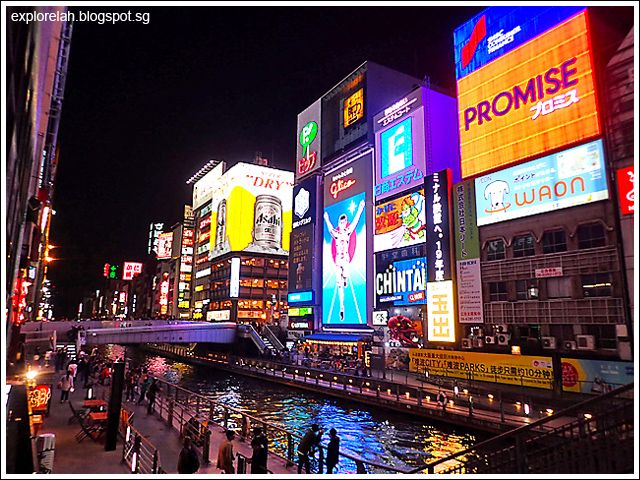 Flanking Dotonbori Canal that cuts across Osaka's Namba district, the radius of streets and buildings in the vicinity is collectively known as Dotonburi. It is the downtown hub for food and entertainment and the area is served by a number of the city's underground rail network (MRT in Singapore's context).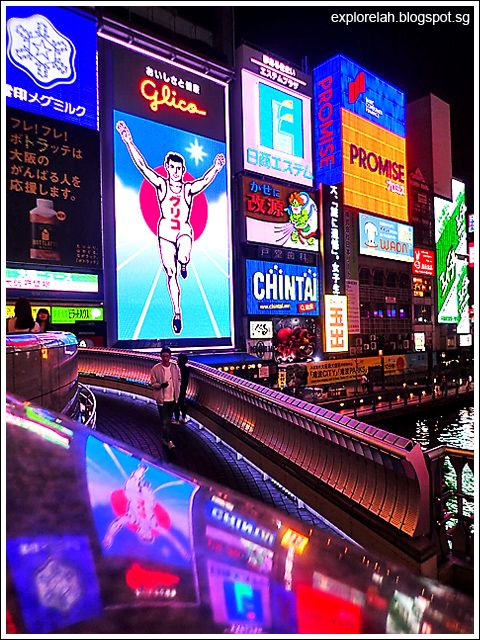 The Glico Man! Finally I get to see it in person after all the photos and frame a shot with its reflection on the bridge I was on. Friends have lamented that internet photos killed the mystery of discovering a place but I find a thrill in reaching my own perspective to appreciate a scene that so many have photographed.

It is not about seeing but feeling the energy and interpreting the magic of a place in our own ways that make travelling worthwhile despite the photos and thoughts that have been shared online.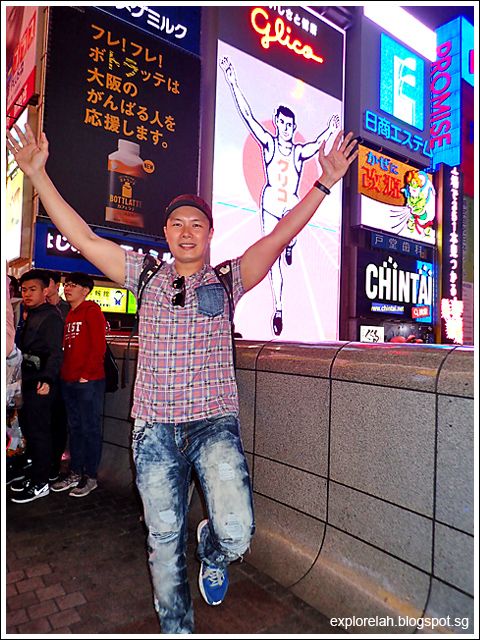 We are winners! Doing what everybody does with the Glico Man signboard. The reminder that running is good for health was installed in 1935 as a static billboard before being upgraded to an animated LED signboard in the 20th century. The billboard gets updated with customised imageries during special events such as when Japan bid for the World Cup in 2002.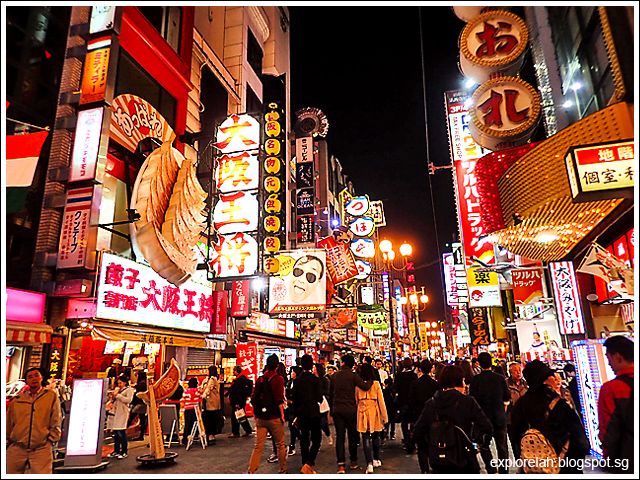 But the humungous LED signboards that lined Dotonbori Canal are just an appetiser to the real treat behind them... the massive food and shopping streets that sprawled in all directions and the giant sculpted signboards!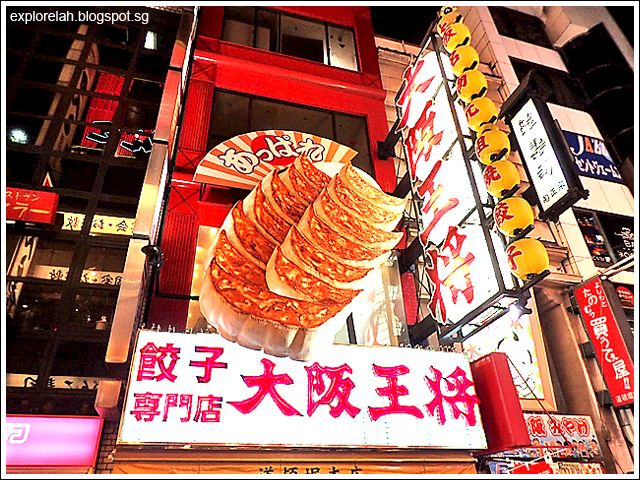 The Japanese are so good at making wax miniatures of food but in Dotonbori, I see that their talents in making plastic look delicious take on a mammoth scale. The food street of Dotonbori is filled with giant signboards advertising mouthwatering food!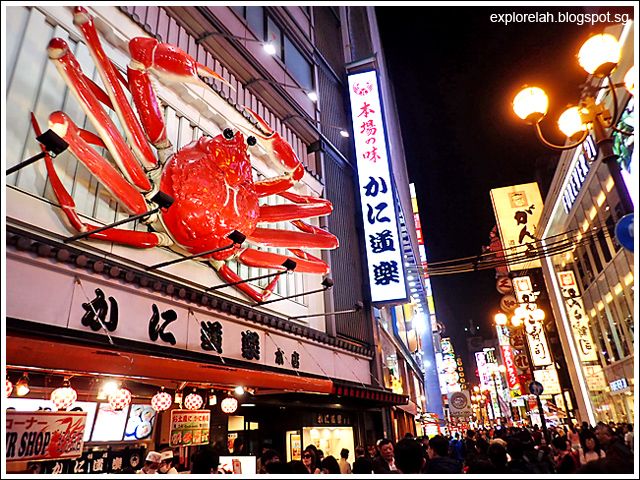 Perhaps the most famous of the 3D gigantic signboards that spun many copycats is this monstrous 6.5m installation of the Japanese Snow Crab. The legs and eyes move as if it is alive!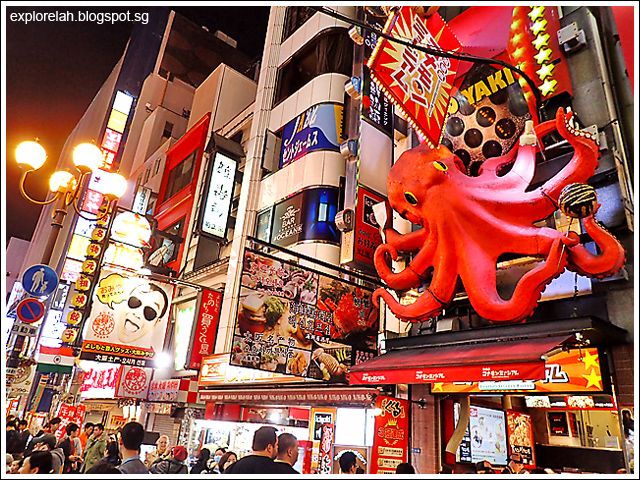 Giant octopus advertising a shop that specialises in Takoyaki (octopus balls).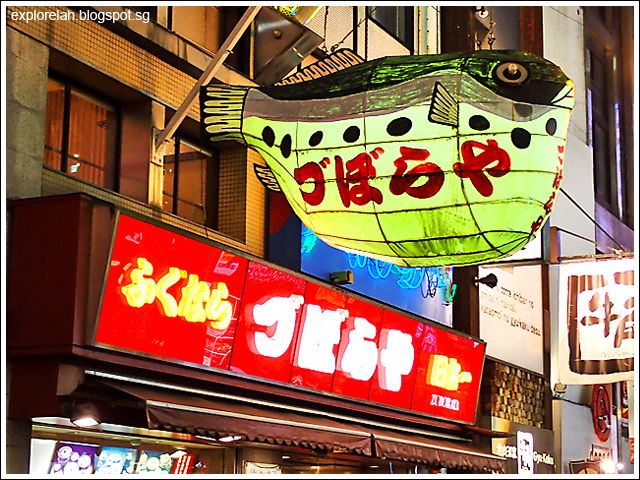 Pufferfish lantern... a sure sign that tells you the specialty of the restaurant it advertises. We came here to try a 6-course fugu meal. Click here to find out more.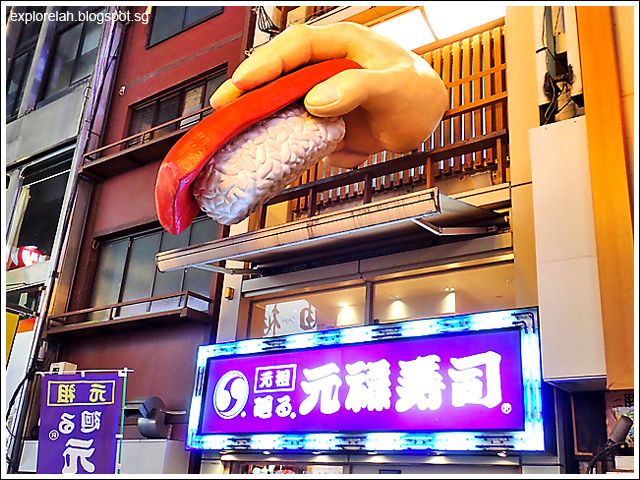 This looks really creepy!
The giant advertising mascots don't just go on the wall, but in the ground as well. These phallic whatevers look like some serious angry food that can do some real damage.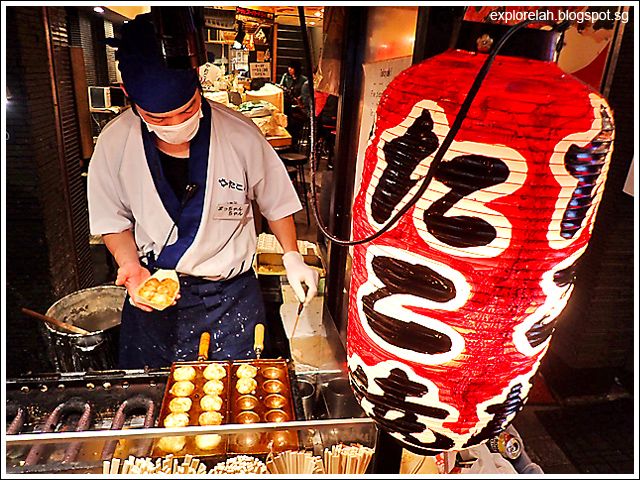 Quite a few shops selling Takoyaki (octopus balls) along the street and we decided to spend on this one because it had a long queue during our visit.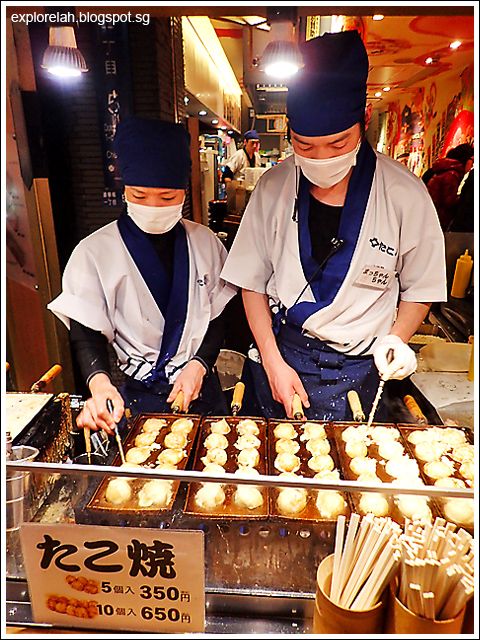 Grill baby grill... 5 for approximately S$4.50 and 10 for S$8.50. Our strategy at Dotonbori food street was to buy small so that we can sample more different foods.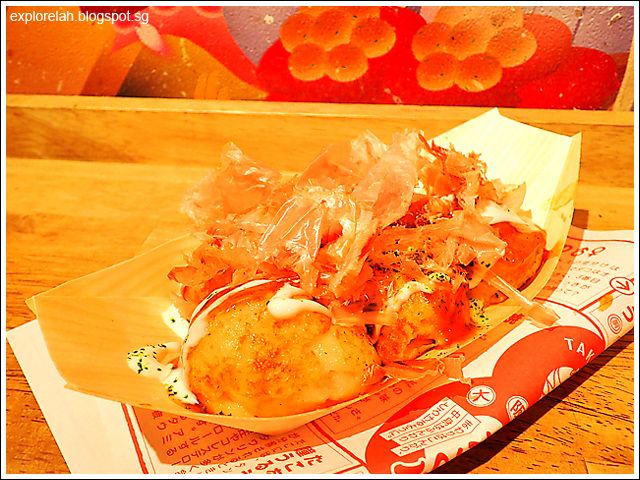 The Takoyaki was piping hot with flakes and condiments melting all the succulent octopus balls. As I bit into one of them, a milky center oozed creamy hot filling onto the tongue.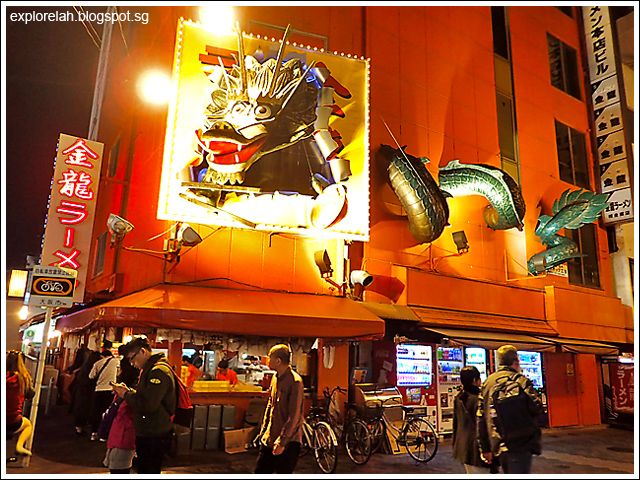 Bring the drag on... This fearsome creature of Chinese mythology that seem to have too much make-up on is the mascot for Kinryu Ramen (
金龍ラーメン), a popular ramen chain restaurant. Just along Dotonbori street alone, we saw 3 outlets and one of them had a really long queue. That many mouths can't be wrong so we decided to fill up here for the night's dinner.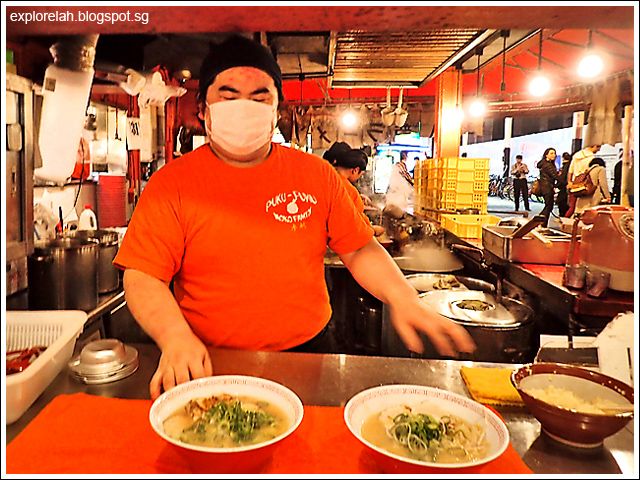 After purchasing meal tickets at a vending machine outside the restaurant, we handed them over to the service staff and they prepared our orders. Huge pots are fuming in the kitchen like the firey belly of a dragon.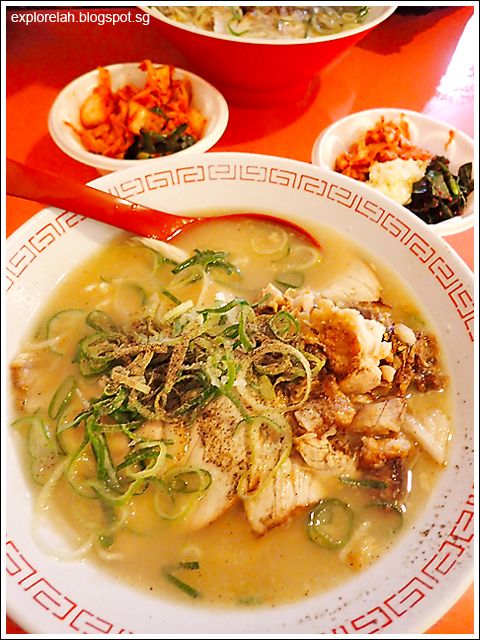 A satisfying bowl of pipping hot ramen with pork slices that cost

¥600 (S$7.70) for regular size and
¥600 (S$10.30) for a large bowl with more noodles and meat. What I liked about eating here is that there's free-flow kimchi, pickled vegetable and minced garlic. Anything with all-you-can-eat garlic would almost instantly become my favourite. But my breath after that? Not so favourite with friends.
The number of street food stalls and restaurants at the very lively Dotonbori are staggering. So it is best to come here hungry and eat your way down the flashy district awash with lights and Godzilla-sized signboards. And after dinner, there are plenty of retail shops around the area to browse for souvenirs and walk off the calories!