Date of Exploration :
25 Apr 2015
I visited Malacca in 2010 and captured the trip with a DSLR (read about it
here
). Five years later, I'm back to the historic city and documenting the sights with the nifty Casio Exilim EX-ZR35000 compact camera.
When I posted on Facebook that I'm photographing Malacca with a compact camera, an acquaintance asked why I "downgraded" and called me a "traitor". Harsh words. But I don't see it as a downgrade in imaging equipment, I see it as an upgrade in convenience. And with a powerful compact cam like the EX-ZR3500 that comes with various in-camera filters and creative imaging modes, photography becomes an opportunity to play and experiment for all occasions while I'm enjoying a vacation!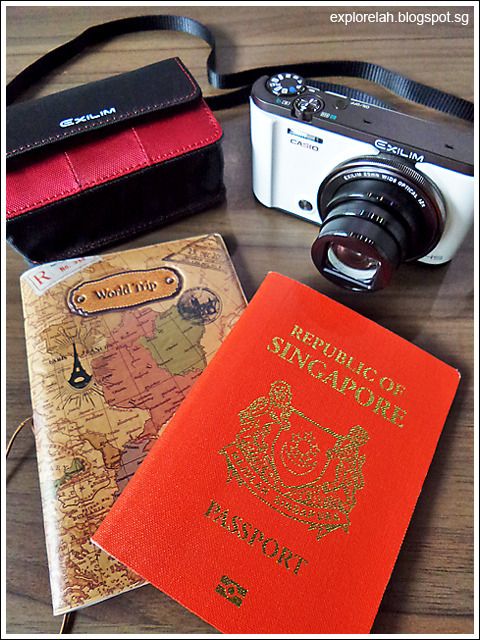 Our trip to Malacca was organised by the good folks at Casio to test-drive the EX-ZR3500. The camera comes in 4 colours - White, Beige, Pink, and Yellow (retailing at S$579).

I chose a white loan set because white will reflect light into a subject's eyes or when taking a selfie to make the eyes brighten up.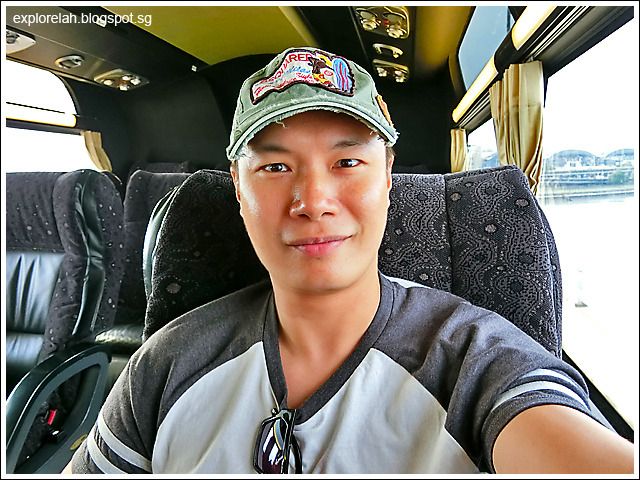 [A Plastic Surgeon in My Palm] I'm 40 but the in-camera Make-Up mode made me look like I would be asked to show my identity card if I tried to buy beer! Haha. The Make-Up mode intelligently differentiates skin from eyebrows and hair to create a more natural smoothening effect rather than a blanket blurring of facial features.

EX-ZR3500 also comes with a 180-degrees flip screen that makes framing a good selfie shot that much easier. And the wide angle lens captures more of the surrounding without the need for a selfie stick. Selfie-ing with the camera is addictive.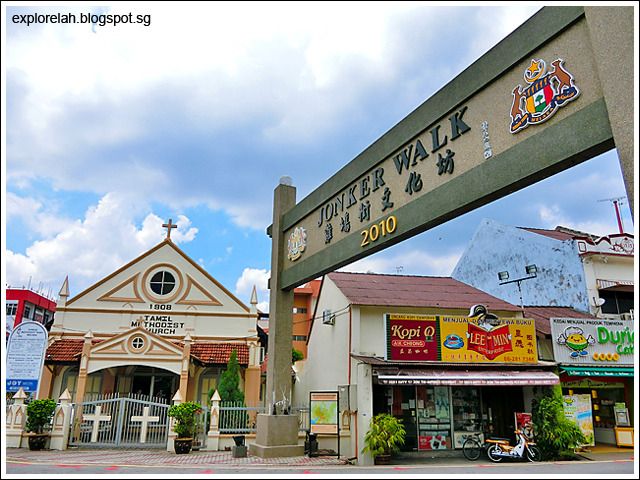 [Gateway to History & Gluttony] After an almost 4 hours coach ride from Singapore, we finally arrived in Malacca and began our photographic exploration at Jonker Walk, the city's antique street and mecca for local gastronomic delights.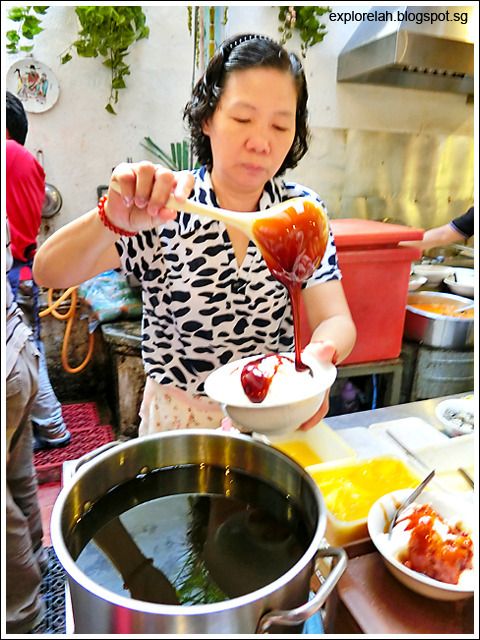 [Sticky Brown Orgasm] It's almost a ritual whenever I visit Malacca that I must have a bowl of Cendol at the shop, Jonker 88. Look at that thick gula melaka (palm sugar) syrup caramelising the hump of shaved ice! My drool reached the floor. The laksa at the same shop is apparently quite good too.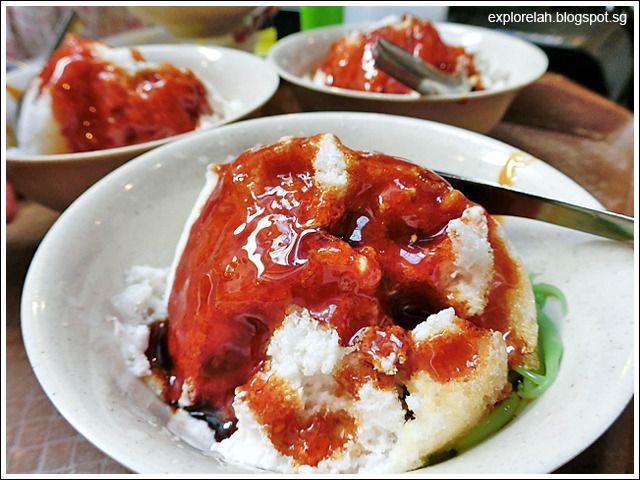 [Eye Candy] My pupils put on weight just by looking at this rich and delicious dessert! Shot with Casio Exilim EX-ZR3500 Macro Mode.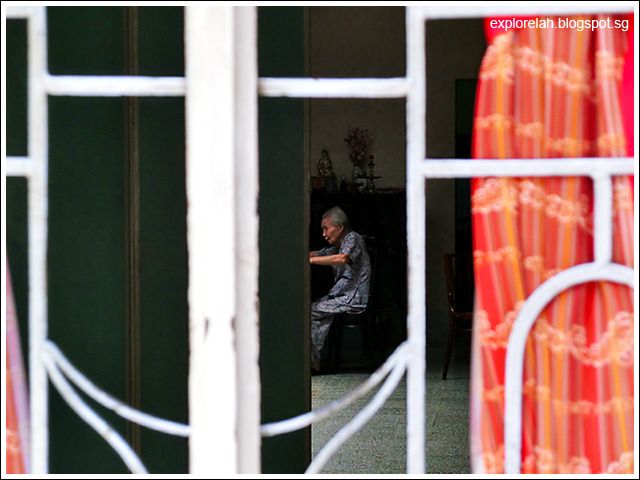 [A Moment to Frame Time] Took this shot standing quite a distance away from the window as I wanted the old lady to be within the white grille yet not having too much loose space around her. If I brought my camera too close, the framed hole will become too big and cause excess space around the subject. So I stood further away and zoomed in.

Without a DSLR, this shot was quite a challenge to shoot and due to the low lighting within the house, the photo will be very grainy if shot with a mobile phone especially with a substantial zooming in to the subject. So I was pretty impressed with the result I got from Casio Exilim EX-ZR3500 that managed to capture depth-of-field like a DSLR by blurring the window grille and curtain, and maintain a generally smooth image despite the darkened interior.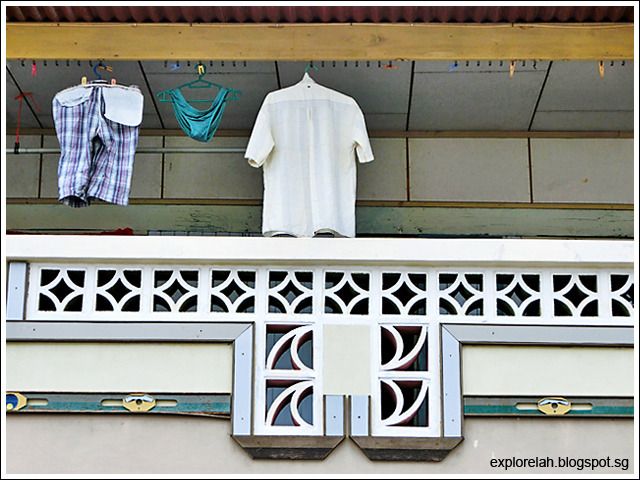 [Brief Encounter] As I've visited Jonker Street / Walk before, I decided to venture off to the side alleys and parallel streets around that area to get under the skin of this historic precinct. But I didn't expect to get that under the skin. LOL.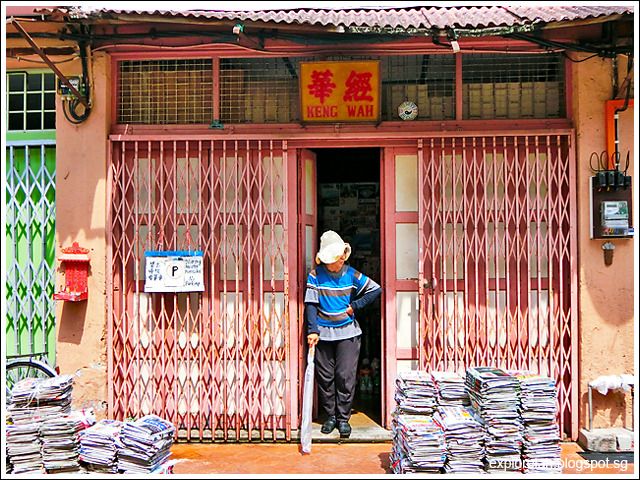 [Paper Thin Temper] She's known as the Queen of Newspapers at Jonker and her temper is very fiery. Kena scolded for taking this shot.
[Yesterday Once More] If this photo is in monochrome, it could very well look like a vintage shot with the old man cycling past the historic Kampung Kling Mosque. Completed in 1748, the mosque is located along Jalan Tukang Emas (Goldsmith Street), which is parallel to Jonker Street. Shot with Casio Exilim EX-ZR3500 Action Freeze Mode.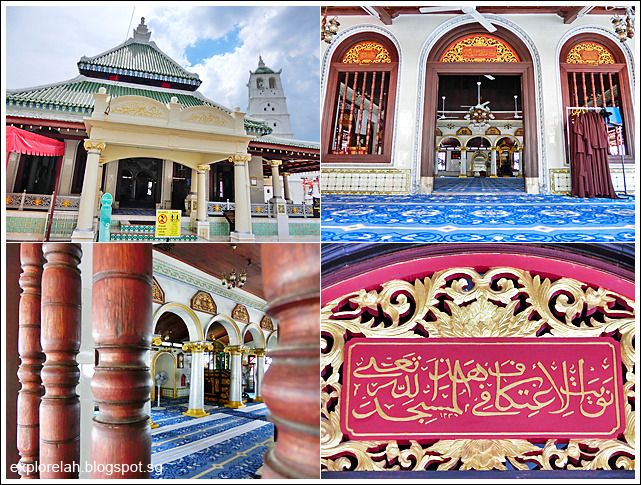 [House of Styles] Had wanted to enter the mosque during my previous trip to Malacca but it was closed. Thankfully it was open this time and I had a chance to be befuddled by the conglomerate of decorative influences that adorn the interior of this mosque. The exterior roof of the mosque is reminiscent of Hindu puras while Chinese motifs and European tile works and finishings filled the insides. This mosque is the most un-mosque I've seen and it's pretty cool.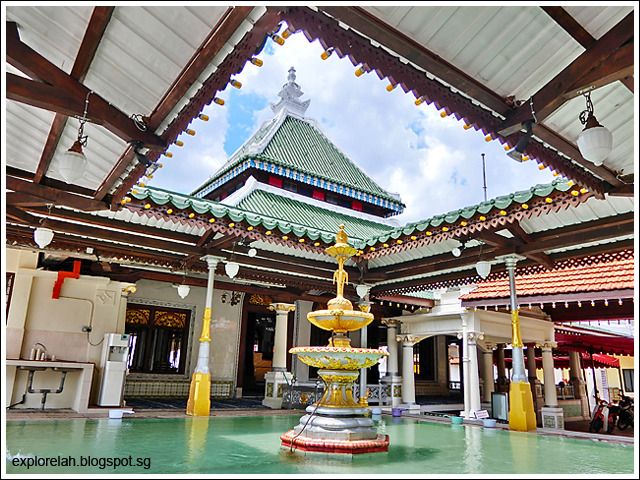 [Un-mosque Mosque] A Victorian fountain in the washing courtyard of Kampung Kling Mosque. Shot with Casio Exilim EX-ZR3500 HDR Mode.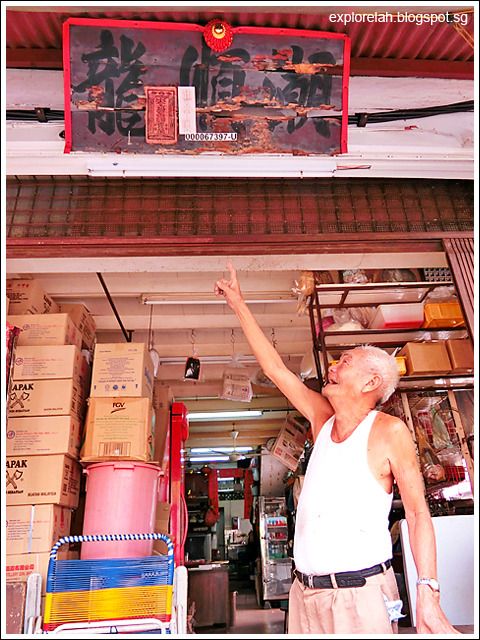 [Happy Uncle] A little walk from Kampung Kling Mosque, I came across a really old shop selling liquors. This grandpa was sitting in the shop hovering over his account books. The scene has such an authentic blast-to-the-past flavour that I started to take some photos of him at work while trying to block my presence behind some of his shop's merchandise.

But he looked up from his books at one point and discovered me sniping his photos. I thought he would scold me but he didn't. So I bought a bottle of drinking water from him and showed him his photos and we started to chat. He is such a jovial and happy soul! In the photo, he's pointing to his shop's original signage that has been around for more than 60 years!
[The Gula in the Melaka] 82yo Mr Tan is the second generation owner of the family-run business from his father who came from China. It used to be a provision shop but due to competition, the family decided to focus on selling liquors and alcoholic brews from Malaysian distilleries.

When I asked for a photo to be taken with him, he immediately struck such a natural and happy pose! It was really a great pleasure meeting him.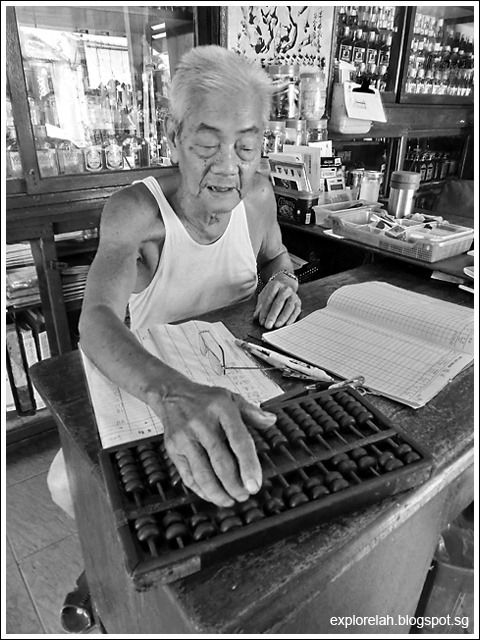 [Time Isn't a Debt] Mr Tan gladly showed me how he has done his accounts over all the years with his abacus. Many senior citizens treat getting old as a debt to be repaid to time but Mr Tan's cheerfulness and sprightly demeanour keep him young.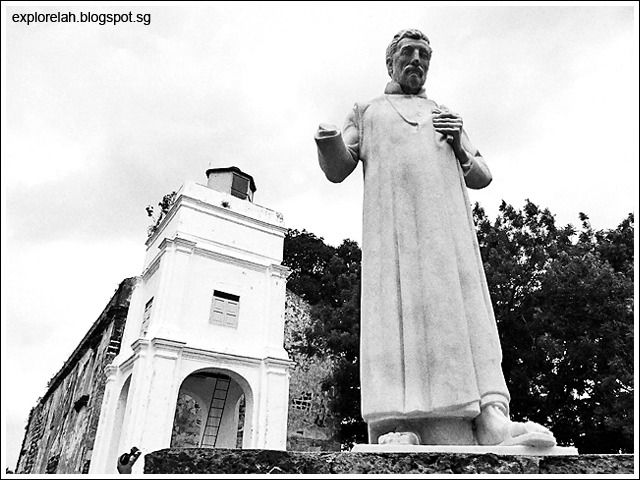 [Thy Will Be Done] Statue of Father Francis Xavier in front of St Paul's Church ruins. If you think something has happened that damaged the statue's right hand, well, there's more to the story...

Arriving in Malacca in 1545, the holyman is credited with spreading the gospel in Asia. He died in Malacca and was buried at the church temporarily but when his body was exhumed to be transported to Goa, they found that his body hasn't decayed! So the Pope asked for proof and one of Father Francis Xavier's hand was cut off. Legend has it that fresh blood flowed when his hand was severed. Father Francis Xavier was canonised in 1622 and this statue was installed in his memory in the 1980s but his hand went missing shortly. Perhaps his hand is still busy doing the work of God.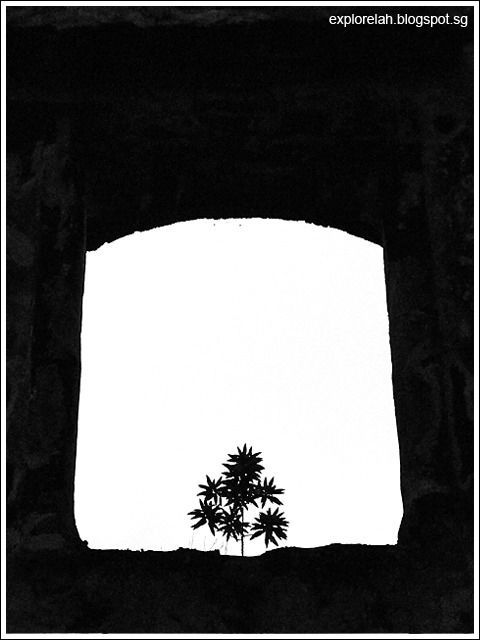 [Survivor] A lone seedling that grew where no other plants would grow. Saw this on a window frame of the St Paul's Church ruins and admired how the small tree broke through the hard stone and flourished. Shot with Casio Exilim EX-ZR3500 Black and White Mode.
[A Different Perspective] Christ Church is possibly the most photographed icon of Malacca and here's a new way to shoot it... with Casio Exilim EX-ZR3500's Crystal Ball Mode! This mode is pretty fun to play with and the resulting images can have surprising results.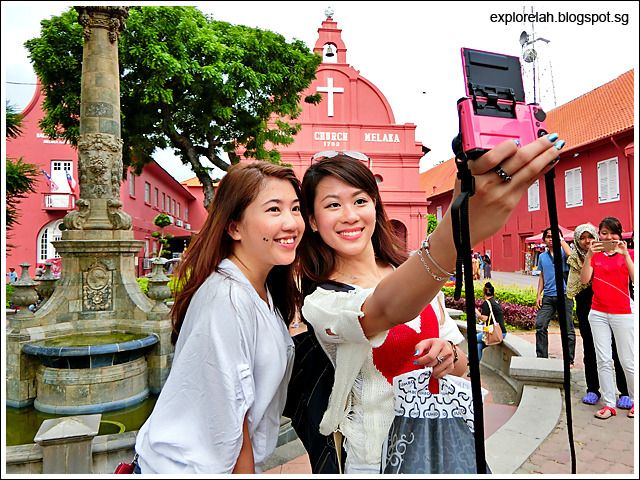 [Selfie So Easy] Did I mention taking selfies with the Casio Exilim EX-ZR3500 is addictive? :o)
Considered the cradle of Peranakan heritage, the UNESCO World Heritage listed Malacca is ever a treasure trove of historical finds and exquisite Nyonya cuisine. Having spent a weekend using the Casio Exilim EX-ZR3500 for street photography, I find the camera to be versatile and a good performer under various shooting conditions.
What's more, the camera comes with Wifi and Bluetooth connectivity so I can easily sync the photos I've shot to my phone and share them to my Facebook and Instagram. My only grouse is that the camera takes quite some time to process images when shooting with specialty modes but it's not a big bother for its stellar performance in most areas.
Although photos in this post have been processed with Photoshop to manage brightness, contrast and sharpness like I do for all photos I posted on this blog no matter what I shoot with, I find that adjustments to the Casio Exilim EX-ZR3500 are minimal. This is definitely a good companion for a holiday and a relief from carrying heavy DSLRs or stocking up on bricks of power banks to feed a hungry phone cam.
This post has been made possible by Casio Singapore.