There are 2 kinds of R & R one can get at Phuket, Thailand - Rest and Relax on one of its many beaches, or get a load of the Risque and Restricted. More so if you're a
farang
. The latter R & R comes hunting for you and sex on the beach ceases to be the name of an alcoholic shooter.
Being Chinese, I was mostly spared the hustling by the bar girls and street hookers but I still got my hands filled with boobies, by accident, on the last night of my recent vacation on the island. Had it not been for that tantalising encounter, this fourth trip to Phuket could very well be summarised with a yawn. Then the unexpected following happened...
... and this holiday will be remembered as the first time I've ever squeezed fake tits on an ex-man! I like to keep an open mind about life, especially during travels, and I've encountered quite a lot of shockers in my last 30-plus years so very few things actually jolt me, but I was so embarrassed by this 'attack' of the
khatoeys
(Thai for transsexuals / transvesttites / ladyboys).
The ladyboys can be found near the Blue Lotus pub along Thanon Bangla Road, a popular and busy street lined with open bars & drinking holes.
Respectfully, I placed my hands around their waists when posing for the photos but that's not how they like it. My hands were guided onto their breasts before I know what's happening and it was over before my face had the chance to turn red from the embarrassment.
It happened very fast, but I'll not forget how those saline-filled implants felt. I think they were augmented with saline rather than silicone gel because they felt turgid as opposed to the softer and more natural feel of silicone fillings. Not that I've touched silicone ones to compare but this I can be sure... the difference between man-made boobs and natural breasts are like touching hard-boiled eggs and tofu puddings.
But taking photos with these
khatoeys
on Thanon Blanga is not free. They are like street performers except that they bask their novel sexual deviation and eye-popping costumes for a tip. There is no standard rate but I gave them 100bht (S$4.20) each. I saw 20 and 50bht in their stack too so I guess those amounts will suffice as well.
Transsexualism / transvestism is as well-known a cultural export of Thailand as
tom yum
, and I think this is where the nation exemplifies the virtue of tolerance and acceptance, ingredients that allow everybody to spice up their soup of life!
If I'm not wrong, Thailand has possibly the most male-to-female transgender people in the world and they've perfected the artistry of drag so don't miss checking them out. In Phuket, apart from the Thanon Bangla ladyboys who pose for photos with you for money, there's the famous Simon Cabaret where the
khatoeys
impersonate well-known stars in a broadway-like entertainment extravaganza (Ticket price : 600bht).
If you are on a budget, would like to decipher the art of lip-syncing by these female impersonators and adventurous, one alternative is to visit some of the local nightclubs that have these performances. There are some straight clubs that have the shows but your best bet would be the dance clubs at the Phuket gay district. Situated right smack in the middle of Patong town, just look for the prominent Paradise Hotel (it is one of the tallest buildings easily visible); the short street in front of it is where businesses tapping the pink dollar congregate. It's free to watch these shows although you may be approached to purchase a drink. A beer costs between 80 - 100bht.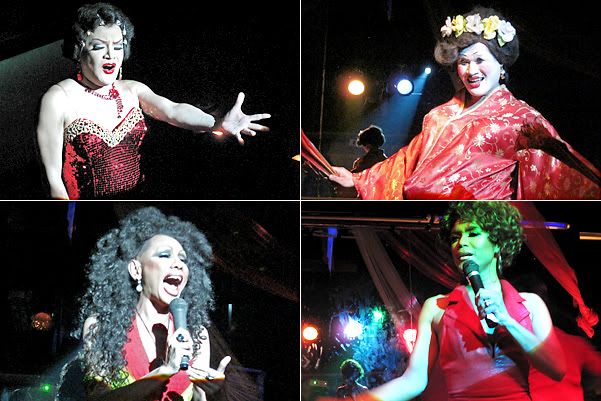 This encounter with the
khatoeys
of Phuket was my most unforgettable experience during this visit so I'm starting the chronicles of my encounters with this entry. There'll be more posts coming up but I've also yet to complete my backlog of posts about my Cebu trip so I know it'll be a little confusing, but posts about these 2 places will be interspersed.
Hope this entry introduces you to a common sight in Phuket that the tourism authority would rather not focus on and give you an idea of where to go, or avoid, if you want to a 4Rs with 4Ds (Rest & Relax with the Risque & Restricted access to Drag Dolls & Drama Divas) taste of this island resort!