The title sounds like something out of the World Cup. But this is another kind of match, one of creativity rather than football, although competition isn't why the World Expo was held. Yet, having all the countries in one place, it's hard not to compare.
Although the two countries here hail from vastly different continents, one European and the other South American, I can't help putting them on the same playing ground because for the life of me, I could never tell the two apart. Maybe it's the football, maybe it's the raw cultural energy that they seem to share, and differentiating them is like being able to recognize a Miniature Pinscher from a Chihuahua. Same same but different.
Spain Pavilion
I have to confess that I didn't do any bit of research about the Expo and the pavilions before the trip. I have not seen pictures, read reviews or even know what I wanted to see. So guided in part by recommendations from my colleagues, the Zone I am in, how a pavilion looks on the outside, and my daily queue-o-meter (a measurement of my tolerance for long queues for that day powered by mood), I embarked on my haphazard discoveries of what lies within the various pods.
And Spain's pavilion was a handsome accident. Word-of-mouth by my fellow Expo-mates who'd gone before me enticed my feet there, but what really attracted me was its massive organic architecture, a wicker-basket conception that twists like the flounce of a flamenco dancer.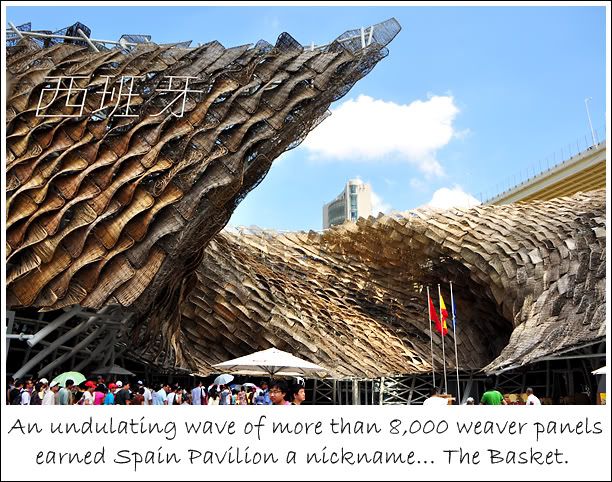 Built around the theme "From the City of Our Parents to the City of Our Children", the pavilion of the World Cup 2010 holder features 3 exhibit areas – an amazing projection tunnel with a 'live' performance of flamenco dancing, a crisscross installation of screens that provided glimpses into the development of Spain, and the biggest highlight of all, a giant baby.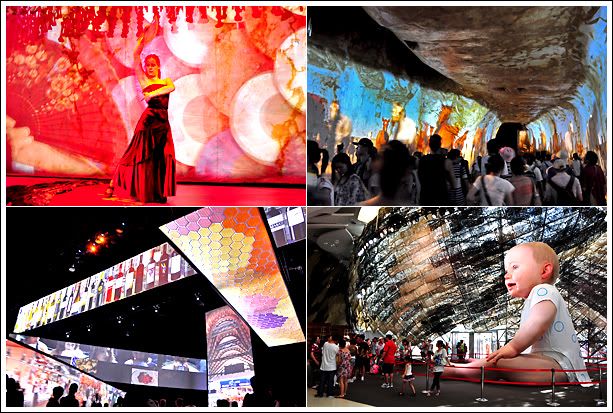 Sitting at 6.5m tall, the robot baby named Miguelín blinks and coos with expressions of a real child. Some may find it cute, I found it rather creepy. Remember Chucky from Child's Play? I sure don't want to be locked up with Miguelín at night.
As a whole, I felt the pavilion looked good but was skimp on contents and didn't help me understand more about the Spanish culture. The shows were more like moving wallpaper and had no clear storyline. Then again, not all stories must be told in words and images. In Spain's case, its story is the way the pavilion made you feel.
Brazil Pavilion
I guess I wasn't wrong with the decision to share about the pavilions of Spain and Brazil on the same page. I can't help thinking that the external visages of the two pavilions run along the same eco track. But while Spain presented a dynamic living form of nature, Brazil's eco-look made me want to take out the lawnmower to convert its neat 'football field' into the untamed greens of the Amazon Rainforest. That should up its environmental panache.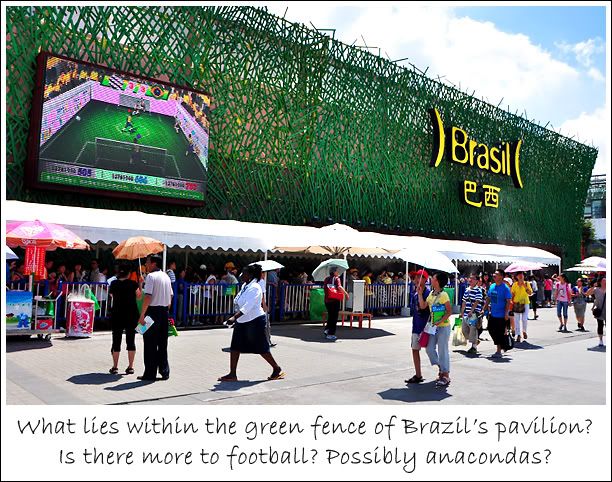 I visited Brazil Pavilion just hours before my flight back to Singapore. Again, it was one of those pavilions I didn't plan on seeing but visited because my boss from
DigiMagic
suggested we take a look.
DigiMagic
produces multi-media, as well as experiential media exhibits like those found at the Brazil Pavilion so I guess my boss wanted us to see how our company's exhibitory technologies can be utilized.
However, whatever exhibitory techniques that were found in the Brazilian pavilion,
DigiMagic
has produced them one way or another for various galleries, exhibitions and events in Singapore and internationally. So there weren't any surprises. I wondered why our boss called all the way from Singapore to 'encourage' us to see something we've already done.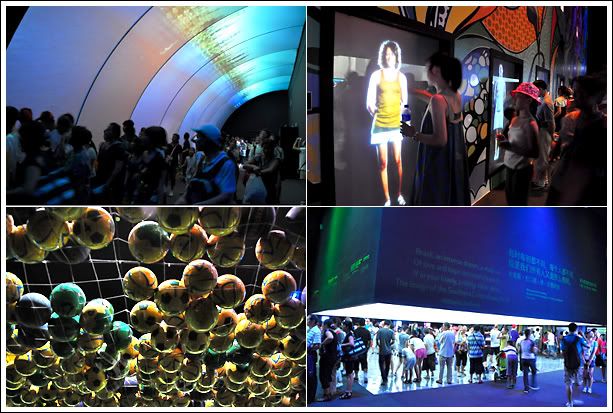 Brazil Pavilion is a house of interactive media. It features various touchscreen and multi-touch technologies (eg. the pinch technology to enlarge and shrink images on smart phones) to create a costume mix-'n-match game and picture windows to introduce its tourism.
The centre piece of the pavilion is a huge cube projection screen showing snippets of Brazil with a floor projection ala Google map style of its various cities. Personally, I find the floor projection to be a useless piece of visual carpet because all it shows is the roofs of houses and urban spatial planning.
The following videos give an idea of what the main exhibit looks like and an interaction with the tourism info kiosk.
Ironically, with the pavilion's heavy usage of exhibitory technologies, what left the most impression were the 'Did you know' facts that greeted visitors waiting to go into the pavilion. One fact I now know is that The Alchemist by Brazilian author Paulo Coelho holds the record for the most translated book (67 languages) by a living author.
From the eco-inspired pavilion exteriors to their shared passion for football, it's no wonder I have a hard time distinguishing the two nations. Even after visiting their pavilions, their identities is still a mish-mash in my head. But one thing's for sure, at this edition of the World Expo, Spain scored a goal over Brazil.