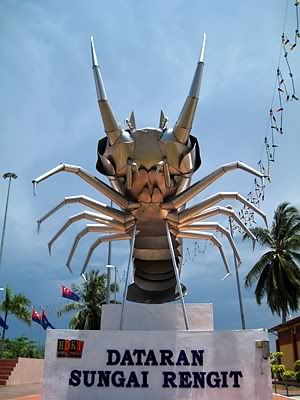 I've always admired the beauty of peacocks and had encountered quite a few throughout the years. Their glistening green feathers with turquiose hues never cease to captivate me. But I've never seen one of them opening up its tail feather in full glory.
Likewise, many a times when we travel, we may see the beauty of sights, perhaps finding a stalk of the tail feathers along the way. But on those very few rare occasions, we experience the spectacular of an opened peacock fan. An encounter like this almost always happened by accident.
This trip to Sungai Rengit, Pengerang was one of those moments. Although the accident was terribly regrettable, I saw my perfect peacock.
While Pengerang has nothing much to offer in terms of sights or even qualify as a mediocre tourist destination, the warmth and helpfulness of its people made the trouble to get there all worth it. More than just delicious seafood at bargain prices and miles of natural-scape, have a sampling too of the local hospitality. I have a feeling you'll leave fuller than the harvest of the sea.
PENGERANG FACTS
• Pengerang is a seaside area by the southeastern tip of Johor with a population of about 20,000. Sungai Rengit is its main town located at the fourth bay (四湾).
• Sungai Rengit is popular for its seafood, which is much cheaper than Singapore or Johor Bahru.
• Things to do there besides cholesterol-chugging include a visit to a World War 2 fort, Ostrich Farm, and Fruit Farm.
• Many long-distance cycling enthusiasts start their journey to Desaru here because of the straight open roads and lesser traffic.

GETTING THERE & BACK
From Singapore, you can drive (approximately 2 hours) or take a bumboat at Changi Point Ferry Terminal to Tg Pengelih, Pengerang's ferry terminal. Bumboat ride takes 1 hour and costs S$9.00 per person. Additional S$2.00 is charged per bicycle to ferry it across.
Daily operating hours : 7:00 am – 7:00 pm. There's no fixed departure schedule. Each boat will only depart once there are 12 passengers. So there could be some waiting during off-peak periods. If you can assemble a group of 12, you can charter a whole boat.

Avoid going to Pengerang during Qing Ming season and Chinese New Year as there'll be hordes of people. No problem in getting enough passengers, but no boats. Our trip coincided with Qing Ming and we waited almost 4 hours (8:00 am – 11:48 am) to board. It was pretty chaotic because there were no clear signs or system to indicate which boat you are supposed to take or any indication of waiting time. You have to find out your boat queue number at the counter and listen out for it to be called when your boat is available.
It works the same coming back from Tg Pengelih. Boat ride costs MYR15.00, operating hours from 7:00 am – 4:00 pm. Be there by 3:00pm to avoid missing the last boat. All fares are collected onboard, passport is a must.
GETTING AROUND
Taxis are available at MYR5.00 per person to Sungai Rengit. The taxis will leave when there're 4 passengers, or you can charter the whole car for MYR20.00. The ride is about 20 mins. You can also negotiate with the driver to bring you to Ostrich Farm, Fruit Farm, etc and back to Tg Pengelih ferry terminal. Rates vary according to where you want to go. A round trip from ferry terminal to Fruit Farm costs MYR150.00.

You can also rent a bicycle at one of the shops around Changi Point Hawker Centre and cycle from Tg Pengelih to Sungai Rengit. That's about 20 km or roughly 1.5 hours of leisure cycling. There are no bicycle rentals around Tg Pengelih ferry terminal so rent from Changi if you intend to cycle to Sungai Rengit. Bicycle rentals are available in Sungai Rengit for MYR15.00 per day. We rented our bicycles from this shop behind Hiap Hwa Hotel. The bikes were in reasonable conditions.
ACCOMODATION
There are quite a few hotels in Sungai Rengit but don't expect to see stars. They're basic lodgings without frills, and mere minutes from each other on foot. We stayed Hiap Hwa Hotel although on hindsight, we should've gone with our original plan to stay at Tai Hoe Hotel because it has a provision shop below it, and located just opposite the taxi station. Then again, the town is very small so it doesn't really matter where you stay.

Hiap Hwa Hotel is decent and clean although the rooms have the smell of cigarette smoke. I booked the MYR68.00 room via email but when we checked out, we were charged MYR88.00. The reason given was that we stayed during a public holiday (we checked-in on 2 Apr 2010, Good Friday). This wasn't communicated to me in the email to confirm my reservation. Good Friday is a holiday in Singapore, but not in Malaysia.
I felt somewhat cheated. And I had to transfer S$30.00 to their representative's POSB bank account as a refundable deposit to seal my booking. This was the first time I had to do something like that. It's like paying before you consumed the service and the receptionist wasn't conversant in English.

I changed our accommodation plans because I read from bloggers that it is a newer hotel compared to the rest. At five storeys, the hotel is easily the tallest building in town but there're no elevators so we had to climb four levels to our rooms. Siow Har had her room changed to the first level after her accident (more on it later). We were allowed to park our bicycles in the hotel's premises.
SEAFOOD SO GOOD?
Feasting on fresh, succulent baby lobsters on a pauper's paycheck is the sole reason many Singaporeans come to Sungai Rengit. The few recommended restaurants are Si Wan Good Luck Seafood Restaurant, Crystal Jade Seafood Restaurant, and Jade Garden Seafood Restaurant. I had planned to try all restaurants during our 2D1N stay but our seafood expedition was cut short by the accident. We only managed to try Si Wan Good Luck Seafood Restaurant. It was full house when we got there… so the verdict?

Average. We had three Butter Baby Lobsters, Cereal Prawns, Stir-fried Chye Sim, and Hotplate Oyster Omelette. The bill came up to MYR152.90 (S$65.10) including two bowls of rice, three fresh coconuts, and a bottle of beer. That's very cheap by Singapore standards. But of course, 'restaurants' there are more like non air-conditioned zi-char eateries in Singapore.
Taste-wise, the lobsters well deserved their repute. Though crusted and deep-fried, the meat was juicy and tender; it felt as though Hai Loong Wang was having a party in my mouth. But the marine celebration ends there. The Cereal Prawn was passable and felt patchwork. There were two halves of a really big prawn and the rest were much smaller prawns. I didn't get to try the big prawn but the small prawns weren't fresh. The shells were thin and stuck to the flesh, and the heads had fallen off in the plate.
The vegetable dish was stir-fried in garlic and ginger strips, but although fresh-tasting, had no boomz factor. The Oyster Omelette was the biggest letdown. I've seen snort bigger than the oyster bulbs they served. And the taste was Alice in Wonderland… you chew the movie for almost two hours and wonder when is it going to get exciting. That dish was so bland, dogs wouldn't touch it.
Hopefully the other restaurants fare better. If I go back again, I'll try the crayfish and pepper crabs I missed this time round.
THE ROAD TO UNWIND
The best thing to do in Sungai Rengit is to unwind because there's simply nothing to do. No big shopping complexes, no fanciful tourist attractions, no nightlife. It's just you and the open roads flanked by coconut trees towering above kampong houses. I had it in my itinerary to cycle to the Fruit Farm but because we were very much delayed in our arrival time, we visited only the Ostrich Farm. It was only about a half-hour ride from town and the many huge signs made it easy to find (cycling to the Fruit Farm would take about two hours at a leisurely pace).

Along the way, we stopped by many open fields and even a red rock quarry to take home some rustic memories. So used am I to my DSLR that I felt handicapped using a compact camera during the excursion. What's great shooting here was the wide natural landscapes and dramatic cloud formations floating on an endless blue.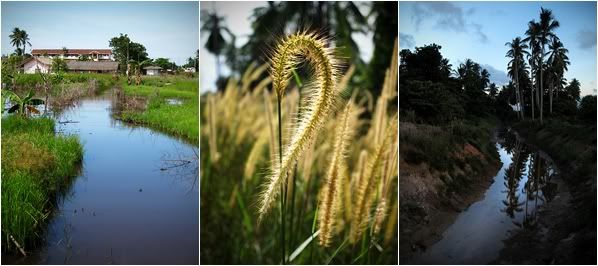 At an entrance fee of MYR12.00 per adult, the Ostrich Farm provided some amusements and learning points about these big birds. Here're some info about the farm and ostriches :
• The farm is owned by a Singaporean ex-pilot. Most of the ostriches here are reared for their meat. Their only meat area is the thigh. They're slaughtered when 18-months old because that's when the meat is the leanest. Any older and the ostrich would gain too much fat.
• The fat is used to make cosmetic creams and lotions, while the feathers are used for costumes such as in cabaret fans and outfits.
• Ostriches are hollow-boned with a very hard breast plate. Its kick is lethal and is especially hostile if you're near its egg.
• A female ostrich lays an egg every 2-3 days from age three onwards. Full lifespan is about 60 years. One ostrich egg is equivalent to 25 chicken eggs.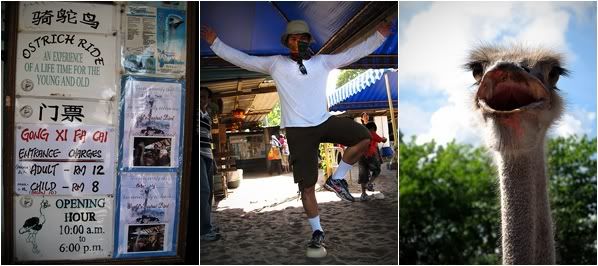 • The eggs are of porous calcium and will spoil if it has been soaked in water. It can withstand the weight of a human adult in sand but will crack if you stand on it on hard surfaces.
• Ostrich thrives in a dry and sandy habitat, and swallows sand to help digest their food. Without which, they will die. An ostrich soaking in a pool of water is also a goner.
• There're three roles played by the three most dominant males in a flock – the egg protector, the protector of a female ostrich about to lay eggs, and the king. The king can mate with any female without bowing while other males have to bow to get approval. However, if the flock is under attack, the king is the first to die as it sacrifices itself to a predator to buy time for the flock's escape.

After the tour, we tasted ostrich meat (stir-fry with ginger and spring onion) and had this most refreshing concoction of tea with evaporated milk and winter melon essence. Super yumz! The ostrich meat was so-so, the texture resembled pork without much of a unique flavour. Maybe it's the way it was being cooked. The dish costs MYR20.00 and the yummy tea was at MYR4.00 per glass.
The lady manager of the farm also sat down and chatted with us about different ferry routes to get to Pengerang and how she once paid MYR180 to charter a bumboat for her and her son since she couldn't wait for more passengers. Overall, the place is worth a visit. An hour there is about just right.
NINE STITCHES CLOSER
The biggest event during the trip was Siow Har's fall from her bicycle near the Goddess of Mercy Temple. She fell during her bid to stop her S$100-plus hat from being blown away. I didn't witness it but I was told that her fall didn't seem serious. But when she stood up, the lower part of her left leg was washed in blood. By the time I saw her, the bleeding has stopped so I thought it was a minor accident until I got close to see the real damage.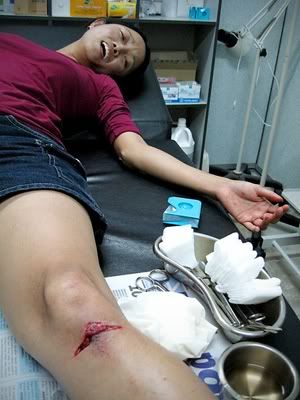 She sustained a really, really deep cut, and in the words of the lady who brought us to the clinic, "As big as her mouth"!. When the accident happened, quite a few local motorists stopped to help. Eventually, a kindly woman who has fetching her son from school took us to a nearby clinic. According to her, that area around the temple is 'dirty'.
Siow Har got her wound cleaned, anesthesia localized, nine stitches, anti-tetanus shot, antibiotics and pain medicine… we were expecting a medical bill that'll send her into seizure, but all it costs was MYR52.00! That's so cheap! Luckily it's so affordable as she did not buy travel insurance.
I mentioned about it on our way to Pengerang and she said there's no need to buy for such a short trip. I wanted to buy but forgot about it. Gosh, and I'm an insurance agent! Actually, I should've just asked both of them anyway even though they're not likely to buy. I have this service, but didn't offer to them. Thankfully, the accident wasn't something more serious or the bill much bigger, else I would really feel bad.
Although the mishap was a terrible occurrence, it brought out the kindly and helpful side of the Pengeranians. Apart from this lady, there were many people along the way whom I spoke to or asked for directions, and I could sense a genuine warmth in their responses.
I can't help but think that those nine stitches brought us closer to Pengerang and as friends, they held us somewhat closer too. Hopefully someday soon, I'll go back to the laid-back town again and pluck me another peacock feather. :o)