Travel Period :20 - 24 Jan 2011
Exchange Rate : S$1.00 = 33 Pesos
The first time I ever visited the Philippines was in 2006 (blog post
here
) and that's when I discovered Boracay and learnt to my astonishment, Pinoys don't get drunk on Tequila. I had a smashing time! So when my friends asked me to go to another of her famous islands, Cebu, I wasted no time in giving them my passport details for flight bookings.
With the memory of Boracay constantly relived because of its nightly beach carnival-like atmosphere (plus it's hard to forget a place that gave you 5 sea urchin stings as souvenir), that small beautiful island with its powdery white sand and turquoise waters wallpapered my impression of all island destinations in the Philippines. Boracay sort of defined for me what the other 7,100 islands of the republic would be like. Then came Cebu and I had to refresh my perception.
On hindsight, Cebu is like one of those super lemon candies. When you first place one in your mouth, there's nothing special, it does nothing to you. Then comes the unbearable sourness. And once that has passed, the sweetness sets in. It's a taste of extremes all in one body... the distinction of luxury and poverty, the height of thrills and the depths of calm, the delectable to the downright gastronomically despicable, the richness of nature and the bargain of merchandise... they all take you to the ultimate of experiences, a contrast of contrasts.
Getting to Cebu from Singapore
The main reason I came to Cebu was because of the cheap airfare. We booked the tickets in Apr 2010 from
Cebu Pacific online
and cost only S$100 per person. The price excludes the P550 Cebu airport tax which is collected prior to departure from the island so remember to put that amount aside before drying up your travel expenses.
Flew Cebu Pacific which costs S$100 return (includes Singapore airport tax & lugguage check-in). Booked the ticket about 9 months prior to departure to get this affordable fare.
The flight takes 4 hours and like all no-frills airlines, the food and drink items onboard are chargeable. A can of beer costs P100 (S$3). On the return flight, I had 2 cans when I tried to order a third, I was told they ran out. That was the first time I encountered booze running out on a flight.
Service-wise, it was pleasant enough and quite a few of the Filipino stewardesses and one of the stewards were really good-looking. And they're avid readers. Seated at the last row on my flight back, I had a chance to peek at what the service staff do when they're off duty. Each time that I looked, they were reading a book. Not just any book. Those that are thicker than my wrist with alot of words kind. The type that turns on my screensaver mode.
A Case of Mistaken Identities
Before this trip, whenever someone mention Cebu, I automatically think it's Pulau Sibu. I visited the West Malaysian island off Mersing eons ago. Also boasting unspoilt beaches with the surrounding ocean exhausting one's ability to describe blue, it's easy to get the two mixed up since the two islands while spelt different, has the same pronounciation.
I later found out there's a thriving city by the name of Sibu in the East Malaysian state of Sarawak as well. Cebu, Sibu, and Pulau Sibu... I got
si beh
(Hokkien for 'extremely, exceedingly') confused! So be sure to state the correct Cebu when planning your visit to either of them or you may well be in an episode of LOST.
When visiting Cebu, you'll inextricably visit Mactan because the neighbouring island to its more famous sister is where the Cebu international and domestic airport is located. The 2 islands are linked by 2 bridges and it takes about 45 minutes by cab from Mactan to Cebu city centre.
Life on Mactan is idyllic-rustic with the island's sprawling naturescape punctuated by unsophisticated attempts at urbanism.
I didn't have a chance to explore much of Mactan except for Plantation Bay Resort, which we stayed for the first night, and the road that leads from the resort to one of its main shopping centre, Gaisano Grand Mall.
Having visited both islands, I felt that life in Mactan is more laid back and less organised compared to Cebu City. I kinda like the semi-rural appeal of Mactan where pockets of nature are parked in between rows of basic dwellings that favoured function rather than form. The roads aren't always well-paved and the open fields depended on the hunger of goats and cows to keep them lawned.
No X-Box, no PSP, no World of Warcrafts, no Farmville... no problem. The village kids enjoy simple Pinoy folk games like patintero, luksong baka, & piko which are much like the games of my childhood where the players are what make the games fun rather than hi-tech gadgets.
Cross over to Cebu City and things are rather different. I was under the impression that Cebu is one of those pristine island paradise with white beaches and transparent surf but I've never felt further from the sea. And the air is far from being fresh. The moment I touched down, I could feel my asthma acting up.
Again, I have to emphasize that what I ended up experiencing could be due to where we were staying and the planned itinerary. So the disparity of my perceived impressions of Cebu and actual encounters formed my opinion that the desination is hardly one with the sun-sea-sand attractiveness of Boracay, Phuket or any true-blue resort island. Even though Cebu didn't turn out to be what I expected it to be, I still enjoyed the trip for the surprises it held.
Cebu City is just like any other metropolitan city in the world except that the pace of urbanisation is still observable. Strapping new complexes sit next to heritage architecture and numerous other dusty, tired looking buildings. The disarray is striking and left me wondering why so many of these buildings have been abandoned to disrepair.
One of the most interesting aspect of the built-up areas in Cebu are the hole-in-the-wall shops. No kidding. It's as if there's a piece of wall and there're shops punched into it. The shopfront is just a rectangle window selling anything from food to sundries. And there are as many bakeries as there as stars in the sky.
The other thing that is of abundance in Cebu City are the street beggar kids. While my heart goes out to them, I'm rather terrified by them because many will come up to you and ask for money rather than just sitting by the street to wait for donations. And if you give to one, you'll get swarmed. There was this one beggar kid who came up to our taxi window in the middle of the road to ask for money. I cannot forget his eyes... one of the eye was fine but the other was off center. I should have given him something. I can still remember the look in his eyes through our rain smeared taxi window.
My first evening in Cebu City, while on the way back to the hotel, a lady came up to me to ask the time. She's about early twenties and attractive. I told her the time. Then she asked me if I wanted a massage in my room. Across the road, street touts offered to sell me Viagra and Cialis.
Do I look like I needed them?!
I declined both offers and blushed a Singaporean red because sex is not something we openly admit to having back home. I'm not street smut.
And I saw some copies of Playboy in one of the newstands. Although the issues looked like they belonged to the era of Farrah Fawcett, I was still amused to find them sold in an Asian country abett inconspicuously.
Getting Around Mactan & Cebu
While there are no lack of transport options here, negotiating a fare can be quite an artform with the unmetered modes. The best is to stick to metered cabs as they're relatively cheap. The meter starts at P30 (S$0.90) and each increment is P3 (if I correctly recall). Our cab fare from Cebu City to the airport at Mactan cost about P180 (S$5.45) and we were riding in it for an hour due to peak hour traffic. However, some opportunistic cab drivers will attempt to ask for a flat fee instead of going by the meter. This happens at more remote locations in Mactan or late at night.
In Cebu, and I think that applies to all of the Philippines, there's a difference between a cab and a taxi. In Singapore, we use the terms interchangably but here, a 'cab' refers to those metered, air-conditioned car types while a 'taxi' refers to the open-air jeepney.
There're quite a number of ways to get around in Mactan & Cebu but I think the best option would be by metered cabs. Jeepneys offer a very cheap mode of transport provided you know exactly where you are going. As for the tricycle and motorcycle, the travel fee is open to hackling.
The bright, colourful jeepneys are the choice for transport for locals and are very cheap although I have no idea how they work out the fare. We took a 15 minutes jeepney ride for only P8 (S$0.25). The problem with the jeepneys for any stranger to the city would be knowing the routes they plow as there're no distinctly marked stops. It seems that passengers just get on and off the ride as and when they please so long as they are familiar with the route of the jeepney's number.
This is a bad example of how to get a cab in more remote places where cars are scarce. But a little patience will get you in one rather than trying this hitchhiking technique!
For smaller country roads or destinations that are off the beaten tracks, motor tricycles and motorbikes would be the best options. Motor tricycles were our main transport while in Mactan as our resort was kind of in the boondocks. They are cheap but agree on a price before getting on. A less than 10 minutes ride from the resort to the Gaisano Grand Mall should cost only about P30 (S$0.90) although the drivers will try to ask for more.
As for the motorbikes, it's a lot of haggling and they can be quite unscrupulous. I'll share more on how they tried to swindle us when hired them for a visit to the Top, a hilltop attraction that offers an aerial view of Cebu City.
Plantation Bay Resort and Spa
For the first night, we stayed at the gorgeous rustic-posh
Plantation Bay Resort and Spa
. Our 12:20am flight landed at about 4:00am and we arrived at the resort close to 5:00am. I was pleasantly surprised that we were allowed to check-in so early and we weren't charged for it. So very kind of them!


We stayed at the Club Room which costs US$150++ for off-peak period. The room can sleep 6 comfortably with a queen size bed & 2 sets of bunk beds. One of my friends call it the Flintstones lair. How apt!


Situated right by the seaside, the resort successfully recreates the feeling of a hidden paradise surrounded by shallow bays. These large manmade lagoons mimic a tropical estuary where the blue sea left parts of itself as it retreats with the tide. The result is an inviting expanse of water right at your door-step (or at least for those rooming units by the pools' edge) complete with balmy coconut trees and 'sandy' beaches. It's a tropical retreat that makes you want to change your name to Wanda (remember the movie
A Fish Called Wanda
?).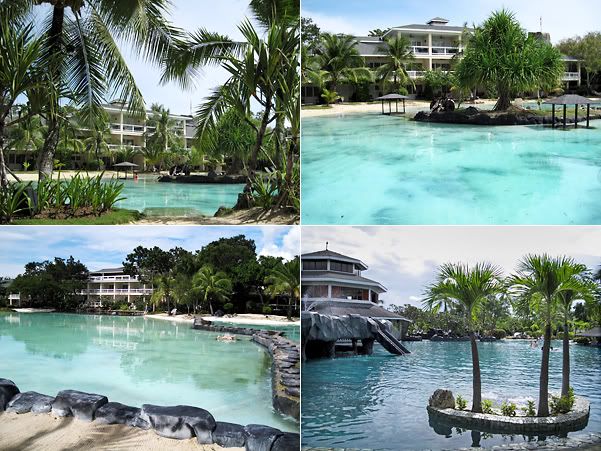 The feeling I got when I stepped onto the resort grounds during daybreak was that of space. It felt like waterworld with slides, canoes, hammocks and outdoor jacuzzis... there're no reasons to leave except to get cheaper food and drinks in the town area. Service at the resort is pretty good and they provide complimentary airport-to-resort transfer. And I think they have a no-tipping policy because our small token of appreciation was not accepted by the porter.
The small stretch of real beach with a jetty at the resort was very unattractive. The water looked so grey & the sand so brown & coarse, your skin may fall off after taking a dip. No wonder they had to fake lagoons at the resort.
As a whole, I think the Plantation Bay Resort and Spa is a pretty good stay to just get away from it all and chill. As our itinerary was pretty tight, I didn't get to enjoy and explore more of the resort as much as I wanted to. The place is a whole destination unto itself so if you plan to stay here, don't plan to leave!
Paragon Suites
On our second day, we moved from accommodation thumbs up to the dumps. We checked into Paragon Suites in Cebu City. The name may conjure an image of elegant pamperings but it is really just a budget hotel, and probably the worst I've stayed in.
Located along Juana Osmena Street, which is just behind the well-known Mango Square, the Paragon Suites offers a twin share room with 2 single beds for P1,288 (S$40) per night. It is very affordable but this hotel reeks of the blood of murdered holidays.
I travel with a pauper's wallet so I'm accustomed to minimal comforts. So long as there are 4 walls, clean sheets and air-conditioning, I'm satisfied. But my opinion of this hotel is harsh because not only does the hotel's facade looks rundown, the room smells, and the service is sub-standard.
Although the receptionist was rather pretty, she looked like she's perpetually having a bad day. I don't remember ever seeing her smile. Might as well have been served by a corpse because there's not an ounce of warmth from her.
The room comes with basic furnishings, stained sheets and mildewy carpet odour. The room rate includes a breakfast which is equally regrettable.
Topping off the unpleasant stay was the breakfast. The service was again dead cold and we waited an eternity to the power of infinity for our food to arrive. How long does it take to toast 2 slices of bread and fry an omelette? There were only 3 of us and 2 at another table yet our orders took an entire anthropogenic evolution to be served. My order of a burger patty with rice was decent but my friends weren't so fortunate with their toast and eggs. If the hotel don't intend to evolve its look, at least evolve its service. And food quality.
Premiere Citi Suites
After one night, we moved to
Premiere Citi Suites
which is along an adjacent slip road slightly before Paragon Suites. Just a few steps away and a world of difference! Apart from being spanking new, it was cheaper too (although I think the rates we got were promotional ones as the hotel looked like it just opened for business).
The hotel is small but very neat & clean. Service is prompt & friendly. A great value for money lodging!
There are 5 of us on this trip so we're split into a twin-share and triple-share configuration. The room for the triple-share was big and spacious and came with a sofa too. If you're looking for a nice budget hotel to stay in, look no further than Premiere Citi Suites. While all is nice and well here, my only grouse is that the bath towels were soiled.
A twin-share room with 2 single beds at Premiere Citi Suites cost P995 (S$30). But this price may have been an opening special.
On the first night, I opened my fresh, unused towel and saw streaks of what looked like dried unprocessed henna dye. Ok, why I said it looked like henna dye was because I brought it to my nose and sniffed (I know, it's a big risk because it could've been skid trails! Eeks!). The dirty green smudges had a mild chlorophyll scent. I used the towel anyway making sure to avoid the stained parts.
The next day, after the room was made up and the towels changed, I opened up my new towels and it was still stained. So I called room service for a new one and showed the soiled part to the staff. Glad to be rid of the 'dirty' towel, I proceeded to shower and opened up the new one I just got. It had stains too! *gua gua gua*
Anyway, like I mentioned before, I'm easily satisfied and I can overlook that stained towel saga. This hotel is definitely worth checking out. With a review of 3 hotels that I stayed in at Cebu, you can see what extreme delights and displeasures they gave me and this contrast in lodging is just the beginning of the other extremes I encountered. Stay tuned for the upcoming posts on extreme cuisine, man sluts on the high seas, child Jesus, and what it feels like to be standing at the edge of a building!