6 Dec 2010 (Monday)- Time to raise the sails of adventure! Our cruise was set to depart Singapore at 5pm but most of us checked-in at 10.30am. As the cruise was fully booked, we want to avoid the long queue closer to departure time. If you don't check-in earlier, you'll have to be there at least 1.5 hours before the scheduled departure.
The cruise can take slightly over 2,000 passengers so you can imagine the hold up if everybody boarded at the same time. If you're booked on the Legend of the Seas Isles of Southeast Asia cruise, my advice is to
check-in early
. You get a headstart onboard and begin your vacation before everyone else!
Use the
Online Check-in
function at Royal Caribbean's website before your trip to quicken the registration process on departure day itself. But you have to check-in online at least
3 days before
your cruise. I tried to check in 2 days before the departure and "the computer says... No."
(If you've watched the Little Britain series, you'll get the drift about this catchphrase from one of its characters, Carol Beer. She's the epitome of bad service! Google her.)
Boarding is at the Singapore Cruise Center (SCC) at Harbourfront. After you've checked in, you'll be issued with a
SeaPass Card
. It is the all-access card that opens your room door, pays for expenses onboard, and allows you to get on and off the ship for land tours so you don't have to bring your passport along. Your photo is taken the first instance you board the ship and stored in the card for security and identification.
The warmth of the Royal Caribbean's check-in counter staff would make you feel like your mood has taken a refreshing vacation already, but I can't say the same for the SCC staff coordinators at the immigration clearance. Whenever I hear people complain that Singaporeans are rude and give bad service, I would don my boxing gloves to spar with my encounters of excellent services.
But with the SCC, I had to take my gloves off, and eat them. I almost wanted to call the Singapore Department of Natural History... because I thought the ill-mannered buffoon was an extinct species. I didn't know they were employed by the SCC to terrorise tourists. Thankfully the smiles of Royal Caribbean staff made me a new pair of mittens and heat up the euphoria of a holiday again. I can spar once more. This time with a stronger punch!
Ship Facts : Maiden voyage - 16 May 1995, Cruising speed - 24 knots, 11 passenger decks and elevators, 2,076 total guests, 726 international crew, 2 bow thrusters, 2 stabilisers.
The title of this chapter is called "Flesh of the Titan" because Legend of the Seas is the biggest ship I've ever seen and been on. Moreover, the following segments will attempt to flesh out the environment and physical details of the cruiseliner and give a closer look compared to my earlier
preview tour
. It is all about the physical aspects of Legends of the Seas such as the onboard look-and-feel, Ocean View Stateroom review, and the possibility of getting seasick.
Plus I'm not very imaginative and ripped off my chapter's title from the movie, Clash of the Titans. The show features quite a lot of sea, has massivebiggiganticnormoushuge experiences, and numerous adventurous quests. That pretty much draws a parallel and sums up my Legend of the Seas adventure. Except that this is not make-believe.
One of the most magical view is to watch the stern and open deck light up against a backdrop of magnificent dusk blue hues.
When I told my friends I'm going on a cruise holiday with Royal Caibbean, I got two kinds of reactions - those who have been and still raving about the experience, and those who have not been and remain skeptical that being stuck on a ship can be fun. Before this cruise, I belonged to the latter. After this trip, well, the amount I'm blogging about the experience speaks for itself!
Beautiful day and night, I pretty much ran amok shooting the great looking interior and seascape on the open decks.
Here's a listing of all the ship's facilities so you know what to expect and prepare for them. In upcoming chapters, I'll talk more about the activities I managed to cover in these places.
Dining :
Romeo and Juliet Dining Room, Windjammer Cafe, Pizza and Burger Bar
Chill Out :
That's Entertainment Theater Lounge, Anchors Aweigh Lounge, Viking Crown Lounge/Nightclub, Schooner Bar, Champagne Terrace, Champagne Bar
Adults :
Casino Royale, Card Room, Conference Room
Kids and Youths :
Adventure Ocean Youth Area, Optix Teen Center, Video Arcade
Fitness :
Day Spa and Fitness Center (gym), Solarium, Jogging Track, 2 Pools, 4 Whirlpools, Rock-climbing Wall, 9-hole Miniature Golf
Others :
Library, Beauty Salon, Boutique Shops, Art and Photo Gallery, Medical Center
Attendance for the muster session is COMPULSORY. The number for the muster station is printed on the SeaPass Card. My station was 14. In Cantonese it sounds like 'sup say', which means 'surely die'. *CHOI!*
Before the ship leaves the port, all passengers
MUST attend the muster session
, which is a safety drill to know what to do in case of emergency. Just like the pre-flight safety demonstration onboard the planes. The muster time is 5.30pm and there are annoucements and staff to guide guests to their respective stations. Attendance is recorded so there's no skipping it. After the short session, it's anchors aweigh!

One of the first things that struck me about Legend of the Seas is the abundance of art onboard. The interior of the ship is one huge canvas where oil paintings, installation art, sculptures of various materials (metal, glass, resin, porcelain, etc) and ship furnishings gather to take guests to a different world.
The rich, mahogany-wooded and mostly neoclassical European decor accentuated with gold fixtures and trimmings made me feel as if I'm living in some tastefully opulent château. What an instant status upgrade! So glam and
atas
(high-society)!
Paintings, sculptures, installations and figurines both realistic and abstract decorate the whole of Legends of the Seas. Walking from deck to deck is like visiting an art gallery or museum.
The taste in decor reflected the heritage of the ship's birthplace - St. Nazaire, France. With Paris being regarded as one of the top art capitals in the world, it's no wonder there's LOTS of hull culture.
I thought one interesting thing parents could do with kids is to have an art hunt challenge onboard. Set a time and each go around the ship to identify the names of paintings or sculptures and make a list. Most of the pieces come with a title and name of artist. The family member with the longest list wins and it could be an interesting way to get kids interested in arts and culture.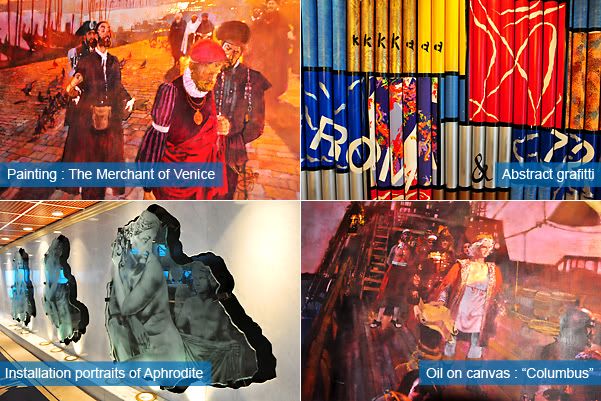 The Legend of the Seas offers many different room types to cater to different budgets and group size. We were hosted in the twin-sharing Ocean View Stateroom. I found out from other passengers staying in the same room type that if we were to pay for it, it would cost S$700+ per person. The fare includes 4 nights' room stay, all meals, onboard entertainment and usage of facilities.
Previously, I thought cabin rooms on cruises are no bigger than a swallow's nest and since I experienced claustrophobia before, I was both delighted and apprehensive about being one of the selected bloggers to experience Legend of the Seas. So you can imagine my relieve when I found the room to be spacious and comfortable. In fact, the moment I came aboard, I had clean forgotten about my unfounded fear of tight spaces.
The best thing about a cruise is that your room is always near. You can pop in anytime to enjoy some personal respite or get out of sweaty gym garb, refresh, and be ready for a formal dinner all within minutes.
I love the convenience although I'm hardly in the room much because there's always something to do and see onboard. Except for the second last day when I was mostly room-ridden due to an upset tummy. More on the cause of my stomach woes later.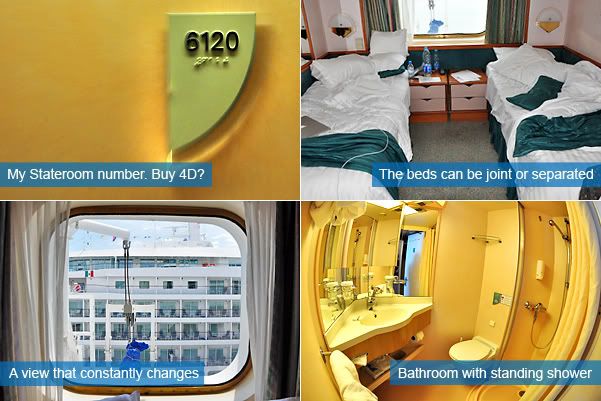 However, there's one thing that took some getting used to in the room. Bottled water is not complimentary like land hotels and is chargeable. It costs US$4.55 for a 1 litre bottle of Evian drinking water! But there is a travel kettle in the room and water points can be found at the dining areas and sun deck of the ship (Deck 9).
We are surrounded by water everywhere yet it is the most prized commodity. It is a good idea to bring bottled water onboard although I didn't do that. And not once did I go thirsty. Toothbrush, toothpaste, shampoo, conditioner and body lotion are also not provided so remember to bring your own. If you forgot your toiletries, no worries, you can always purchase them from the gift shop onboard.
This is Lulus, my room's housekeeper. He does more than just make up the room but he makes up my day with an ever cheery smile and warm greeting every time I see him.
What I love most about the room is my cabin steward, Lulus. You've seen the wreck Philip and I leave our room in and each time we come back, everything is back in order with a towel pet waiting on each of our bed.
What's impressive is that I think the rooms on Legend of the Seas get made up several times a day. It seems like each time we got out and came back in, the room is in order. And to top it off, Lulus is one of the warmest staff I've came across in my many years of travels. The other crew onboard are friendly too but there's something different about Lulus. There's a certain sparkle in his voice when he greets or talks to you. A fire that can only be fuelled by sincerity.

Another main concern that either makes or breaks a cruise holiday is the propensity to turn green and throw up overboard. I don't have motion sickness and I'm not keen to develop seasickness from this trip. If you're wondering just how stable is Legend of the Seas, watch the video at the end of this post. I've devised an experiment to pitch the ship's balance against mine... when I'm sober!
To help us understand the ship better, the 10 of us were given a Bridge Tour where we got to visit the ship's control room and meet Captain Sverre Ryan and Fei Liu. I was surprised at the stark contrast in appearance of the navigation centre to the rest of the ship. Here, it's the case of the Monday blues everyday!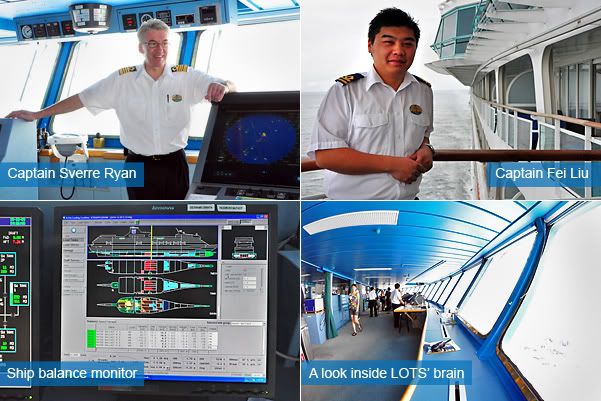 But I guess you don't need an elaborate interior when nature provides all the decorations through the picture windows. Too bad the day of our visit was overcast. I can foresee how beautiful a sunrise or sunset in the horizon must look with such an unobstructed panoramic view.
During the tour, we saw the monitoring system that keeps the ship in balance by storing and releasing water in response to changing weight distribution. We also asked the captain if he's ever sailed into a terrible storm or has Legend of the Seas met with any emergencies before. His answer is a series of firm and sure "No"s. Well, that's good enough for me to know we're in safe hands. But I'm not too sure if the ship is safe from me...
heh heh heh...
There's no quack about the serious equipments and navigation technology here. Looks like Donald is shocked that I'm in control. I wonder what will happen if I turn the steer... hmm.